Things To Consider When Buying Affordable CNC Laser Machines In 2023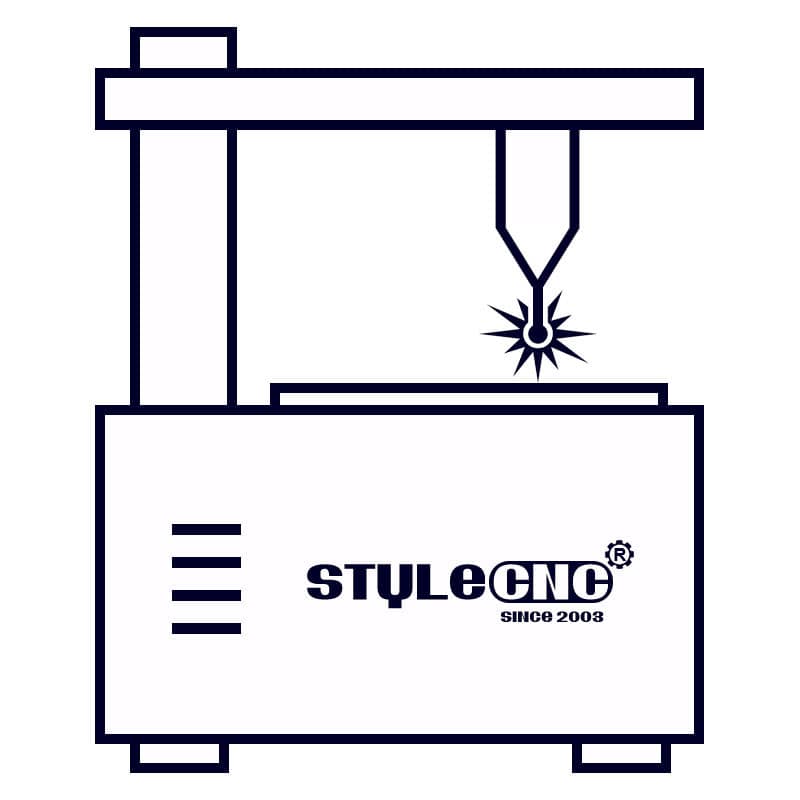 Throughout the last few years, automatic CNC laser machining has become widespread, expanding from hobby shops to small businesses, schools, as well as strictly industrial manufacturers. Increased competition on the market also means that choosing the right CNC laser machine for cutting, engraving, marking, etching, cleaning and welding will be harder than ever. Most guys have no idea where to start.
STYLECNC would like to assist you throughout the selection process, not by suggesting any specific CNC laser kit, but rather by guiding you to make your own decision, in accordance with your needs and budget.
There's a lot to know before you can find the right CNC laser cutter, engraver, marker, etcher, cleaner and welder to start or grow your business. In order to help you get the right information, here are some of the CNC & laser basics you need to know. This guide will discuss what you need to consider when determining which CNC laser machine is the best kit for your business.
Definition
A CNC laser machine is an automatic computer numerical controlled laser machining system that adopts FIBER/CO2/UV laser beam to mark, etch, engrave or cut metallic and nonmetallic materials. It is composed of bed frame, controller, power supply, generator, tube, head, mirror, lens, water chiller, stepper motor or servo motor, air compressor, gas cylinder, gas storage tank, dust extractor, air cooling filer, dryer, software and system. It is widely used in industrial manufacturing applications, school education, small businesses, home business, small shop, home shop, advertising, arts, crafts, gifts, toys, packaging industry, printing industry, leather processing industry, clothing industry, automotive industry, musical instruments, architecture, label production, medical industry and more.
Applications
CNC laser machines are used for marking, etching, stippling, engraving, and cutting variety of metal & nonmetal materials:
Metal Materials: Carbon steel, stainless steel, tool steel, spring steel, galvanized steel, aluminum, copper, gold, silver, alloy, titanium, iron, brass, manganese, chromium, nickel, cobalt, lead.
Nonmetal Materials: Wood, MDF, plywood, chipboard, acrylic, plastic, PMMA, leather, fabric, cardboard, paper, rubber, depron foam, EPM, gator foam, polyester (PES), polyethylene (PE), polyurethane (PUR), neoprene, textile, bamboo, ivory, carbon fibers, polyvinyl chloride (PVC), polyvinyl butyrale (PVB), polytetrafluoroethylenes (PTFE /Teflon), beryllium oxide, and any materials containing halogens (chlorine, fluorine, iodine, astatine and bromine), phenolic or epoxy resins.
Types
CNC laser machines are divided into cutting, engraving, marking, cleaning, welding machine,
Cutters are divided into fiber, CO2 and hybrid laser cutters,
Engravers are divided into fiber, UV and CO2 laser engraver.
Markers are divided into fiber, CO2 and UV laser marking machine.
Welders are divided into handheld and automatic laser welding machine.
Technical Parameters - Specifications
| | |
| --- | --- |
| Brand | STYLECNC |
| Laser Power | 20 Watts - 40000 Watts |
| Laser Wavelength | 10.6 μm, 1064 nm, 355 nm |
| Laser Type | Fiber, CO2 and UV laser |
| Capability | Cutting, Engraving, Etching, Marking, Cleaning, Welding |
| Price Range | $2,400.00 - $260,000.00 |
Pricing Guide
CNC laser machine cost is composed of spare parts (CNC controller, power supply, generator, head, laser tube, lens, mirror, bed frame, water chiller, stepper motor or servo motor, dust extractor, air compressor, gas cylinder, gas storage tank, air cooling filer, dryer), software and control system, shipping costs, tax rates, customs clearance, service and technical support. A CNC laser cutter cost has a price range from $2,600.00 to $300,000.00. A CNC laser engraving machine cost has a price range from $2,400.00 to $70,000.00. A CNC laser marking machine cost has a price range from $3,000.00 to $70,000.00. A CNC laser welding machine cost has a price range from $16,800.00 to $28,000.00.
Benefits and Advantages
As a new technological method in recent years, the CNC laser machine can irradiate a beam with a high energy density to the workpiece to be processed, so that it is locally heated and melted, and then use high-pressure gas to blow off the slag to cut shapes & profiles or engrave texts & patterns.
1. Narrow kerf, high precision, good kerf roughness, no need for further processing after cutting.
2. It has a high degree of automation, can be completely enclosed for processing, has no pollution, and has low noise, which greatly improves the working environment of the operator.
3. The processing cost is low. The one-time investment in equipment is more expensive, but continuous and large-scale processing will eventually reduce the processing cost of each part.
4. It is non-contact processing, with low inertia and fast processing speed. It is time-saving and convenient, and the overall efficiency is high with the CAD/CAM software programming of the CNC system.
5. The high energy density is enough to melt any metal, and it is especially suitable for processing some materials that are difficult to process with high hardness, high brittleness, and high melting point.
6. The action time is short, the heat affected zone is small, the thermal deformation is small, and the thermal stress is small. In addition, it is non-mechanical contact processing, which has no mechanical stress on the workpiece and is suitable for precision processing.
7. The CNC laser system itself is a set of computer systems, which can be conveniently arranged and modified, and is suitable for personalized processing, especially for some sheet metal parts with complex contours and shapes. The batches are large and the batches are not large, and the product life cycle is not long. From the perspective of technology, economic cost and time, manufacturing molds is not cost-effective, and engraving & cutting is particularly advantageous.
The CNC laser machine is not a consumer product. It is a weapon to help you make money. The purpose of buying it is to increase production capacity, improve production efficiency, reduce production costs, improve the level of technology, so it is very important to choose the right machine.
How To Use?
Step 1. Determine the production plan according to the arrangement, and distribute the processing drawings to the entire equipment operation group.
Step 2. According to the plan, the drawing staff will analyze the drawings, and draw them with CAD according to the requirements of the drawings.
Step 3. The quality inspector confirms the correctness of the drawing drawn by the draftsman.
Step 4. According to the drawn electronic file drawings, the production supervisor calculates the processing completion time and prepares the materials required for processing and the cutting auxiliary gas used.
Step 5. Programmers use programming software to prepare files in the format of NC operation.
Step 6. The supervisor issues a task list to the equipment operator (the task list contains the following contents: the program name of the workpiece, the type of material, the thickness of the material, the maximum length and width of the workpiece to be processed, and the number of workpieces required.)
Step 7. Trial cut the first piece and send it to the quality inspector for inspection. After confirming that the size is qualified, the first piece is archived.
Step 8. Start batch processing
Step 8. Number the processed workpiece.
Precautions
Startup Precautions
1. Check whether there are obstacles on the machine table that affect the zero return of the X, Y, and Z axes of the machine tool, and remove them if necessary.
2. Prepare various gases required for cutting, and adjust the pressure to an appropriate value as required; for example, the pressure of oxygen used for cutting should be adjusted to 0.4-0.5 MP, and the pressure of nitrogen gas should be adjusted to 1.8-2.2 MP (Note : According to the thickness of the cutting plate, the pressure should be changed, and the thin plate should use a small air pressure, and the thick plate should use a high air pressure).
3. Open the drain valve of the air storage tank of the air compressor to drain the sewage in the air tank, then close the drain valve to start the air compressor (the loading and unloading pressure of the air compressor should be set to 0.8MP and 1MP).
4. Start the voltage regulator (the voltage regulator value is set to 380~400V).
5. Start the condenser (function: to cool the gas generated by the air compressor, dry it and send it to each reflector).
6. Start the chiller to check whether its water level and water pressure are normal, and turn on the cooling water and normal temperature water. The cooling water pressure should be set to about 0.5MP, and the upper limit temperature should be set to 20 degrees. The water pressure at room temperature is around 0.3MP, the upper limit temperature is set to 30 degrees in summer and 25 degrees in other seasons.
7. Turn on the pressure of high-purity nitrogen (purity ≥99.999℅) is greater than 0.4MP, the pressure of high-purity carbon dioxide (purity ≥99.999℅) is greater than 0.4MP, and the pressure of high-purity helium (purity ≥99.999℅) Greater than 0.4MP.
8. Turn on the laser.
9. Turn on the machine, enter the OPERATOR system (password: user), release the emergency stop button and reset the alarm, return to the reference point (SET ZERO), light up the CLC button, light up the start button (LASER ON), and observe the laser after the word (HV READY) appears on the panel of the electric cabinet, the high voltage on button (HV ON) on the numerical control panel can be lighted.
10. According to the task plan, input the program to be processed into the CNC for processing and production.
Shutdown Precautions
1. Return the X, Y, and Z axes to the reference point.
2. Turn off the high voltage button (HV ON).
3. Turn off the power supply (LASER OFF).
4. Press the emergency stop button to close the CNC panel. (The power supply of the CNC panel cannot be forcibly turned off. Forcibly shutting down may easily cause system data loss)
5. Cut off the power supply of the electric control cabinet of the machine.
6. Stop the chiller and disconnect its power source.
7. Cut off the power supply of the electric control cabinet.
8. Stop the air compressor and cut off the power.
9. Stop the condenser and disconnect the power supply.
10. Close each auxiliary air valve.
11. Clean the CNC laser machine.
Precautions During Operation
1. Protection against anti-slag from drilling (protective lens).
• When cutting stainless steel, galvanized sheet, aluminum sheet and other materials, it is easy to cause slag and contaminate the focusing mirror. In order to avoid such consequences due to improper parameter setting, customers are required to pay attention to the following items.
• The punching height is set to 2~5 mm, and the height increases with the increase of material thickness.
• For materials with a thickness greater than or equal to 2.5 mm, it is required to turn on the option of "cut small hole after piercing" and set the radius of the small hole to 0.5-1 mm.
• For stainless steel with a thickness of 3 mm or less, nitrogen drilling must be used.
• Stainless steel thicker than 3 mm can be perforated with nitrogen or oxygen.
• For aluminum or galvanized panels, oxygen perforation must be used.
• When drilling holes with oxygen, it is required to turn on the "Wait for oxygen and nitrogen conversion" option, and set the time to 1 to 3 seconds.
2. During the cutting process, the customer is required to pay attention to the deformation of the plate. If the plate jumps, the customer is required to press the plate before cutting, so as to avoid the occurrence of impermeable cutting and slag due to the beating of the plate.
Personal Safety Tips
1. When receiving a cutting task, pay attention to the following: check the nature of the material to be cut, know whether it will produce toxic gas when cutting, and ensure that there is a proper smoking system. (Note: equipment operators must wear protective equipment)
2. Others pay attention to the prompts in the equipment operation manual.
Machine Tool Safety Tips
1. When receiving a cutting task, pay attention to the following: check the properties of the material to be cut, understand its reflection of light, and ensure its absorption of light to prevent damage to the laser after reflection.
2. Pay attention to electricity and laser damage during the use.
Electricity Safety
The CNC laser is powered by 390-400V AC, and then converted to a high voltage of more than 10 kV through a high-voltage transformer to provide excitation energy.
• When it is powered on, do not open the electrical cabinet and laser head protection door to avoid electric shock.  
• After it is powered off, do not open the electric cabinet and the laser head protective door, especially the back door of the electric cabinet,
• Because the electricity inside the laser may not be completely discharged, it is easy to cause harm to people.  
Laser Safety
Laser is invisible light with high power density, which is easy to cause burns and radiation to the human body. When using it, do not stand in the path of the light to avoid being burned. Do not stare directly at the laser to avoid being burned. It is best to wear protective glasses for work.
Focusing Lenses Precautions
Pay attention to the cleaning of the focusing lens and clean it frequently. It needs to be adjusted once a month if the optical path is found to be off, and the equipment should be maintained regularly according to the maintenance requirements in the operation manual to keep the equipment in the best condition.
Cold Dryer Precautions
1. The indoor temperature cannot exceed 35 degrees.
2. Discharge sewage every day.
3. Clean the vents once a week (just blow with an air gun).  
4. Clean the filter monthly (soft brush   soapy water).
Maintenance & Troubleshooting
Machine Tool Daily Maintenance
1. The external optical path is checked once a month to two months. If the copper mirror is found to be polluted, it needs to be cleaned in time (cleaning as required). After cleaning, the external optical path needs to be re-adjusted. Once adjusted, don't move it easily.
2. The screw and linear guide need to be lubricated and maintained every half a month to a month.  
3. The entire machine table surface needs to be cleaned once a week.  
4. Clean the dust on the radiator of the chiller once a week (blow the radiator up and down with air). 5. Check the water level in the water exchanger once a month and replenish the water (note that the water inside should be as clean as possible).  
6. Check the filter of the cold dryer once every 2-3 months and clean the filter element once (alcohol). Do not wash it too hard. If there is oil stain, clean it with gasoline. If it is damaged, it needs to be replaced.  
7. The guide rails of the workbench and the lift table are cleaned once a month.  
8. The chiller is inspected once a month. If the water level is insufficient, replenish water. The pure water is replaced every 2 months, and the distilled water is replaced once every 6 months. If the water quality is not good during the inspection, replace it immediately.  
It is recommended to use telephoto lens cutting for carbon steel over 9.6mm and stainless steel over 5mm, which is easy to protect the lens.
10. Remember to clean the lens after cutting stainless steel, wood, rubber, plexiglass, and quartz.
11. Due to the high temperature in summer, if the CNC laser machine works for a long time, the Z-axis and the Z-axis box may be slightly heated, which is normal. But if the temperature is high or even hot, it is not normal. It is recommended to start checking from the following aspects:
• Check whether the switch of the control external light path on the chiller is turned on.  
• Whether the optical path of the Z axis is positive.  
• Is the surface of the focusing lens badly damaged (many spots on the surface).  
• Whether the Z axis is vertical.     
• Whether the two copper mirrors at the proximal end of the Y axis are clean. Any of the above situations will cause the Z-axis and the Z-axis box to heat up, so you should pay more attention to it in the future.
12. After changing the mixed gas, tighten the valves of the mixed gas, and then gently close the lid.  
13. Pay attention to the standard operation. When raising the head (RETRACT) to execute cycle cutting (CYCLE START) and lowering the head (SET TO CUT) to execute cycle cutting (CYCLE START), you must pay attention to the display in the program, and do not move quickly when the cutting head is lowered. (It is easy to crash the cutting head in this way).  
15. Frequent blasting will occur in the following situations (frequent blasting will damage the lens). 
• Due to the unstable working voltage or other reasons, the pulses emitted by the laser are sometimes unstable.  
• The light is biased.  
• Piercing parameters are not reasonable.  
16. Every once in a while, use a cotton swab or absorbent cotton to dip some acetone to clean the inside of the Z-axis.
CNC Laser Daily Maintenance
In order for the CNC laser machine to have and maintain good working performance, it is necessary to provide it with good working conditions, that is, to meet its requirements mainly in terms of water, gas and electricity.
The main function of cooling water is to take away the heat generated during operation and prevent it from working at high temperature. The chiller uses distilled water to take away the heat in the electrical cabinet and resonance cavity through cooling and water circulation, so that the machine can work normally. The water temperature of the cooling water should be kept at 20 degrees. Since the water passes through the pipeline of the chiller and the copper plate in the resonance cavity, it is required that the pH and conductivity of the water meet the requirements, otherwise the laser will be damaged if used for a long time. In order to avoid this situation, anticorrosion inhibitors need to be added to the water, and the conductivity of the water should be measured regularly to ensure that the water quality meets the requirements. The RF generator is cooled with deionized water, and a deionized agent is also required to ensure that the conductivity meets the requirements.  
The working gas is divided into two types, one is the mixed gas that provides the medium for the resonator, and the other is high-purity nitrogen. The purity of high-purity nitrogen must reach more than 99.99%, otherwise it will pollute and cause damage to the lens in the inner optical path. Pay attention to the quality of the gas, otherwise the laser will be easily damaged.
Air Compressors Maintenance
• Check the oil level (at the 3/4 position) every day before starting up, and drain the waste water after stopping.  
• Clean the cooling nets on both sides (just blow with an air gun) and the air filter every week.
• Clean oil cooler   air cooler every 1000 hours.
• Check the belt tension every 1000 hours to adjust.
• Replace air filter  oil filter  compressor oil every 4000 hours.
• Do not exceed 110 degrees when the machine is running (80~90 degrees when working).
• The number of motor starts must not exceed 20 per hour.
• Do not use the emergency stop for non-emergency situations.
• The fan blades run counterclockwise, indicating that the wires are not reversed.  
Safety and Security  
Fire Protection
Oxygen is needed for the operation of the CNC laser machine, so smoking should be prohibited in the area around the machine, especially near the oxygen cylinder, to prevent hidden dangers and unnecessary damage. (If conditions permit, fire extinguishers should be provided next to the equipment)  
Laser Protection
When hitting the center, one must pay attention to make sure the person's hand is away first, turn off the height control (turn off the CLC) and then light. When adjusting the external light path, it must be ensured that no one is standing in the light path range. The operator should also pay attention to ensure that the light will not hit people before lighting. The lighting power and time should be controlled to a reasonable range (the central power is generally 200 between 0.01 and 0.02S. When adjusting the external optical path, the light output power is generally controlled at about 300W, and the light output time is controlled between 0.2 and 0.5S). After the external optical path is adjusted, all protective covers must be installed before cutting. When exchanging air, remove the high voltage first, and close the door immediately after exchanging air. Do not open the door of the electrical cabinet casually, and do not touch the circuits and electronic components inside.
Trends
The era of intelligence will come in all respects. Whether it is Germany's Industry 4.0 or China's smart manufacturing, the fourth industrial revolution in the industrial field is quietly coming. As a high-precision laser CNC machine, the laser CNC cutting machine or laser CNC engraving machine is bound to keep pace with the times and fly with technology. The development of laser CNC automation has greatly improved the production capacity and automation level of the workshop.
In the future, on this basis, an era of laser CNC engraving & cutting machines combined with intelligent manufacturing is brewing deeply in the fields of network technology, communication technology, and computer software technology. As an intelligent manufacturing pilot demonstration unit, STYLECNC is relying on its own system technology integration capabilities, focusing on the future development direction and technological commanding heights, and joining strategic partners to build a fully intelligent laser CNC machining factory and create a new situation for intelligent laser CNC engraver and laser CNC cutter.
Things To Consider
This is only a small scratch to know about automatic CNC laser machining. However, by having a basic understanding of these helpful concepts, you'll be able to quickly build upon them and grow your knowledge of CNC laser machine choices.
2023 Best Laser Engraving Machines for Sale
2023 Most Profitable Laser Marking Machines for Sale
2023 Top Rated Fiber Laser Cutting Machines for Sale
2023 Affordable CO2 Laser Cutting Machines for Sale
2023 Best Value Mixed Laser Cutting Machines for Sale
2023 Best Budget Laser Welding & Cleaning Machines for Sale
Video Tutorials & Instructional Videos
Free DIY Projects & Plans
Feature Stories & Articles
2023 Best CAD/CAM Software for CNC Machines (Free & Paid)Category: CNC Software

Jan 09, 2023

Looking for a free or paid CAD and CAM software for CNC machining based on Windows, macOS, Linux? Review this guide to understand the 21 best CAD/CAM software for CNC machines in 2023, including AutoCAD, MasterCAM, PowerMill, ArtCAM, AlphaCAM, Fusion 360, SolidWorks, hyperMill, UG & NX, SolidCAM, Solid Edge, BobCAD, ScultpGL, K-3D, Antimony, Smoothie 3D, DraftSight, CATIA, CAMWorks, HSM, SprutCAM.
Jan 09, 2023

Looking for 2023 top rated affordable laser engraver with rotary attachment for custom YETI cups, mugs, ramblers, or tumblers with best budget? Review 2023 best laser engraving machine buying guide to personalized cups, tumblers, ramblers, and mugs of stainless steel, glass, ceramic, titanium, aluminum, copper, brass, silver, gold, wood, plastic, acrylic, paper, stoneware, melamine with letters, logos, signs, monograms, names, vinyls, glitters, patterns, and pictures.

May 11, 2022

You may run into some problems in the use of laser engraver, we'll analyse 19 most common laser engraving machine problems and give you the right solutions.

May 19, 2022

When you have an idea to buy an affordable laser engraver cutting machine to start your business, you should know what is a laser cutter engraving machine? what is it used for? how does it work? how much does it cost? how to buy it within your budget?

May 30, 2022

Before you buy CO2 laser machine for engraving & cutting, you should know what is it? how does it work? how much does it cost? how to buy it within your budget.

May 17, 2022

EZCAD is a laser marking software used for UV, CO2, or fiber laser marking systems, how to install and use EZCAD2 or EZCAD3 for your laser marking machine? Let us start learning the user manual for EZCAD software.

Jan 12, 2023

Are you building your own mini laser cutter engraving machine? Review this DIY guide on how making a small laser engraver kit from DVD-ROM with parts assemble, software installation & debugging, and machining operations.

Dec 02, 2022

Looking for an affordable CO2 or fiber laser engraver cutter for custom jewelry maker with hobbyists or business to make money? Need a CNC laser jewelry engraver cutting machine for beginners? Review this guide to buy 2022 best laser jewelry cutter engraving machine for personalized jewelry gift & jewelry box making with metal, silver, gold, stainless steel, copper, brass, aluminum, titanium, glass, stone, acrylic, wood, silicon, wafer, zircon, ceramic, film.

May 17, 2022

Laser engraver vs CNC router, what is the best for your engraving plans or projects? Review the guide to a comparison of CNC engraving machine and laser engraving machine.

Jul 26, 2022

Is it worth buying a laser engraver? It's a thing to consider before starting DIY personalized crafts, arts, gifts, daily necessities with custom laser engraving to make money.

Jan 09, 2023

2023 best laser engraver cutting software with paid & free versions include LaserCut, CypCut, CypOne, RDWorks, EZCAD, Laser GRBL, Inkscape, EzGraver, SolveSpace, LaserWeb, LightBurn, Adobe Illustrator, Corel Draw, AutoCAD, Archicad and some popular CAD/CAM software for laser cutter engraving machine.

Jun 02, 2022

How long a laser engraver lasts depends on whether you can right operate the machine, and whether you can regularly maintain the main components and parts.

Nov 03, 2022

Are you researching and learning how to operate a laser engraving machine? Review the easy-to-follow guide to understand how to easily use a CO2 laser engraver step by step.

Jun 02, 2022

In this article, you'll understand 6 most common laser generators, source, and systems: solid-state, gas, dye, Diode, fiber, and free electron laser generators.

Jun 02, 2022

Looking for an affordable laser etcher to DIY custom wine glasses, bottles, cups, arts, crafts, gifts, decorations? Review the 5 best laser etching machines for personalized glassware & crystal.

Jun 02, 2022

Are you thinking how to etch texts, barcodes, QR codes, or patterns on PCB board? A laser marking machine can help you easily make custom Printed Circuit Board.

Sep 17, 2022

Looking for a profitable laser marking machine to start a personalization business? Review the guide on how to use a beneficial fiber laser engraver to make money.

May 17, 2022

Looking for a laser cutter to start your business or pick up a hobby you've always wanted? Whether you are a beginner or CNC machinist, please follow the 26 steps on how to use a laser cutting machine.

Jun 03, 2022

Are you looking for an affordable industrial laser cutting machine for commercial use in modern manufacturing? Review the 9 best industrial laser cutters to start or upgrade your business.

Sep 08, 2022

Are you planning to build your own laser cutting machine for hobbyists, or start a business to make money with it? Review this guide to learn how to DIY a laser cutter by yourself, and grow up to be an enviable professional maker.

Sep 19, 2022

Are you learning & researching on how to make your own CNC kits for beginners? Review this DIY guide on how to build a CNC machine step by step from scratch.

Jan 09, 2023

You will understand 12 most common types of welders in this article, including MIG, TIG, AC, DC, SAW, CO2 gas shielded, laser, plasma, butt, spot, pressure, SMAW, and stick welding machines.

Jan 09, 2023

You can either use laser cleaners, power tools or chemicals to clean rusted metal parts, or you can use homemade rust remover to remove rust from metal tools.

Feb 21, 2023

Glasschneider, CNC machine, laser cutter, which is better for mobile phone makers to cut smartphone glass (as well as tablet and laptop glass) such as Gorilla glass, Sapphire, Dragontrail glass to make personalized mobile cell phone screens, displays, front covers, rear panels, camera cover, filter, fingerprint identification sheet, prism?

May 24, 2022

When using a laser cutter, you will be troubled by various faults, this article will help you understand the problems, causes and solutions for troubleshooting.

Sep 19, 2022

In this article, you will understand what is CNC programming for beginners, how to use the best CAD/CAM software to create personalized programs for programmers in modern industrial CNC machining.
Customer Reviews & Testimonials
Stephen Becerra

from CanadaPosted on

Feb 19, 2023

Easy to assemble, everything plugged in as it should. Control panel is user friendly. Software came with the all-in-one fiber laser metal cutter is easy to use, enabling automation and modular cut in metal fabrication. Had some parameter setting issues and they were prompt to respond online and sort it all out. Used it cut through 20mm mild steel plate to make metal parts, as well as custom handrails and guardrails from 6mm 304 stainless steel round tubing. 4000 watt high laser power kept cutting at a fast speed for smooth and clear cuts with fast speed. As others have reviewed and I can now also attest that STYLECNC is focused on product quality and customer support. This is why this brand has earned my five star rating. Would recommend them to all without reservation.

Philipp Bohm

from GermanyPosted on

Feb 06, 2023

Well packaged with perfect condition. Easy to make it work. I cut a variety of thickness stainless steel sheet and pipe with no problems so far. Resulted in clean and smooth cut outs. Worked great as expected. I am very impressed with the performance for the money you can't beat it. I hope this all-in-one laser metal cutter holds up well.

Francesca J Bryant

from United KingdomPosted on

Jan 26, 2023

The intent of this small laser cutter purchase for me is as a hobbyist. Exactly what I expected. I took 1 hour to build it, and achieved a nice, tight assembly in the end with clear instructions. It has been cutting balsa wood sheets every day since we got it assembled. So far every cut is clear and smooth. A good value for the money.

Amaniag

from AustraliaPosted on

Jan 20, 2023

Great packaging. Everything is top of the line and easy to put it together. No issues with the assemble at all. This automatic laser cutter is a great addition to my sign business. A bit of a learning curve at first but it will be easy to use once you figure out what to set for depth, type, and material. I have made lots of clean cuts with plywood and clear acrylic. Very fast and precise. So far so good. Best bang for a buck. Already starting to make money with custom personalized signs.

Dorsett

from AustraliaPosted on

Jan 14, 2023

I have just received the STJ-50F. Worked out of the box and had no issues at all. Exactly the same as described. I puchased the latest model and the EZCAD software was included. Got the fiber laser engraver up and running with the software installed and my first engraving and cutting in about 30 minutes. Resulted in clear & smooth edges and lines. Easy to use for a novice with the instructional videos. Great for the price and worth buying. Recommend getting the exhaust fan, which is a must have for indoor use.

Maragall

from United StatesPosted on

Jan 13, 2023

My old CO2 laser is limited to cut metal and so I purchased this hybrid laser cutter as an upgrade version. Instructions are easy to follow on how to put it together and set cutting parameters in the controller software. It has worked great for both sheet metal and wood, I have used it to cut a lot of stainless steel and plywood enough to pay for itself. A lot of bang for the money.

Eric Pearson

from United StatesPosted on

Nov 17, 2022

Surprised at the quality of this compact laser jewelry cutter when it arrived. Put it together in 30 minutes. Small size and easy to move. I bought this unit to make pendant necklaces of silver and gold. It is easy to use with an automatic cutting software and there are no issues so far. I have tried this cutting tool to cut sterling silver sheet and it resulted in clear and smooth pendants without sanding in seconds. I will try to cut more types of metals in the next week.

Alexander Brabyn

from AustraliaPosted on

Nov 13, 2022

I purchased this fiber laser engraver after researching how to videos and learning its pros and cons in advance. Assembly was sort of easy with the instruction book. The software that comes with it is easy to use. I have done a few tests for 3D deep relief engraving and stippling guns with some examples and a couple of my own creations. It worked well and resulted in smooth and clear patterns. A great gun engraver kit for anyone with intuition and patience on custom personalized firearms. So far it is worth the money.

Greg

from United StatesPosted on

Nov 02, 2022

This is a special 3D laser engraver and you should buy for personalized crystal souvenirs and gifts for your custom business. The subsurface engraving details in crystal are amazing. It's pricey but it was worth every penny. It paid for itself in less than three months.

Donovan

from South AfricaPosted on

Oct 11, 2022

Have been needing a laser bought for ability to easily cut both metal and acrylic. The ST-FC1325LC is the right one for me. It came well packaged. The provided instructions, parts and accessories will have you up and running in 1hr. I have been using this automatic cutter for a month and I love it. It cuts through steel and acrylic sheet like butter. Its outstanding ability surprised me.