2020 Buyer's Guide to CNC Laser Machine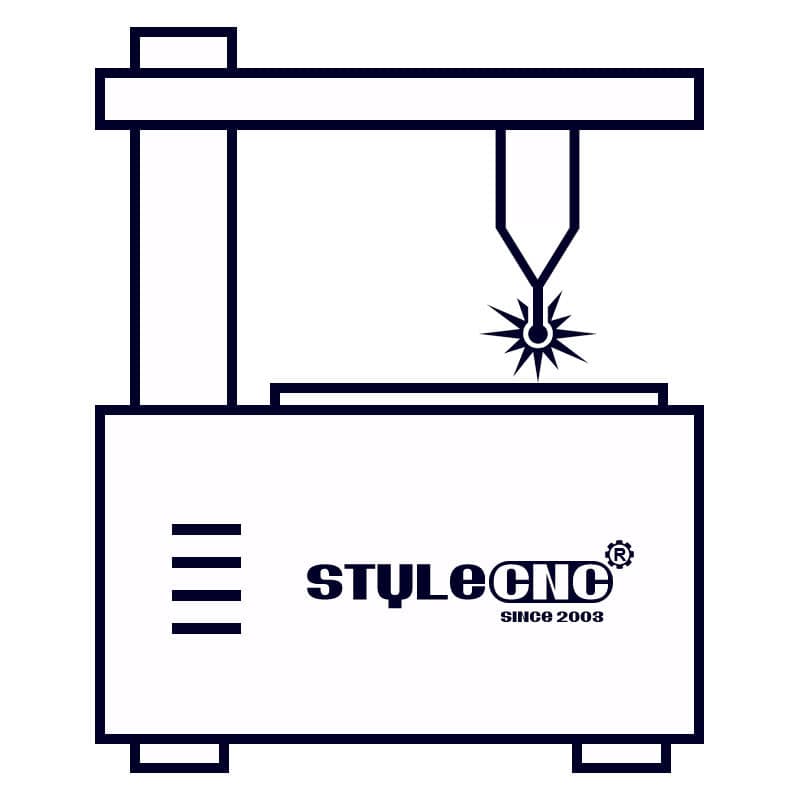 Do you have an idea to DIY or buy an affordable CNC laser machine? Check out the 2020 new CNC laser machine buyer's guide as follows, we'll offer you the best CNC laser machines of 2020 with expert customer service to fit your requirements.
What is A CNC Laser Machine?
A CNC laser machine is a CNC equipment that adopts FIBER/CO2/UV laser beam to engrave or cut metal/nonmetal materials, which is widely used in industrial manufacturing applications, school education, small businesses, home business, small shop, home shop, advertising, arts, crafts, gifts, toys, packaging industry, printing industry, leather processing industry, clothing industry, automotive industry, musical instruments, architecture, label production, medical industry, etc.
Applications
CNC laser machines are used for engraving and cutting metal materials (steel, alloy, aluminum, copper, gold, silver, iron, brass, etc.) and non-metal materials (wood, acrylic, leather, fabric, paper, foam, glass, etc.) into different shapes and patterns.
Types
CNC laser machines are divided into CNC laser cutting machine (CNC laser cutter), CNC laser engraving machine (CNC laser engraver) and CNC laser marking machine (CNC laser marker),
CNC laser cutting machines are divided into fiber laser cutting machine (fiber laser cutter), CO2 laser cutting machine (CO2 laser cutter) and mixed laser cutting machine (mixed laser cutter),
CNC laser engraving machines are divided into fiber laser engraving machine (fiber laser engraver) and CO2 laser engraving machine (CO2 laser engraver),
CNC laser marking machines are divided into fiber laser marking machine and CO2 laser marking machine.
Technical Parameters
| | |
| --- | --- |
| Brand | STYLECNC |
| Laser Power | 10 Watts - 8000 Watts |
| Laser Type | Fiber laser, CO2 laser |
| Laser Function | Cutting, Engraving, Marking |
| Price Range | $2,000.00 - $300,000.00 |
Manufacturer Guide
As a guaranteed CNC laser machine supplier and manufacturer, STYLECNC provides all kinds of best CNC laser machine for sale to fit your engraving and cutting works.
STYLECNC's CNC laser machines are equipped with genuine laser machine software, system and the best parts.
STYLECNC offers cost price for your CNC laser machine plans without any intermediate. You will get the best CNC laser machines with affordable price from us.
STYLECNC also offers smart 2D/3D laser engraving and cutting solutions, 24/7 one-to-one free service and support, which is available free.
Buying Guide
1. Consult:
We will recommend the most suitable laser machine to you after being informed by your requirements.
2. Quotation:
We will offer you with our detail quotation according to the consulted laser machine. You will the most suitable laser machine specifications, the best laser machine accessories and the affordable laser machine price.
3. Process Evaluation:
Both sides carefully evaluate and discuss all the details of the order to exclude any misunderstanding.
4. Placing an order:
If you have no doubts, we will send the PI (Proforma Invoice) to you, and then we will sign a contract with you.
5. Production:
We will arrange the CNC laser machine production as soon as receiving your signed sales contract and deposit . The latest news about production will be updated and informed to the laser machine buyer during the production.
6. Quality Control:
The whole production procedure will be under regular inspection and strict quality control. The complete CNC laser machine will be tested to make sure they can work very well before out of factory.
7. Delivery:
We will arrange the delivery as the terms in the contract after the confirmation by the buyer.
8. Custom Clearance:
We will supply and deliver all the necessary shipping documents to the buyer and ensure a smooth customs clearance.
9. Support and Service:
We will offer professional technical support and free service by Phone, Email, Skype, WhatsApp, Online Live Chat, Remote Service. We also have door-to-door service in some areas.
Demonstration
CNC Laser Machine Projects
CNC Laser Machine Stories
Jun 21, 2019

When you want to buy an affordable laser engraver/laser cutter, you should know what is a laser engraver/laser cutter? what is a laser engraver/laser cutter used for? how does a laser engraver/laser cutter work? how much does a laser engraver/laser cutter cost? how to buy an affordable laser engraver/laser cutter within your budget?
Buyer's Reviews
Logan Isabella

from CanadaPosted on

Dec 29, 2019

Very happy with the purchase. The engraving quality is very good. Be sure you use a quality image and be prepared to resize it to your needs. Engraving time is fast and it does work well. Good luck.

Maximilian

from AustraliaPosted on

Dec 25, 2019

I got this for a Xmas gift. I finally got to sit down and mess with it and did practice initials I'm so excited to see what all this can do! I'm going to have to play with it to figure out the power it has but excited to learn. I was working on a test piece in less than a half hour. I added a picture of my first project that I had completed only having the laser cutter for a day. Easy instructions and everything want smooth.

spotty

from CanadaPosted on

Dec 23, 2019

mine is on the boat, but so far the service is awesome, do these people not sleep.

Kamogelo

from South AfricaPosted on

Dec 17, 2019

We've been using it for about 2 months for metal jewelry. With it's built-in software, safety features, and great support service, it's truly the best metal laser cutter for the crafter or small business. The unit was shipped very promptly and was well packaged.

Teague

from United KingdomPosted on

Nov 17, 2019

The portable laser cutter works great. I use it to make jewelry and cut sheet metals. Can get very detailed as long as you make sure the laser cut file is right.

Zechary

from AustraliaPosted on

Nov 10, 2019

The value is massive, I'm super happy. We have a photography business and deliver photos on wooden flash drives, this laser wood engraving machine is perfect for it. For those authoring adobe illustrator, I found that art board sizing precision is maximized when I export graphics with 536 PPI. Haven't tried in Mac but the Windows software works like a boss. Strongly recommend.

Joshua

from United KingdomPosted on

Oct 28, 2019

It was very easy to use and worked fantastic for engraving leather knife sheaths. Over the course of a day with plenty of long breaks in between each knife sheath I engraved ten sheathes with a logo which took approx five minutes apiece.

Harry

from CanadaPosted on

Oct 27, 2019

The fiber laser machine has performed better than expected. I have been cutting metal tags and signs, and it has done a very good job. The software is adequate but could be better. Delivery was sooner than expected, and setup was no problem thanks to some help videos from the nice supplier. It's a good business machine.

Alfie

from United KingdomPosted on

Oct 26, 2019

I'm an avid crafter and work with computers, so I didn't have any issues acclimating to the software. You have to get a feel for the configuration settings, but that varies by the media you are cutting upon and takes some minor trial and error. I bought a MDF board and played until I got the settings the way I wanted. I had a few newbie questions of the vendor and I found the email response was FANTASTIC and vendor was definitely committed toward me getting the most of this laser machine and went above and beyond to ensure my satisfaction. If you're looking for a laser cutter to get a feel for this type of craft, I can HIGHLY recommend this cutter. Happy "cutting" :)

Sophie

from United KingdomPosted on

Oct 22, 2019

This is a great personal laser marking system. It came with the user manual. It's very easy to use. Both hubby and I used it and we both enjoyed trying it out. I'm the artistic one but even my husband enjoyed using it and was already thinking about his next projects. The laser software lets you adjust the laser easily. It was so amazing to watch while it is working. We first tried using an aluminum coin, the results were amazing. Great for beginners like us. Highly recommended.