CNC Laser Machine Basics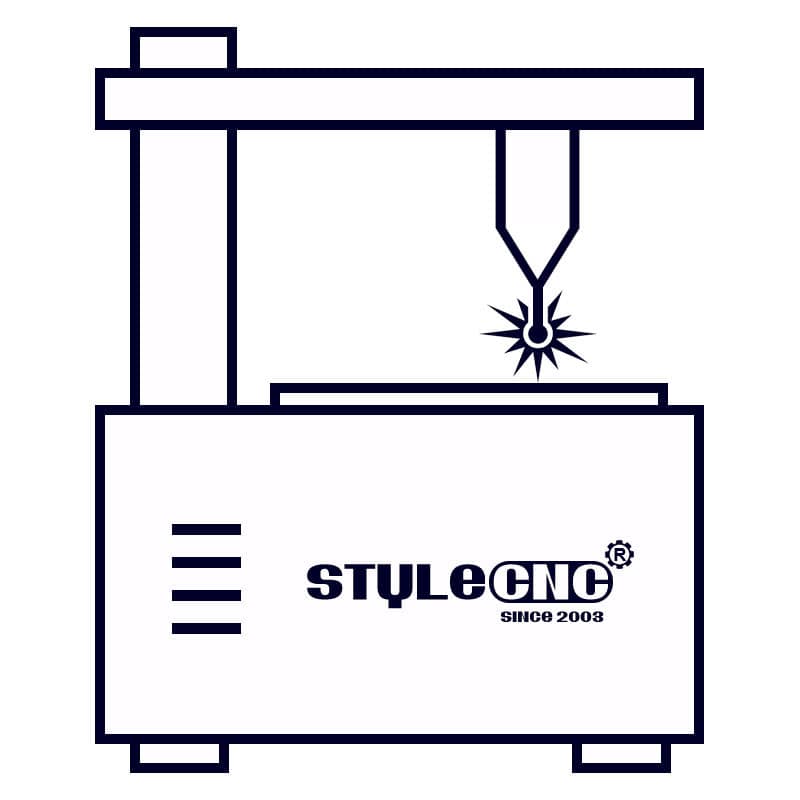 Are you looking forward to DIY a CNC laser machine or buy an affordable CNC laser cutter or CNC laser engraver in USA, UK, UAE, Canada, Australia, Russia, South Africa, China, India or other countries from Asia, Europe, North America, South America, Africa, and Oceania? Review the 2021 new laser CNC cutter and laser CNC engraver buying guide for CNC laser machinists, operators and beginners, we'll offer you the best laser CNC engraving machines and laser CNC cutting machines of 2021 with custom CNC laser engraving, etching, marking, welding, and cutting service to fit your laser CNC machine plans, projects, and ideas.
Definition
A CNC laser machine is a CNC equipment that adopts FIBER/CO2/UV laser beam to mark, etch, engrave or cut metallic and nonmetallic materials. It is composed of laser machine frame, CNC controller, laser power supply, laser generator, laser tube, laser head, laser mirror, laser lens, water chiller, stepper motor or servo motor, air compressor, gas cylinder, gas storage tank, dust extractor, air cooling filer, dryer, CNC laser software and CNC laser system. A CNC laser machine is also known as CNC laser engraver, CNC laser cutter, laser CNC engraver, laser CNC cutter, laser CNC engraving machine, CNC laser engraving machine, CNC laser cutting machine, laser CNC cutting machine, CNC laser marking machine, CNC laser etching machine, CNC laser welding machine, laser CNC machine, laser CNC etcher, laser CNC welder. It is widely used in industrial manufacturing applications, school education, small businesses, home business, small shop, home shop, advertising, arts, crafts, gifts, toys, packaging industry, printing industry, leather processing industry, clothing industry, automotive industry, musical instruments, architecture, label production, medical industry and more.
Applications
CNC laser machines are used for marking, etching, stippling, engraving, and cutting variety of metal & nonmetal materials:
Metal Materials: Carbon steel, stainless steel, tool steel, spring steel, galvanized steel, aluminum, copper, gold, silver, alloy, titanium, iron, brass, manganese, chromium, nickel, cobalt, lead.
Non-Metal Materials: Wood, MDF, plywood, chipboard, acrylic, plastic, PMMA, leather, fabric, cardboard, paper, rubber, depron foam, EPM, gator foam, polyester (PES), polyethylene (PE), polyurethane (PUR), neoprene, textile, bamboo, ivory, carbon fibers, polyvinyl chloride (PVC), polyvinyl butyrale (PVB), polytetrafluoroethylenes (PTFE /Teflon), beryllium oxide, and any materials containing halogens (chlorine, fluorine, iodine, astatine and bromine), phenolic or epoxy resins.
Types
CNC laser machines are divided into CNC laser cutting machine (CNC laser cutter), CNC laser engraving machine (CNC laser engraver) and CNC laser marking machine (CNC laser marker),
CNC laser cutting machines are divided into fiber laser cutting machine (fiber laser cutter), CO2 laser cutting machine (CO2 laser cutter) and mixed laser cutting machine (mixed laser cutter),
CNC laser engraving machines are divided into fiber laser engraving machine (fiber laser engraver) and CO2 laser engraving machine (CO2 laser engraver),
CNC laser marking machines are divided into fiber laser marking machine and CO2 laser marking machine.
CNC laser welding machine are divided into handheld laser welding machine and automatic laser welding machine.
Technical Parameters - Specifications
| | |
| --- | --- |
| Brand | STYLECNC |
| Laser Power | 20 Watts - 15000 Watts |
| Laser Type | Fiber laser, CO2 laser, UV laser |
| Laser Function | Cutting, Engraving, Etching, Marking, Welding |
| Price Range | $2,400.00 - $260,000.00 |
Pricing Guide
CNC laser machine cost is composed of spare parts (CNC controller, laser power supply, laser generator, laser head, laser tube, laser lens, laser mirror, laser machine frame, water chiller, stepper motor or servo motor, dust extractor, air compressor, gas cylinder, gas storage tank, air cooling filer, dryer), CNC laser software and laser CNC system, shipping costs, tax rates, customs clearance, service and technical support. A CNC laser cutting machine cost has a price range from $2,600.00 to $300,000.00. A CNC laser engraving machine cost has a price range from $2,400.00 to $70,000.00. A CNC laser marking machine cost has a price range from $3,000.00 to $70,000.00. A CNC laser welding machine cost has a price range from $16,800.00 to $28,000.00.
Benefits and Advantages
As a new technological method in recent years, the CNC laser machine can irradiate a laser beam with a high energy density to the workpiece to be processed, so that it is locally heated and melted, and then use high-pressure gas to blow off the slag to cut shapes & profiles or engrave texts & patterns.
1. Narrow kerf, high precision, good kerf roughness, no need for further processing after cutting.
2. The laser has a high degree of automation, can be completely enclosed for processing, has no pollution, and has low noise, which greatly improves the working environment of the operator.
3. The processing cost is low. The one-time investment in equipment is more expensive, but continuous and large-scale processing will eventually reduce the processing cost of each part.
4. The laser is non-contact processing, with low inertia and fast processing speed. It is time-saving and convenient, and the overall efficiency is high with the CAD/CAM software programming of the CNC system.
5. The high energy density of the laser is enough to melt any metal, and it is especially suitable for processing some materials that are difficult to process with high hardness, high brittleness, and high melting point.
6. The energy density of laser processing is large, the action time is short, the heat affected zone is small, the thermal deformation is small, and the thermal stress is small. In addition, the laser is non-mechanical contact processing, which has no mechanical stress on the workpiece and is suitable for precision processing.
7. The CNC laser system itself is a set of computer systems, which can be conveniently arranged and modified, and is suitable for personalized processing, especially for some sheet metal parts with complex contours and shapes. The batches are large and the batches are not large, and the product life cycle is not long. From the perspective of technology, economic cost and time, manufacturing molds is not cost-effective, and laser engraving & cutting is particularly advantageous.
The CNC laser machine is not a consumer product. It is a weapon to help you make money. The purpose of buying a CNC laser engraver or CNC laser cutter is to increase production capacity, improve production efficiency, reduce production costs, improve the level of technology, so it is very important to choose the right laser CNC machine.
Trends
The era of intelligence will come in all respects. Whether it is Germany's Industry 4.0 or China's smart manufacturing, the fourth industrial revolution in the industrial field is quietly coming. As a high-precision laser CNC machine, the laser CNC cutting machine or laser CNC engraving machine is bound to keep pace with the times and fly with technology. The development of laser CNC automation has greatly improved the production capacity and automation level of the workshop.
In the future, on this basis, an era of laser CNC engraving & cutting machines combined with intelligent manufacturing is brewing deeply in the fields of network technology, communication technology, and computer software technology. As an intelligent manufacturing pilot demonstration unit, STYLECNC is relying on its own system technology integration capabilities, focusing on the future development direction and technological commanding heights, and joining strategic partners to build a fully intelligent laser CNC machining factory and create a new situation for intelligent laser CNC engraver and laser CNC cutter.
CNC Laser Machine Stories
May 24, 2021

Looking for a laser engraver for YETI Cups, YETI Mugs, YETI Ramblers, or YETI Tumblers? Review the 2021 best laser engraving machine buying guide to YETI Mugs, Cups, Tumblers, or Ramblers.

Jun 21, 2019

In the use of laser engraving machine, you may run into some problems and don't know how to solve the problem, STYLECNC will take you to analyse the 19 most common laser engraving machine problems and give you the right solutions.

Feb 26, 2021

When you have an idea to buy an affordable laser engraver or laser cutter to start your business, you should know what is a laser cutting machine or laser engraving machine? what is it used for? how does it work? how much does it cost? how to buy it within your budget?

Feb 25, 2020

Before you buy a CO2 laser machine for engraving and cutting, you should know what is a CO2 laser machine? how does a CO2 laser machine work? how much does a CO2 laser machine cost? how to buy an affordable CO2 laser machine within your budget.

Mar 16, 2020

Except for marking black, white, grey, fiber laser marking system can also mark different colors on stainless steel. Today, we will explore how does a fiber laser marking machine mark different colors on stainless steel.

Jan 06, 2021

Looking for a laser engraver to engrave logos, signs, names, tags, patterns or photos on knife blade blanks or knife handles? Check out 2021 best CO2 or fiber laser engravers for knives with 3d deep engraving, online flying engraving, color engraving and black white engraving.

Feb 27, 2021

Are you troubled by how to setup CO2 laser engraving cutting machine? We have summed up 12 steps on how to install CO2 laser machine with pictures and videos.

May 29, 2021

Laser engraver vs CNC router, what is the best for your engraving plans or projects. Review the guide to a comparison of CNC engraving machine and laser engraving machine.

Apr 25, 2021

When you have an idea to engrave and cut wood projects at home, you should buy a CO2 laser engraver for wood or a CO2 laser cutter for wood, so you can start your laser engraving and cutting projects.

Aug 31, 2021

When you have an idea to buy a laser marking machine, you should know what is it? how does it work? and the benefits, applications, different processes of laser marking systems.

Feb 26, 2021

When you operate a laser engraver or laser cutter, you should pay attention to the warnings and cautions, STYLECNC will take you to learn what you should know when operating a laser engraving cutting machine?

Apr 16, 2021

What should you consider before buying, operating, or building a laser cutting machine? First, you should know how does a laser cutter work? In other words, it's the working principle.

Mar 16, 2020

There are some differences between laser engraving machine, laser etching machine and laser marking machine. How to distinguish them, STYLECNC will tell you as following.

Mar 08, 2021

When you have an idea to buy a fiber laser cutting machine, you should know what is a fiber laser machine? what is it used for? how does it work? how to buy fiber laser cutters?

Nov 11, 2019

There are differences between laser engraving machine and laser marking machine, each type of laser machine has its own applications and attributes that make it ideal for different jobs.
Customer Reviews and Testimonials
George Krebs

from United StatesPosted on

Aug 26, 2021

I wanted a CO2 laser cutter to cut acrylic sheets for different craft ideas in my home shop, after weeks of researching, I finally made the purchase from STYLECNC. Everything showed up perfectly aligned and ready to engrave and cut right out of the box. That's unheard of from anything coming directly from China. This is the way to go if you live in the U.S. This is a pleasant surprise and a great start. I will update as I go through the startup.

Dean B Vigil

from United StatesPosted on

Aug 16, 2021

This is new for me, I am a gun DIYer and wanted to have a way to customize my pieces. There is quite a learning curve but that is expected. I purchased this unit as an intro to the gun engraving. The engraver was easy to assemble thanks to well written instructions and bagged parts. Easy to use and lots of fun. So far I am really enjoying creating projects. The quality of the laser engraved guns is excellent.

Sam Buzacott

from AustraliaPosted on

Aug 15, 2021

I was on the fence about this purchase for several months. I wanted to be able to cut sheet metals for different jewelry ideas, but this is a hobby for me and 32 thousands of dollars is a big investment despite this model being one of the least expensive options available. I finally came across the STYLECNC's review of the ST-FC6040 and that pushed me to make the purchase.

So far so good. Unbelievable quick shipping. The metal laser cutter arrived well packaged against damage, with all components. Nothing missing. I was able to set it up easily.

Alexander Brabyn

from AustraliaPosted on

Aug 12, 2021

I've used laser engraving service near me before. This is my first laser engraver. It arrived on time and very well packed. Nothing was missing, you get everything you need for setup. The instruction manual is very detailed on installation & operation. It took me about 30 mins to put it on and another 10 mins to install the software and driver. After familiar with the software, I have my initial sample engrave at the same day. Very easy to use. It's build in all metal frame, good designed in all connections and wiring cable. The STJ1390 laser is good quality engraver as I can see. It can be easily placed at any place. Very nice tool to own. Overall, this is great for someone who doesn't know what they're doing and wants to pick up a new hobby.

Madison

from AustraliaPosted on

May 17, 2021

Great customer service, very responsive to emails and helping sort out any issues. The mini fiber laser engraver is well built and easy to use. I absolutely love the finished work. Very easy to put together. Took me about 30 minutes to put together and another 20 minutes to figure out how to use the software. I bought this to personalize the wedding gifts. The price was good for a beginner.

Raymond Todd

from United StatesPosted on

Apr 09, 2021

The sales person, Nina was very knowledgeable and helpful in answering all my questions and concerns. The quality of the 50 Watt Laser is top notch. I purchased all the options and got automatic focus, which adjusts height automatically based on thickness of material. I was skeptical about buying a unit overseas, but Nina helped me with peace of mind in making my purchase. So far after a few months of using it, I'm very satisfied with my purchase and the price is low compared to equivalent USA models. It took me over 1 year to make this purchase after extensive research and looks like I made the right decision, although this is my first laser machine, so I do not have any other experience or use of a fiber laser engraver to compare. Bottom line is it works great and was easy to setup with videos Nina sent and other videos found on YouTube.

Randy Devine

from United StatesPosted on

Apr 08, 2021

I got one of these machines for my woodshop. I could have bought a similar wood laser cutter elsewhere for almost $2000 less. So why buy this one? Quality and features. Unlike the cheaper ones, this machine clearly underwent a QC process prior to shipment. It arrived ready to use. The mirrors were adjusted well enough to use the machine right out of the box. The mirror adjustment screws were retained with silicone to prevent movement in shipping. Unlike cheaper versions of these machines, the wiring was solidly connected with wire nuts, crimp terminals, and locking connectors and/or glue. I found no loose wires. Earth grounds were solidly connected and electrically sound, I measured less the 0.1 ohm to earth ground at both the power cord ground pin and the machine ground terminal. All non-crimped electrical connectors including PCB and power supply connectors were sealed with silicone. Cables were well bundled and retained with zip ties. With this machine, I was able to attach a water tank, power it on, and cut. Its amazing for cutting 1/4" and 1/8" wood.

I was happily surprised with the extras that are included. You get the aiming red laser, a strip of LEDs that illuminate the inside of the box, a powerful internal fan motor, temp sensors on the power supply and the tube, and venting of the electrical compartment. I thought I would have to add these myself. The only thing missing is an "open-door" shutoff switch for safety. You can easily add one of these with a microswitch and a two wire cable to the K+ - pins on the power supply.

Finally, a word about safety. CO2 lasers are invisible and thus EXTREMELY dangerous. Since you can't see the beam, it does not trigger a blink reflex. The first you know of a problem is when your retina boils. Really. If you get one of these machines you MUST purchase a set of safety glasses. Wear them whenever the machine is powered on, whether the laser is active or not. Make sure the lenses you buy are marked with the proper wavelength and an "OD" number, representing factor of 10 reduction. For instance, OD2 reduces power by 100, OD3 by 1000, etc. The wavelength of a CO2 laser is about 10600nm. The glasses should have an OD of at least 6 and preferably 7 for that wavelength. The lens will be marked something like "9000-11000 OD7+" directly on it. A decent pair will cost $30-$50. If the lenses are very cheap, avoid them.

Overall I am very happy with this purchase.

Terry A Dunlap

from United StatesPosted on

Apr 05, 2021

Stop looking at other laser machines this is the machine you are looking for.

If you are looking to buy your first fiber laser engraver for metal: This is the engraver you should get.

If you already have a fiber laser engraving machine and looking to add to your collection: This is the engraver you should get.

If you have another engraver but it is not very good: This is the engraver you should get.

If you are debating whether you should get this machine: This is the engraver you should get.

You are not going to find a better engraver at this price point. Period. This machine is actually underpriced for the quality it outputs.

I bought my first fiber laser marking machine over a year and a half ago after doing extensive research (as you are most likely doing now) I purchased an STJ-50F. I was very excited to enter into this new area of metal deep engraving. Set up took all of about 10 minutes if that. Everything was packed securely and did not have any damage and they include a ton of extras in the box including laser protective glasses.

I started my first test deep engraving which is a logo on the gun barrels and I watched details laid down with pure astonishment. The engravings came out so neat and clean, I showed them to everyone. By this time I was hooked.

After a couple of months I decided to buy the other three fiber laser engravers (two sets of STJ-50F and one set of STJ-50F-Desktop). I was also excited to get that as well. The STJ-50F is virtually maintenance free. I have never done anything to this machine. Never had any problems. Like this one all my STJ-50F are stock without any issues.

With that being said, as I write this my very first STJ-50F power supply didn't work. I contacted support. The lady I chatted with was extremely pleasant to talk to and just made me much more happy in my choice to continue supporting this company. Within a few minutes she has removed the trouble for me remotely.

Now that is some awesome customer service. (Some companies take a few days to get a hold of, but not STYLECNC).

I am very happy with my STJ-50F and very glad I chose to start my deep metal engraving venture with this machine. Had I started with something else in this price range I might not still be doing metal engraving as this requires virtually no troubleshooting other then the metal engraving parameter setting in EZCAD software.

The quality this machine outputs is amazing, The engravings are clean and smooth (as long as you have your settings right in EZCAD software).

I can not recommend this machine enough if you are a beginner, experienced or even looking for the right machine to start or grow up your business at an affordable price. Choose the STJ-50F. You can not go wrong and will not be disappointed.

John K Rennie

from AustraliaPosted on

Apr 03, 2021

This unit is great. I've had it a week and already sold enough things to pay for it. Works fantastic on leather, cloth, and wood. End results have been fantastic so far.

Software - It's pretty intuitive. Lots of built-in preset options for different materials. Can also set it to do more than one pass for really deep engraving.

Size - Very portable. I have this sitting on the corner of my office working away while I do other things.

Results - I've had no failed engraving out of the thirty or so I've done so far. With a quick settings tweak I was able to re-mark quickly. Other than that one, everything else has been absolutely fantastic. One thing I recommend - USE A LEVEL. If you make sure your device is 100% flat, you'll easily be able to center your image on whatever you're engraving on.

Speed - This totally depends on the size of the image, resolution and file size. Several images I will be marking frequently have now been modified to have minimal "blank" space around the image. For instance, I engraved a skull at 100mm and it took almost 25 minutes. It's a very large file with tons of details. My channel logo takes about 2 minutes. Most of the built-in images take 1 to 2 minutes. I'm satisfied with the speed.

Overall a very competent laser marking machine for a beginner. I've been doing a lot of commissions this week with engraving names on wood crafts, gift tags, and just random things people ask for. I've also been engraving pretty much anything I can think of around my office. I am having a blast with this.

Josh Patterson

from United KingdomPosted on

Apr 02, 2021

This 3D laser engraver was purchased to expand our one line custom designed product business. I love the easy to use fast set up that really let us jump right into releasing product to the market. It's high quality and affordable price is perfect for small businesses like ours or the everyday enthusiast.

It is fairly easy to use. So far it pretty good once you get the hang of it and figure out what setting. The instructions with English were easy enough to understand.

Overall it's a wonderful product that is sure to be put to great use. Really looking forward to future versions of this machine.