Laser Machine Catalog
Social Sharing
CNC Laser Machine Buying Guide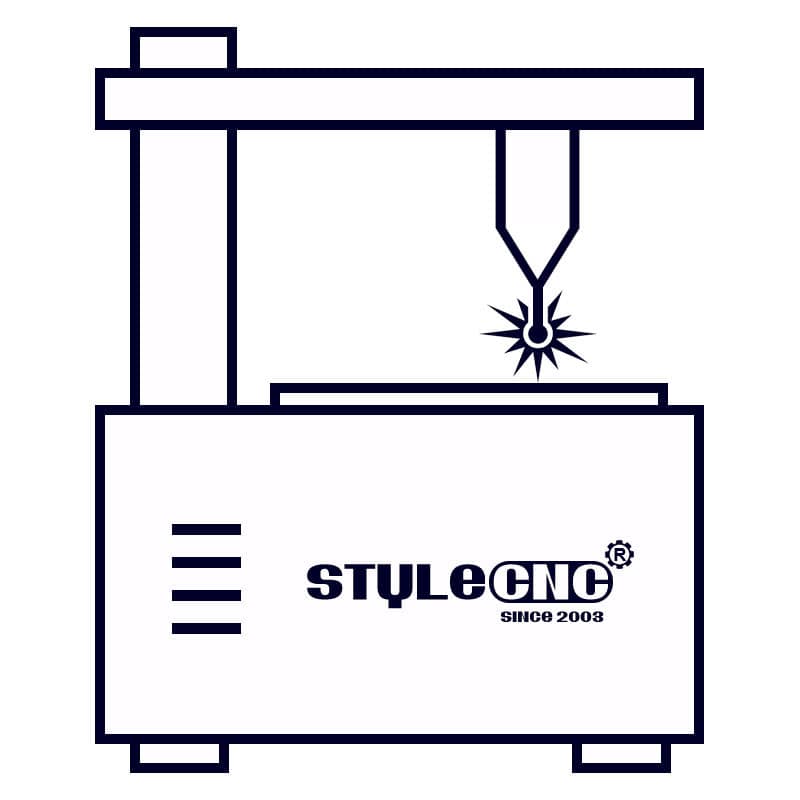 Are you looking forward to DIY a CNC laser machine or buy an affordable CNC laser cutter or CNC laser engraver in USA, UK, UAE, Canada, Australia, Russia, South Africa, China, India or other countries from Asia, Europe, North America, South America, Africa, and Oceania? Review the 2022 new laser CNC cutter and laser CNC engraver buying guide for CNC laser machinists, operators and beginners, we'll offer you the best laser CNC engraving machines and laser CNC cutting machines of 2022 with custom CNC laser engraving, etching, marking, welding, and cutting service to fit your laser CNC machine plans, projects, and ideas.
Definition
A CNC laser machine is a CNC equipment that adopts FIBER/CO2/UV laser beam to mark, etch, engrave or cut metallic and nonmetallic materials. It is composed of laser machine frame, CNC controller, laser power supply, laser generator, laser tube, laser head, laser mirror, laser lens, water chiller, stepper motor or servo motor, air compressor, gas cylinder, gas storage tank, dust extractor, air cooling filer, dryer, CNC laser software and CNC laser system. A CNC laser machine is also known as CNC laser engraver, CNC laser cutter, laser CNC engraver, laser CNC cutter, laser CNC engraving machine, CNC laser engraving machine, CNC laser cutting machine, laser CNC cutting machine, CNC laser marking machine, CNC laser etching machine, CNC laser welding machine, laser CNC machine, laser CNC etcher, laser CNC welder. It is widely used in industrial manufacturing applications, school education, small businesses, home business, small shop, home shop, advertising, arts, crafts, gifts, toys, packaging industry, printing industry, leather processing industry, clothing industry, automotive industry, musical instruments, architecture, label production, medical industry and more.
Applications
CNC laser machines are used for marking, etching, stippling, engraving, and cutting variety of metal & nonmetal materials:
Metal Materials: Carbon steel, stainless steel, tool steel, spring steel, galvanized steel, aluminum, copper, gold, silver, alloy, titanium, iron, brass, manganese, chromium, nickel, cobalt, lead.
Non-Metal Materials: Wood, MDF, plywood, chipboard, acrylic, plastic, PMMA, leather, fabric, cardboard, paper, rubber, depron foam, EPM, gator foam, polyester (PES), polyethylene (PE), polyurethane (PUR), neoprene, textile, bamboo, ivory, carbon fibers, polyvinyl chloride (PVC), polyvinyl butyrale (PVB), polytetrafluoroethylenes (PTFE /Teflon), beryllium oxide, and any materials containing halogens (chlorine, fluorine, iodine, astatine and bromine), phenolic or epoxy resins.
Types
CNC laser machines are divided into CNC laser cutting machine (CNC laser cutter), CNC laser engraving machine (CNC laser engraver) and CNC laser marking machine (CNC laser marker),
CNC laser cutting machines are divided into fiber laser cutting machine (fiber laser cutter), CO2 laser cutting machine (CO2 laser cutter) and mixed laser cutting machine (mixed laser cutter),
CNC laser engraving machines are divided into fiber laser engraving machine (fiber laser engraver) and CO2 laser engraving machine (CO2 laser engraver),
CNC laser marking machines are divided into fiber laser marking machine and CO2 laser marking machine.
CNC laser welding machine are divided into handheld laser welding machine and automatic laser welding machine.
Technical Parameters - Specifications
| | |
| --- | --- |
| Brand | STYLECNC |
| Laser Power | 20 Watts - 15000 Watts |
| Laser Type | Fiber laser, CO2 laser, UV laser |
| Laser Function | Cutting, Engraving, Etching, Marking, Welding |
| Price Range | $2,400.00 - $260,000.00 |
Pricing Guide
CNC laser machine cost is composed of spare parts (CNC controller, laser power supply, laser generator, laser head, laser tube, laser lens, laser mirror, laser machine frame, water chiller, stepper motor or servo motor, dust extractor, air compressor, gas cylinder, gas storage tank, air cooling filer, dryer), CNC laser software and laser CNC system, shipping costs, tax rates, customs clearance, service and technical support. A CNC laser cutting machine cost has a price range from $2,600.00 to $300,000.00. A CNC laser engraving machine cost has a price range from $2,400.00 to $70,000.00. A CNC laser marking machine cost has a price range from $3,000.00 to $70,000.00. A CNC laser welding machine cost has a price range from $16,800.00 to $28,000.00.
Benefits and Advantages
As a new technological method in recent years, the CNC laser machine can irradiate a laser beam with a high energy density to the workpiece to be processed, so that it is locally heated and melted, and then use high-pressure gas to blow off the slag to cut shapes & profiles or engrave texts & patterns.
1. Narrow kerf, high precision, good kerf roughness, no need for further processing after cutting.
2. The laser has a high degree of automation, can be completely enclosed for processing, has no pollution, and has low noise, which greatly improves the working environment of the operator.
3. The processing cost is low. The one-time investment in equipment is more expensive, but continuous and large-scale processing will eventually reduce the processing cost of each part.
4. The laser is non-contact processing, with low inertia and fast processing speed. It is time-saving and convenient, and the overall efficiency is high with the CAD/CAM software programming of the CNC system.
5. The high energy density of the laser is enough to melt any metal, and it is especially suitable for processing some materials that are difficult to process with high hardness, high brittleness, and high melting point.
6. The energy density of laser processing is large, the action time is short, the heat affected zone is small, the thermal deformation is small, and the thermal stress is small. In addition, the laser is non-mechanical contact processing, which has no mechanical stress on the workpiece and is suitable for precision processing.
7. The CNC laser system itself is a set of computer systems, which can be conveniently arranged and modified, and is suitable for personalized processing, especially for some sheet metal parts with complex contours and shapes. The batches are large and the batches are not large, and the product life cycle is not long. From the perspective of technology, economic cost and time, manufacturing molds is not cost-effective, and laser engraving & cutting is particularly advantageous.
The CNC laser machine is not a consumer product. It is a weapon to help you make money. The purpose of buying a CNC laser engraver or CNC laser cutter is to increase production capacity, improve production efficiency, reduce production costs, improve the level of technology, so it is very important to choose the right laser CNC machine.
Trends
The era of intelligence will come in all respects. Whether it is Germany's Industry 4.0 or China's smart manufacturing, the fourth industrial revolution in the industrial field is quietly coming. As a high-precision laser CNC machine, the laser CNC cutting machine or laser CNC engraving machine is bound to keep pace with the times and fly with technology. The development of laser CNC automation has greatly improved the production capacity and automation level of the workshop.
In the future, on this basis, an era of laser CNC engraving & cutting machines combined with intelligent manufacturing is brewing deeply in the fields of network technology, communication technology, and computer software technology. As an intelligent manufacturing pilot demonstration unit, STYLECNC is relying on its own system technology integration capabilities, focusing on the future development direction and technological commanding heights, and joining strategic partners to build a fully intelligent laser CNC machining factory and create a new situation for intelligent laser CNC engraver and laser CNC cutter.
CNC Laser Machine Stories
May 11, 2022

You may run into some problems in the use of laser engraver, we'll analyse 19 most common laser engraving machine problems and give you the right solutions.

Mar 29, 2022

When you have an idea to buy an affordable laser engraver cutting machine to start your business, you should know what is a laser cutter engraving machine? what is it used for? how does it work? how much does it cost? how to buy it within your budget?

Feb 25, 2020

Before you buy CO2 laser machine for engraving & cutting, you should know what is it? how does it work? how much does it cost? how to buy it within your budget.

Mar 16, 2020

Except for marking black, white, grey, fiber laser marking system can also mark different colors on stainless steel. Today, we will explore how does a fiber laser engraver mark different colors on stainless steel.

Mar 16, 2020

What are the differences between MOPA laser marking machine and Q-switch laser etching system? What are the advantages of MOPA laser engraving machine?

Feb 24, 2022

Looking for an affordable CO2 or fiber laser engraving machine for custom jewelry maker with hobbyists or business to make money? Need a CNC laser jewelry etching & engraving machine for beginners? Review the guide to buy 2022 best laser engravers for personalized jewelry gift & jewelry box making with metal, silver, gold, stainless steel, copper, brass, aluminum, titanium, glass, stone, acrylic, wood, silicon, wafer, zircon, ceramic, film and more.

Mar 29, 2022

In this article, you will get the laser cutting basics, including definition, working principle, types, features, applications, and trends in future.

Feb 25, 2022

Laser engraver vs CNC router, what is the best for your engraving plans or projects? Review the guide to a comparison of CNC engraving machine and laser engraving machine.

Feb 27, 2021

Are you troubled by how to setup CO2 laser engraving cutting machine? We have summed up 12 steps on how to install CO2 laser machine with pictures and videos.

Feb 25, 2022

Digital cutting machine and laser cutting machine are both flexible material cutting CNC machine tool with different features and advantages, so what are the differences between digital cutter and laser cutter?

Feb 25, 2022

When you have an idea to engrave and cut wood projects at home, you should buy a CO2 laser engraver or CO2 laser cutter for wood, so you can start your laser engraving and cutting plans.

Feb 25, 2022

As a beginner or operator, you need to learn the 3 tips you should know before starting a laser cutting system, the 12 steps to learn how to use a laser cutter, the 12 precautions for laser cutting machine.

Feb 24, 2022

When you operate fiber laser cutting machine, you should do some maintenance works for long lifespan, thus, how to do daily maintenance? Let's tell you.

Mar 28, 2022

You will meet a variety of laser cutters on the market, how to identify & choose? You'll understand 2022 most common types of laser cutting systems in the blog.

Mar 25, 2022

There are three common types of laser marking systems in the market for your business plans according to its working method, including mask mode marking system, array marking system, and scanning marking system.
Customer Reviews and Testimonials
Cameron Godfrey

from United KingdomPosted on

May 06, 2022

The sheet metal cutter came in good condition. So far I've only used a handful of times, but not disappointed. It works great. I don't know why I didn't get this laser machine sooner. It cuts through 1/8 inch and 1/4 inch steel sheets like butter. Smooth edges are difficult to achieve with plasma cutters. Love my purchase. Make sure to buy the extra accessories you needed when you make an order.

Hayden Berry

from AustraliaPosted on

May 05, 2022

I have a lot of experience with fiber laser cutters. I picked this powerful unit from STYLECNC for the weight, price point, performance, and service. In short, for the money, this is a great metal cutting machine with a large format to cut 1/4-in stainless steel plate 4x8 cleanly with high speed. It can also cut 3/4-in x 3-ft plain hot rolled steel round tube smoothly with high precision.

Kenneth Hass

from United StatesPosted on

Mar 20, 2022

It has worked as needed. Powerful cutter for the price. The concentrated power this laser stainless steel cutter machine exhibits is great. It's speed goes right through metal effortlessly without extra cutting blades. The software takes a little getting used to, but once you have mastered, the cutting will become a pure pleasure.

Domingo

from AustraliaPosted on

Mar 15, 2022

I bought this unit to cut 1/8 stainless steel plate and 1/4 SS sheet for kitchenware. The machine was shipped in 15 days and well packaged, it appears to be well made. I really like this laser metal cutter. It works great and fast for 4x8 full sheet metals with smooth cut edge, no binding or slowing down. Lot's of power for cutting. I'm happy with it.

Sean Mahmood

from United KingdomPosted on

Mar 10, 2022

Good purchase. Very powerful tool. About heavier and bulkier than I expected but that's not really a complaint. I used the machine to cut some store wall panels (10mm 4x8 full sheet plywood and 1mm galvanized steel sheet) into smaller shapes. It did a very good job cutting. This will be a good laser cutter to have around for more uses. Good value for the money.

Masahiro Kamei

from United StatesPosted on

Mar 08, 2022

Very good fiber laser engraver. It's portable, easy to carry and move. On receipt, I was slightly concerned about some damage to the shipping container, but once I opened it, the system was so well-packed that it made no difference. Assembly was easy and probably add a secondary platform from Thorlabs or Newport to improve the precision by which targets may be placed for etching, which I anticipate going as easily as placing the guides that came with the system. Software and driver installation was easy and now it's a matter of adjusting to the quirks and limitations of EZCAD. The foot pedal seems to do nothing and it is not even mentioned in the documentation. Mechanically, there is only one way for it go in, so that's not the issue. In consequence, I have it on a switched outlet and I further safeguard against accidents by unplugging it when not in use. Does very well on the business card targets provided. Etched Ni-steel test target, but slightly faint. If deep etching steel, go 50W.

Andrew Doyle

from United StatesPosted on

Mar 05, 2022

I bought this for my workshop to cut profiles in 1/4 thick steel tube and 12 gauge sheet metal. The fiber laser metal cutting system works great for the money. I would recommend purchasing this to anyone looking for the best budget sheet metal cutter. Be safe in cutting, it is a high power laser machine, follow the safety precautions.

Charles Johnson

from United StatesPosted on

Jan 23, 2022

I never tried a laser metal cutter before. I was skeptical at first about a cheap foreign made fiber laser cutter. But I thought I'd take a chance as this machine was on sale. I recently bought this unit and as such I soon had a need to cut steel. I have a chop saw but that has its limitations. Also have an angle grinder and I find that to be super slow and even a bit dangerous. So this laser machine seemed like the answer. So far I am happy with it even though I have no other one to compare it to.

George Krebs

from United StatesPosted on

Aug 26, 2021

I wanted a CO2 laser cutter to cut acrylic sheets for different craft ideas in my home shop, after weeks of researching, I finally made the purchase from STYLECNC. Everything showed up perfectly aligned and ready to engrave and cut right out of the box. That's unheard of from anything coming directly from China. This is the way to go if you live in the U.S. This is a pleasant surprise and a great start. I will update as I go through the startup.

Dean B Vigil

from United StatesPosted on

Aug 16, 2021

This is new for me, I am a gun DIYer and wanted to have a way to customize my pieces. There is quite a learning curve but that is expected. I purchased this unit as an intro to the gun engraving. The engraver was easy to assemble thanks to well written instructions and bagged parts. Easy to use and lots of fun. So far I am really enjoying creating projects. The quality of the laser engraved guns is excellent.