2020 Buyer's Guide to CNC Laser Machine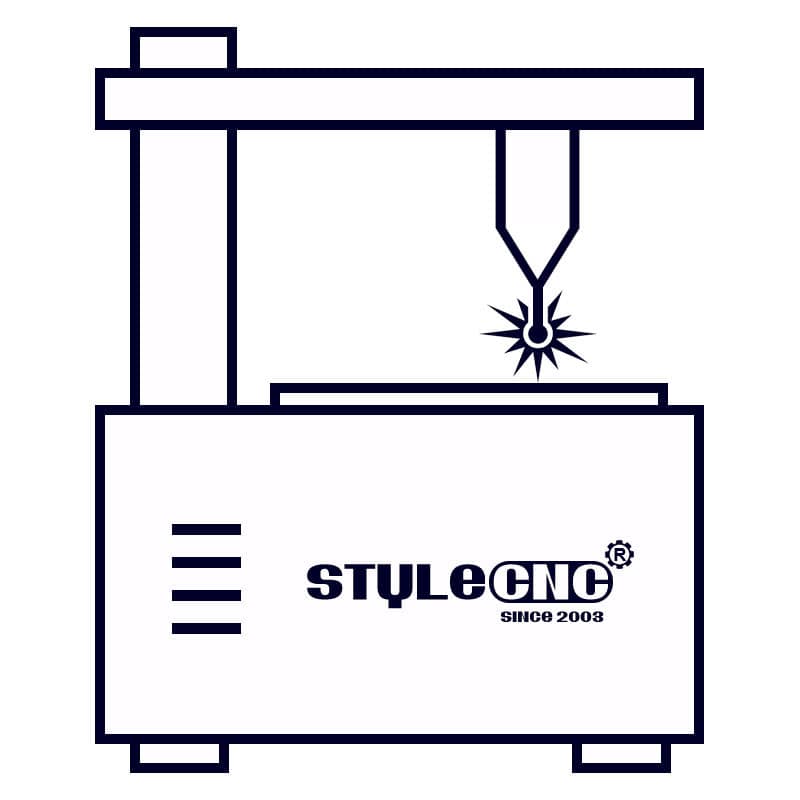 Are you looking forward to DIY or buy an affordable CNC laser machine? Check out the 2020 new CNC laser machine buying guide for CNC laser machinists, operators and beginners, we'll offer you the best CNC laser machines of 2020 with custom CNC laser engraving cutting service to fit your projects, ideas and plans.
What is A CNC Laser Machine?
A CNC laser machine is a CNC equipment that adopts FIBER/CO2/UV laser beam to engrave or cut metallic and nonmetallic materials. It is composed of laser machine frame, CNC controller, laser power supply, laser generator, laser tube, laser head, laser mirror, laser lens, water chiller, stepper motor or servo motor, air compressor, gas cylinder, gas storage tank, dust extractor, air cooling filer, dryer, CNC laser software and CNC laser system. It is widely used in industrial manufacturing applications, school education, small businesses, home business, small shop, home shop, advertising, arts, crafts, gifts, toys, packaging industry, printing industry, leather processing industry, clothing industry, automotive industry, musical instruments, architecture, label production, medical industry, etc.
Applications
CNC laser machines are used for engraving and cutting:
Metal Materials: Carbon steel, stainless steel, tool steel, spring steel, galvanized steel, aluminum, copper, gold, silver, alloy, titanium, iron, brass, manganese, chromium, nickel, cobalt, lead.
Non-Metal Materials: Wood, MDF, plywood, chipboard, acrylic, plastic, PMMA, leather, fabric, cardboard, paper, rubber, depron foam, EPM, gator foam, polyester (PES), polyethylene (PE), polyurethane (PUR), neoprene, textile, bamboo, ivory, carbon fibers, polyvinyl chloride (PVC), polyvinyl butyrale (PVB), polytetrafluoroethylenes (PTFE /Teflon), beryllium oxide, and any materials containing halogens (chlorine, fluorine, iodine, astatine and bromine), phenolic or epoxy resins.
Types
CNC laser machines are divided into CNC laser cutting machine (CNC laser cutter), CNC laser engraving machine (CNC laser engraver) and CNC laser marking machine (CNC laser marker),
CNC laser cutting machines are divided into fiber laser cutting machine (fiber laser cutter), CO2 laser cutting machine (CO2 laser cutter) and mixed laser cutting machine (mixed laser cutter),
CNC laser engraving machines are divided into fiber laser engraving machine (fiber laser engraver) and CO2 laser engraving machine (CO2 laser engraver),
CNC laser marking machines are divided into fiber laser marking machine and CO2 laser marking machine.
Technical Parameters
| | |
| --- | --- |
| Brand | STYLECNC |
| Laser Power | 10 Watts - 8000 Watts |
| Laser Type | Fiber laser, CO2 laser, UV laser |
| Laser Function | Cutting, Engraving, Etching, Marking, Welding |
| Price Range | $2,400.00 - $300,000.00 |
Pricing Guide
CNC laser machine cost is composed of spare parts (CNC controller, laser power supply, laser generator, laser head, laser tube, laser lens, laser mirror, laser machine frame, water chiller, stepper motor or servo motor, dust extractor, air compressor, gas cylinder, gas storage tank, air cooling filer, dryer), CNC laser software and CNC laser system, shipping costs, tax rates, customs clearance, service and technical support. A CNC laser cutting machine cost has a price range from $2,600.00 to $300,000.00. A CNC laser engraving machine cost has a price range from $2,400.00 to $70,000.00. A CNC laser marking machine cost has a price range from $3,000.00 to $70,000.00. A CNC laser welding machine cost has a price range from $16,800.00 to $28,000.00.
Manufacturer Guide
As a guaranteed CNC laser machine supplier and manufacturer, STYLECNC provides all kinds of best CNC laser machine for sale to fit your engraving cutting ideas, projects and plans.
STYLECNC's CNC laser machines are equipped with genuine laser machine software, system and spare parts.
STYLECNC offers cost price for your CNC laser machine plans without any intermediate. You will get the best CNC laser machines with affordable price from us.
STYLECNC also offers smart 2D/3D laser engraving cutting solutions, 24/7 one-to-one free laser engraving cutting service and support, which is available free.
Benefits and Advantages
The future development of CNC laser cutting machine industry, from the perspective of applicable industries and enterprises, the key development scope of CNC laser cutting machine will be around the following aspects:
1. High-speed, precision CNC lathe, turning center and compound processing machines with four-axis or above linkage. Mainly meet the needs of industries such as aerospace, aviation, instruments, meters, electronic information and biological engineering.
2. High-speed, high-precision CNC milling and boring machine and high-speed, high-precision vertical and horizontal machining center. Mainly meet the processing requirements of large-scale complex structural brackets, shells, boxes, light metal material parts and precision parts of automobile engine cylinder heads and aerospace, high-tech industries.
3. Heavy-duty and super-heavy-duty CNC machine tools: CNC floor milling and boring machines, heavy-duty CNC gantry boring and milling machines and gantry machining centers, heavy-duty CNC horizontal lathes and vertical lathes, CNC heavy-duty hobbing machines, etc. These products meet energy, aerospace and military , The main engine manufacturing of ships, heavy machinery manufacturing, large mold processing, steam turbine cylinder block and other industry parts processing needs.
4. CNC grinders: CNC ultra-precision grinders, high-speed high-precision crankshaft grinders and camshaft grinders, various types of high-precision high-speed special grinders, etc., to meet the needs of precision ultra-precision machining.
5. CNC metal forming machine tools (forging equipment): CNC high-speed precision sheet stamping equipment, laser cutting compound machines, CNC powerful spinning machines, etc., mainly to meet the needs of sheet metal batch and efficient production in industries such as automobiles, motorcycles, electronic information industry, and home appliances And the processing requirements of various thin-walled, high-strength and high-precision rotary parts for automobile wheels and military industry.
6. CNC electrical machining machine tools: large-scale precision CNC EDM machine tools, CNC low-speed wire-cutting EDM machine tools, precision small hole electrical machining machine tools, etc., mainly to meet large and precision mold processing, precision parts processing, tapered holes or shaped holes The special needs of processing, aerospace, aviation and other industries.
7. Special CNC machine tools and production lines: flexible processing automatic production lines (FMS / FMC) and various special CNC machine tools. This type of production line is for the processing of cylinders, cylinder heads, gearbox boxes, etc. in many industries such as automobiles and household appliances. Processing requirements for shell and box parts.
Buying Guide
1. Consult:
We will recommend the most suitable CNC laser engraving machine to you after being informed by your requirements.
2. Quotation:
We will offer you with our detail quotation according to the consulted laser machine. You will the most suitable CNC laser cutting machine specifications, the best CNC laser cutting machine accessories and the affordable CNC laser cutter price.
3. Process Evaluation:
Both sides carefully evaluate and discuss all the details of the order to exclude any misunderstanding.
4. Placing an order:
If you have no doubts, we will send the PI (Proforma Invoice) to you, and then we will sign a contract with you.
5. Production:
We will arrange the CNC laser cutter production as soon as receiving your signed sales contract and deposit. The latest news about production will be updated and informed to the CNC laser engraver buyer during the production.
6. Quality Control:
The whole production procedure will be under regular inspection and strict quality control. The complete CNC laser cutter will be tested to make sure they can work very well before out of factory.
7. Delivery:
We will arrange the delivery as the terms in the contract after the confirmation by the buyer.
8. Custom Clearance:
We will supply and deliver all the necessary shipping documents to the buyer and ensure a smooth customs clearance.
9. Support and Service:
We will offer professional technical support and free service by Phone, Email, Skype, WhatsApp, Online Live Chat, Remote Service. We also have door-to-door service in some areas.
CNC Laser Machine Stories
Apr 22, 2020

When you want to buy an affordable laser engraver or laser cutter, you should know what is a laser cutter or laser engraver? what is a laser engraver or laser cutter used for? how does a laser cutter or laser engraver work? how much does a laser engraver or laser cutter cost? how to buy an affordable laser cutter or laser engraver within your budget?
Buyer's Reviews
Martindale

from AustraliaPosted on

Oct 28, 2020

As the saying goes: "You get what you paid for". The metal laser cutter arrived well packed and showed no shipping damages.
The laser machine was "functional" after the first start to use it for different metals and thickness you need to be willing to invest quite a bit time and mechanical changes to get this unit as you want it.

Jacob

from United StatesPosted on

Oct 27, 2020

I purchased this unit to create customized ornaments and momento items for craft shows. It was setup easily. Learning the best settings for what I wanted to create was a little bit harder and required a few test pieces before I sorted it out. Now I've had this laser engraver for 20 days now and I feel like I've used it enough to know the pros and cons. I use it all the time, and sell some of the items I've engraved on it. It's a great value.

Gerry R Fredericksen

from United StatesPosted on

Aug 30, 2020

This is my first laser marking machine. I read lots of reviews and decided to try it out. It arrived in 15 days and Was easy to assemble. I am not the fastest, but it took me a little over an hour to put it together. I am using that at the moment, and it seems to work fine.

Noah

from United StatesPosted on

Aug 26, 2020

I bought this machine last month. Shipping was really fast and well packing. I was so worried because of overseas buying. But my machine is pretty good. I tried to engrave on acrylic and wood but both came out great. It was very easy setting for beginners. This is my first laser engraver machine. But just amazing for me!

Anita B Bailey

from United StatesPosted on

Aug 19, 2020

I used my birthday money to invest in this as a hobby to earn a little extra money. I'm totally new at this kind of machine and after some trial and error, I figure out how to laser cut wood. After about 20 days worth of use, the laser cutter has been worked quite well and is sufficient for the jobs I am interested in doing, i.e. laser cutting wood craft parts. The operation is very simple and direct, but you must take safety precautions (goggles included) because the laser light is very powerful. All inquiries I subsequently made to the STYLECNC team were answered promptly and very kindly. I recommend this kit for both beginners or for more professional jobs. Overall, I am very pleased with the laser machine, customer service, and of course, the things that I am able to create. I'm definitely looking at a bigger, more powerful laser in the future to increase creative possibilities.

Richard L Hargrave

from United StatesPosted on

Jul 22, 2020

The engraver is great for my stainless steel engraving plan and the customer service is unbelievable. They can always respond in less than 24 hours with intime support and best solutions. Mike was very supportive and help me to install the software and always kept on the loop with the updates. Look like in PC they are still more advanced but what you can do with this laser machine connected with my laptop is really impressive. It is very easy to operate and the quality is superb. I do work professionally with AutoCAD and that's an A+ product. You are buying not only a good fiber laser engraver but a fantastic costume experience.

Terry A Dunlap

from United StatesPosted on

Jun 11, 2020

Awesome, I read all the reviews and compared different laser machines before ordering this unit, I have to say that the offline option is nice. If I save the photo in the proper format on the USB, then I can set up the engraver wherever I want without connecting to the computer. I had some questions regarding the laser software so I reached out to the contact. They got back to me within one hour and answered all my questions. I engraved some items, including wood, cardboard, leather, paper, and I'm very impressed with the results. The only thing that will take practice is learning the best laser power settings, as the other reviewers had mentioned. So far I am very happy with the engraver.

Jane

from United StatesPosted on

Apr 21, 2020

If you are a computer person, or even relatively technologically savvy, this will be easy for you to use. If you are not, it comes with an instruction manual which I highly suggest reading before using. I use the laser engraver primarily for leather engraving. First, I focused the laser beam into a pinpoint. Then I tested with different settings of laser power and engraving depth. Full laser power, full engraving depth, expect a lot of smoke, and burn edges. I am using 60 watts laser power, 30 engraving depth for leather with minimal smoke and nice results.

The more impressive thing for me was the detail that this thing is capable of. I can literally engrave fonts that are around size 8 and they burn crystal clear with my settings. I suggest doing a lot of experimenting because in the end, once you get the right calibration, this thing is capable of incredible detail and quality engravings. You may also want to mess around with the contrast settings if you are engraving complex images. For tiny details, you may want to try using the lowest possible settings in the laser power and laser engraving depth.

Alfie

from United KingdomPosted on

Mar 26, 2020

I'm an avid crafter and work with computers, so I didn't have any issues acclimating to the software. You have to get a feel for the configuration settings, but that varies by the media you are cutting upon and takes some minor trial and error. I bought a MDF board and played until I got the settings the way I wanted. I had a few newbie questions of the vendor and I found the email response was FANTASTIC and vendor was definitely committed toward me getting the most of this laser machine and went above and beyond to ensure my satisfaction. If you're looking for a laser cutter to get a feel for this type of craft, I can HIGHLY recommend this cutter. Happy "cutting" :)

Matthew

from CanadaPosted on

Mar 13, 2020

I really like this hobby laser engraver, it works perfect for what I need. I followed the English manuals, and did three jobs with my own logos. One was on wood. One was on leather. One was on acrylic. All came out as well as I expected.