CNC Automatic Fiber Laser Welding Machine for Sale at Affordable Price
Type: Laser Welding Machine
Sale Price: $15800.00 / Set
Price Range: $15800.00 to $22800.00 / Set Based On The Features
Supply Ability: 600 Sets / Month Waiting for Your Order in Stock
Global Shipping: Available to Your Location in
Payment Terms: T/T, Credit Cards, e-Checking, Alibaba Trade Assurance
Looking for the best CNC laser welding machine for automatic welding projects & plans with your metal fabrication business? Review the top rated automatic laser welding machine with CNC controller and fiber laser generator. Now the CNC automated fiber laser welder for sale at affordable price.
Demonstration Video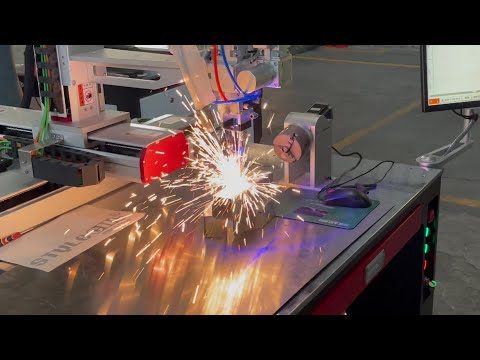 Product Details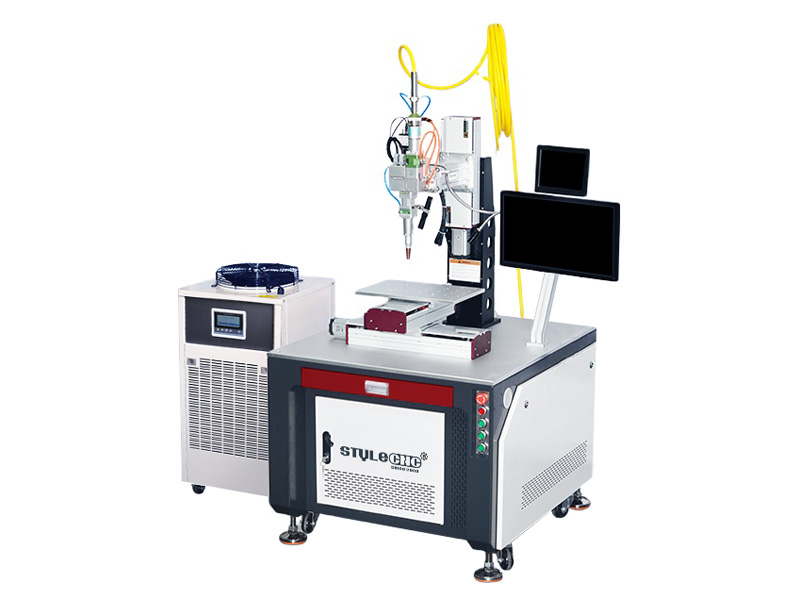 What Is Automatic Laser Welding Machine?
Automatic laser welding machine is a type of computer numberical controlled laser welder to do automatic or semi-automatic butt welding, sealing welding, spot welding, overlap welding, and realize the welding of complex plane straight lines, arcs and arbitrary trajectories.
An automated laser welding machine with CNC controller is mainly used in cell phone batteries, jewelry, electronic components, sensors, watches, precision machinery, communications, handicrafts, high-end cabinets, elevator accessories, stainless steel door handles, high-end furniture, stainless steel hip flasks and other industries.
An automatic laser welder can realize laser welding between carbon steel, alloy steel, stainless steel and other different steels, as well as stainless steel-nickel alloy, nickel electrode-cold forged steel, bimetallic strips with different nickel content, titanium, nickel, tin, copper, aluminum, Welding between chromium, niobium, gold, silver and other metals and their alloy materials. In addition, it can also realize the welding between copper-nickel, nickel-titanium, copper-titanium, titanium-molybdenum, brass-copper, carbon steel-copper and other dissimilar metals.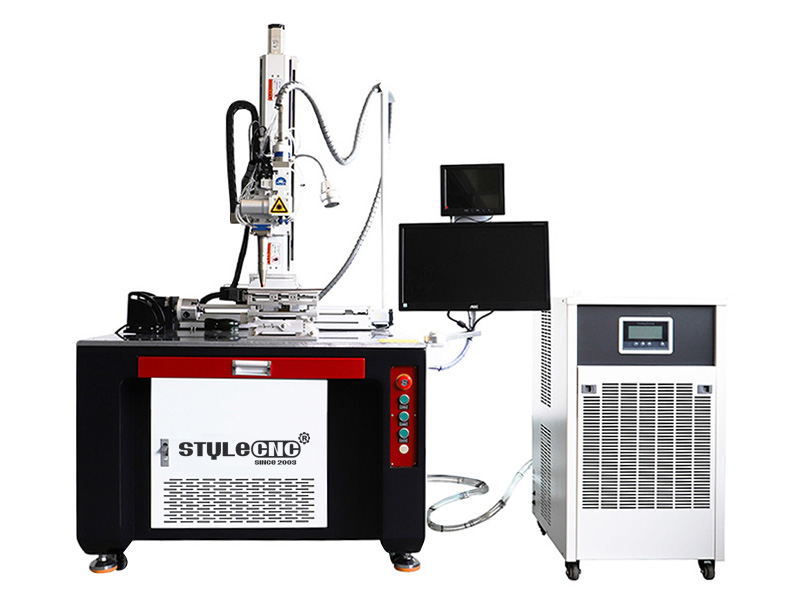 Features & Advantages of Automatic Laser Welding Machine with Fiber Laser Generator
Automatic fiber laser welding machine has features and advantages of simple operation, beautiful welding seam, fast welding speed and no consumables. It can perfectly replace the traditional argon arc welding and electric welding.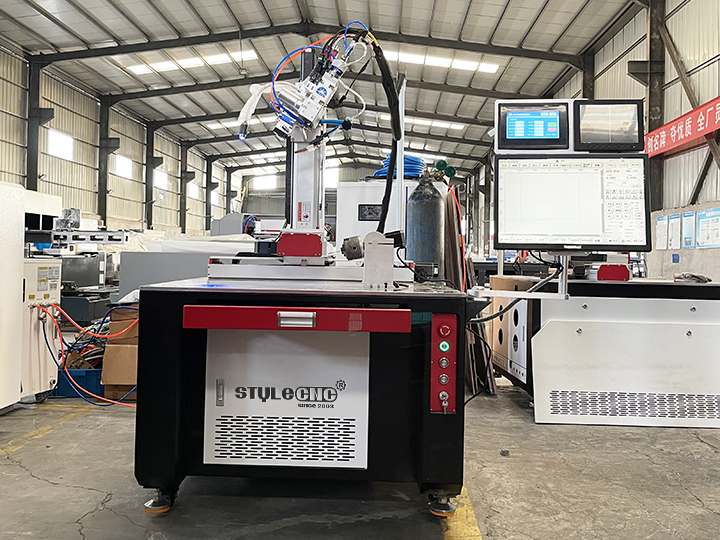 1. Perfect substitute argon welding and electric welding in thin metal welding, like stainless steel, carbon steel, aluminum.
2. The automated laser welder can continuously and stably work for 24 hours to meet the needs of industrial mass production and manufacturing.
3. Light weight, small size, ergonomic design for handling comfort.
4. Controlled by PC, special software assisted, easy to learn, the workpiece can be used for plane trajectory movement, welding any point, straight line, circle, square or any plane graphic composed of straight line and arc.
5. The internal structure of the welding head is completely sealed to avoid dust contamination of the optical part.
6. Excellent laser beam quality,fast welding speed, the welding joint is firm and beautiful,we provide efficient welding project to the user.
7. High electro-optic conversion rate, low energy consumption, no consumables, small volume,Can save a lot of processing cost for users after long term use.
8. CCD liquid crystal monitoring and observation system, can clearly observe product positioning and welding effect according to red light indication.
9. Nice welding seam, high speed, no welding trace, no color change, no need later polishing.
10. Fiber output, can be equipped with robot or assembly line.
11. We have strong ability to customize special models for our customers, and can be customized according to customer needs.
12. The welding line is fine, the welding depth is large, the taper is small, the precision is high; the appearance is smooth, flat and beautiful.
13. Multi-language display to support international applications.
14. The swaying welding head has a strong advantage in high-reflective material welding,wide range of application,it is very cost effective.
15.The welding head adopts motor-driven X- and Y-axis vibrating lenses, it has various swing modes and able to work on irregular shapes, larger welding spot and other processing parameters setting can improve markedly in welding quality.
16. The protective lens has a drawer structure and is easy to replace. It can be equipped with various QBH connector laser sources.
17. The welding head is equipped with air curtain components to reduce contamination of dust and splash residues.
18. Strong anti-jamming, configuration 1000W-2000W laser source.
Technical Parameter of Automatic Laser Welding Machine with Fiber Laser Generator
Model

LW1000A

LW1500A

LW2000A

laser Power

1000W

1500W

2000W

Welding Depth

SS≤2.5mm

Aluminum≤1.5mm

SS≤3.5mm

Aluminum≤2mm

SS≤5mm

Aluminum≤3mm

laser Wavelength

1080±10nm

Fiber Length

10m

Working Table

500*300*300mm

Pulse Width

Continuous

Collimation

CCD

Driving System

Ballscrew+servo system

Cooling Chiller

Industrial water chiller

Working Voltage

220V/ 2P or 380V/3P
Details of Automated Laser Welding Machine with Fiber Laser Generator
Wobble Laser Welding Head
Beautiful weld, fast speed, no weld marks, no discoloration, no later polishing.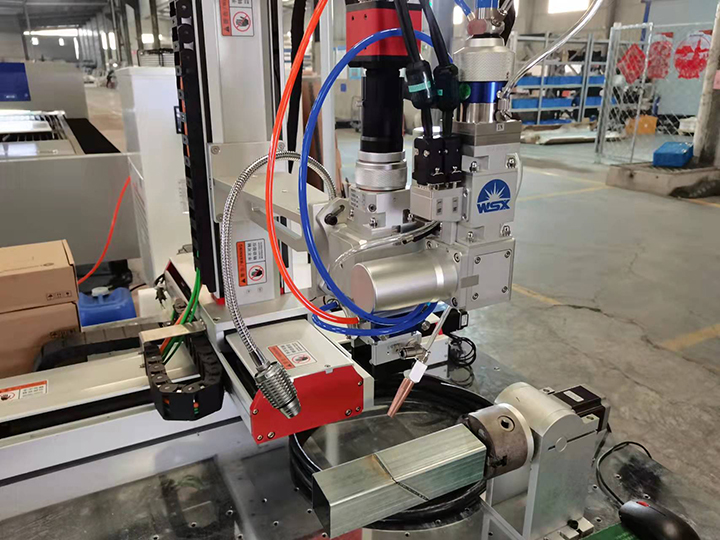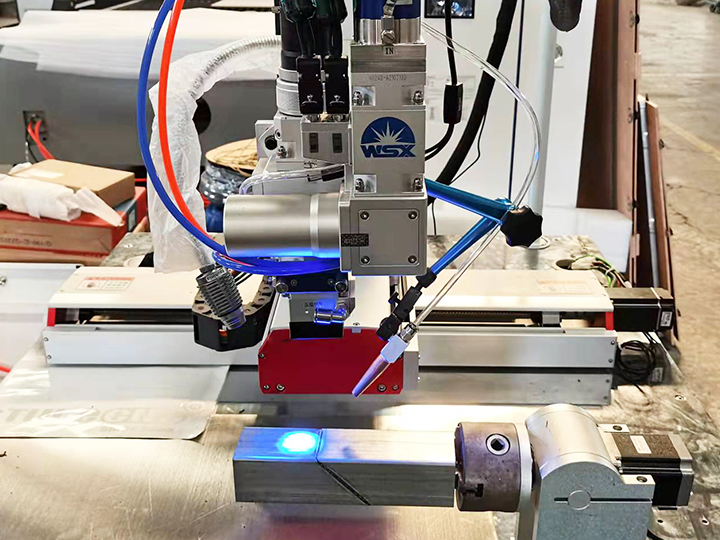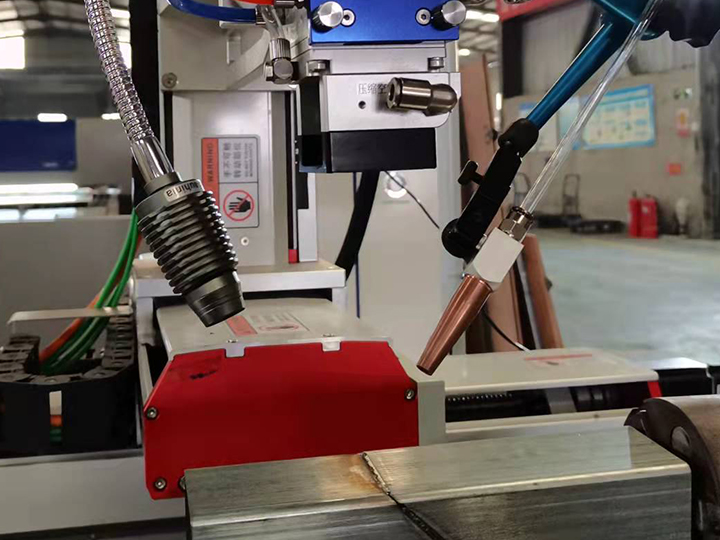 CCD Camera
CCD camera with blue light lamp, achieve the welding piece visible.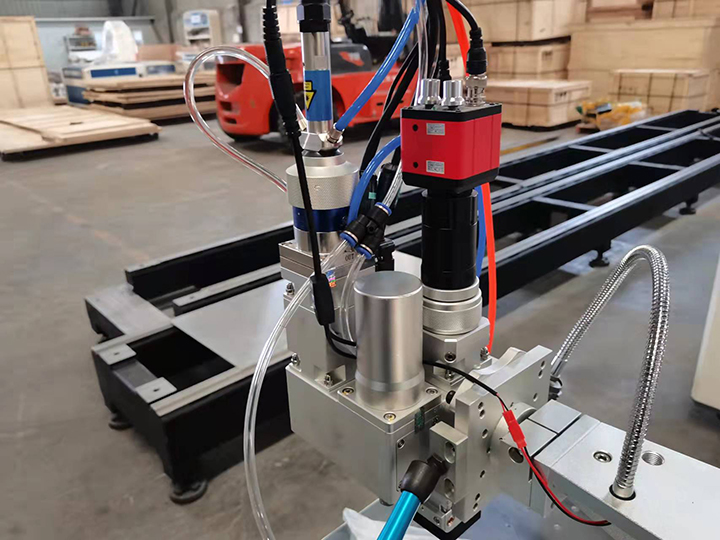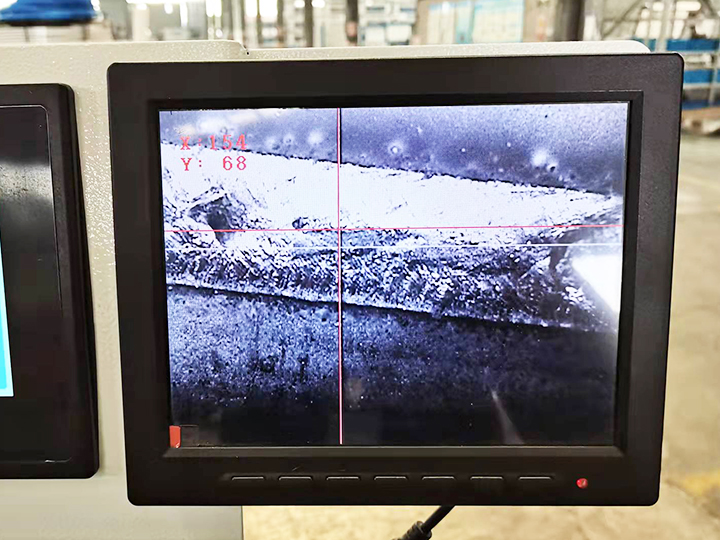 JPT Fiber Laser Generator
The best brand laser source.

Long service life, low failure rate, anti-reflection.
Interactive control system makes the light spot larger, the welding seam better formed.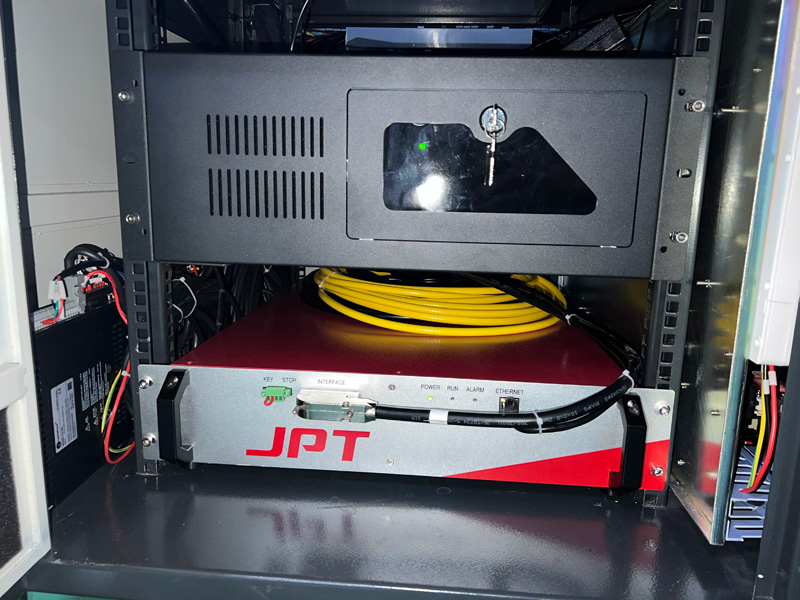 CNC Controller
Easy operation, low requirements for operator.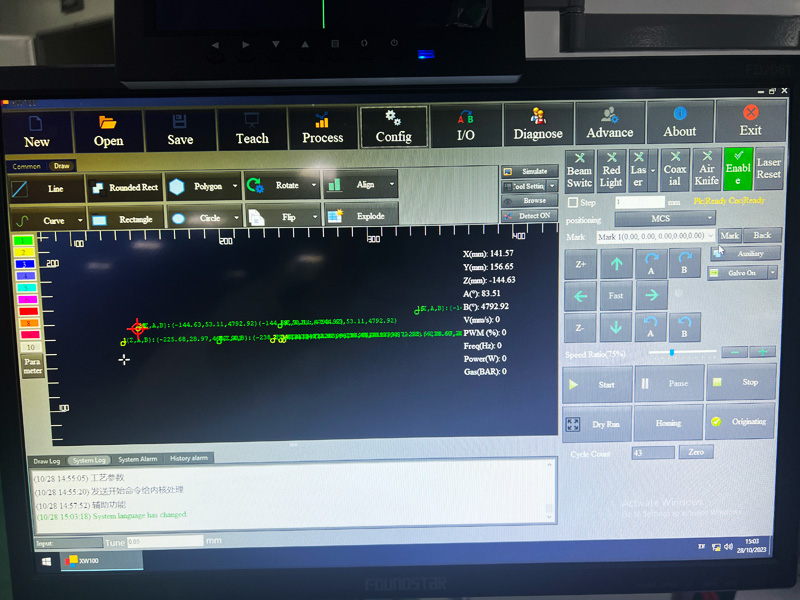 X, Y, Z Axis Rails
With the function of moving up and down, it can weld irregular products, and the Z axis has brake function.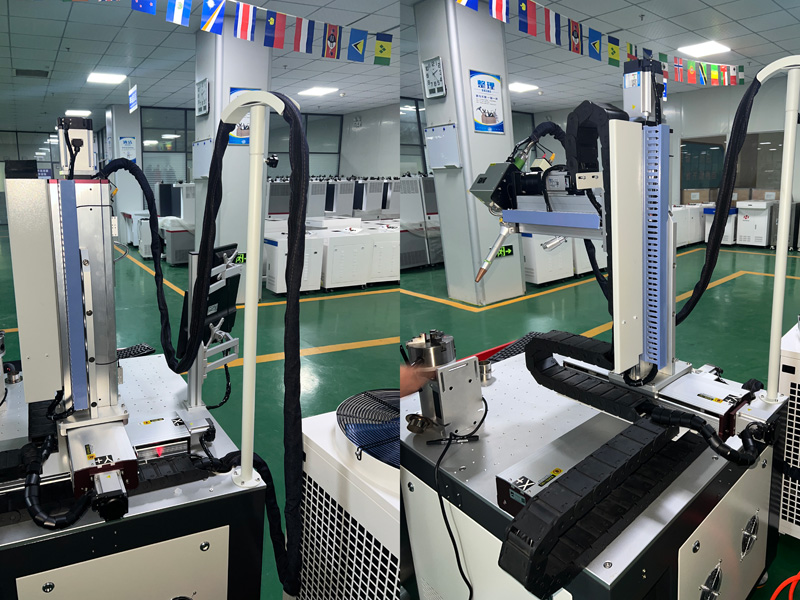 Water Chiller
It help to cooling the laser head.
The power chosen based on the laser source power.
Applications of Automatic Laser Welder with Fiber Laser Generator
Automatic fiber laser welder is widely used in automobile manufacturing industry, lithium battery industry, pillow plate head exchanger, machinery manufacturing industry, furniture industry, sheet metal fabrication industry, power battery, electronic communication industry, metal connectors, kitchen and bathroom electrical equipment, mobile phone accessories (medium plate, nut), hardware, structural parts, automotive parts, medical equipment, and more precision parts. Automatic fiber laser welder is suitable for continuous welding of various metals like stainless steel, carbon steel, aluminum, copper, titanium.
Automatic Fiber Laser Welding Machine Projects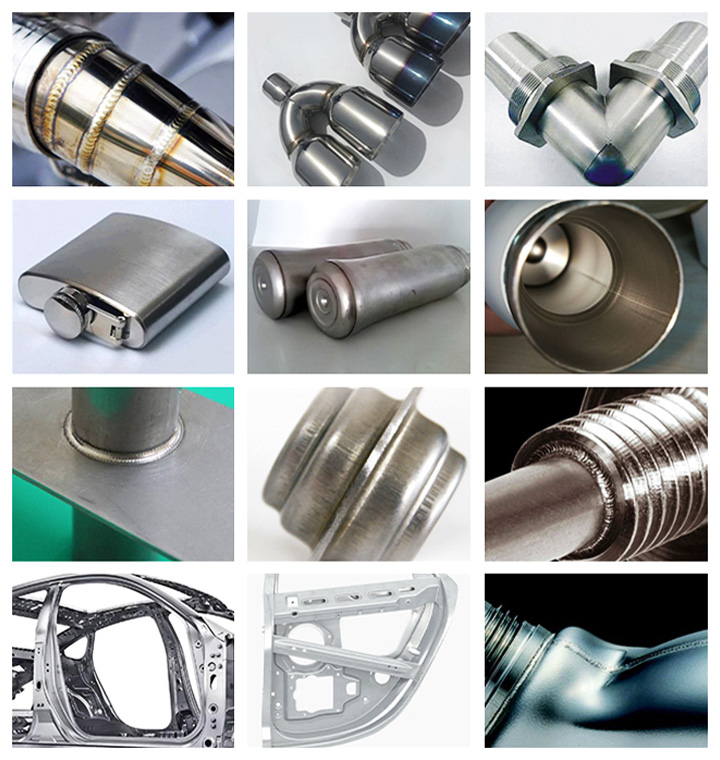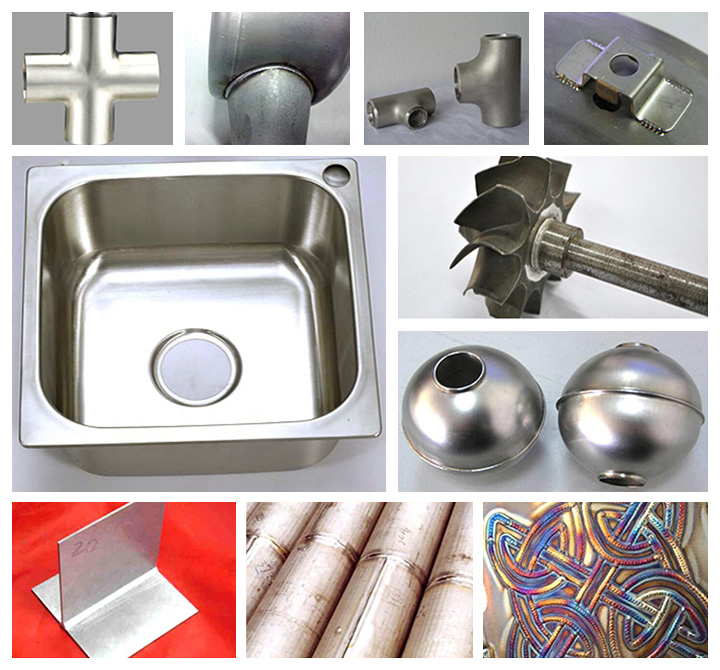 International Shipping Around the World
All the CNC laser machines can be shipped worldwide by sea, by air or by international express logistics via DHL, FEDEX, UPS. You are welcome to get a free quotation by filling up the form with name, email, detailed address, product and requirements, we will shortly contact you with the full information including the most suitable delivery method (fast, secure, discreet) and freight.
Post A Review
Customer Reviews and Testimonials
Kenneth Hass

from United StatesPosted on

Nov 17, 2021

I've only done gas and TIG before so this was a new experience. Best laser welders with automatic CNC controller I have ever had. It's been about 5 years since I have picked up a welder, and I was welding some of the best welds I have done in my life.