2023 Best 3D Crystal Laser Engraving Machine for Sale at Cost Price
Type: UV Laser Marking Machine
Sale Price: $17900.00 / Set
Price Range: $17900.00 to $22000.00 / Set Based On The Features
Supply Ability: 600 Sets / Month Waiting for Your Order in Stock
Global Shipping: Available to Your Location in
Payment Terms: T/T, Credit Cards, e-Checking, Alibaba Trade Assurance
3D subsurface laser crystal engraving machine is 2023 best 3D laser engraver for inner crystal engraving, inside glass etching, and internal acrylic marking, which is used to DIY personalized gifts, souvenirs, keepsakes, arts, crafts, Bubblegram, trophies, award, cube with portraits, names, models, signs, logos, photos for custom 3D crystal engraving business, projects, ideas, and plans. Now the top rated 3D subsurface laser crystal engraver for sale at cost price.
Demonstration Video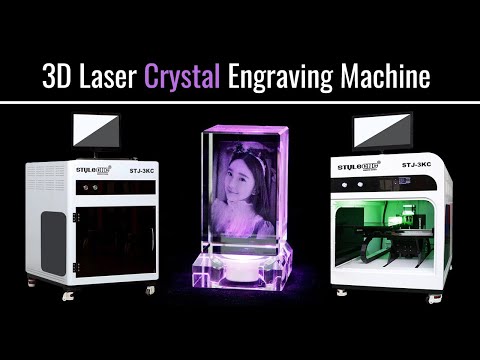 Product Details
Looking for a laser engraver for 3D crystal subsurface engraving to custom personalized gifts, keepsakes, Bubblegram, arts, crafts, award, trophies with your own pictures or texts? Review the 3D subsurface laser crystal engraving machine for DIY photo, portrait, handprint, footprint, pattern, logo, sign, name, number, letter, model, and 3D scene displays on the subsurface of crystal.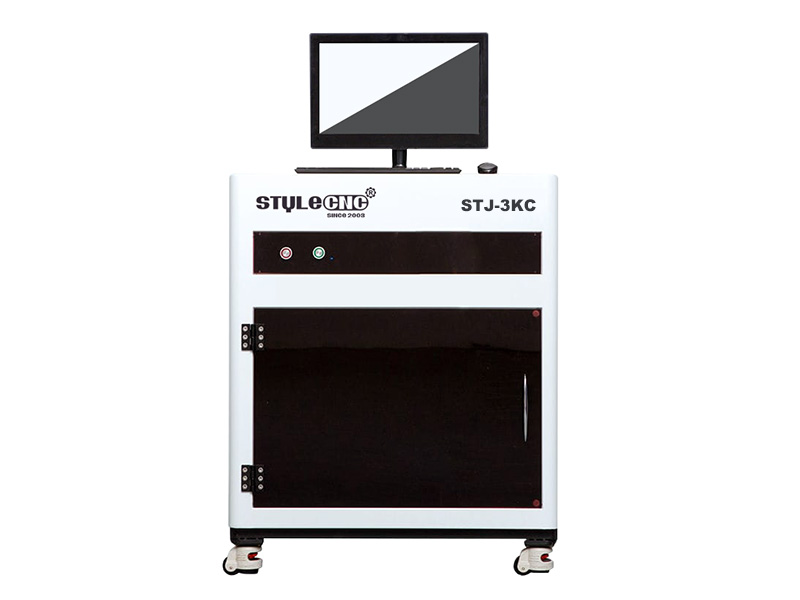 What is 3D Laser Crystal Engraving Machine?
3D laser crystal engraving machine is a type of professional 3D subsurface laser engraver to etch & engrave 2D or 3D patterns or texts inside of the crystal & glass with a green laser of 532nm wavelength. 3D subsurface laser crystal engraver is a high-tech equipment integrating laser technology, mechanical design technology, computer technology, electronic technology, three-dimensional control technology and transmission technology. The 3D inner laser crystal engraving machine is widely used to do business in malls or tourisim place, you can also do business online for 2D & 3D crystal photo engraving, high precision crystal product mass processing, art photo engraving, personalized crystal gift engraving, high-grade glass anti-counterfeiting, glass decorating, glass marking and more industries. It's also known as 3D laser crystal engraving machine, 3D crystal laser engraver, 3D crystal laser etching machine, 3D portrait engraving machine, 3D trophy engraving machine, 3D subsurface laser crystal engraving machine, bubblegram making machine.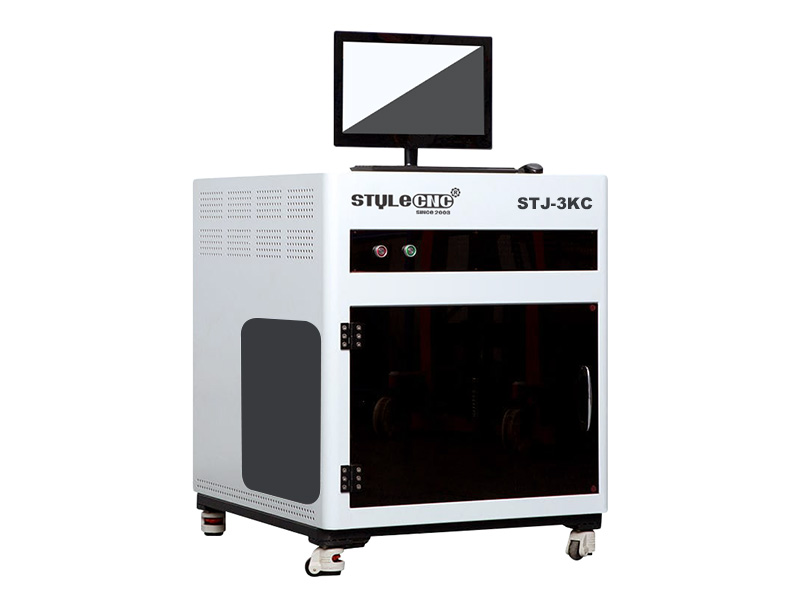 How Does 3D Subsurface Laser Crystal Engraving Machine Work?
The principle of 3D subsurface laser crystal engraving machine is not the phenomenon of light interference, but because the laser intensity at the focus point is high enough. Although transparent materials are generally transparent to the laser and do not absorb laser energy, they will produce a non-linear effect and absorbs a large amount of energy in a short time to produce a micro-burst at the focal point, and a large number of micro-burst points form an internal engraving pattern.
The laser subsurface engraving patterns of crystal and glass are made by a computer-controlled laser inner engraving machine. In fact, most of the crafts commonly seen are not real crystals, but artificial crystals. "Laser" is the most useful tool for "internal engraving" of man-made crystals (also called "crystal glass"). Using laser subsurface engraving technology, the plane or three-dimensional pattern is "engraved" in the crystal glass.
When laser internal engraving, there is no need to worry that the incoming laser will melt the substance on the straight line, because the laser maintains the form of light energy when passing through a transparent object and does not generate excess heat. Only at the point of interference will it be transformed into internal energy to melt the substance.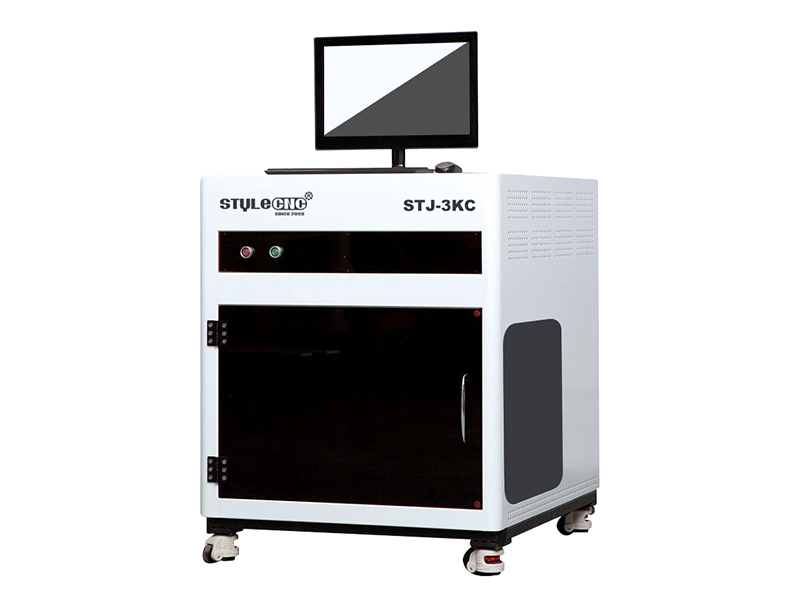 Features of 3D Subsurface Laser Crystal Engraver Machine
1. The 3D laser subsurface engraving machine can engrave on both 2D and 3D (depends on your design).
2. The control system is easy to operate, integrated automatic center function, operator is easy to put the crystal.
3. Good beam quality, high stability, exquisite etching point effect.
4. Air-cooling semiconductor laser type, high end pumped solid state laser technology is adopted.
5. The 3D subsurface laser engraver supports multiple data formats of DXF, CAD, BMP, JPG with good compatibility.
6. The 3D laser internal engraver is also nice for large format etching up to 300*400*130mm.
7. The operation is simple: software friendly interface, easy to learn, automatic center function, convenient operation, and personnel placement crystal.
8. Strong adaptability: It is equipped with shockproof system, effectively prevent to damage the core components.
9. High frequency: Using high-speed galvanometer scanning method, speed up to 300000 dots/min, save the time.
10. High stability engraving effect delicate: Using advanced semiconductor side pumped solid state laser technology.
11. The 3D laser internal engraving machine adopts sealed integration design, good beam quality, high stability, fine engraving effect, low maintenance.
12. Environmental protection, low noise (no compressor pumps and high power fan), no pollution.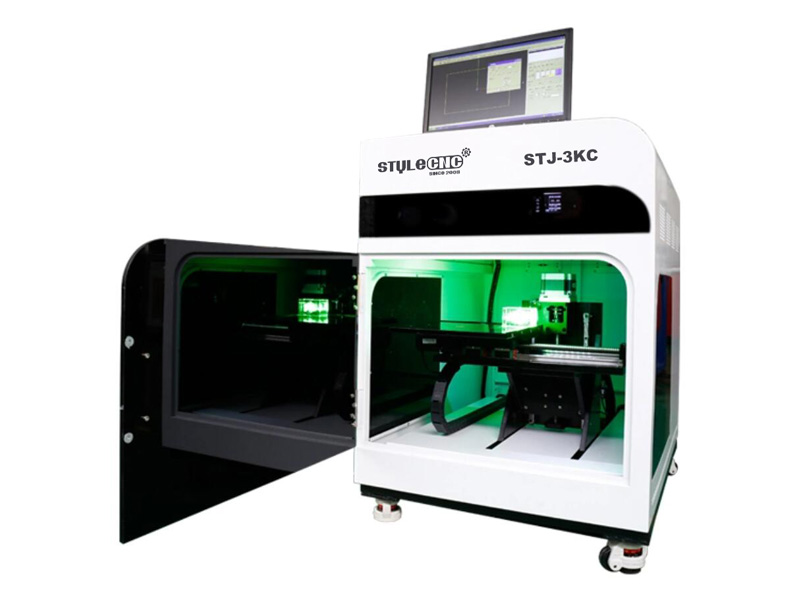 Technical Parameters of 3D Crystal Laser Engraving Machine
| | |
| --- | --- |
| Model | STJ-3KC |
| Laser wavelength | 532nm |
| Laser pumping | Semiconductor Diode |
| Laser frequency | 3KHZ(3000HZ) |
| Maximum pulse energy | 1.2mj |
| Laser power | 3W |
| Q-mode | Acousto-optic-Q |
| Pulse width | 7ns |
| Beam quality | M2<1.5 |
| Maximum engrave speed points | 1800000 dots/minutes |
| Maximum marking scope | 300*400*130mm |
| Laser head | one |
| Resolution | 800DPI-1200DPI |
| Focal length | 100mm |
| Focus diameter | 0.02mm |
| Cooling | Air cooling |
| Application material | Crystal glass and more |
| Device input power | AC220V±10% or AC220V±10% 50-60Hz |
3D Subsurface Laser Crystal Engraving Machine Details
3D Subsurface Laser Engraving Machine for Crystal in Factory: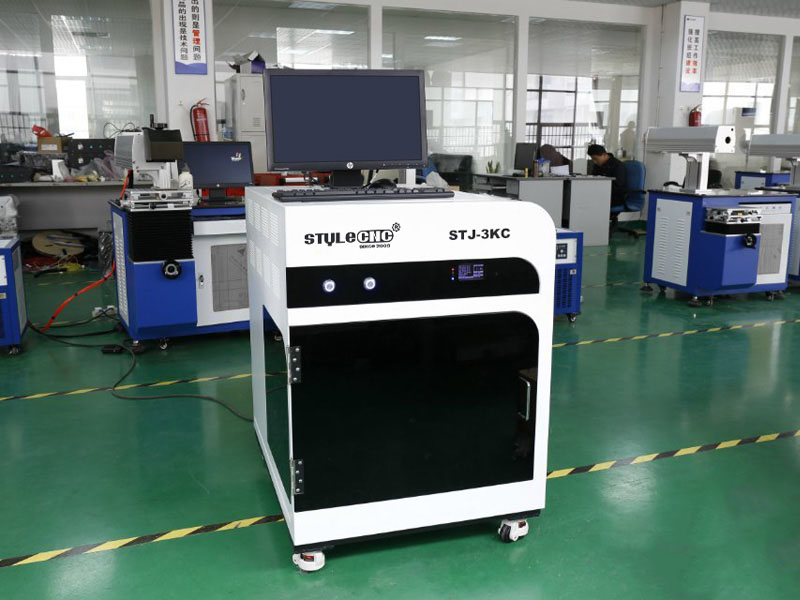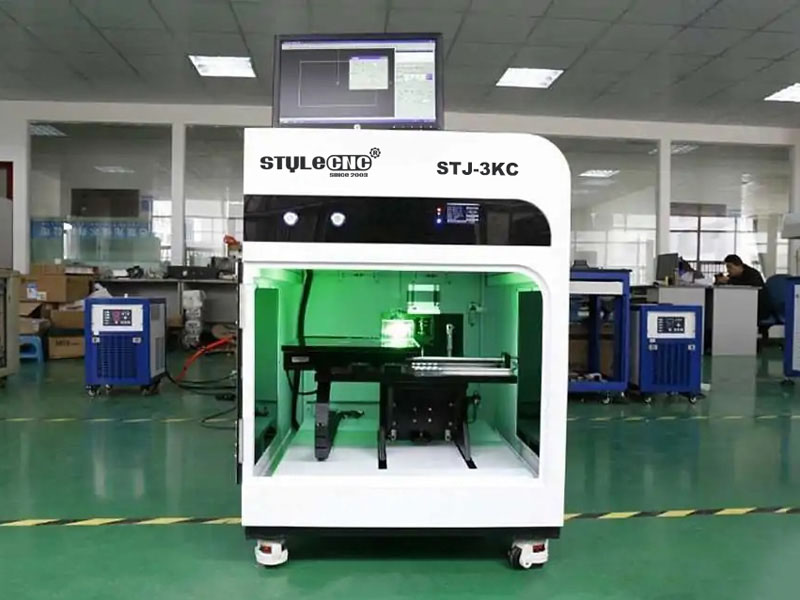 All axis transmission by high accuracy ballscrew.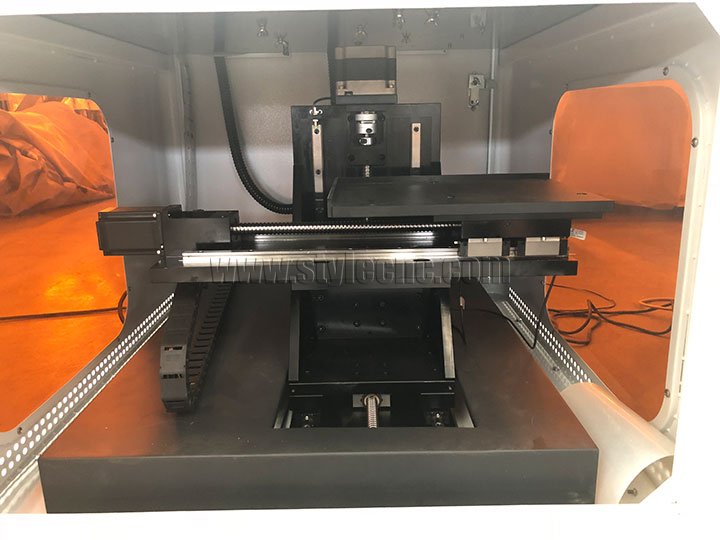 Big torque motor of 3D laser crystal engraving machine.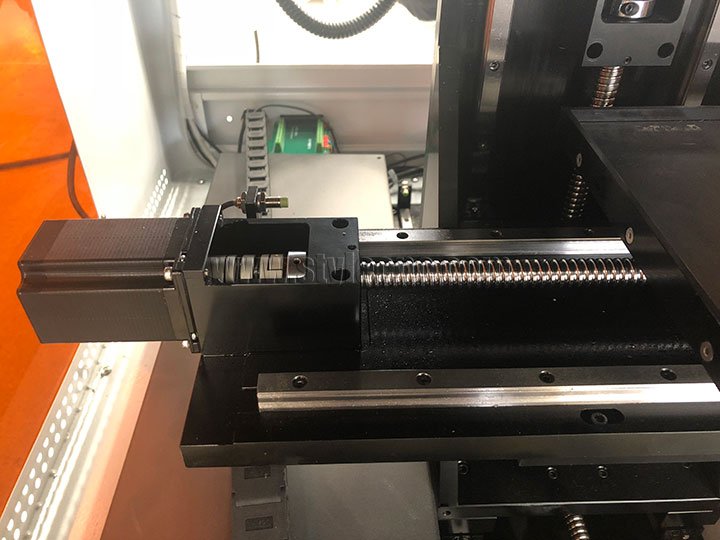 Taiwan MW power supply, stable and long lifespan.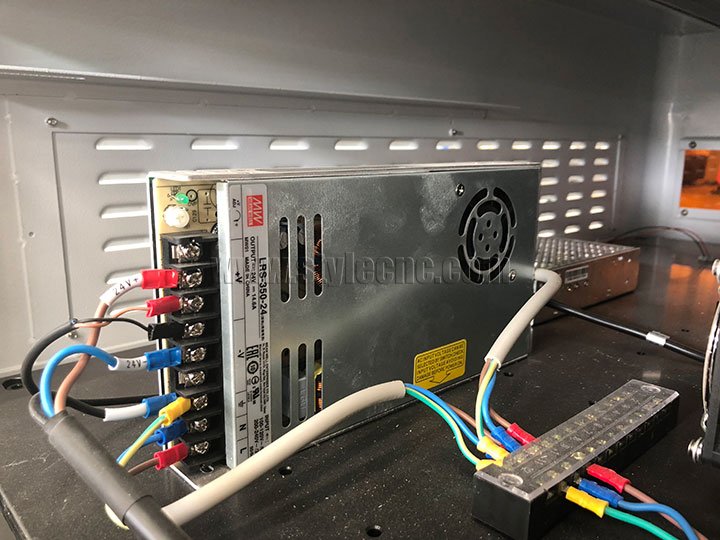 High speed scanning head.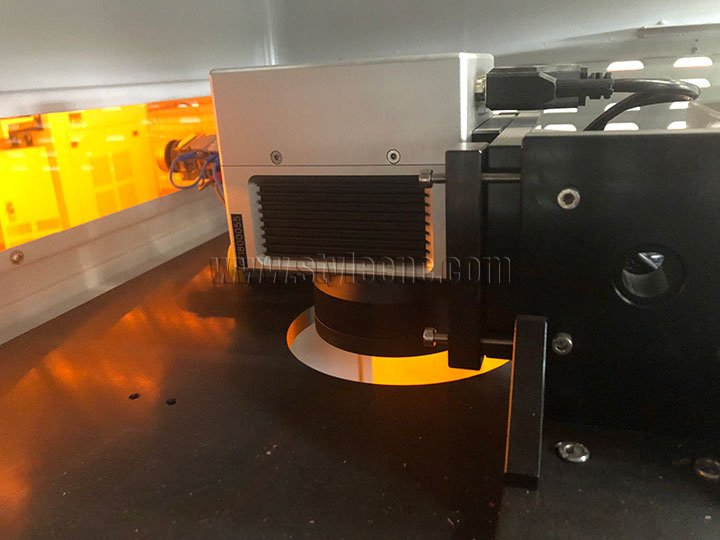 The core parts - UV laser source (UV laser generator).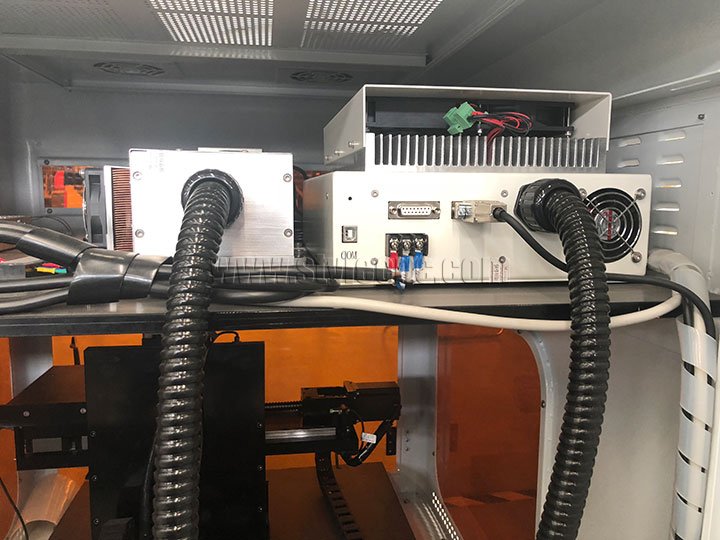 3D Subsurface Laser Engraver for Crystal Applications
3D laser inner crystal engraver machine is used to etch 2D/3D designs inside of crystal, acrylic, glass and other transparent materials. It can engrave 2D/3D portrait, footprints, hand, trophy and other personalized souvenirs. It can also be used for mass production of 2D/3D plants, animal, cars, buildings, other models and 3D scenes.
The 3D laser internal engraving machine can take the 3D portraits on the human body with one 3D camera, and make beam dots inside of crystal through the inner laser engraving technology, it can create dots to form one 3D human images.
Applied Industries
Advertising, photographic studio, gallery, photo print shops, tourism, hotel, urban scenic spots, wedding photo, personalized gift shop, tourist souvenir, and other consumption activities industries.
Applied Materials
Crystal, glass, acrylic, decoration materials and more transparent materials.
3D Subsurface Laser Engraved Crystal Projects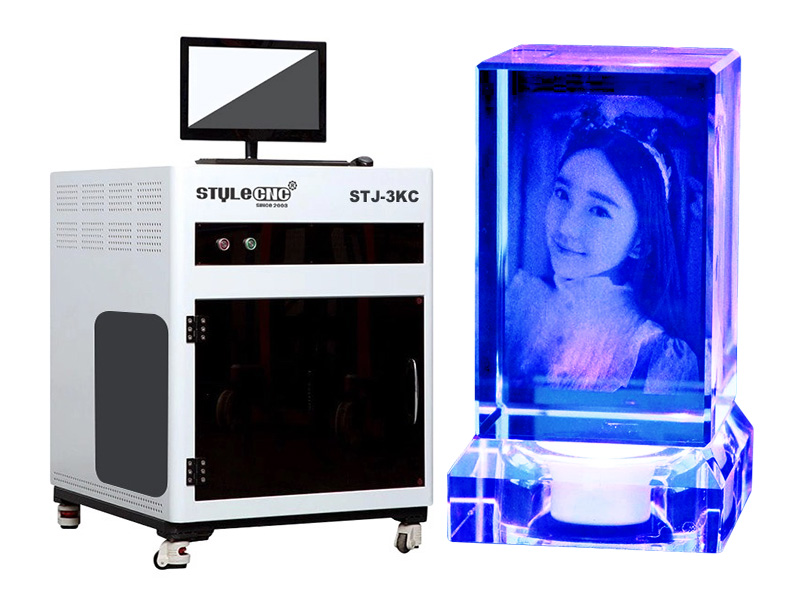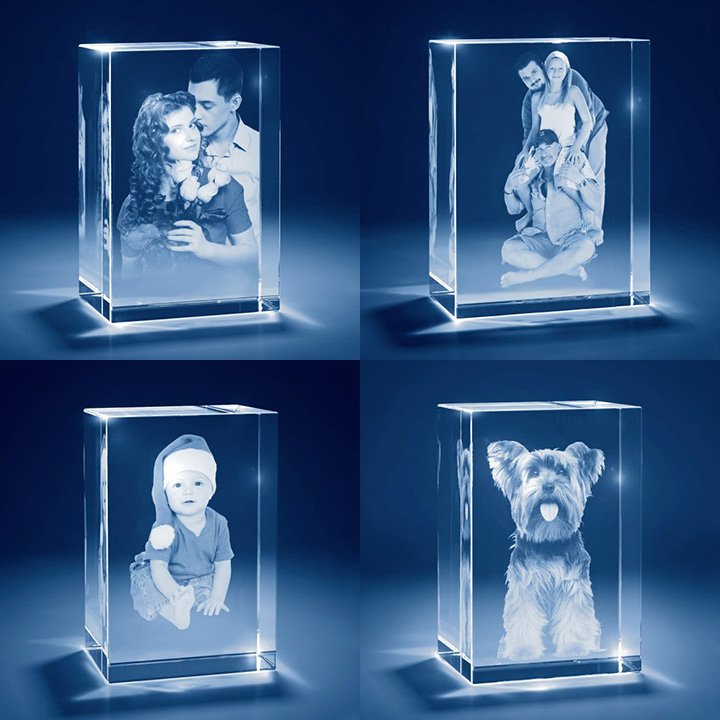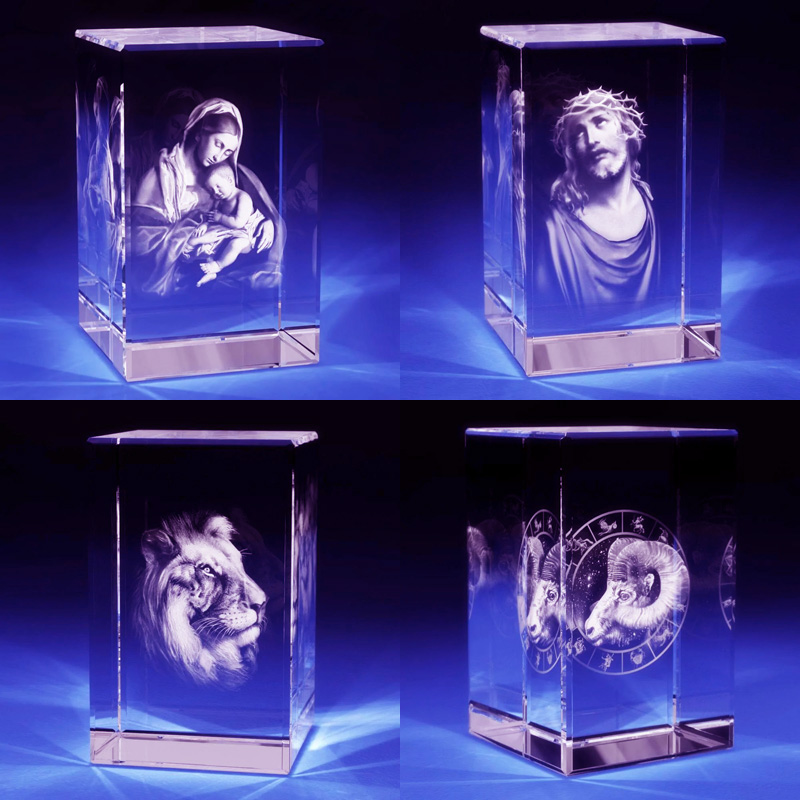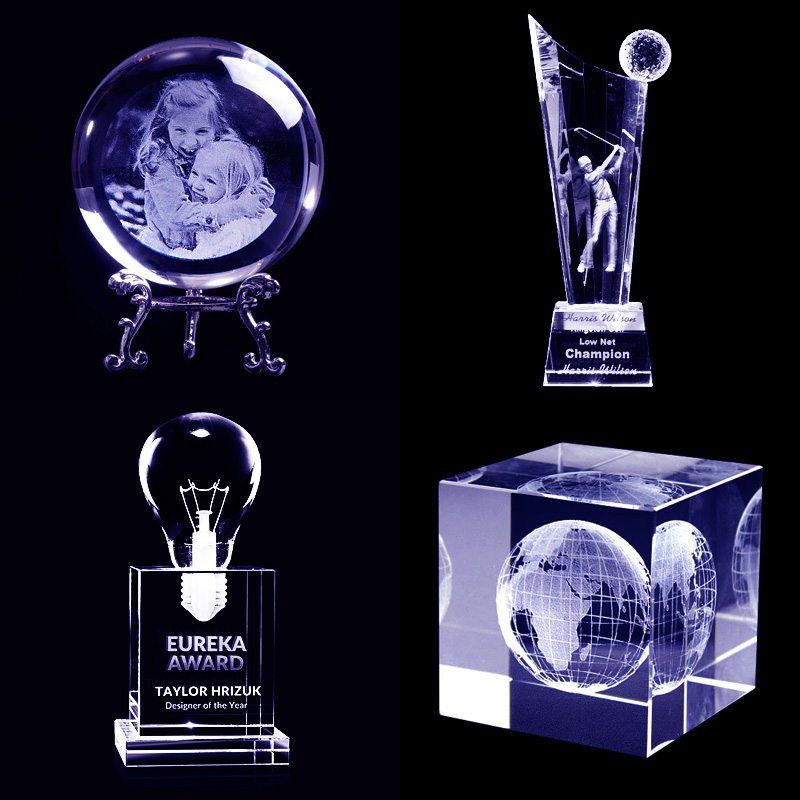 Package of Compact 3D Laser Crystal Engraver Machine
The normal package is wooden box. If export to european countries, the wooden box will be fumigated. If container is too tigher, we will use PE film for packing or pack it according to customer's special request.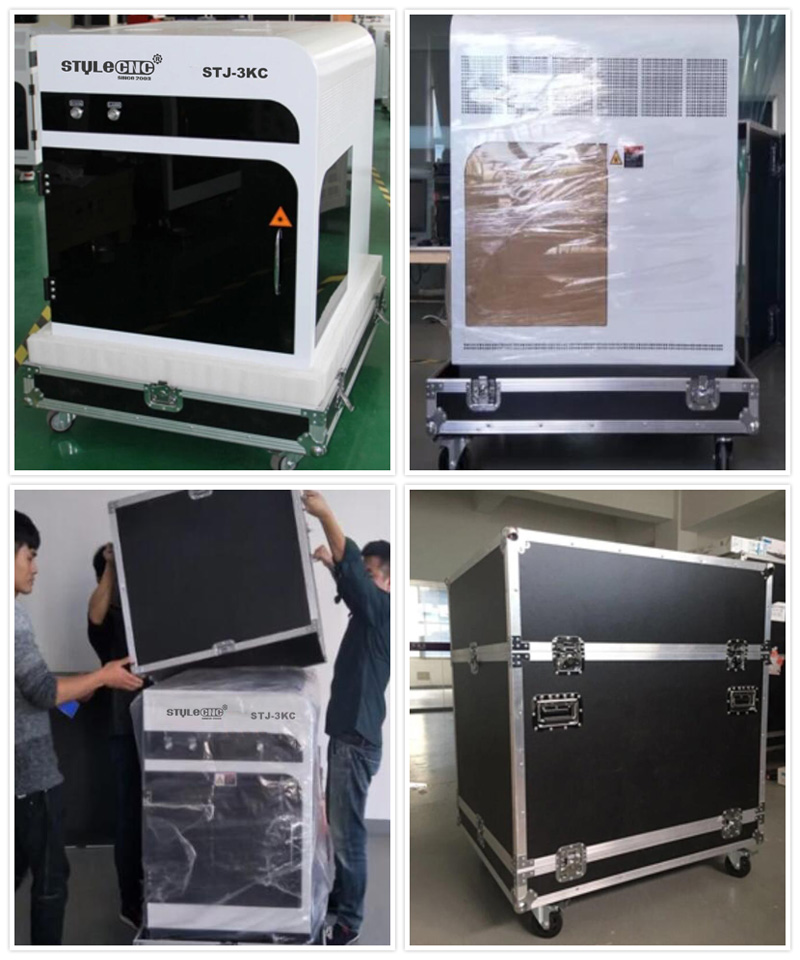 How Much Does A 3D Laser Crystal Engraving Machine Cost?
3D laser crystal engravers typically cost anywhere from $17,900 to $22,000, depending on the laser power and table size. Based on the make and model of your 3D crystal engraving machine, you can expect to pay around $19,200 for a standard crystal engraver and around $23,800 for a premium type with shipping costs.
How to Laser Engrave Crystal?
The outside of the crystal is smooth and hard, without the slightest gap. How is the pattern inside the crystal made?
In fact, these glass and crystal crafts are made by a computer-controlled green laser engraver. Laser glass and crystal engraving technology is currently the most advanced and popular glass engraving processing method in the world. It uses a green laser with a wavelength of 532nm to focus inside the glass and crystal. The computer controls the spatial position of the burst point in the vitreous body, forming a colorful three-dimensional photo inside. When the laser beam is engraving, it will follow the preset optical path to reach the top of the crystal, until the laser enters the crystal, its energy density must be less than the destruction threshold (a certain critical value that destroys the transparent material). After entering the crystal, its energy density must be greater than the destruction threshold. During the engraving process, the laser is properly focused (the energy density of the laser at a certain point is related to the size of the spot at that point. For the same laser, the smaller the spot is, the greater the energy density is.) to make its energy The density exceeds the failure threshold of the material. Because the laser generates pulses in a short period of time, its energy can cause the material to be thermally broken in an instant, resulting in extremely small white dots. Arrange the dots in a regular manner to form the pattern we need. The smaller the focus point and the more precise the control, the finer and more lifelike graphics we get. It is suitable for fine engraving in crystal glass, quartz glass, optical glass, ordinary glass and tempered glass. Engrave flat or three-dimensional patterns in transparent materials such as crystal and glass. The rest of the glass or crystal is left intact as it is.
So, how to obtain 3D designs is thanks to 3D flash photography technology, which has absolute advantages in shooting human bodies. It can obtain high resolution within 0.01 seconds and obtain accurate 3D data of faces. 3D flash light can be connected with ordinary 2D digital camera to project special raster code on the surface of the object, and the coded picture is captured by the digital camera. Through special decoding software, the coded picture is analyzed to find out the 3D information of the X, Y and Z axes of the photo. In this step, the processed portrait is a 3D mesh portrait composed of grids, and the next step is to give the face skinned and tinted. After completion, a 360-degree 3D full portrait was created in the computer. The computer then enters the information into the 3D subsurface laser crystal engraving machine, and the perfect personalized portrait will be engraved.
Pros
The 3D laser crystal engraver solves the problem of slow engraving speed, unstable system operation, missing laser points, insufficiency of pattern and text designing software, use of computer interface control cards, uneven laser explosion points, imperfect automatic control devices, and low cost performance of equipment. The efficiency, accuracy, maintainability, versatility and safety of the system are comprehensively improved.
3D subsurface laser crystal color engraving is expected to be realized.
It is inevitable that crystal engravings will become richer in color. According to the principle of the three primary color palette, the micro-control circuit controls the lamps of several colors respectively, and mixes the colors on the "interior engraving" photo to change a variety of brilliant colors, so that the original white interior engraving photo presents a colorful effect.
Cons
The 3D laser crystal engraving machine can only be used for crystal and glass, and the engraving scope is 300mm*400mm*130mm. Of course, you can customize the table size according to your business needs, but the price will also be higher. The parameter setting is a bit difficult. In addition, the price is a bit high, starting at $18,000.
We also offer 3D laser engraving machines for metal with fiber laser source, 3D dynamic laser engraving machine with CO2 laser source:
3D laser engraving machine for metal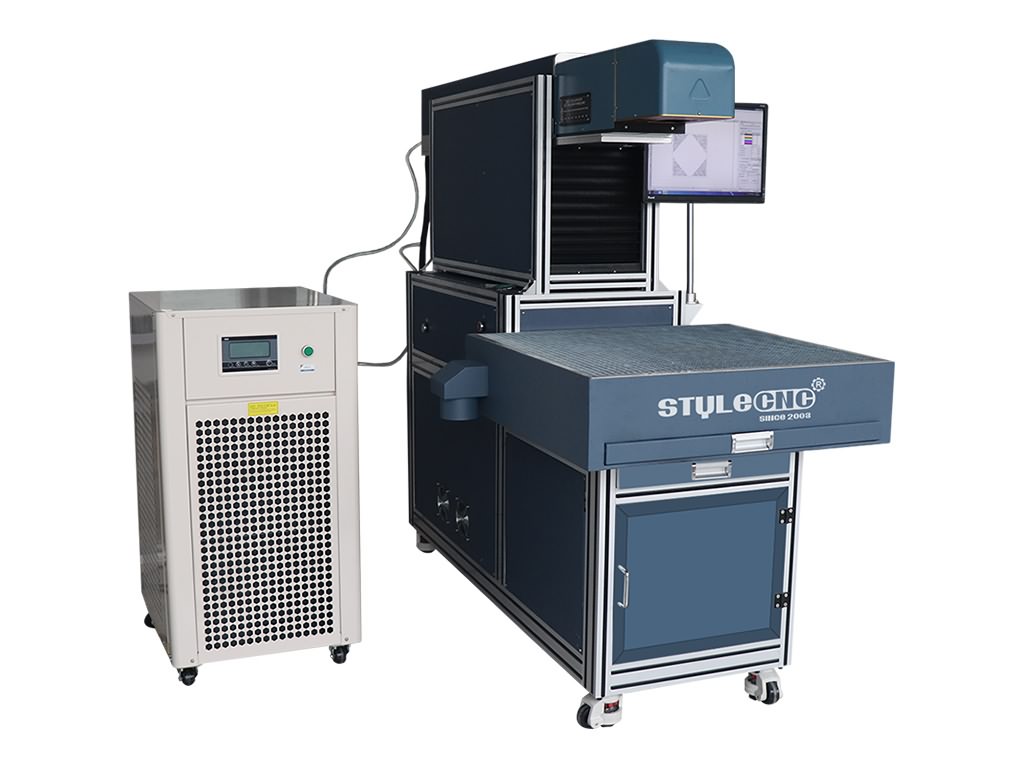 3D dynamic laser engraving machine
International Shipping Around the World
All the CNC laser machines can be shipped worldwide by sea, by air or by international express logistics via DHL, FEDEX, UPS. You are welcome to get a free quotation by filling up the form with name, email, detailed address, product and requirements, we will shortly contact you with the full information including the most suitable delivery method (fast, secure, discreet) and freight.
Post A Review
Customer Reviews and Testimonials
Greg

from United StatesPosted on

Nov 02, 2022

This is a special 3D laser engraver and you should buy for personalized crystal souvenirs and gifts for your custom business. The subsurface engraving details in crystal are amazing. It's pricey but it was worth every penny. It paid for itself in less than three months.

Billy Angell

from United StatesPosted on

Sep 07, 2022

The crystal engraver arrived safely packaged. Everything was secured with foam and therefore no component had even the smallest damage. The individual components make a high-quality and robust impression right from the start. There are also many accessories as you can use, here you have everything you need and you do not have to buy anything extra.

The entire assembly was completed within 30 minutes. The instructions for this unit are very readable in English, and every smallest step is individually illustrated and therefore easy to carry out. The assembled machine also makes a good impression. Everything is well and nothing rattles. All 4 feet stand securely and are level. The bed frame is very stable and the laser can be easily moved in all directions.

When it came to the software, it is free and easy to use. You do not have to spend money on other paid software.

After a few YouTube tutorials about the STJ-3KC engraver, which was admittedly very helpful, I ventured straight into the first test. I connected my laptop to the machine, the program recognized my laser engraver directly, and also automatically recognized and mapped the working area of 300x400mm. On the Internet you can find files that you can download free of charge, which are ideal for carrying out a test. I opened one of these files with software, adjusted the dimensions to the crystal trophy I wanted to etch, adjusted the strength of the laser, pressed start and the laser started. Be sure to put on the supplied glasses to avoid damage to your eyes. All I can say about the other settings is learning by doing. It is a very complex subject that cannot be mastered like a pro in a few hours. When I look at my result, I do not think it looks that bad for the first try. The program in combination with the laser engraving machine will be able to get a lot more performance out of it, so I will still have some room for improvement.

Zilna

from AustraliaPosted on

Jul 06, 2022

This crystal engraver is compact and lightweight, easy to move. All parts seem to be well made. Took me some time to set it up. The software initial set went along smooth for a beginner with an easy-to-follow instructions. I have been using the subsurface laser engraving machine on personalized 3D crystal landscape and made a few custom items for my family. It did great jobs and I have been impressed.

Josh Patterson

from United KingdomPosted on

Apr 02, 2021

This 3D laser engraver was purchased to expand our one line custom designed product business. I love the easy to use fast set up that really let us jump right into releasing product to the market. It's high quality and affordable price is perfect for small businesses like ours or the everyday enthusiast.

It is fairly easy to use. So far it pretty good once you get the hang of it and figure out what setting. The instructions with English were easy enough to understand.

Overall it's a wonderful product that is sure to be put to great use. Really looking forward to future versions of this machine.

Logan Isabella

from CanadaPosted on

Dec 29, 2019

Very happy with the purchase. The engraving quality is very good. Be sure you use a quality image and be prepared to resize it to your needs. Engraving time is fast and it does work well. Good luck.