2023 Best 2000W Fiber Laser Cutting Machine for Sale at Affordable Price
Laser Source: RECI, Raycus, IPG, MAX
Laser Power: 1000W, 1500W, 2000W
Price Range: $14000.00 to $20000.00 / Set Based On The Features
Supply Ability: 180 Sets / Month Waiting for Your Order in Stock
Global Shipping: Available to Your Location in
Payment Terms: T/T, Credit Cards, e-Checking, Alibaba Trade Assurance
2023 top rated fiber laser cutting machine is designed for sheet metal fabrication of steel, titanium, aluminum, brass, copper, alloy, gold, silver, and iron with different powers of 1000W, 1500W and 2000W. Now this affordable fiber laser cutter for sale at a low price with the best professional metal cutting system service and support.
Demonstration Video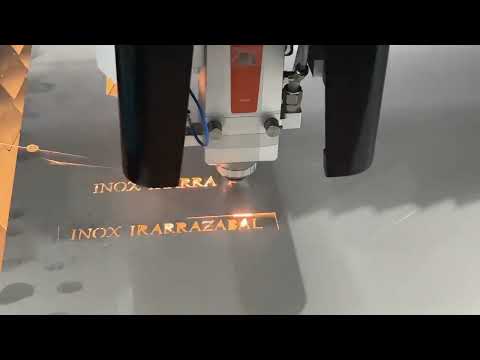 Product Details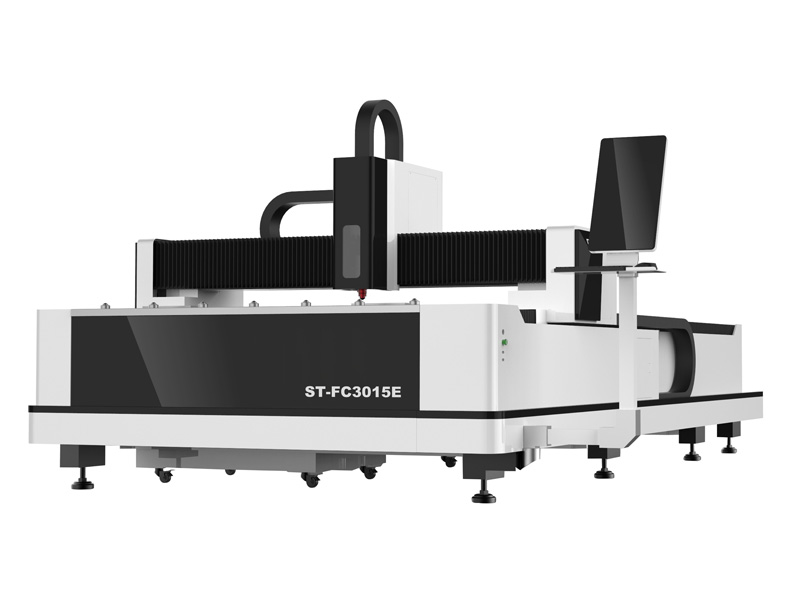 What is Fiber Laser Cutting Machine?
Fiber laser cutting machine is a kind of CNC laser metal cutting equipment with high quality, high speed, high precision and high efficiency. Fiber laser cutters are suitable for all kinds of metal fabrication, which will be your good metal working partner.
The best fiber laser cutting machines are equipped with different laser powers (1000W, 1500W, 2000W) for cutting metal sheets and plates, including stainless steel, carbon steel, electrical steel, galvanized steel, aluminum zinc plate, aluminum, aluminum alloy, titanium alloy, copper, brass, iron and other metal materials with different thickness. The 1000W fiber laser cutter is equipped with humanized designs and powerful cutting capacities. You can find more metal laser cutters from laser metal cutting machines.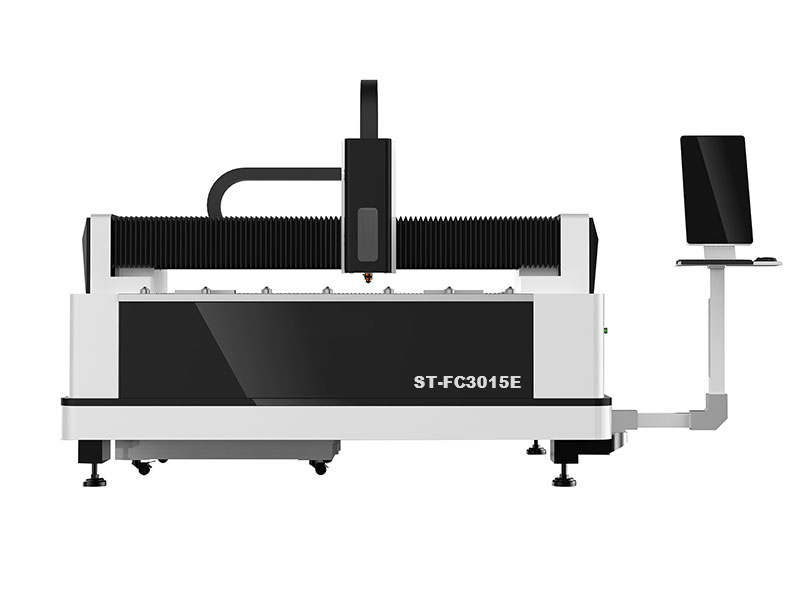 How Does A Fiber Laser Cutting Machine Work?
The laser emitted by the fiber laser generator is focused by the optical path system into a fiber laser beam of high power density. The fiber laser beam is irradiated onto the surface of the workpiece to bring the workpiece to a melting point or boiling point, while the high-pressure gas coaxial with the fiber laser beam blows away the molten or vaporized material. As the fiber laser beam moves relative to the workpiece, the material is slit finally, thereby achieving the purpose of cutting.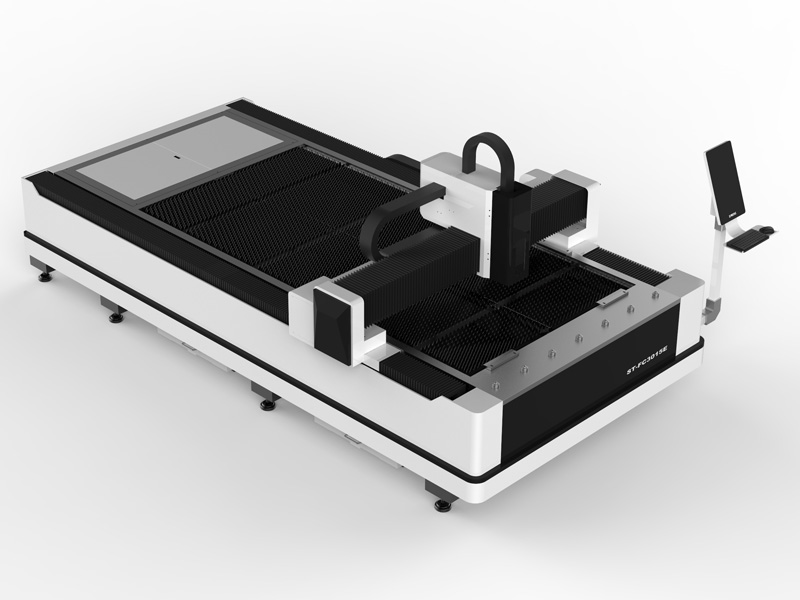 Fiber Laser Cutting Machine Technical Parameters
| | |
| --- | --- |
| Model | ST-FC3015E |
| Brand | STYLECNC |
| Working Area | 1500mm*3000mm |
| Max Cutting Speed | 40m/min |
| Laser Power | 1000W (1500W, 2000W for Option) |
| Max Acceleration | 0.6G |
| Repeated Positioning Accuracy | 0.02mm |
| Driving Way | Servo motor |
| Transmission Way | Y-axis gear rack double driver, X-axis ball screw |
| Power Requirements | 380V/50HZ/3P (220V Avaliable) |
| Machine Weight | 2100kg |
| Price Range | $15,800.00 - $35,800.00 |
Fiber Laser Cutting Machine Applications
Applied materials
The fiber laser machine is mainly used for cutting stainless steel, carbon steel, electrical steel, galvanized steel, aluminum zinc plate, aluminum, aluminum alloy, titanium alloy, copper, brass, iron and other metal materials.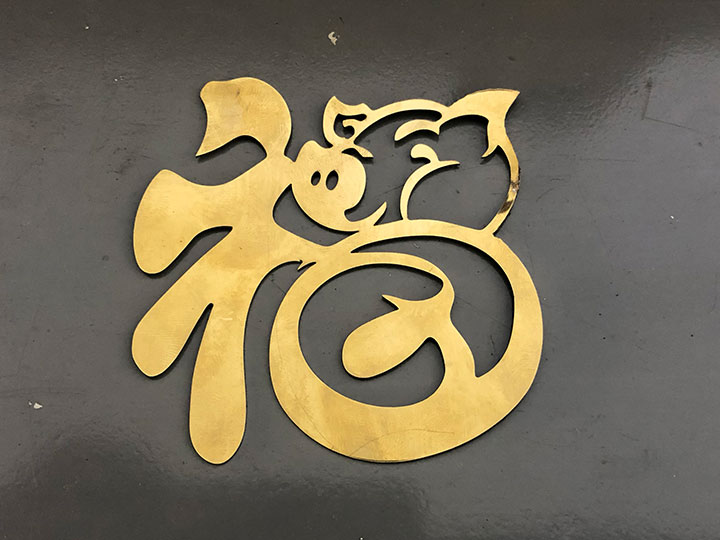 Applied Industries
The fiber laser machine is applied in sheet metal cutting, aviation, spaceflight, electronics, electrical appliances, subway parts, automobile, machinery, precision components, ships, metallurgical equipment, elevator, household appliances, gifts, arts and crafts, tool processing, adornment, advertising, metal foreign processing, various metal cutting industries.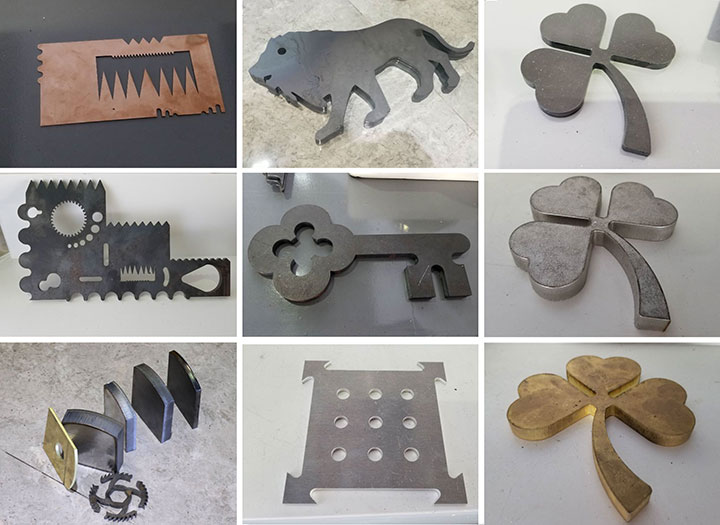 Fiber Laser Cutting Machine Features
1. Excellent beam quality: Smaller focus diameter and high work efficiency, high quality.
2. High cutting speed: The laser cutting speed is more than 40m/min.
3. Stable running: Adopting the top brand fiber laser source, stable performance, key parts can reach 100,000 hours.
4. High efficiency for photoelectric conversion: Compare with CO2 laser cutting machine, fiber laser cutting machine has three times photoelectric conversion efficiency.
5. Low cost, Low maintenance: Save energy and protect environment.
6. Easy operations: fiber line transmission, no adjustment of optical path.
7. Super flexible optical effects: Compact design, easy to flexible manufacturing requirements.
Fiber Laser Cutting Machine Details
Fiber Laser Cutting Machine in Factory.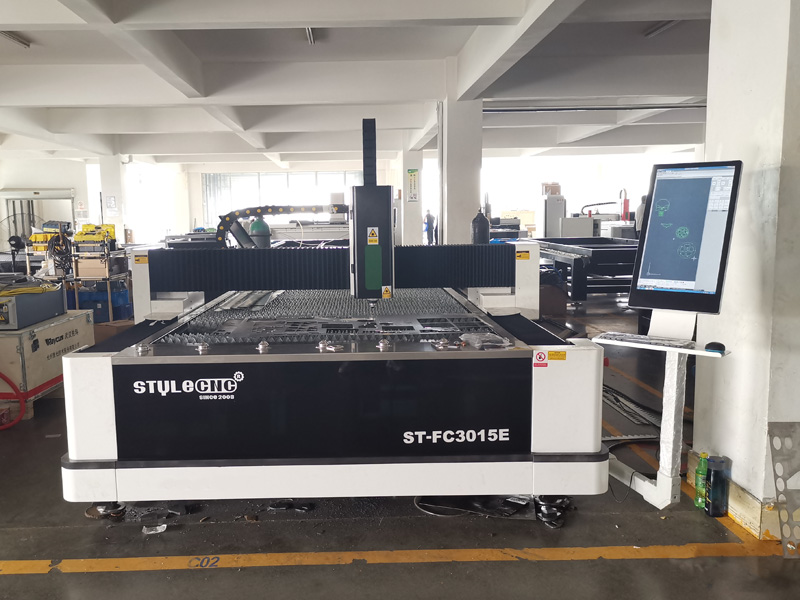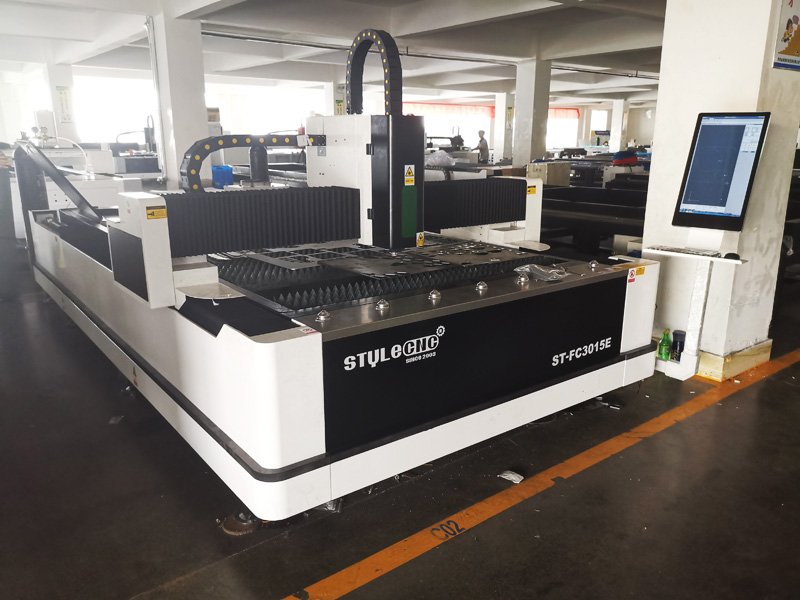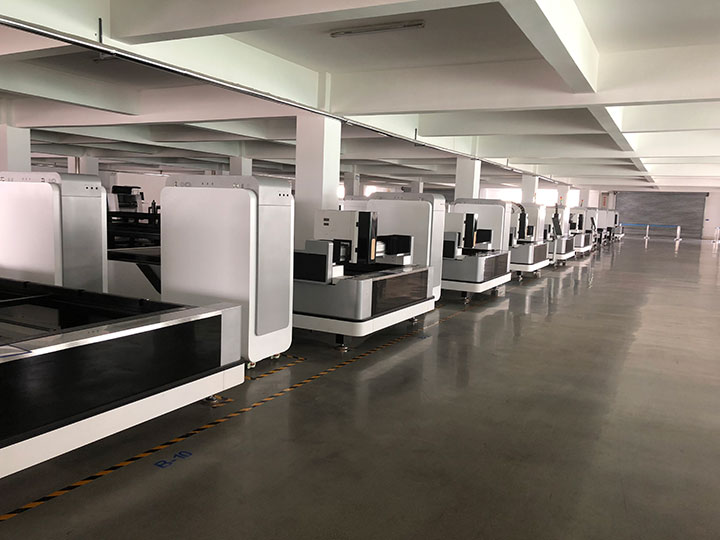 Au3tech laser cutting head.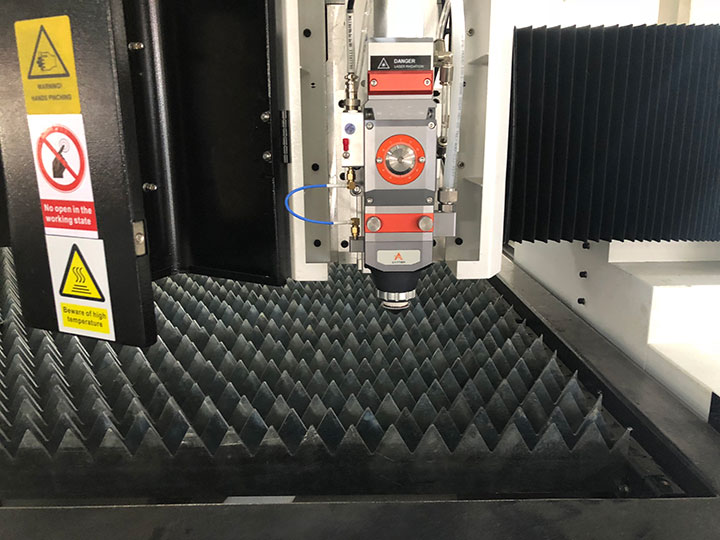 1000W Raycus Laser Source, 1500W for Option.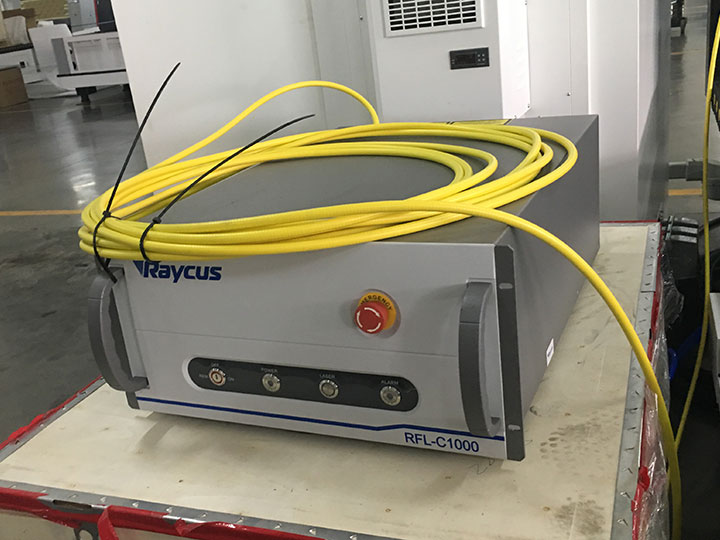 Taiwan Delta Servo Motor.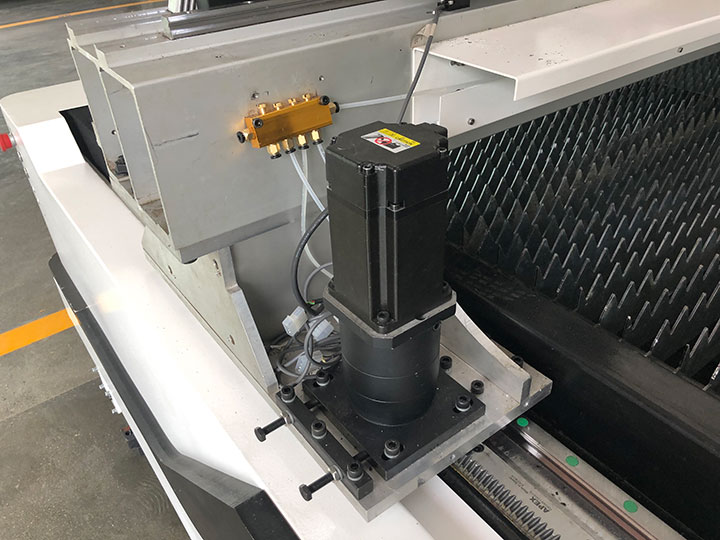 Automatic Oil Lubrication System: Keep the rails in good condition.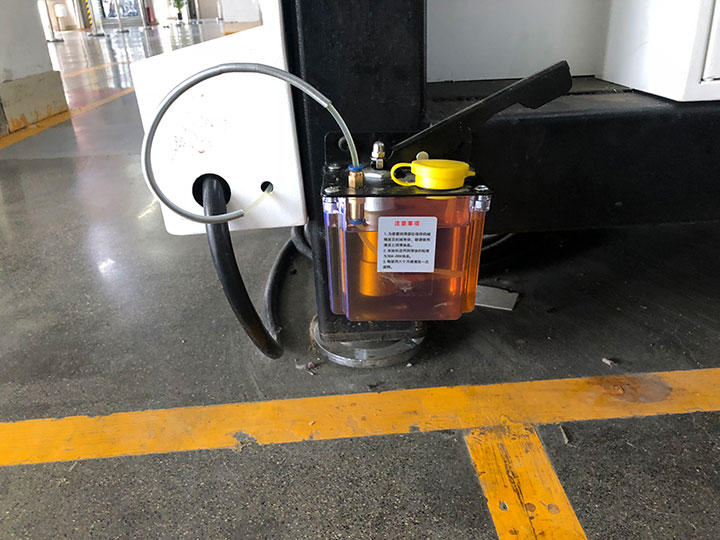 Ipad design screen with Au3tech control system.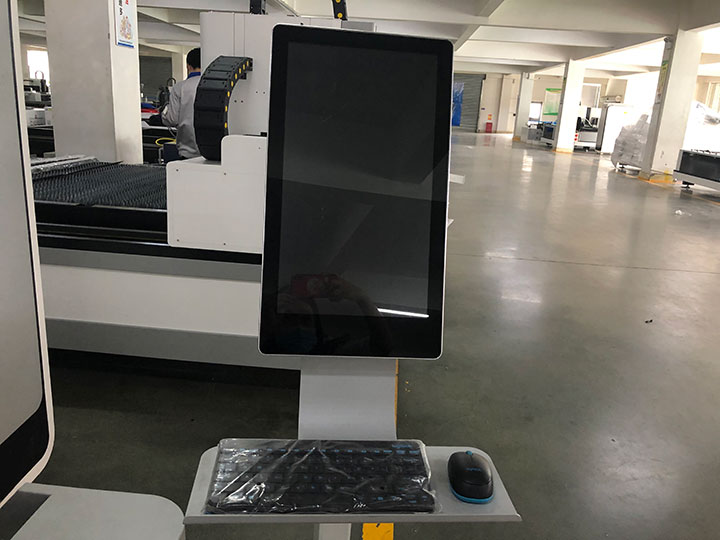 Fiber Laser Cutter Buttons: Easy to operate.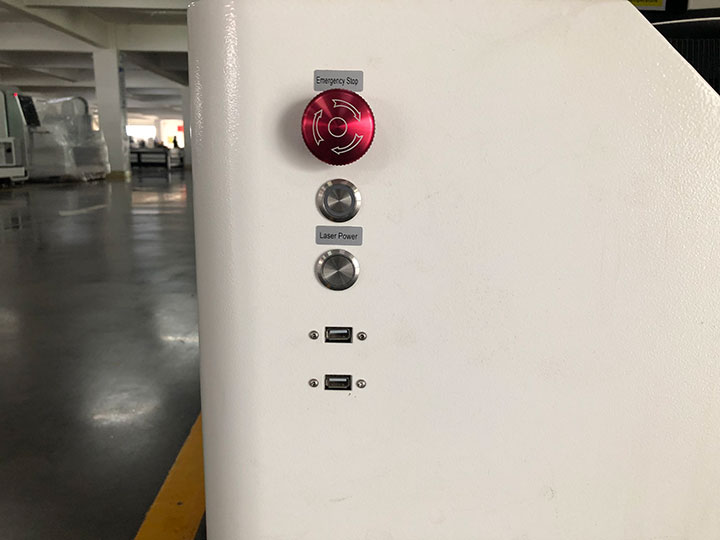 Multi-Purpose Fiber Laser Cutting Machine for Sheet Metal and Metal Tube/Pipe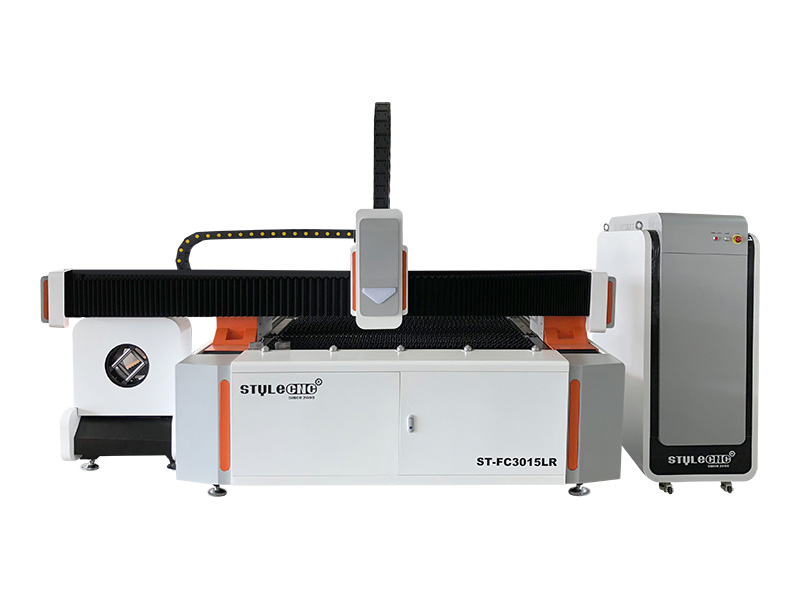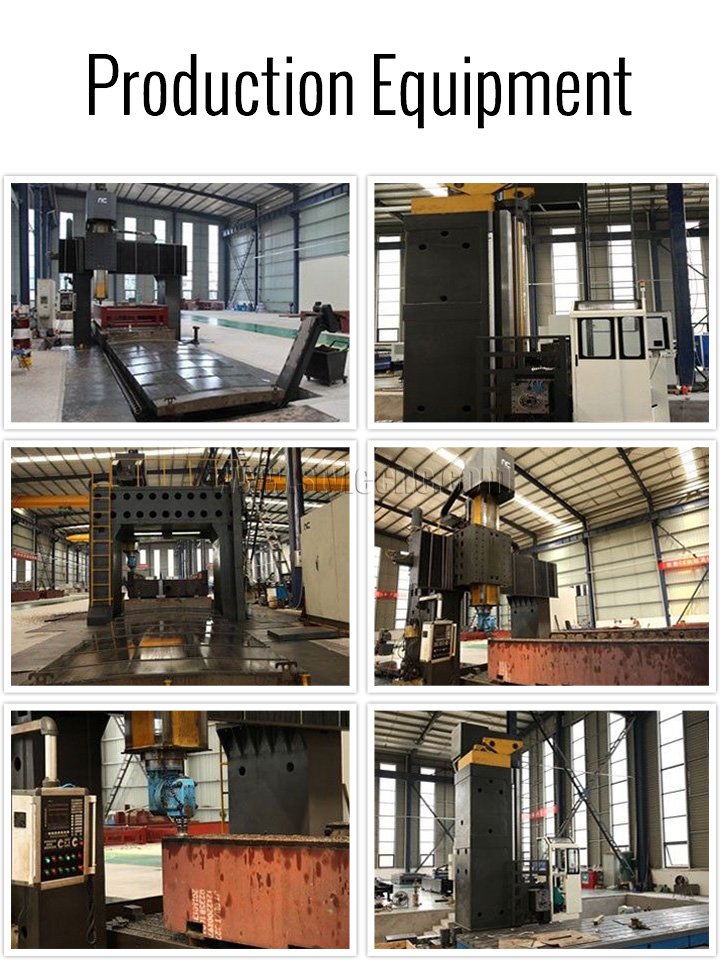 Fiber Laser Cutting Machine Production Equipment from STYLECNC.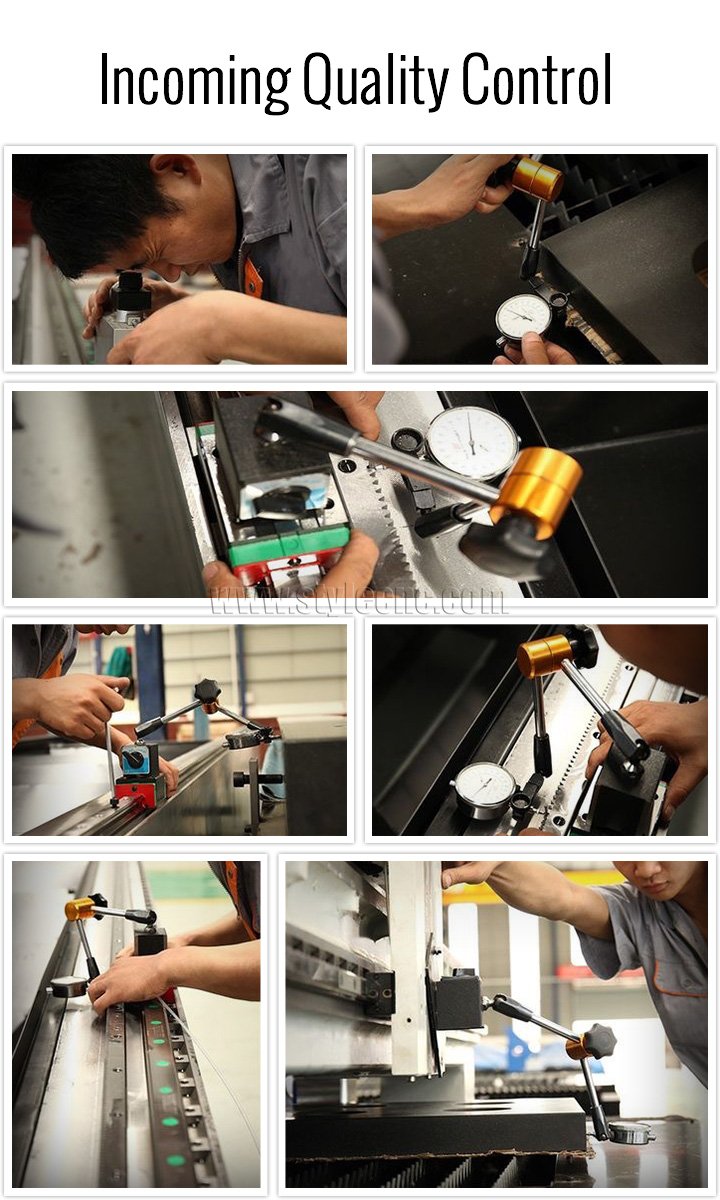 Incoming Quality Control for Fiber Laser Cutting Machine.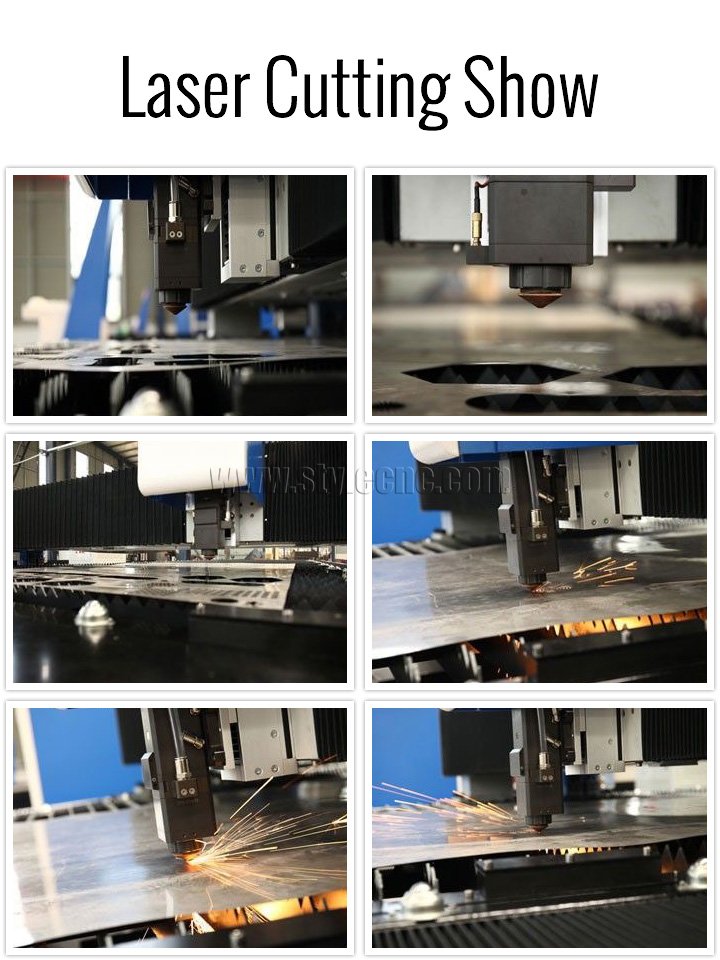 Fiber Laser Cutting Process
Fiber Laser Cutting Machine Projects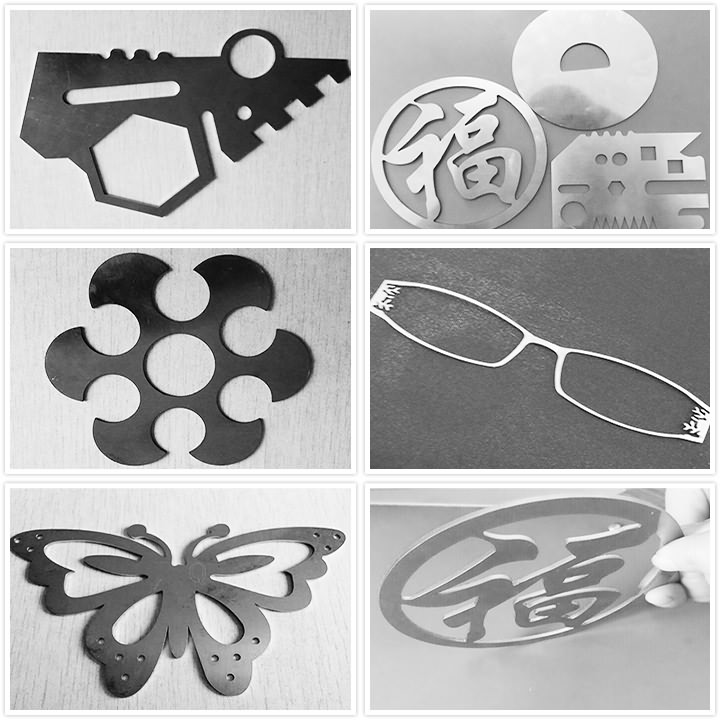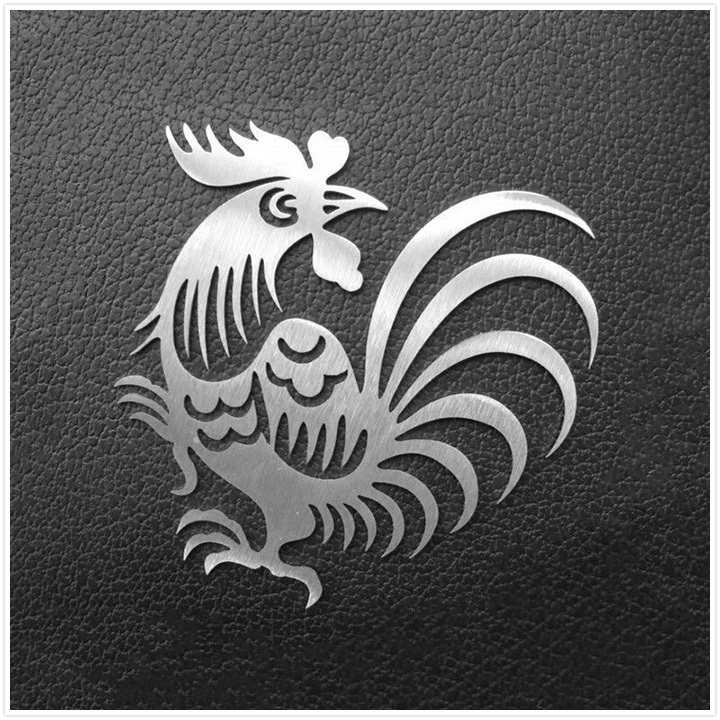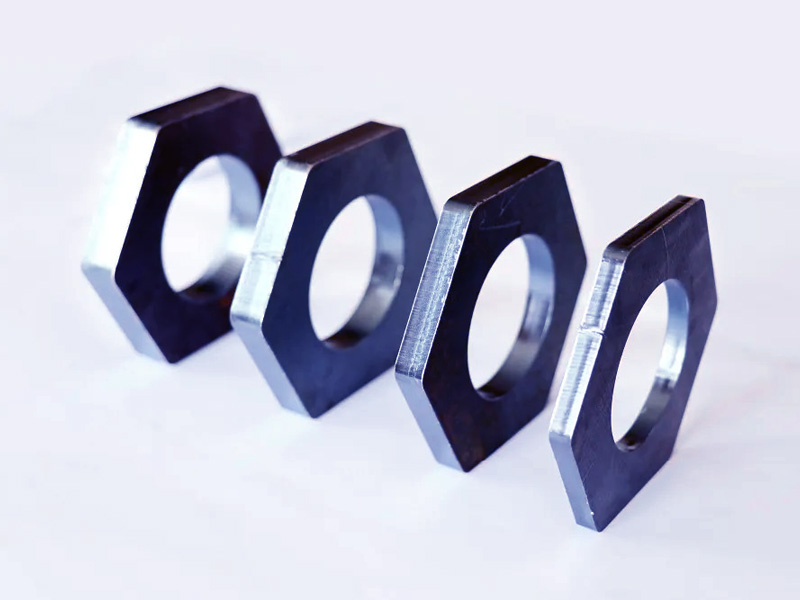 Package for Fiber Laser Machine from STYLECNC
1. Strong water resit bottom in plywood.
2. Laser source (separated plywood case) and spare parts on the laser bed.
3. Corner protect by foam and fixed by protective film.
4. All covered by strong and hard protective film.
5. Vacuum packing.
6. Inside steel frame protector.
7. Plywood packing and steel strip outside fixed the box.
8. Finishing packing by normal container or frame container.
Pre-Sale Service for Fiber Laser Machine from STYLECNC
1. Free Sample Cutting Service:
For free sample cutting/testing, please send us your CAD file (PLT, AI), we will do cutting in our factory and make video to show you the cutting process and result, or send samples to you to check the cutting quality.
2. Progressing Solution Design:
According to customer's product processing requirement, we can design the unique solution that supports higher manufacturing efficiency and better processing quality for customer.
3. Customized Machine Design:
According to customer's application, we may revise our machine according to customer's convenience and high production efficiency.
After-Sale Service for Fiber Laser Machine from STYLECNC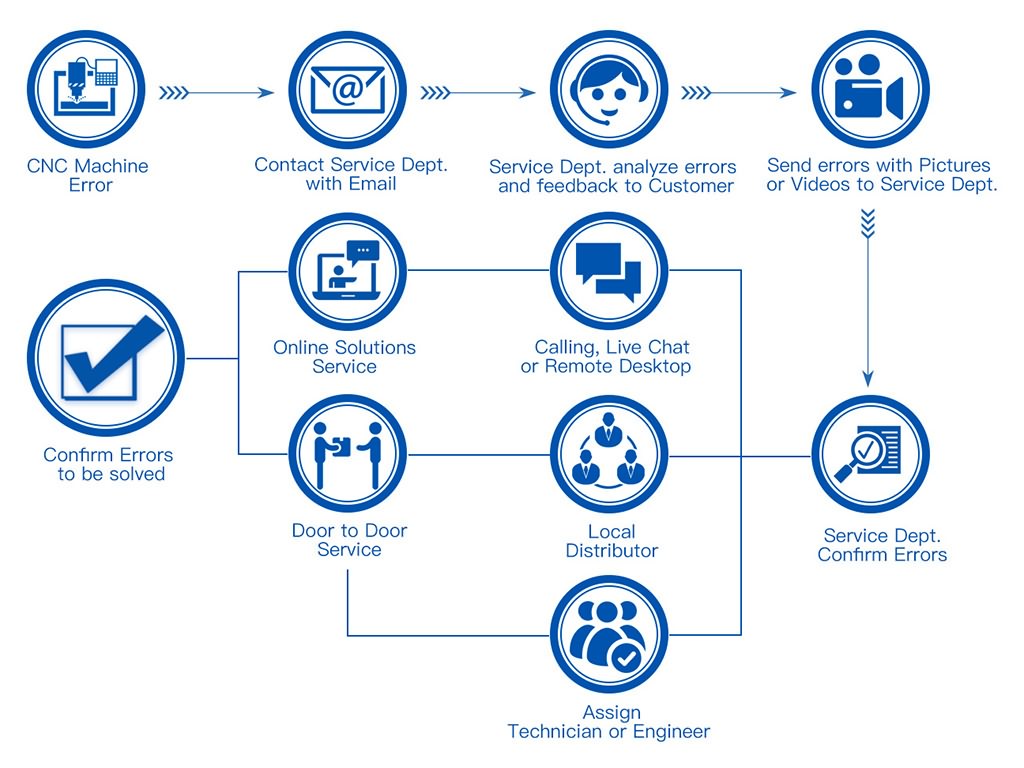 1. As a professional fiber laser cutting machine manufacturer and supplier, STYLECNC will supply the fiber laser machine with training video and user's manual in English for installing, operation, maintenance and trouble-shooting, and shall give technical guide by remote, such as TeamViewer, E-mail, Telephone, Mobile, Whatsapp, Skype, 24/7 online chat, and so on, when you meet some problems of installation, operation or adjusting.
2. You can come to our fiber laser machine factory for training. We will offer professional guidance, direct and effective face-to-face training. Here we have assembled equipment, all sorts of tools and testing facility. Training Time: 3~5 days.
3. Our engineer will do a door-to-door instruction training service at your local site. We need your help to deal with the visa formality, prepaid traveling expenses and accommodation to us during the business trip and service period before their dispatch.
Warranty for Fiber Laser Machine from STYLECNC
As a top fiber laser cutting machine brand in the world, STYLECNC promise:
1. 3 years for the whole fiber laser machine, laser device 18 months, chiller 12 months, lens/mirror/nozzle without warranty.
2. Long life-time maintenance, after-sale department will offer 24/7 English online support.
3. Except the damage artificially, we are responsible for offering the fittings free of charge during warranty.
4. After the warranty period expired, the fiber laser cutter buyer only need to pay the actual maintenance cost.
5. Certificate support: CE, FDA, SGS.
If you want to get a free quotation of fiber laser cutting system, please answer the questions as following and tell us by email, so that we can recommend the most suitable laser machine and quota the affordable price to you directly.
1. Do you need to cut metal sheets/plates, metal pipes/tubes only or both?
2. If you need to cut tubes, what is your tube length, diameter and max thickness?
3. For cutting metal sheet, what is the max working area required?
4. After processed, what the materials will be used for? (Applications)
5. Which seaport is the nearest to you?
6. Do you have any experience in the fiber laser cutting machine?
7. What is your online chat way? Such as Skype, Whatsapp, etc.
8. Are you an end user or reseller?
How Much Does A Fiber Laser Cutter Cost?
The fiber laser cutting machine cost is composed of the following:
1. Fiber laser machine spare parts.
2. Fiber laser machine software.
3. Shipping cost.
4. Tax rates.
5. Customs.
6. Service and technical support.
A fiber laser cutter cost is from $8,800.00 to 260,000.00.
How to Buy a Fiber Laser Cutter?
When you have an idea to buy a affordable fiber laser cutting machine in your budget, firstly, you should find a professional and guaranteed fiber laser cutting machine manufacturer and supplier with best fiber laser cutting system service and support, do not just pay attention to the fiber laser cutter price, The most important thing is that this CNC fiber laser cutting equipment can finish your work well with high quality, high speed and high precision, and when you have problems with the fiber laser cutting system, the after-sale service or technical support department are able to follow up in time and solve your problems. As a professional CNC fiber laser cutting system manufacturer with core technology and independent intellectual property rights, STYLECNC has been committed to the development and manufacture of fiber laser cutting systems over 10 years, which has perfect system of design, development, production, inspection, transportation and service for fiber laser cutting equipments. STYLECNC is your best choice to buy a fiber laser cutting machine for metal.
International Shipping Around the World
All the CNC laser machines can be shipped worldwide by sea, by air or by international express logistics via DHL, FEDEX, UPS. You are welcome to get a free quotation by filling up the form with name, email, detailed address, product and requirements, we will shortly contact you with the full information including the most suitable delivery method (fast, secure, discreet) and freight.
Post A Review
Customer Reviews and Testimonials
Hans Thrun

from AustraliaPosted on

Oct 11, 2022

I use this metal laser cutter to cut stainless steel sheet of 1/4in x 4ft x 8ft to make signs for my advertising business. So far so good. It is easy enough to work with, and cuts well, like a hot knife through butter. Just hope to continue to use for a long time in future.
The software came with the machine is easy to use for my business. With remote assistance from STYLECNC, the software installation and setup can be completed in 45 minutes. Excellent customer service and technical support.
Also, 1064nm fiber laser beam is dangerous to cause eye injury and hand burns, wear leather gloves and safety glasses when using this machine. Overall, take care.
I try to buy well made laser machines that are worth my money, this unit seems to qualify. No real complaints about this cutting tool. Great value. Would highly recommend it.

Charles Johnson

from United StatesPosted on

Jan 23, 2022

I never tried a laser metal cutter before. I was skeptical at first about a cheap foreign made fiber laser cutter. But I thought I'd take a chance as this machine was on sale. I recently bought this unit and as such I soon had a need to cut steel. I have a chop saw but that has its limitations. Also have an angle grinder and I find that to be super slow and even a bit dangerous. So this laser machine seemed like the answer. So far I am happy with it even though I have no other one to compare it to.

Prince Chadha

from New ZealandPosted on

Feb 10, 2021

We have one 1000w fiber laser cutter purchased from STYLECNC. Until now, it is working very well.
Before purchasing, I asked some quotations from Chinese suppliers, after research and comparison, finally I keep 3 companies in my mind, after visiting China, finally I choose STYLECNC as the supplier. Their factory is very professional.
After about 2 months, we get our laser cutter installed in workshop, with the detail user manual and videos, I operate it very well now.


Kungawo

from South AfricaPosted on

Nov 07, 2020

The manufacturer is recommended, responding quickly to the point. After assembly and inspection my fiber laser cutting machine there is a problem with the control card and the gas. but in the course of communication, the problem was solved instantly. My laser machine runs well and excellent for money. IN general, 5 stars in all respects.

Harry

from CanadaPosted on

Oct 27, 2020

The fiber laser machine has performed better than expected. I have been cutting metal tags and signs, and it has done a very good job. The software is adequate but could be better. Delivery was sooner than expected, and setup was no problem thanks to some help videos from the nice supplier. It's a good business machine.

HARLEY

from United KingdomPosted on

Aug 21, 2020

First cooperation with STYLECNC, the contract price is over $10,000, I have to go to China to inspect the factory, everything goes as I expect it to. Large-scale factory, professional team for manufacturing, inspect, service and technical support. I tested on one 1000 watts fiber laser cutter for SS cutting, high speed with smooth edge. I have to say, I got the best metal cutting solutions from STYLECNC.

Haithem Ennaas

from United StatesPosted on

Mar 25, 2020

Highly recommend. Professional fiber laser cutting machine manufacturer. STYLECNC could offer a solution immediately when I had problems. A buy without regretted.

Subandry Churaimi

from MalaysiaPosted on

Jan 26, 2020

Excellent service, shipped very fast, the fiber laser cutting achine was well packaged and arrived with zero damage. All working great, I will Recommend the seller highly. Thank You Bonnie For Excellent Customer Service.

Calvin

from United StatesPosted on

Aug 28, 2019

I'm Calvin from USA, I think it is a good fiber laser cutting system after three months of use, it is easy to run, I am very satisfied with the cutting quality and internet service.