2020 Buyer's Guide to CNC Router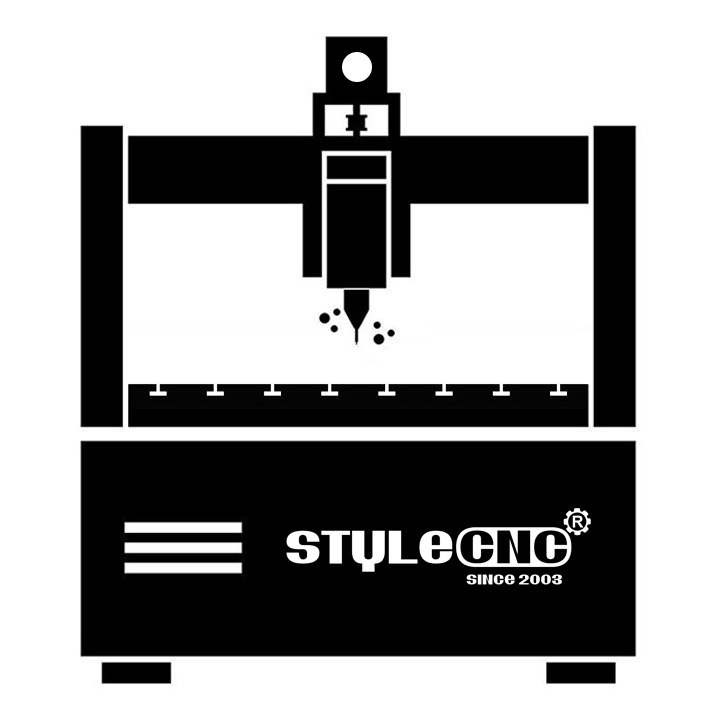 Are you looking forward to DIY CNC router kit plans or coming up with an idea to buy affordable CNC router machines? Check out the 2020 new CNC router buying guide as follows, we'll offer you 2020 best CNC routers with custom CNC router service to fit your CNC projects, CNC ideas and CNC plans.
What is a CNC Router?
A CNC router is a CNC (Computer Numerical Control) machine tool for automatic carving, cutting, engraving, milling, drilling, grooving, polishing, sanding of solid wood, soft wood, hard wood, plywood, MDF, foam, stone, ceramic, acrylic, plastic, glass, PVC, ACM, aluminum, brass, copper and other soft metals. A CNC router machine is composed of CNC controller, CNC software, CNC operating system, frame, spindles, gantry, motor, driver, guide rail, ball screw, power supply, T-slot table or vacuum table, vacuum pump, collet, limit switch, rack and pinion. A CNC router is also known as computer numerical controlled router, computer-controlled router, C ad C router, CNC router machine, CNC router table, CNC router kit, CNC cutter, CNC carver, CNC engraver, CNC routing machine, CNC cutting machine, CNC carving machine, CNC engraving machine, CNC cut machine, CNC carve machine, CNC engrave machine. CNC router machines are widely used in industrial manufacturing, small business, small shop, home business, home shop, school education and hobbyists.
How Many Types of CNC Router?
CNC router table sizes mainly include 2x2, 2x3, 2x4, 4x4, 4x6, 4x8, 5x10 and 6x12 in feet, someone may call the table sizes as 16x16, 16x24, 24x24, 24x36, 24x48, 48x48, 48x96, 60x120, 80x120, and 80x160 in inches, someone may call the table sizes as 4040, 6040, 6060, 6090, 1212, 1218, 1224, 1325, 1530, 2030 and 2040 in millimeter (mm).
Types: hobby CNC series (mini CNC, small CNC, portable CNC, desktop CNC, benchtop CNC, tabletop CNC), industrial CNC series (CNC wood router, CNC metal router, CNC stone router, CNC foam router, CNC plastic router, CNC aluminum router, CNC glass router), and axis series (3 axis, 4th axis, 4 axis, 5 axis).
How Does a CNC Router Work?
A CNC router machine needs at least 3 axis to complete the routing works, called X, Y and Z. The X-axis is horizontal, the Y-axis vertical, and the Z-axis refers vertical to the other two axis. A computer controller reads G-code or other machine language instructions and drives a tool. The spindle holds the tool, moves along X, Y and Z axis, following the tool path generated by the CNC software. In a 3 axis router machine, the tool is always vertical, and undercuts are not possible. In addition, a router machines can be equipped with a rotary axis (4th axis) around the X, Y and Z axis, which is called as CNC router lathe machine. It is mainly used for cylinder carving and cutting projects and some 3D CNC machining projects. A real 4 axis router machine has one additional axis, which refers to X-Y-Z-A, X-Y-Z-B, X-Y-Z-C. Four axis are linked, which can work at the same time. 5 axis router machine has two additional axis, which refers to X-Y-Z-A-B, X-Y-Z-A-C, X-Y-Z-B-C. The machine moves a tool on five different axis at the same time. The spindle can be rotated left and right with 180 degrees around. These additional axis allow for shorter project time due to their capability of carving five edges of the material simultaneously. The position of the machine is determined by a computer. The computer will tell the motors how much to move in each direction. Any location within the machine's work area can be defined by using the method of positioning. The machine can be moved within that space. The machine is connected to a computer, the computer will tell it where to move. First, the CNC operator should do the toolpath creation, the operator uses a software program to draw the shapes and create the tool path that the machine will follow. So, when you have some CNC routing plans, what kind of table sizes should be chosen? which all depends on your requirements and budgets.
What is a CNC Router Used For?
A CNC router is used for woodworking, cabinetry, furniture, custom millwork, fixtures, channel letters, sign making, model making, joinery, point-of-purchase (pop), orthotic manufacturing, jewelry manufacturing, prosthetic manufacturing, CAD/CAM instructional, educational, prototyping, solid surface production, radius mouldings, countertop production, aerospace, foam packaging, metal working, plastic packaging equipment manufacturers, mannequin production, musical instrument manufacturers, store fixtures, packaging, boat building, PCB fabricators, extrusions cutting boards, safety enclosures, engraving, conveyor manufacturers, pool cues, magnetic, knife template manufacturing, gun stock manufacturers, pistol grip manufacturers, fan blade manufacturers, korbal manufacturers, artistic carvings, kneuls manufacturing, MDF doors, name tags, puzzles.
What Materials Can be Cut with a CNC Router?
It is an automatic machine tool for cutting in a variety of metal and non-metal materials:
Soft Wood: pine, soft maple, fir, spruce, hemlock, cedar, redwood.
Solid Wood: cottonwood, pine, redwood, ash, oak, beech, birch, cherry, mahogany, hard maple, poplar, teak, walnut, hickory, purple heart, leopardwood, tigerwood, cocobolo, bloodwood, alder, aspen, basswood, beech, yellow birch, cypress, red elm, gum, hackberry, pecan, pacific coast maple, red oak, sassafras, sycamore, black walnut, white oak, willow, african padauk, bolivian rosewood, hondura mahogany, wenge, spanish cedar.
Composite Wood: OSB, MDF, LDF, melamine, particle board, plywood, masonite.
Stone: natural marble, granite, bluestone, sandstone, artifical stone, tombstone, milestone, ceramic tile, jade.
Plastic: ABS, polycarbonate, polyethylene, PVC, polypropylene, polystyrene, cast and extruded acrylic, hdpe, uhmw, marine PVC, lexan, phenolic, sintra, nylon, lucite, solid surface materials, luan, PET, acetate, vhmw, mica.
Metal: aluminum, brass, copper, bronze, mild steel, stainless, honeycomb aluminum.
Foam: EVA, precision board, sign foam, polystyrene, polyethylene, styramfoam, polyurethane, foam rubber, silicone rubber, urethane.
Other Materials: machinable wax, ren board, vinyl coated panels, gypsum, butter board, fiberglass, magnetic rubber mats, composites, leather, mother-of-pearl, wood veneers, g10, delrin, mat board, rubber, modeling clay.
How Much Does a CNC Router Cost?
Different machine configurations and specifications have different costs, including machine frame, X, Y table (T-slot and vacuum), spindle, gantry, ball screw, guide rails, vacuum pump, driver, motor, CNC controller, operating system, collet, rotary 4th axis, limit switch, power supply, rack and pinion. Machines from different brands have different service and support, which will lead to different prices. Machines from different countries have different tax rates, different customs, different shipping costs. All of these factors will result in the final price. You will get a CNC router price range of $2,580.00 to $150,000.00 from STYLECNC. If you want to buy a machine overseas, and get the final price, please contact us to get a free quotation, we'll calculate the final price of your required machine.
Technical Parameters
| | |
| --- | --- |
| Brand | STYLECNC |
| Table Sizes | 2' x 2', 2' x 3', 2' x 4', 4' x 4', 4' x 6', 4' x 8', 5' x 10', 6' x 12' |
| Axis | 3 Axis, 4th Axis, 4 Axis, 5 Axis |
| Capability | 2D Machining, 2.5D Machining, 3D Machining |
| Materials | Wood, Stone, Foam, Metal, Aluminium, Copper, Plastic, Acrylic |
| Types | Hobby CNC Routers (Mini, Small, Benchtop, Desktop, Tabletop, Portable) and Industrial CNC Routers (CNC Wood Routers, CNC Stone Routers, CNC Metal Routers, CNC Foam Routers) |
| Control Software | Artcam, Type3, Cabinet Vision, Alphacam, Ucancam |
| Operating System | DSP, Nc-studio, Mach3, Osai, Siemens, Syntec, NK200, NK260, NK300 |
| Price Range | $2,580.00 - $150,000.00 |
| OEM Service | X, Y, Z Axis Working Area |
| Option Items | Dust Collector, Vacuum Pump, Rotary Device, Mist-Cooling System, Servo Motors, Colombo Spindle |
How to Pay for a CNC Router?
You can pay via:
1. TT (Telegraphic Transfer) is the method of payment by electronic transfer of funds from one bank account to another. Telegraphic transfer is a fast nature of the transaction, which can be complete within two to four business days.
2. e-Checking is available to buyers with checking accounts from any bank in the United States.
3. Credit card payments with Visa or Mastercard are supported.
How to Ship a CNC Router?
All machines can be shipped worldwide by sea, by air or by international express logistics via DHL, FEDEX, UPS. You are welcome to get a free quotation by filling up the form with name, email, detailed address, product and requirements, we will shortly contact you with the full information including the most suitable delivery method (fast, secure, discreet) and freight. A router firstly should be packaged well in a free-fumigation wooden crate. Usually, we deliver the machine by ship, sometimes, as customer's requirements, we can also deliver by air or by train. When the router arrived at your sea port or destination, you can pick up with the bill of lading we offered. We can also arrange the cargo agent to send to your door.
How Much Does it Cost to Ship a CNC Router?
You are welcome to get a free quotation by filling up the form with name, email, detailed address, product and requirements, we'll estimate the shipping cost for your machine. Please note, customs fees and additional fees may apply for international shipments. Contact your local customs office for more information. If you want to get the final price, please contact us to get a free quotation, we'll calculate the final price of the required machine.
How Long Does it Take to Get Your CNC Router?
For 3 axis router with standard specification, usually 7-15 days. 2. For 4 axis router with standard specification, usually 20-30 days. 3. For 5 axis router, OEM or Non-standard models, usually 60 days.
How to Choose the Best CNC Router?
1. Motor drive, the machines equipped with low power motors are only suitable for routing double-color plates, building models, small signs, three-dimensional crafts and other materials. This process has been popular for some time, but the power is too low, which greatly affects its application range. The machines equipped with high power motors are divided into two types: one type is a large format table, the format is generally more than one meter, but the accuracy of this type is generally poor. The other type is a medium format table, this type is generally used for fine machining and organic sign making.
2. Spindle motor, the spindle motor is also very important, because it is generally not covered by the warranty, and it needs to continuously work for a long time, so if the spindle motor has problems, which will affect the use of the machine.
3. Furthermore, it is the speed adjustable range of the spindle motor. The general speed adjustable range is thousands to 30,000 revolutions per minute. If the speed is not adjustable or the speed adjustable range is small, then the application range of the machine is limited, because different materials must be carved at different speeds.
4. Machine body manufacturing process: The high power machinery requires the body to be precise and stable when working. Therefore, long-term high power machining should use the casting body to ensure its accuracy and stability.
5. Controllers are also generally divided into two types: one type of controller is only driven, and all computing operations are completed by a computer. The computer is in a waiting state while the machine is working, and cannot perform typesetting work. Another type of controller is controlled by a single board computer or a single-chip computer. This controller is actually a computer, so as long as the machine starts working, the computer can immediately perform other typesetting work, especially when working for a long time, the advantages are particularly obvious.
6. Ball screw and guide rails are also important parts. High quality ball screw and guide rails are the guarantee of machining precision and performance when the machine is used for a long time.
How Can I Find a CNC Router Manufacturer and Supplier?
STYLECNC is a guaranteed CNC router manufacturer, supplier and seller. STYLECNC offers all kinds of best machines for sale to fit your business. STYLECNC's machines are equipped with genuine software and system, original kits, bits, parts, tools. STYLECNC offers cost price for your CNC routing plans without any intermediate. You will get the best machines with affordable price from us. STYLECNC also offers the all-round smart 2D/3D CNC routing solutions, 24/7 one-to-one free service and support, which is available free.
Do You Have Service and Support?
As a professional manufacturer and supplier, STYLECNC will supply all machines with training video and user's manual in English for installing, operation, maintenance and trouble-shooting, and shall give technical guide by remote, such as TeamViewer, E-mail, Telephone, Mobile, Whatsapp, Skype, 24/7 online chat, and so on, when you meet some problems of installation, operation or adjusting. You can come to our factory for training. We will offer professional guidance, direct and effective face-to-face training. Here we have assembled equipment, all sorts of tools and testing facility. Training Time: 3~5 days. Our engineer will do a door-to-door instruction training service at your local site. We need your help to handle visa procedures, pre-paid travel and accommodation for us during the issuance of business travel and services.
Do You Have Warranty ?
As a top CNC router brand in the world, STYLECNC promise:
1. 1-3 years for the whole machine.
2. Long life-time maintenance, after-sale department will offer 24/7 English online support.
3. Except the damage artificially, we are responsible for offering the fittings free of charge during warranty.
4. After the warranty period expired, you only need to pay the actual maintenance cost.
5. Certificate support: CE, FDA, SGS.
Do you have Customization Service?
Usually, we will manufacture machines as our common design. We have a broad range of capabilities and manufacturing strengths, which makes it possible for STYLECNC to customize our existing products for custom and OEM customers. 1. Table sizes could be customized designs. 2. Logos could be customized as your requirements. 3. Colors could be customized as your requirements. 4. Special configurations could be customer-oriented designing.
Is It Easy to Learn for a Beginner?
We helped a lot of beginners in CNC, if you have a basic knowledge of computers and are willing to spend a little time on learning, it is not too hard. When you ordered a machine from STYLECNC, we will send the user manual and operating videos to you, you can also get the 24/7 free online service by calling, email, whatsapp, livechat or remote desktop with teamviewer.
How to Maintain Your CNC Router?
You should focus on cleaning up dust and debris, including the chassis, racks, guide rails, spindles, tool magazines, machine tool chains, etc. Do as follows:
Electric Box
Use a vacuum cleaner or air gun to clean up the dust inside the electric box (Note: Be sure to cut off the power, wait until the inverter has no display and the main circuit power indicator goes out before proceeding, such as using an air gun to drain the water in the air pipe first); check the electrical components, check, and tighten the connection terminals. After cleaning, put the desiccant in the cabinet.
Mechanical Transmission
After cleaning the dust and impurities on the machine screw, rack and guide rail, brush the rack and guide rail with lubricating oil with a brush (use machine guide rail oil ISO VG-32 ~ 68 mechanical oil, but grease is forbidden) The rail racks have oil, press the oiler oiling button manually to let the lubricant enter each slider.
Spindle and Drilling Bank
1. Drilling Bank: clean the surface impurities, and then inject 5cc of lubricating oil (Krupp nb52) from the filler port, and run for 5 minutes after adding.
2. Spindle and Tool Holder: The tool holder on the spindle should be removed, and the taper hole of the spindle should be cleaned with a clean cloth. A little oil rubbed on the handle of the knife.
Tools and Bits
The tools need to be removed and cleaned up, protected against rust, wiped with a little oil on the cutter, and arranged properly.
Parts and Accessories
1. Vacuum Pump: The user of the water-cooling vacuum pump puts the water of the vacuum pump clean, the sediment inside the water tank is cleaned with clean water, and the air-cooling vacuum pump cleans the filter element.
2. Vacuum Cleaner: Clean the dust and impurities from the suction port.
3. Oil-Water Separator: Drain the water from the oil-water separator in the bed.
Up to now, the machine is well maintained. If possible, you can cover it with a plastic bag (cover) to prevent dust fall. Before leaving the work shop or factory, you should turn off the main power switch of all electrical equipment to avoid unmanned management and unnecessary trouble.
Glossary Guide
CNC: Computer Numerical Control.
CAM: Computer Aided Manufacturing.
CAD: Computer Aided Design.
G-Code: A universal numerical control (NC) machine tool language that specifies axis points to which the machine will move.
PLT (HPGL): Standard language for printing vector-based line drawings, supported by CAD files.
Grid: The minimum movement, or feed, of the router head. Head automatically moves to next grid position when button is toggled in continuous or step mode.
Step Over: Maximum distance in X or Y axis that cutting tool will engage with uncut material.
Step Down: Distance in Z-axis that the cutting tool plunges into the material.
Stepper Motor: A DC motor that moves in discrete steps by receiving signals, or "pulses" in a particular sequence, thus resulting in very precise positioning and speed control.
Toolpath: User-defined, coded route which the cutter follows to machine the workpiece. A "pocket" toolpath cuts the surface of the workpiece; a "profile" or "contour" toolpath cuts completely through to separate the workpiece shape.
Subtractive Method: The bit removes material to create shapes. (Opposite of additive method.)
Spindle Speed: Rotational speed of cutting tool (RPM).
Conventional Cut: Cutter rotates against direction of feed. Results in minimal chatter but can lead to tearout in certain woods.
Feed Rate: Speed at which the cutting tool moves through the workpiece.
Climb Cut: Cutter rotates with direction of feed. Climb cutting prevents tearout, but can lead to chatter marks with a straight-fluted bit; a spiral-fluted bit will reduce chatter.
Home Position (Machine Zero): Machine-designated zero point determined by physical limit switches. (It does not identify actual work origin when processing a workpiece.)
Work Origin (Work Zero): The user-designated zero point for the workpiece, from which the head will perform all it's cutting. X, Y and Z axes are set to zero.
U Disk: External data storage device that is inserted into a USB interface.
LCD: Liquid Crystal Display (used on the controller).
Buying Guide
1. Consult:
We will recommend the most affordable machine to you after being informed by your requirements:
The materials you want to carve, cut, drill and groove.
The max size of the materials (Length * Width * Thickness).
We can also do sample routing according to your requirements or files, and feedback the results to you with test video, or send it to you by express as soon as possible.
2. Quotation:
We will offer you with our detail quotation according to the consulted machine:
The best specifications, accessories and the affordable price.
3. Process Evaluation:
Both sides carefully evaluate the details (technical parameters, specifications and business terms) of the order to exclude any misunderstanding.
4. Placing Order:
If you have no doubt, we will send you the PI (Proforma Invoice), then we will sign a contract with you.
5. Production:
We will arrange the CNC carving machine production as soon as receiving your contract and deposit. The latest news about production will be updated and informed to the buyer during the production.
6. Inspection:
The whole production procedure will be under regular inspection and strict quality control. The complete CNC carving machine will be tested to make sure they can work well before out of factory.
7. Delivery:
We will arrange the delivery as the terms in contract after the confirmation by the buyer.
8. Custom Clearance:
We will supply and deliver all the necessary shipping documents to the buyer and ensure a smooth customs clearance.
9. Support and Service:
We will offer 24/7 free one-to-one professional technical support and service via:
Calling, Email, Skype, WhatsApp, Online Live Chat, Remote Service.
We also have door-to-door service as your requirements.
Safety Guide
1. Read and understand the warnings posted on your machine and in the machine safety manual. Failure to comply with all of these warnings may cause serious injury.
2. Read and understand the entire user manual before attempting assembly or operation.
3. A router machine is designed and intended for use by CNC router operator, which is also known as CNC machinist. If you are not familiar with the proper and safe operation, do not use until proper training and knowledge have been obtained.
4. Replace the warning labels if they become obscured or removed.
5. Do not use it for other than its intended use. If used for other purposes, Powermatic disclaims any real or implied warranty and holds itself harmless from any injury that may result from that use.
6. Before operating, remove tie, rings, watches and other jewelry, and roll sleeves up past the elbows. Do not wear loose clothing. Confine long hair. Non-slip footwear or anti-skid floor strips are recommended. Do not wear gloves.
7. Always wear approved safety glasses/face shield while using your router machine. Everyday eyeglasses only have impact resistant lenses, they are not safety glasses.
8. Keep electrical cord away from sharp edges, heat or moving parts. Position cord so it will not become a trip hazard.
9. Carving, cutting, drilling, grooving, sawing, sanding or machining wood projects will generate wood dust and other substances known to cause cancer. Avoid inhaling dust generated from wood projects or use a dust mask or other safeguards to avoid inhaling dust generated from wood projects.
10. Always secure workpiece to spoil board using clamps or double-sided tape. Never hold workpiece down by hand while operating.
11. Wear ear protectors (plugs or muffs) during extended periods of operation.
12. Do not operate while tired or under the influence of drugs, alcohol or any medication.
13. Wood products emit chemicals known to cause birth defects or other reproductive harm.
14. Make certain your machine is properly grounded.
15. Make certain the switch is in the OFF position before connecting your machine to the power supply.
16. Form a habit of checking to see if adjusting wrenches and keys are removed from your machine before turning it on.
17. After installing a bit, make sure collet is securely tightened. An unsecured bit may fly loose from the collet and cause injury.
18. Remove loose items and unnecessary work pieces from the area before starting your machine.
19. Do not plug router directly into wall outlet. Connect it to the provided cable receptacle on the router table, so that all machine movement can be regulated by the single controller.
20. Check damaged parts. Before further use of your machine, a guard or other part that is damaged should be carefully checked to determine that it will operate properly and perform its intended function.Check for alignment of moving machine parts, binding of moving parts, breakage of parts, mounting and any other conditions that may affect its operation. A guard or other CNC part that is damaged should be properly repaired or replaced.
21. Make sure workpiece is free from nails or other foreign objects.
22. Keep visitors a safe distance from the work area. Keep children away.
23. Keep safety guards in place at all times when your machine is in use. If removed for maintenance purposes, use extreme caution and replace the guards immediately after completion of maintenance.
24. Turn off your machine before cleaning. Use a brush or compressed air to remove chips or debris - do not use your hands.
25. Provide for adequate space surrounding work area and non-glare, overhead lighting.
26. Don't use in dangerous environment. Don't use power tools in damp or wet location, or expose them to rain. Keep work area well lighted.
27. Keep the floor around your machine clean and free of scrap material, oil and grease.
28. Use recommended accessories, improper accessories may be hazardous.
29. Make your workshop child proof with padlocks, master switches or by removing starter keys.
30. Use proper extension cord. Make sure your extension cord is in good condition. When using an extension cord, be sure to use one heavy enough to carry the current your CNC project will draw. An undersized cord will cause a drop in line voltage resulting in loss of power and overheating.
31. Give your work undivided attention. Looking around, carrying on a conversation and "horseplay" are careless acts that can result in serious injury.
32. Do not touch a bit immediately after use, it will be hot and may cause skin burns.
33. Do not stand on your machine. Serious injury could occur if your machine tips over.
34. A C and C router machine is intended for carving and cutting wood, acrylic, foam, plastic and soft metal, etc. Do not use it to cut hard metals.
35. Never leave your machine running unattended. Turn the power off and do not leave your machine until it comes to a complete stop.
36. Use the right CNC cutter at the correct speed and feed rate. Do not force a tool or attachment to do a job for which it was not designed. The right tool will do the job better and more safely.
37. Before using your machine, read and become thoroughly familiar with all manufacturer's operating and safety instructions that accompanied machine you will be using.
38. Maintain CNC tools with care. Do not use dull or damaged CNC bits. Keep cutting tools clean and sharp for best and safest performance. Follow instructions for lubricating and changing accessories.
39. Make all machine adjustments or maintenance with your machine unplugged from the power source.
40. Maintain a balanced stance at all times so that you do not fall into the cutter or other moving parts. Do not overreach or use excessive force to perform any operation. Keep hands away from rotating cutting tool.
Demo Video Show
CNC Router Stories
Mar 31, 2020

Before you can make projects on a CNC router machine, you first need to take the user guide for CNC router beginners. Here you will get the basic skills to use a CNC router machine.
Mar 18, 2020

Looking for a CNC router for 2D/3D woodworking projects in 2020, Follow the CNC router buying guide to 2020 best CNC routers for woodworking to fit your business requirements in modern furniture making, cabinet making, door making, sign making, wood crafts and other popular custom woodworking plans.
Buyer's Reviews
Селеша

from RussiaPosted on

Mar 06, 2020

I could not be more happy with my purchase, I cut roughly 120 projects on it in the past month and I'm very pleased with the hobby CNC machine so far. Also, customer service is great. Had a question on a Sunday evening and regarding software and Mike replied within the hour giving me the help I needed and I was able to get back to cutting. Eventually I'll probably upgrade but this is a great machine for hobbyists and beginners. You won't regret your decision.

LISA

from CanadaPosted on

Feb 25, 2020

I bought this CNC with ZERO experience, but wanted to give it a try. It went together easy enough, I've had no issues at all with the machine. I've cut around 60 signs with it so far, and it works very well. It's a small desktop CNC machine, but you can still cut a nice sized plaque or sign with it. I do 10"x20" signs with it normally.

Hilliard

from United KingdomPosted on

Feb 21, 2020

I had a lot of fun putting it together and making my first cuts. I used the CNC machine to make musical instrument - guitar, automatically change tools, automatically cutting. Fun to use and can let it do the fine details. I have really enjoyed this machine so far. Easily my favorite purchase of the year.

Jacob

from United StatesPosted on

Feb 17, 2020

It's my first time with a CNC machine and this has been good unit to learn with. They provide very detailed instructions on how to use. They also have very good online resources to help along the way.

John Phillip

from New ZealandPosted on

Feb 10, 2020

The CNC machine was easy to assemble with fairly good instructions. After assembly, I was having a minor issue getting the machine to jog, but an email to STYLECNC was responded to within a couple of hours, even during non-business hours over the weekend, so at least I know there's great support behind the project. I did a quick design and had it cut in about 20 minutes. The CNC provided dimensionally accurate cutouts with a box that fit together perfectly after it was finished, so on to bigger and better projects.

Zachary

from United StatesPosted on

Dec 29, 2019

Long story short, I'm really happy with the five axis CNC router, it runs really well and the I've found the software SYNTEC easy to follow. Any questions I had were answered promptly and when you contact the help desk, it's Mike that responds and his suggestions are simple to follow and always right on point. If you're thinking about getting into CNC, I highly recommend STYLECNC.

Brennan Chartrand

from United StatesPosted on

Dec 23, 2019

The Router itself is of fairly high quality, you can see where they made compromises, and that in of itself is acceptable because a similar machine in North America goes for more than 20,000 USD. There is always a trade off, and knowing upfront that a compromise is made in one place or another upfront is important. The mechanicals, stepper motors, rails and drive systems all look great, I had my friends who are machinists go over the mechanicals of the machine top to bottom and they couldn't find a technical fault so far.

Zechary

from AustraliaPosted on

Dec 16, 2019

I learned a lot about CNC machining. I used this to do some stone carving, and so far it's gone better than expected. I was able to do a few runs without any major problems. So that's good. And the results were nice.

Ethan

from CanadaPosted on

Dec 10, 2019

Excellent CNC machine for cabinet door making. But more importantly is the excellent support from STYLECNC. In my opinion it's not worth the few dollars in savings by choosing one of the knockoff brands. STYLECNC seems to be on top of quality control and as a consumer I appreciate that.

Jabulani

from South AfricaPosted on

Dec 09, 2019

This is an inexpensive yet nice CNC machine. I needed this to cut PCBs, and it is getting the job done. I did not spend much time for alignment. The CNC works great with PCBs, wood, and plastic.