2020 Buyer's Guide to CNC Router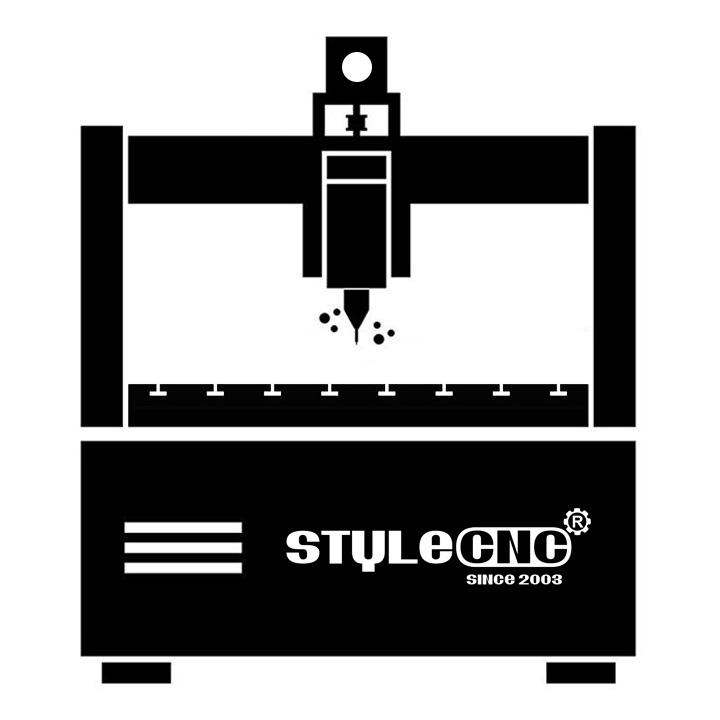 Are you looking forward to DIY CNC router kit plans or coming up with an idea to buy affordable CNC routers for wood, aluminum, stone, plastic, foam with small business, home use, school education, hobbyists or industrial manufacturing? Check out the 2020 new CNC router machine buying guide for CNC router operators, machinists, beginners, wood fabricators, woodworkers, metal fabricators, metalworkers, stone fabricators, stoneworkers, and foam fabricators, we'll offer you 2020 best CNC routers with custom CNC routing service to fit your CNC projects, ideas, files, and plans.
What Is A CNC Router?
A CNC router is a CNC (Computer Numerical Control) machine tool for automatic carving, cutting, engraving, milling, drilling, grooving, polishing, sanding of solid wood, soft wood, hard wood, plywood, MDF, foam, stone, ceramic, acrylic, plastic, glass, PCB, PVC, ACM, aluminum, brass, copper and other soft metals. A CNC router machine is composed of CNC controller, CNC software, CNC operating system, frame, spindles, gantry, motor, driver, guide rail, ball screw, power supply, T-slot table or vacuum table, vacuum pump, collet, limit switch, rack and pinion. A CNC router is also known as computer numerical controlled router, computer-controlled router, C and C router, CNC router machine, CNC router table, CNC router kit, CNC cutter, CNC carver, CNC engraver, CNC routing machine, digital router, CNC cutting machine, CNC carving machine, CNC engraving machine, CNC cut machine, CNC carve machine, CNC engrave machine. CNC router machines are widely used in industrial manufacturing, small business, small shop, home business, home shop, school education and hobbyists.
How Many Types of CNC Router?
CNC router table sizes mainly include 2x2, 2x3, 2x4, 4x4, 4x6, 4x8, 5x10 and 6x12 in feet, someone may call the table sizes as 16x16, 16x24, 24x24, 24x36, 24x48, 48x48, 48x96, 60x120, 80x120, and 80x160 in inches, someone may call the table sizes as 4040, 6040, 6060, 6090, 1212, 1218, 1224, 1325, 1530, 2030 and 2040 in millimeter (mm).
CNC router types: hobby CNC series (mini CNC, small CNC, portable CNC, desktop CNC, benchtop CNC, tabletop CNC), industrial CNC series (CNC wood router, CNC metal router, CNC stone router, CNC foam router, CNC plastic router, CNC aluminum router, CNC glass router), and axis series (3 axis, 4th axis, 4 axis, 5 axis).
How Does A CNC Router Work?
A CNC router machine needs at least 3 axis to complete the routing works, called X, Y and Z. The X-axis is horizontal, the Y-axis vertical, and the Z-axis refers vertical to the other two axis. A computer controller reads G-code or other machine language instructions and drives a tool. The spindle holds the tool, moves along X, Y and Z axis, following the tool path generated by the CNC software. In a 3 axis router machine, the tool is always vertical, and undercuts are not possible. In addition, a router machines can be equipped with a rotary axis (4th axis) around the X, Y and Z axis, which is called as CNC router lathe machine. It is mainly used for cylinder carving and cutting projects and some 3D CNC machining projects. A real 4 axis router machine has one additional axis, which refers to X-Y-Z-A, X-Y-Z-B, X-Y-Z-C. Four axis are linked, which can work at the same time. 5 axis router machine has two additional axis, which refers to X-Y-Z-A-B, X-Y-Z-A-C, X-Y-Z-B-C. The machine moves a tool on five different axis at the same time. The spindle can be rotated left and right with 180 degrees around. These additional axis allow for shorter project time due to their capability of carving five edges of the material simultaneously. The position of the machine is determined by a computer. The computer will tell the motors how much to move in each direction. Any location within the machine's work area can be defined by using the method of positioning. The machine can be moved within that space. The machine is connected to a computer, the computer will tell it where to move. First, the CNC operator should do the toolpath creation, the operator uses a CNC router software program to draw the shapes and create the tool path that the machine will follow. So, when you have some CNC routing plans, what kind of table sizes should be chosen? which all depends on your requirements and budgets.
What Is A CNC Router Used For?
A CNC router machine is used for woodworking, cabinetry, furniture, custom millwork, fixtures, channel letters, sign making, model making, joinery, point-of-purchase (pop), orthotic manufacturing, jewelry manufacturing, prosthetic manufacturing, CAD/CAM instructional, educational, prototyping, solid surface production, radius mouldings, countertop production, aerospace, foam packaging, metal working, plastic packaging equipment manufacturers, mannequin production, musical instrument manufacturers, store fixtures, packaging, boat building, PCB fabricators, extrusions cutting boards, safety enclosures, engraving, conveyor manufacturers, pool cues, magnetic, knife template manufacturing, gun stock manufacturers, pistol grip manufacturers, fan blade manufacturers, korbal manufacturers, artistic carvings, kneuls manufacturing, MDF doors, name tags, puzzles.
What Materials Can Be Cut with CNC Routers?
Computer numberical controlled router machine is a fully automatic machine kit for routing in a variety of metal and non-metal materials:
Solid Wood/Hard Wood: Redwood, cottonwood, cherry, ash, pine, oak, birch, beech, mahogany, poplar, hard maple, teak, walnut, purple heart, hickory, tigerwood, leopardwood, bloodwood, cocobolo, aspen, alder, basswood, yellow birch, beech, red elm, cypress, hackberry, gum, pacific coast maple, pecan, bolivian rosewood, red oak, sycamore, hondura mahogany, sassafras, white oak, black walnut, willow, african padauk, spanish cedar, wenge.
Soft Wood: Pine, soft maple, fir, spruce, hemlock, cedar, redwood.
Composite Wood: MDF, LDF, OSB, plywood, particle board, masonite, melamine.
Plastic: PET, ABS, PVC, polyethylene, polypropylene, polycarbonate, polystyrene, cast and extruded acrylic, phenolic, uhmw, luan, hdpe, vhmw, mica, acetate, nylon, sintra, lucite, lexan, marine PVC, solid surface materials.
Stone: Granite, tombstone, milestone, natural marble, jade, sandstone, artificial stone, bluestone, ceramic tile.
Metal: Copper, brass, aluminum, bronze, honeycomb aluminum, stainless steel, mild steel.
Foam: Sign foam, EVA, polyethylene, polystyrene, styramfoam, polyurethane, precision board, urethane, silicone rubber, foam rubber.
Other Materials: PCB, fiberglass, ren board, machinable wax, vinyl coated panels, butter board, magnetic rubber mats, gypsum, leather, composites, g10, wood veneers, mother-of-pearl, mat board, delrin, modeling clay, rubber.
How Much Does A CNC Router Cost?
Different machine configurations and specifications have different costs, including machine frame, X, Y table (T-slot and vacuum), spindle, gantry, ball screw, guide rails, vacuum pump, driver, motor, CNC controller, operating system, collet, rotary 4th axis, limit switch, power supply, rack and pinion. Machines from different brands have different service and support, which will lead to different prices. Machines from different countries have different tax rates, different customs, different shipping costs. All of these factors will result in the final price. You will get a CNC router price range of $2,580.00 to $150,000.00 from STYLECNC. If you want to buy a machine overseas, and get the final price, please contact us to get a free quotation, we'll calculate the final price of your required machine.
Technical Parameters
| | |
| --- | --- |
| Brand | STYLECNC |
| Table Sizes | 2' x 2', 2' x 3', 2' x 4', 4' x 4', 4' x 6', 4' x 8', 5' x 10', 6' x 12' |
| Axis | 3 Axis, 4th Axis, 4 Axis, 5 Axis |
| Capability | 2D Machining, 2.5D Machining, 3D Machining |
| Materials | Wood, Stone, Foam, Metal, Aluminium, Copper, Plastic, Acrylic |
| Types | Hobby CNC Routers (Mini, Small, Benchtop, Desktop, Tabletop, Portable) and Industrial CNC Routers (CNC Wood Routers, CNC Stone Routers, CNC Metal Routers, CNC Foam Routers) |
| Control Software | Artcam, Type3, Cabinet Vision, Alphacam, Ucancam |
| Operating System | DSP, Nc-studio, Mach3, Osai, Siemens, Syntec, NK200, NK260, NK300 |
| Price Range | $2,580.00 - $150,000.00 |
| OEM Service | X, Y, Z Axis Working Area |
| Option Items | Dust Collector, Vacuum Pump, Rotary Device, Mist-Cooling System, Servo Motors, Colombo Spindle |
How To Choose A CNC Router Machine?
1. Motor drive, the router machines equipped with low power motors are only suitable for routing double-color plates, building models, small signs, three-dimensional crafts and other materials. This process has been popular for some time, but the power is too low, which greatly affects its application range. The machines equipped with high power motors are divided into two types: one type is a large format table, the format is generally more than one meter, but the accuracy of this type is generally poor. The other type is a medium format table, this type is generally used for fine machining and organic sign making.
2. Spindle motor, the spindle motor is also very important, because it is generally not covered by the warranty, and it needs to continuously work for a long time, so if the spindle motor has problems, which will affect the use of the machine.
3. Furthermore, it is the speed adjustable range of the spindle motor. The general speed adjustable range is thousands to 30,000 revolutions per minute. If the speed is not adjustable or the speed adjustable range is small, then the application range of the machine is limited, because different materials must be carved at different speeds.
4. Machine body manufacturing process: The high power machinery requires the body to be precise and stable when working. Therefore, long-term high power machining should use the casting body to ensure its accuracy and stability.
5. Controllers are also generally divided into two types: one type of controller is only driven, and all computing operations are completed by a computer. The computer is in a waiting state while the machine is working, and cannot perform typesetting work. Another type of controller is controlled by a single board computer or a single-chip computer. This controller is actually a computer, so as long as the machine starts working, the computer can immediately perform other typesetting work, especially when working for a long time, the advantages are particularly obvious.
6. Ball screw and guide rails are also important parts. High quality ball screw and guide rails are the guarantee of machining precision and performance when the machine is used for a long time.
How To Operate A CNC Router Machine?
Step 1, Turn On to Start.
1. Turn on the power of the control computer and monitor, and start the CNC routing software
2. Press the power switch.
3. Turn on the spindle motor cooling water pump and check the cooling water flow.
4. If the machine is turned on for the first time today, depress the handle of the lubricating oil injector once, and add lubricating oil to the lubricated part.
5. Perform the mechanical origin return operation in the software, and eliminate possible collisions before the operation.
6. Manually move each feed axis 1 to 2 back and forth within the full stroke.
Step 2, Workpiece Clamping.
1. Place the cushion material in the center of the workbench.
2. Place the workpiece to be processed on the mat.
3. Use at least 4 sets of pressure plates to fix the workpiece on the worktable.
4. Check whether the workpiece is clamped firmly.
5. Find the edge and set the workpiece origin:
a. Move the spindle along the feed axis that accurately sets the origin until the tool will touch the workpiece.
b. Start the spindle.
c. Switch to single-step movement with step size 0.01mm or 0.05mm.
d. Move in one step until the rotating tool touches the workpiece. At this time, a slight noise will be heard.
e. Zero the workpiece coordinates of this axis or record the current machine coordinates.
f. Move the axis to move the tool away from the workpiece, and pay attention to confirm that the moving direction is correct.
Step 3, Tool Changing.
1. Disconnect the power of the routing machine to ensure that the spindle motor stops.
2. Move the spindle to a position where it is easy to change the cutter, and place the soft material directly under the cutter to avoid damaging the cutting edge when the cutter falls.
3. Fix the spindle with a small wrench, and turn the chuck nut clockwise (viewed from top to bottom) with a large wrench, taking care not to hit the cutting edge with the wrench.
4. If you need to replace the router chuck, unscrew the chuck nut and replace the router chuck to remove foreign objects in the router chuck and chuck nut.
5. Check whether the cutting edge of the router bit to be clamped is intact.
6. Install the collet and nut on the spindle.
7. Insert the router bit to be clamped into the hole of the router chuck, as far as possible according to the actual situation (but the cylindrical part of the bit cannot be fully inserted), and tighten the nut by hand. This step cannot be reversed from the previous step: do not insert the bit before installing the nut on the spindle.
8. Tighten the nuts with two wrenches, being careful not to use too much force, and also being careful not to hit the cutting edge with the wrench.
9. Confirm that the wrench is away from the spindle, and turn on the power.
10. Set the router bit again and set the Z coordinate of the workpiece origin.
Step 4, Start Programming.
1. Confirm the following work:
a. The router bit is firmly clamped.
b. The workpiece origin is set correctly, especially the Z coordinate of the workpiece origin after tool change.
c. Workpieces are clamped firmly.
d. The NC program is loaded correctly.
2. Adjust the feedrate override to about 30% in the CNC software and start the CNC program.
3. After confirming that there is no abnormal operation, adjust the feedrate override to the normal value.
4. Someone must be on duty during operation.
Step 5, Shut Down to Stop.
1. Return to the mechanical origin.
2. Remove the router bit and the chuck nut is allowed to stay on the spindle.
3. Turn off the CNC machine kit.
4. Turn off the computer, this step can not be reversed with the previous step.
How To Use CNC Router Tools?
If CNC tools are installed correctly, the results will be more accurate, and the cutter is not easy to break during use. How to quickly and correctly set up bits for a C and C router machine? Please follow the five steps:
Step 1. There are many gaps in the chuck. Before installing the router bits, you need to clean the chuck with gasoline or cleaning agent, check and remove the residue in the router chuck gap.
Step 2. The cooperation between the chuck and the shaft is in contact with the tapered hole at the shaft end. If the contact is not good, the tool is not easy to install, and it is necessary to ensure that the tapered surface has good contact. The shaft cone surface must be scrubbed with gasoline or cleaning agent before loading the cutter.
Step 3. Put the router chuck into the pressure cap and gently turn the clamp spring. When the eccentric part of the pressure cap is recessed into the router chuck groove, push the router chuck evenly in the direction of the arrow to install it in the pressure cap.
Step 4. the router chuck is installed on the machine spindle together with the pressure cap. After cleaning the cylindrical shank of the cutter, install it in the holding hole. After confirming that the router chuck and the tool are aligned, screw the pressure cap into place by hand. Then use a wrench to tighten the pressure cap evenly until the tool is clamped.
Step 5. When loosening the cutter, use a wrench to tighten the cap in the opposite direction. If you need to change the router chuck, loosen the cap to bring out the router chuck and bit, remove the bit, and push the chuck in the direction of the arrow to push it out, and then as needed just replace the router chuck with another aperture.
CNC Router Stories
What You Should Know About CNC Routers?Category: CNC Blogs

Oct 12, 2020

In this article, we will discuss the basics of CNC routers, the parts, tools, accessories, software, CNC programming, caution, safety, and types of CNC router machines, how do they work? how much do they cost?
Mar 18, 2020

Looking for a CNC router for 2D/3D woodworking projects in 2020, Follow the CNC router buying guide to 2020 best CNC routers for woodworking to fit your business requirements in modern furniture making, cabinet making, door making, sign making, wood crafts and other popular custom woodworking plans.
CNC Router Reviews
Theresa

from United StatesPosted on

Aug 28, 2020

I had been looking to try a wood CNC machine for sometime but was always hesitant about these cheap machines when other home machines were always around the $3000 mark. Saw lots of good online reviews for this one so decided to give it a try. It came within 21 days thanks to STYLECNC. Unpacking and set up took about 3 hours. All parts are nicely bagged and even comes with all the tools you need. I've done a few tests including the examples and a couple of my own creations. Most worked fine, but a few glitches that were my fault and not that of the machine.

Austin D Felix

from United StatesPosted on

Aug 20, 2020

This is a useful small CNC MACHINE. I am QUITE happy with it. It was easy to assemble using videos readily available on YouTube and the included instruction "Manual". For my first CNC, it is a lot of fun. There is definitely a learning curve, but after putting in the time, I have made some awesome CNC projects. Everything works well and the customer support was great. I have found several Facebook groups that have been a wonderful resource in learning to use this exciting new CNC tool. I would happily repeat this buying experience.

Mildred Williamson

from United StatesPosted on

Jul 12, 2020

My father bought the unit. It was easy to setup. We have had fun with it (Woodworking mainly). Amazing machine for someone who is looking to learn and make items on a 4 axis CNC router. Within two hours upon arriving at my workshop I had it up and running. Well produced complete STM1325-R3 came with everything to get it running using the CNC software that came with the machine kits.

Austin D Felix

from CanadaPosted on

Jul 06, 2020

I used this machine to do some woodworking, both with a flat bit and a V bit, and it's run better than expected. It has run for a few times without any major problems, after assembling the kits. So that's awesome, and the results were very nice, especially with the V bit. I think the price is ok for an entry level CNC router to learn on and get a feel for getting an industrial CNC. It exceeded my expectations. Keep up the good work. Thanks.

Roger M Lambdin

from United KingdomPosted on

Jun 28, 2020

I have made some 3D projects with the 4 axis CNC router, and everything is as expected. It is a little hard to learn if you are new to CNC, but there are manuals and setup videos that will drive you to go if you need help.

Thomas Lentsoane

from South AfricaPosted on

May 26, 2020

I have never seen something so perfect like this in my life, I am Junior Mechanical Engineer, I work as a Draughtsman. I love designing and will like to own a business in the nearer future.

George W. Bush

from United StatesPosted on

May 01, 2020

I bought this for to celebrate the 10th anniversary of my workshop in May 21. It was easy for the assembly and software installation. Once I got it set up it did not get much use for a few weeks, COVID-19 in March intervened, I started seriously in April with cabinets making. I am very happy with my purchase does a nice job, and will certainly keep me a good attitude during Coronavirus. In all professinal wood CNC machines, and I had fantastic after-sales service and support from STYLECNC.

Christopher

from AustraliaPosted on

Apr 18, 2020

For those who have never worked with a CNC before, this is a good start. I ordered this small CNC router during the COVID-19 to pass time when bored at home. I troubled with an issue when I was using the machine and needed to contacted STYLECNC for support and I was amazed how they went above and beyond to help me get the machine up and running. If you have doubts about buying one from STYLECNC, you should feel at ease knowing they are willing to help to the best of their ability if you need assistance.

Селеша

from RussiaPosted on

Mar 06, 2020

I could not be more happy with my purchase, I cut roughly 120 projects on it in the past month and I'm very pleased with the hobby CNC machine so far. Also, customer service is great. Had a question on a Sunday evening and regarding software and Mike replied within the hour giving me the help I needed and I was able to get back to cutting. Eventually I'll probably upgrade but this is a great machine for hobbyists and beginners. You won't regret your decision.

LISA

from CanadaPosted on

Feb 25, 2020

I bought this CNC with ZERO experience, but wanted to give it a try. It went together easy enough, I've had no issues at all with the machine. I've cut around 60 signs with it so far, and it works very well. It's a small desktop CNC machine, but you can still cut a nice sized plaque or sign with it. I do 10"x20" signs with it normally.