2023 Best Budget Small Metal Laser Cutter for Hobbyists with Fiber Laser Generator on Sale
Laser Source: Raycus, IPG, MAX, RECI
Laser Power: 1000W, 1500W, 2000W
Price Range: $26800.00 to $38800.00 / Set Based On The Features
Supply Ability: 180 Sets / Month Waiting for Your Order in Stock
Global Shipping: Available to Your Location in
Payment Terms: T/T, Credit Cards, e-Checking, Alibaba Trade Assurance
2023 best budget small metal laser cutter ST-FC1390 is a compact entry level laser metal cutting system for hobbyists and small business to cut through metal signs, tags, logos, letters, jewelries, and all types of sheet metal cuts with fully enclosed design, environmental friendly operation, and 1000W, 1500W, 2000W powers for option, now this affordable mini laser metal cutter on sale at cost price for your needs and budget.
Demonstration Video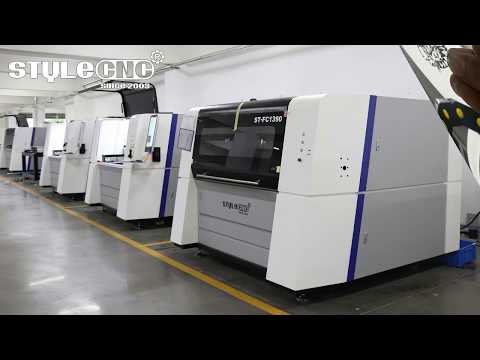 Product Details
2023 best budget small metal laser cutter ST-FC1390 is one high precision fiber laser cutting system to cut thin metals which adopts Taiwan TBI grinding ball screw and Hiwin guide rail, the positioning accuracy of the small laser metal cutting machine tool can run up to 0.008mm and the cutting acceleration is 0.5G.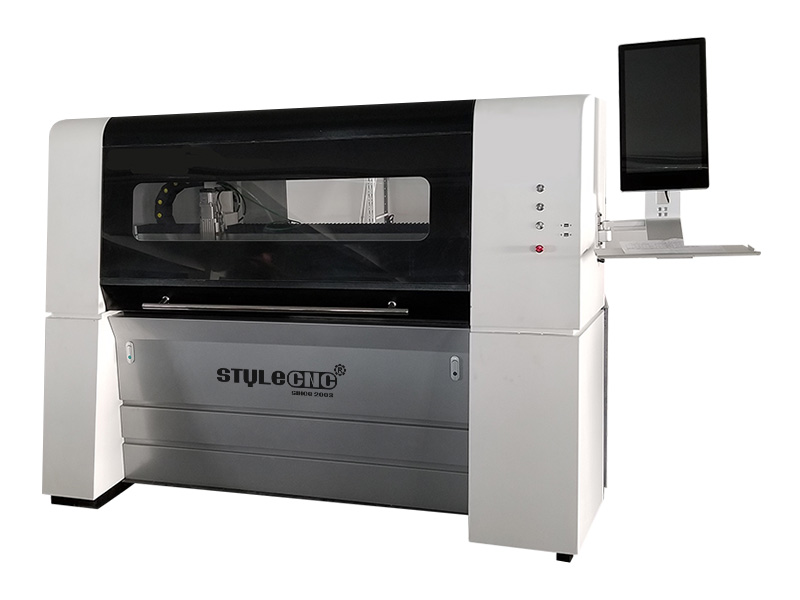 Technical Parameters of 2023 Best Budget Small Metal Laser Cutter with Fiber Laser Generator
| | |
| --- | --- |
| Model | ST-FC1390 |
| Laser power | 1000W (1500W, 2000W for Option) |
| Working area | 1300mmx900mm |
| Repeat positioning accuracy | ±0.008mm |
| Maximum speed | 40m/min |
| Maximum acceleration | 0.5G |
| Transmission mode | Grinding precision screw drive |
| Specified voltage and frequency | 220V/50Hz/60Hz/60A |
| Package size | 2280*2240*1870mm |
Features of 2023 Best Budget Small Metal Laser Cutter with Fiber Laser Generator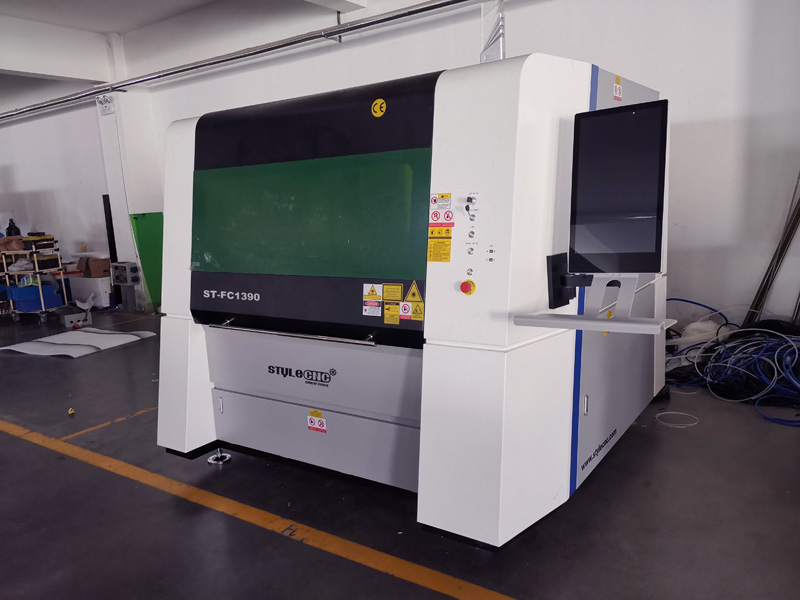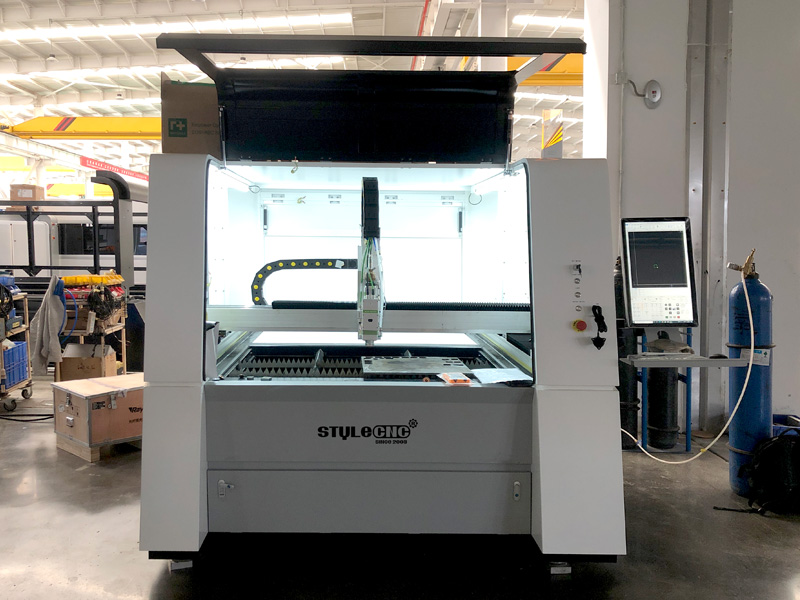 1. Dual ballscrew and rails driving
To prevent the cutting line deformation caused by the Y-axis screw bending, the Y-axis on both sides have been equipped two rails guide and double ball drive screw design to ensure the straightness and arc degree when with high-speed cutting.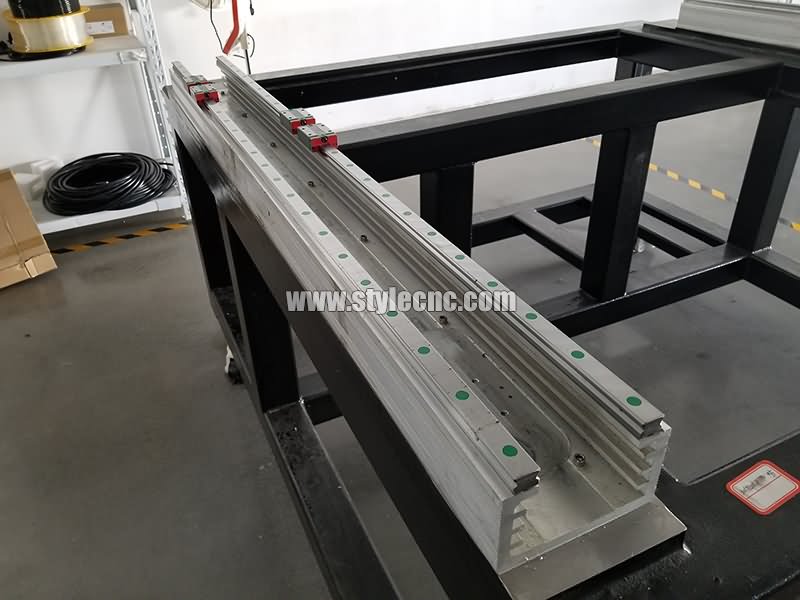 2. The fully enclosed structure
The observation window adopts an European CE standard laser protective glass.
The smoke produced by cutting can be filtrated inside, it's non-polluting and environmentally friendly.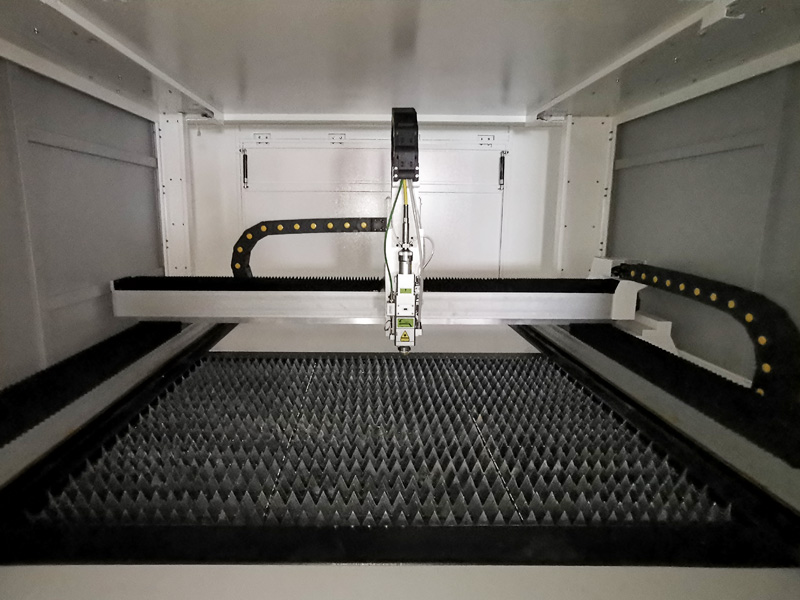 3. Swiss Raytool auto sensor laser cutting head to ensure smooth cutting surface without burrs.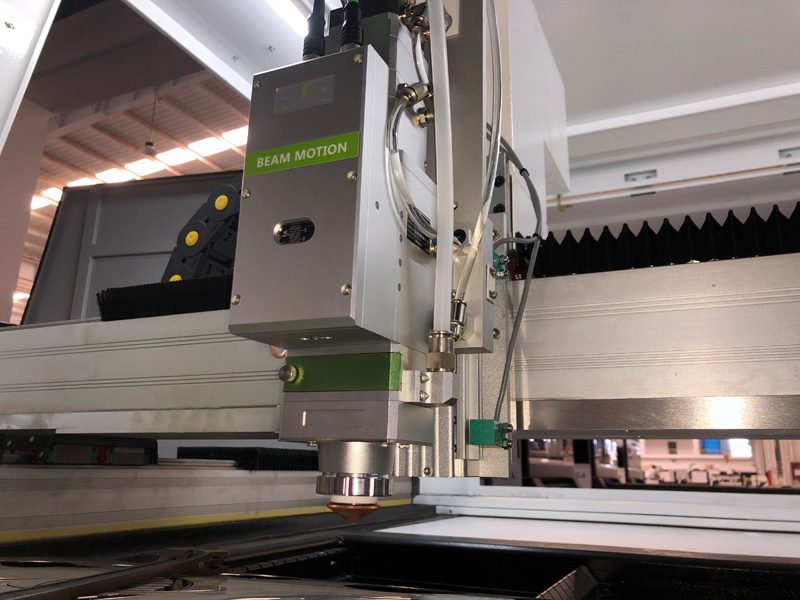 4. PC and Cypcut software with English language installed, applicable insert files with .DXF or .AI format.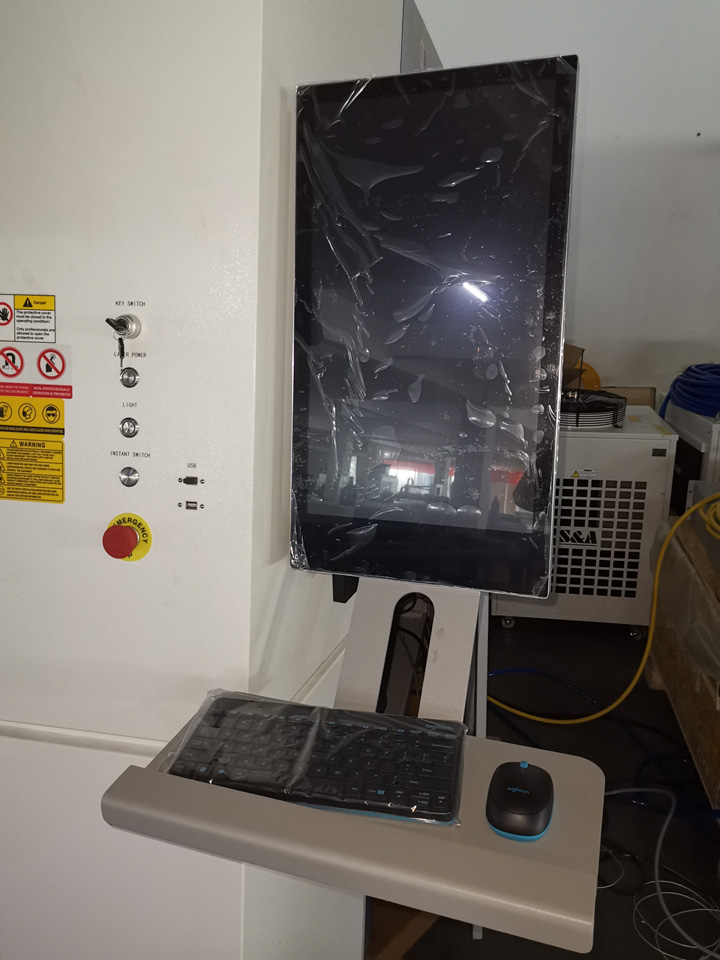 5. Japan Panasonic servo drive motor drive system that make the best cutting effect.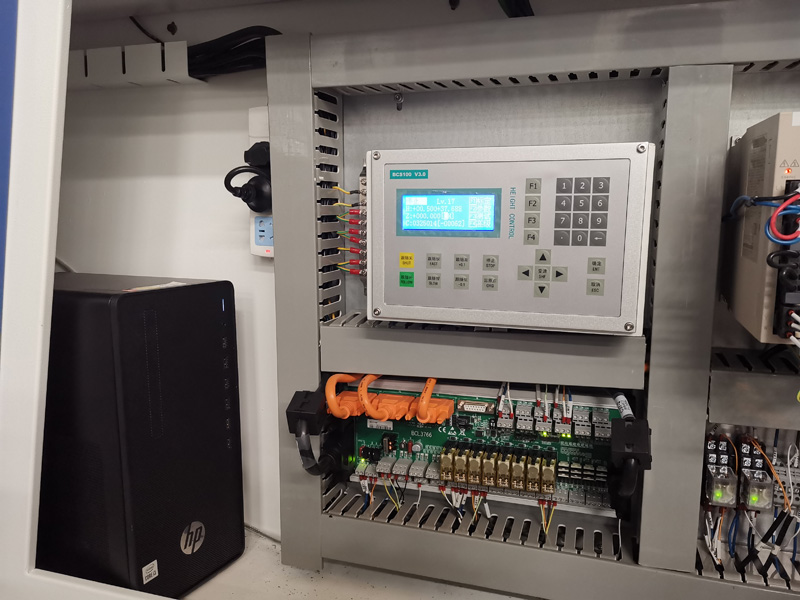 6. Guide installation and commissioning using precision collimator test, the accuracy of less than 0.01mm.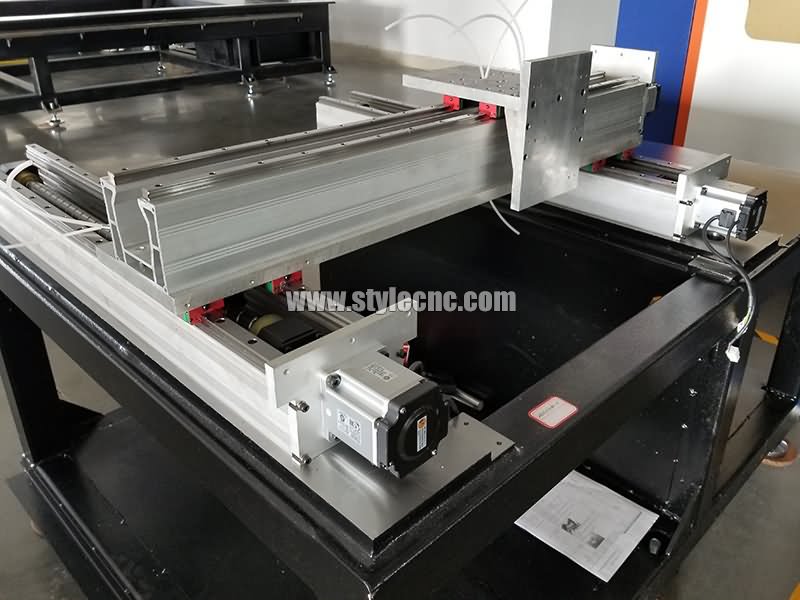 7. The small laser metal cutting machine body with high temperature heat treatment, 24 hours furnace cooling, 8m gantry milling finishing to ensure that 20 years of normal use without deformation.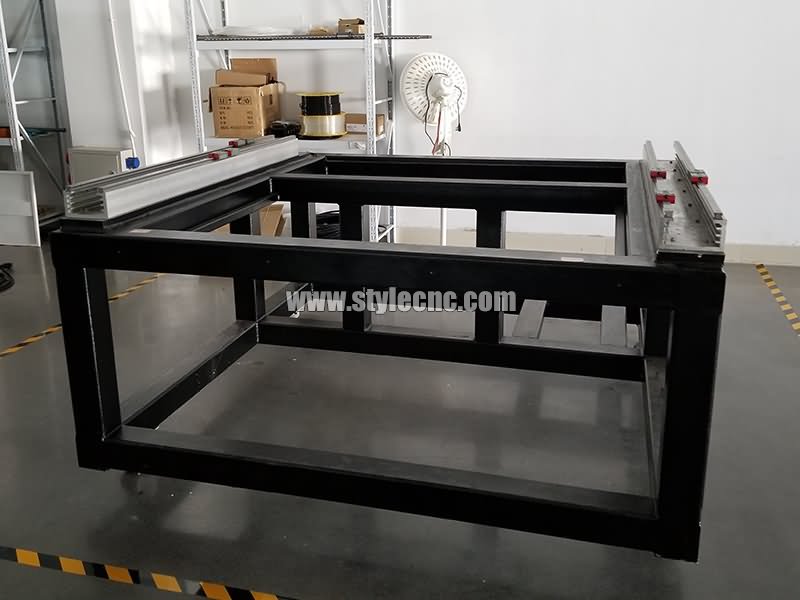 8. The sawtooth table can bear heavy duty metal sheet without transformation.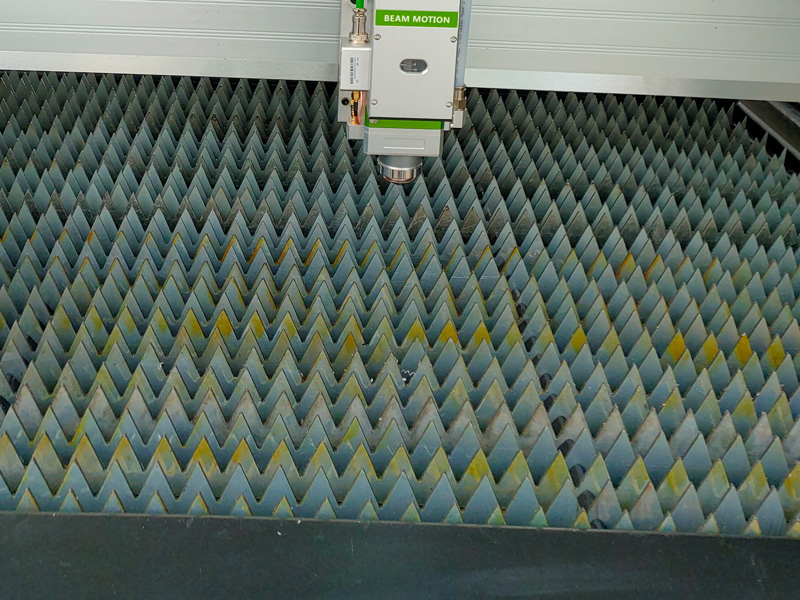 Applications of 2023 Best Budget Small Metal Laser Cutter with Fiber Laser Generator
Application industries:
Small laser metal cutting machine is widely used in glasses, electronics, appliances, metal signs, metal logos, metal letters, jewelry name cutting and other precision machinery, hardware, microelectronics industry.
Application materials:
Small laser metal cuttting machine is suitable for all metals: stainless steel, carbon steel, silicon steel, aluminum alloy, titanium alloy, galvanized steel, pickle plate, aluminum-plating zinc plate, metallic copper and other metals.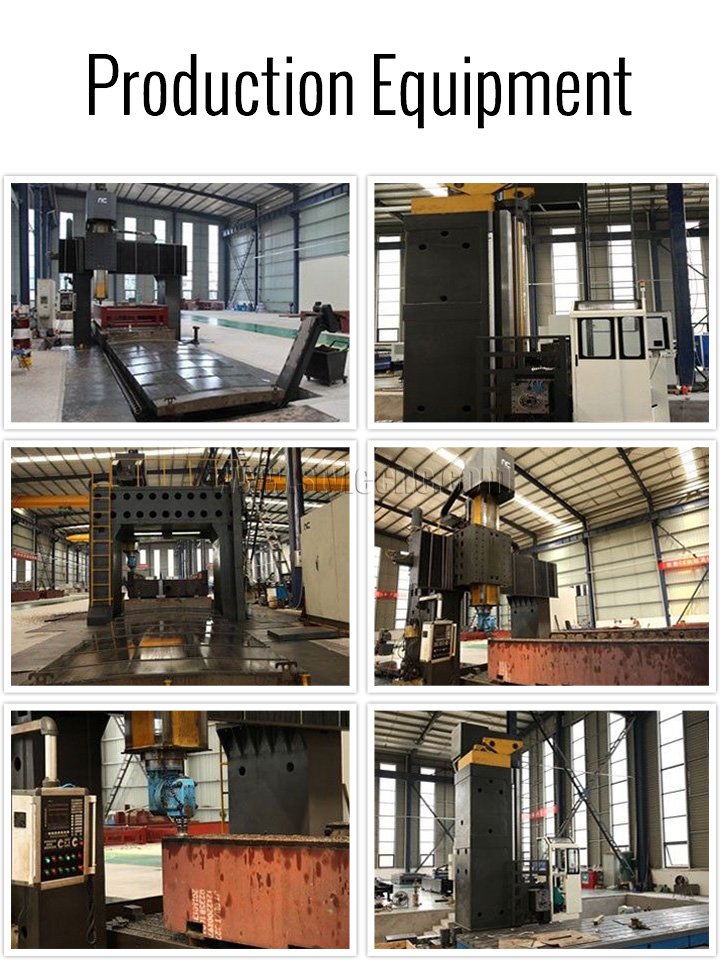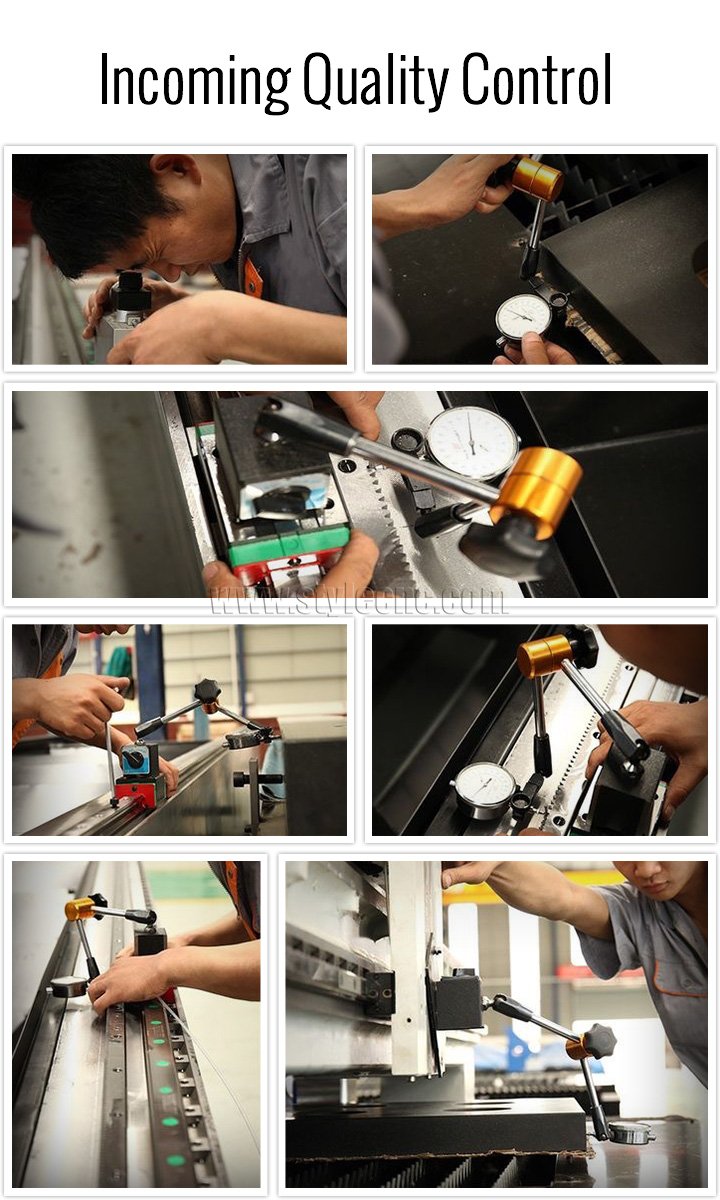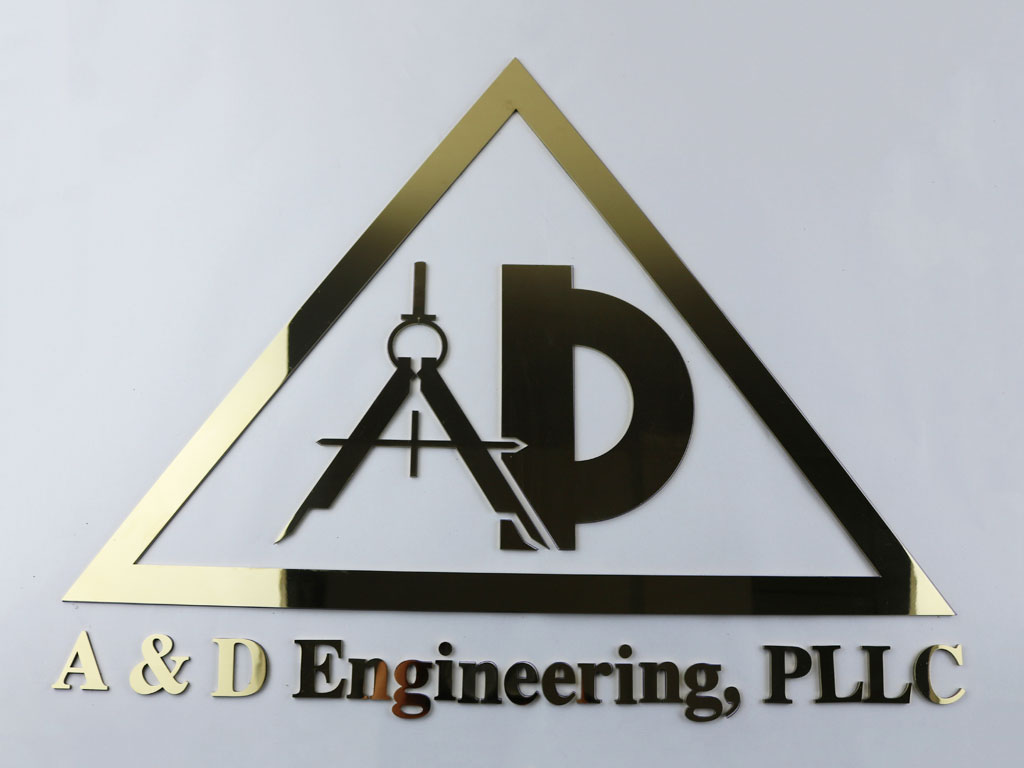 2023 Best Budget Small Metal Laser Cutter Projects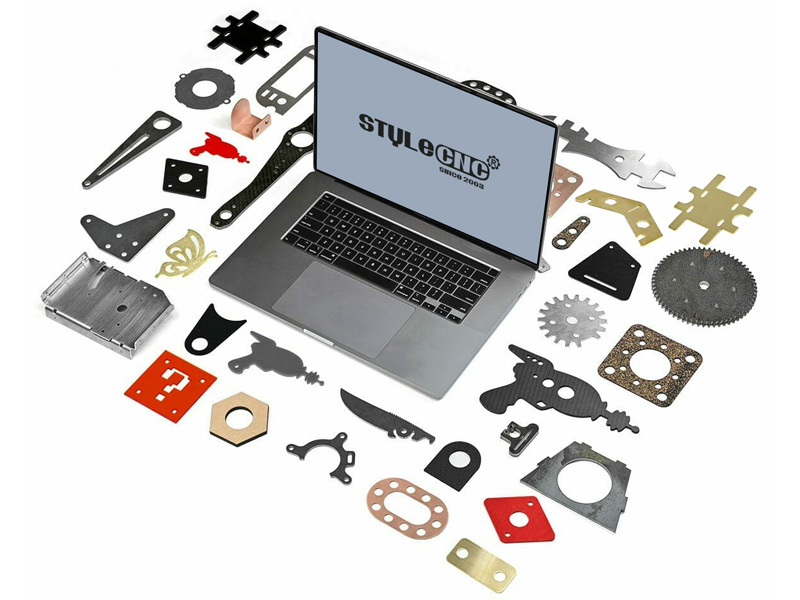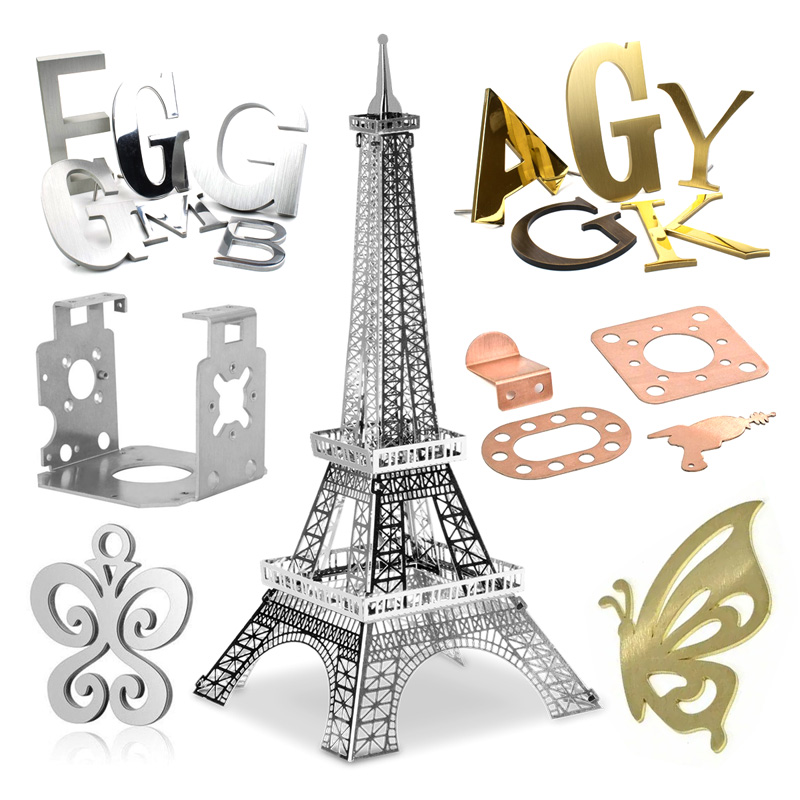 We also have smaller size ST-FC6040 with 600*400mm laser cutting table for choose: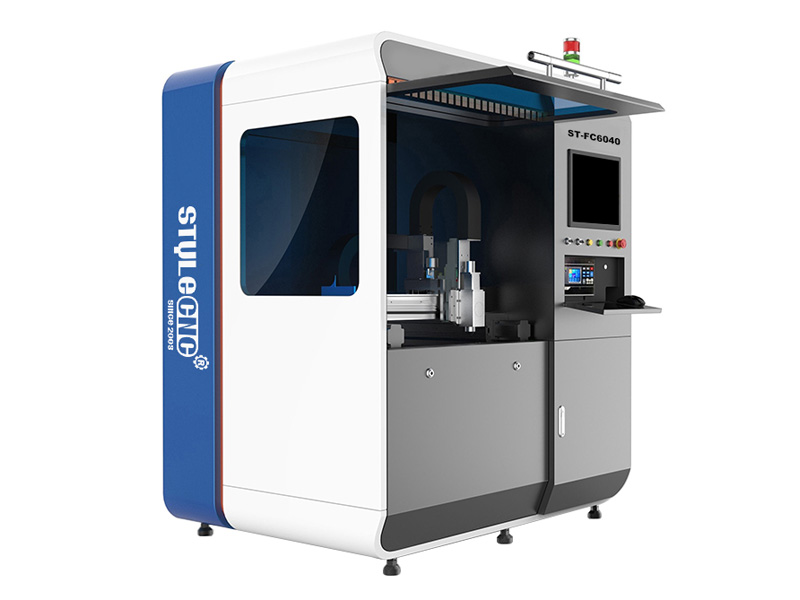 Package for 2023 Best Budget Small Laser Metal Cutter
1. Strong water resit bottom in plywood.
2. Laser source (separated plywood case) and spare parts on the laser bed.
3. Corner protect by foam and fixed by protective film.
4. All covered by strong and hard protective film.
5. Vacuum packing.
6. Inside steel frame protector.
7. Plywood packing and steel strip outside fixed the box.
8. Finishing packing by normal container or frame container.
Pre-Sale Service for 2023 Best Budget Small Laser Metal Cutter
1. Free sample cutting service:
For free sample cutting/testing, please send us your CAD file (.plt or .ai), we will do cutting in our factory and make video to show you the cutting process and result, or send samples to you to check the cutting quality.
2. Progressing Solution Design:
According to customer's product processing requirement, we can design the unique solution that supports higher manufacturing efficiency and better processing quality for customer.
3. Customized machine design:
According to customer's application, we may revise our machine according to customer's convenience and high production efficiency.
After-Sale Service for 2023 Best Budget Small Laser Metal Cutting Machine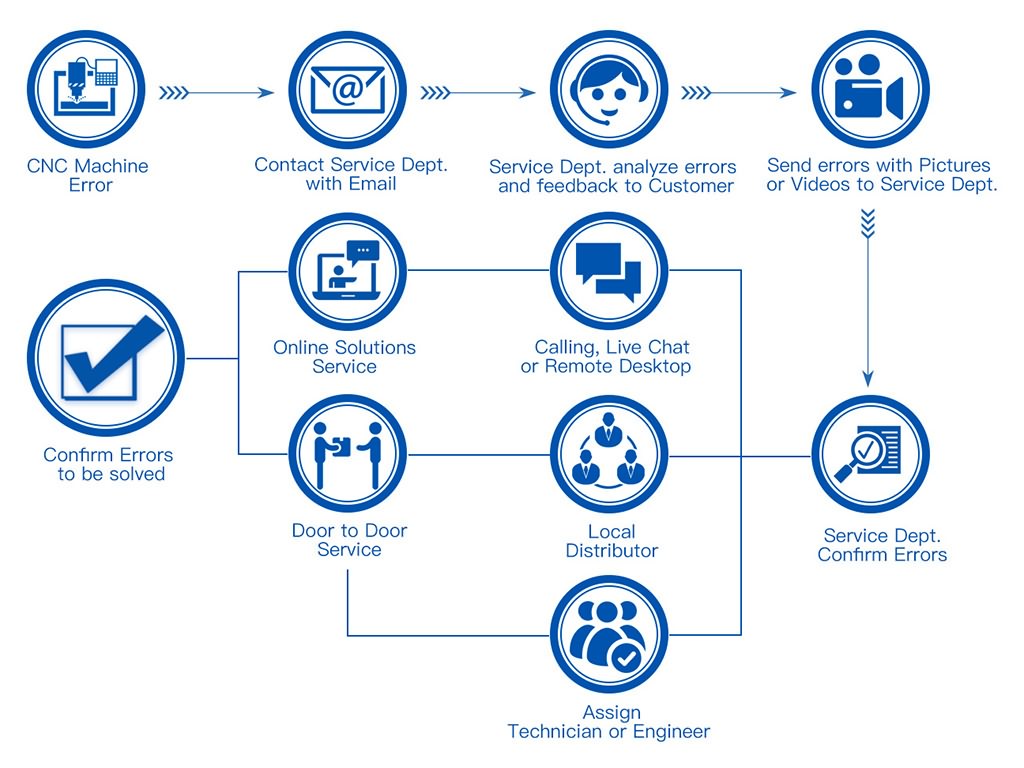 1. We will supply the laser machine with training video and user's manual in English for installing, operation, maintenance and trouble-shooting, and shall give technical guide by remote,such as TeamViewer, E-mail, Telephone, Mobile, Whatsapp, Skype, 24/7 online chat, and so on, when you meet some problem of installation, operation or adjusting. (Recommended)
2. You can come to our laser machine factory for training.We will offer professional guidance. Direct and effective face-to-face training. Here we have assembled equipment, all sorts of tools and testing facility. Training Time: 3~5 days (Recommended)
3. Our engineer will do a door-to-door instruction training service at your local site. We need your help to deal with the visa formality, prepaid traveling expenses and accommodation to us during the business trip and service period before their dispatch. It's better to arrange a translator (if no English-speaking) for our engineers during the training period.
Warranty for 2023 Best Budget Small Metal Laser Cutting Machine
1. 3 years for the whole machine, laser device 18 months, chiller 12 months, lens/mirror/nozzle without warranty.
2. Long life-time maintenance, after-sale department will offer 24/7 English online support.
3. Except the damage artificially, we are responsible for offering the fittings free of charge during warranty.
4. After the warranty period expired, the buyer only need to pay the actual maintenance cost.
5. Certificate support: CE, FDA, SGS.
If you have an idea to get a free quotation of metal laser cutters, please answer the questions as following and tell us by email, so that we can recommend the most suitable laser machine and quota the affordable price to you directly.
1. Do you need to cut metal sheets/plates, metal pipes/tubes only or both?
2. If need to cut tubes, What is your tube length, diameter and max thickness?
3. For cutting metal sheet, what is the max working area required?
4. After processed, what the materials will be used for? (Applications)
5. Which seaport is the nearest to you?
6. Do you have any experience in the fiber laser metal cutting machine?
7. What is your online chat way? Such as Skype and Whatsapp.
8. Are you an end user or reseller?
International Shipping Around the World
All the CNC laser machines can be shipped worldwide by sea, by air or by international express logistics via DHL, FEDEX, UPS. You are welcome to get a free quotation by filling up the form with name, email, detailed address, product and requirements, we will shortly contact you with the full information including the most suitable delivery method (fast, secure, discreet) and freight.
Post A Review
Customer Reviews and Testimonials
Mohammed Blake

from United KingdomPosted on

Mar 18, 2021

My husband uses this metal laser cutter with a little Etsy business and loves it. It cuts through 3mm stainless steel, brass, etc. without problem. Got it set up and cutting in one evening, but that was because husband understands machines and son had used one at school. The machine bed can hold bigger things, but the max laser cut lines are 35"x50". Do your research before buying it, because it's not just "this machine" you need, but matching kit. Highly recommend it, especially if you've never laser cut before, you can get a lot of good experience before upgrading to a more expensive one.

First of all things, if you order this machine, fix the wiring so it the chassis is properly grounded. If the high voltage power supply wire got damaged causing a short, the chassis could become hot with high voltages.

Great value for the money, but not for the faint of heart due to lack of safeties, buy some eye protection.

Martindale

from United StatesPosted on

Feb 28, 2021

As the saying goes: "You get what you paid for". The small metal laser cutter packed well without shipping damages.
The laser machine was "functional" after the first start to use it for different metals and thickness you need to be willing to invest quite a bit time and mechanical changes to get this unit as you want it.

Dustin

from United StatesPosted on

Sep 10, 2020

Wow! What a great laser cutter! I searched for years for something like this. The machine is laser cut for accuracy and it is strong and stable. It's a really great machine. I was able to be fully functional and making projects within 24 hours of receiving this unit.

Wesam Zahran

from PalestinePosted on

Mar 27, 2020

Everything just super. I received the small metal laser cutter in a transportation company in time. All complete without damage and working well. The seller is very responsive and considerate.

Jeff

from United StatesPosted on

Oct 23, 2018

Just got my new jewelry store up, and added this machine to cut metal jewelries of copper and silver. Tried it for 1 week, it has been cutting smoothly with precision. I'm pleased with this small laser cutter for the price I paid. Definitely worth the money.

Bennett Dobni

from CanadaPosted on

Mar 19, 2018

I am very satisfied with the small metal laser cutter. I tried to cut ss. Well done!

Camille Pissarro

from U.S. Virgin IslandsPosted on

Sep 29, 2017

Set up was easy right out of the box. Very satisfied with the performance of this laser metal cutter. So far it has done everything I have asked it to do. The cutting of 1/8, 3/16, 1/4 was so easy. As far as the laser software and the CAD software is concerned, it would be good if they were together in the same system and if possible that cutting shapes and contours could be generated from basic geometric figures.