4x8 Wood CNC Machine with Dual Spindles for Sale at Low Price
Sale Price: $4600.00 / Set
Price Range: $4600.00 to $8800.00 / Set Based On The Features
Supply Ability: 360 Sets / Month Waiting for Your Order in Stock
Global Shipping: Available to Your Location in
Payment Terms: T/T, Credit Cards, e-Checking, Alibaba Trade Assurance
Dual spindles wood CNC machine with 4x8 table size is designed for multitasking with two projects for cupboard doors, wooden doors, windows, cabinets and panels, computer table, and furniture making. Now the 4x8 CNC woodworking machine for sale at a low price.
Demonstration Video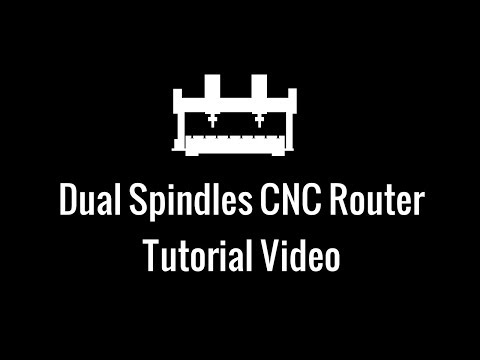 Product Details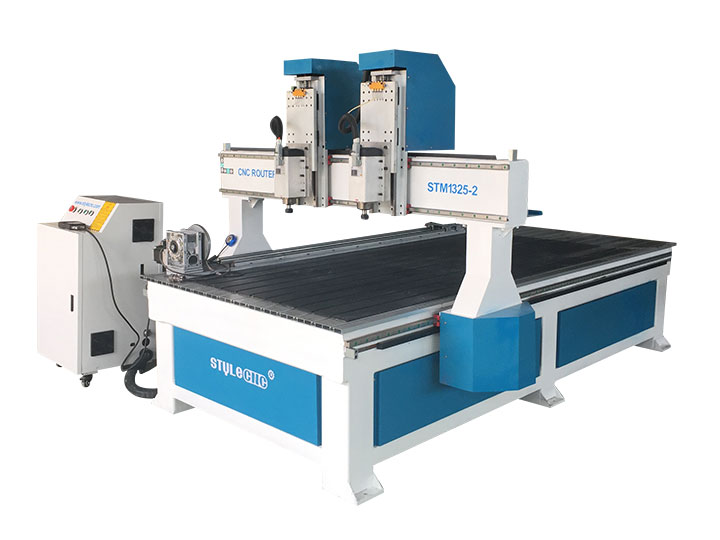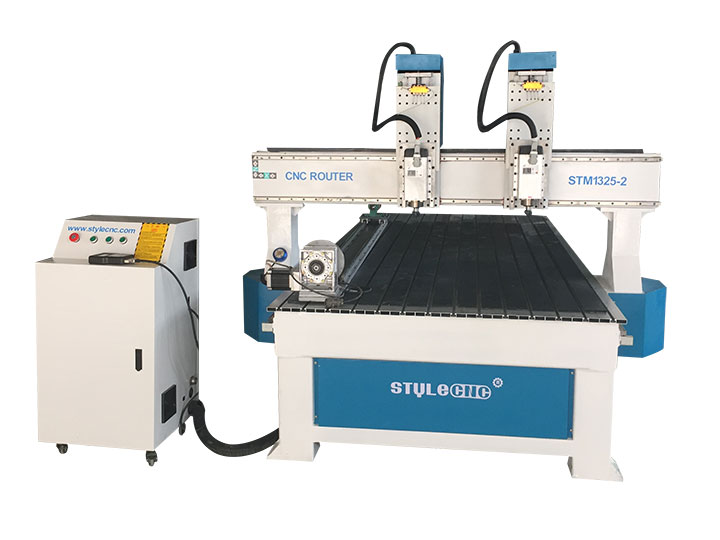 Advantages of Dual Spindles Wood CNC Machine with 4x8 Table Size:
4x8 wood CNC machine with two spindles is customized for changing the tools within 2-4 pieces. It's not only economic, but also can realize automatic tool change, save the time of manual tool change and improve the working speed and precision. And it can cut two work pieces at the same time to reach the same effect. What's more, this wood CNC machine could mirror-sculpture (same engraving path, but in opposite directions) by changing the cables, which is widely used for door making.
Applications of Dual Spindles Wood CNC Machine with 4x8 Table Size:
1. Woodworking industry:
Three dimensional wave plate processing, cupboard doors, wooden doors, window processing, video game cabinets and panels, computer table and furniture auxiliary processing.
2. Advertising industry:
Advertising signs making, logo production, acrylic, plastic cutting, production of decorative materials, forming system module, etc.
Technical Parameters of 4x8 Wood CNC Machine with Dual spindles:
| | |
| --- | --- |
| Model | STM1325-2 |
| Working Size | 1300mm*2500mm*200mm |
| Body structure | Steel tubes |
| X, Y Structure | rack and pinion drive |
| Z Structure | Ball Screw/option gear wheel |
| X, Y Resolution | <0.01mm |
| Max Moving Speed | 32000mm/min |
| Max Engraving Speed | 20000mm/min |
| XYZ traveling positioning accuracy | 0.03/300mm |
| XYZ repositioning accuracy | 0.03mm |
| Spindle power | 3kw/4.5kw/5.5KW (can be choices) |
| Spindle Speed | 24,000rpm |
| Table style | T-slot table (option vacuum table) |
| Dust collection | Can add or not |
| Voltage | AC220V/50HZ/60HZ,380V/50HZ |
| Drive type | Stepper (Option servo) |
| Working Dictate | G Code ,HPGL |
| Operating system | DSP control system |
| Interface | USB |
| Flash memory | 128M(U Disk) |
Features of 4x8 Wood CNC Machine with Dual spindles:
1. The whole CNC wood machine is welded with thick square seamless steel structure, the stability is excellent, not easy to be deformed.
2. Three axis adopt high precision square orbit, X and Y axis adopt rack and pinion transmission, fast working, high efficiency and low cost. Z axis adopts Taiwan TBI ball screw transmission with high precision and long life time.
3. High power spindles have constant power, low noises and super strong cutting force, which improve working efficiency greatly.
4. Famous brand drivers and motors have characteristics such as powerful strength, high machining speed.
5. Well compatibility: CAD/CAM designing software e.g. Type 3/ Artcam/ Castmate/ Wentai, etc.
6. The 4x8 wood CNC machine has the function of re-carving after break point and power failure.
7. The 4x8 wood CNC machine has the function of forecasting process time.
8. Adopting advanced NCstuido system, convenient operation.
9. Perfect oil lubrication system makes maintenance much easier. And electric limit switch on all axis, make sure the machine running well.
10. Independent control box make control easier.
11. We will provide you a set of cutter, and a tool box with other necessary accessories.
Projects of 4x8 Wood CNC Machine with Dual spindles: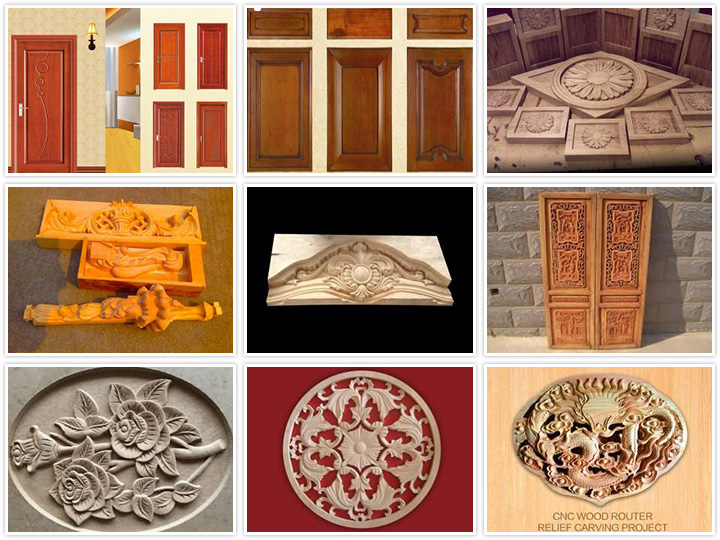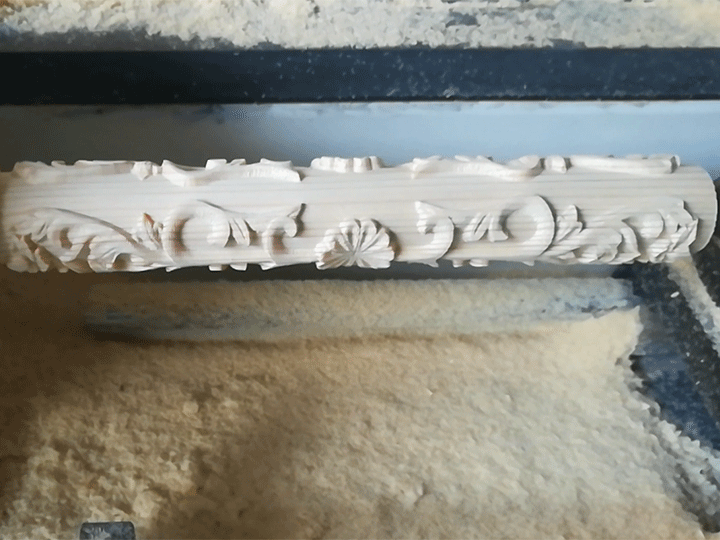 Package of Dual Spindles Wood CNC Machine with 4x8 Table Size: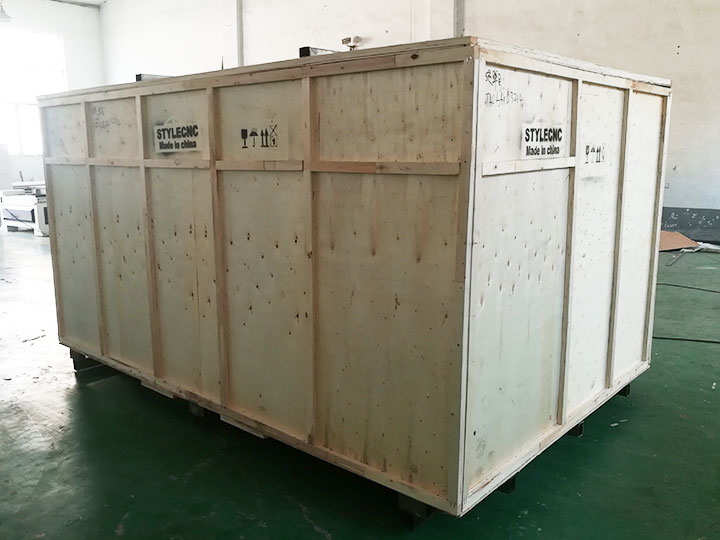 STYLECNC SERVICE for Dual Spindles Wood CNC Machine with 4x8 Table Size:
1. Technical supports and suggestions before you order a CNC wood machine according to your work piece.
2. Professional instruction for the operation of the machine.
3. One year warranty, we will provide the consumable parts at cost price after the warranty period.
4. Our technician will come to your workshop if the problems can not be fixed through Internet or phone communications.
5. 24/7 technical support by email or calling.
International Shipping Around the World
All the CNC routers can be shipped worldwide by sea, by air or by international express logistics via DHL, FEDEX, UPS. You are welcome to get a free quotation by filling up the form with name, email, detailed address, product and requirements, we will shortly contact you with the full information including the most suitable delivery method (fast, secure, discreet) and freight.
Post A Review
Customer Reviews and Testimonials
John Phillip

from New ZealandPosted on

Feb 10, 2020

The CNC machine was easy to assemble with fairly good instructions. After assembly, I was having a minor issue getting the machine to jog, but an email to STYLECNC was responded to within a couple of hours, even during non-business hours over the weekend, so at least I know there's great support behind the project. I did a quick design and had it cut in about 20 minutes. The CNC provided dimensionally accurate cutouts with a box that fit together perfectly after it was finished, so on to bigger and better projects.

Debasish Biswas

from IndiaPosted on

Feb 15, 2019

I've had my STM1325-2 for about a week now and it has been working great. This is a true industrial CNC and it's not a hobby tool. It's very capable of everything you want to cut and mill wood. A few issues I ran into were quickly solved by the STYLECNC's tech support. A learning curve for the software still bugs me. Would take some time to be a professional.