Mini Desktop CNC Router with 4th axis rotary
Model: STG6090
Category: CNC wood router
Views:

3950
Brand:
STYLECNC
®
Rating:
Standard Price:

$

2580.00

/ Set
Price Range:

$

2580.00

to

$

3000.00

/ Set according to configuration

The price will float according to the configurations of 6090 Mini Desktop CNC Router with 4th axis rotary
Supply Ability: 10 Sets / Month In stock! From - Jinan Style Machinery Co.,Ltd
Payment Terms: L/C(Letter of Credit), T/T(Telegraphic Transfer), Western Union, Alibaba
Mail to us
Request for Quotation
STG6090 Mini Desktop CNC Router with 4th axis rotary is used for 2D/3D works in advertising industry, arts, crafts, signs, gifts and CNC mold making, now the desktop mini CNC router for sale with affordable price.
Video Show
Product Show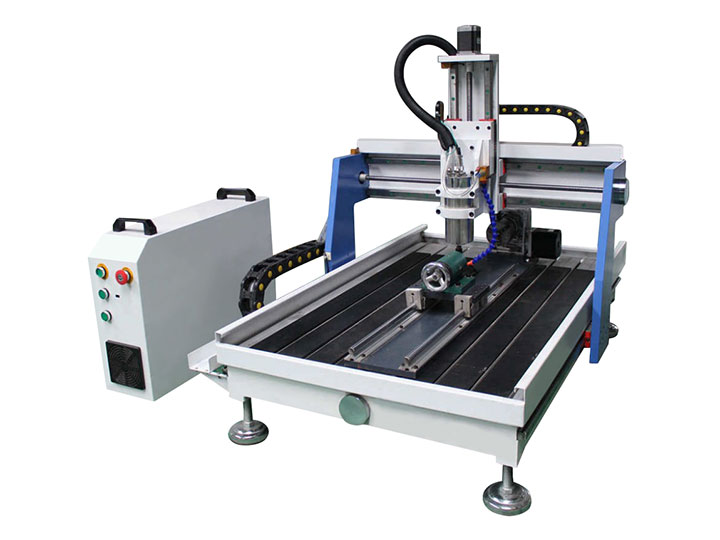 Advantages of Mini Desktop CNC router with 4th axis rotary
1. Advanced Control System
Mach3 or Advanced DSP numerical control system and large liquid crystal display brings out much convenient operation and simpler maintenance.
Special intelligent pre-calculating system fully develops the potential of the engine and leads to high speed processing of smoother curves and straight lines simultaneously.
2. Large Memory and Perfect Data Transmission
Large internal memory of 32M is enough to simultaneously store more than 30 processing files which can be read freely.
Apply USB interface (plug and play) to communicate with computer under the system of win98/NT/2000/XP, which can instantly complete transmission.
3. Powerful Compatibility
Internationalized directives ensure that it is compatible with CAD/CAM software like Type3, Artcam, Castmate, Proe, UG, Artcut, etc, home and abroad.
4. Intelligent and Humanized Design
The desktop CNC router is able to continue engraving when the electricity is cut off or the tool is broken.
Intelligent control of spindle makes the Mini CNC router able to auto-start and auto-stop, which is more safely, convenient and power-saving.
5. Powerful Diamond Drill
Powerful frequency changing spindle enables the Machine to cut organic glass of 30mm~50mm thick in one cut.
Features of Mini Desktop CNC Router with 4th axis rotary
1. The gantry move stable and the ball screw with high precision.
2. Use water-cooling spindle ,suitable for all kinds material (metal ,non-metal,stone ). The water cooling spindle adopt water cycle to cooling the spindle ,so the cooling effect is very good. Almost no noise, long life.
3. Tool calibration sensor allows easy and accurate "Z" zero position for single and multiple tool changes through the program.
4. Guide rail: We adopt the world famous rail and guide manufacturer Taiwan Hiwin square rails ,self-lubricating sliding block. This ensures equal force in all directions and accuracy and strength of the machine.
5. Each wire we have different mark , if the machine goes wrong , You can quickly find the problem.
6. The control cabinet handle is humanized design, it is convenient for you to move.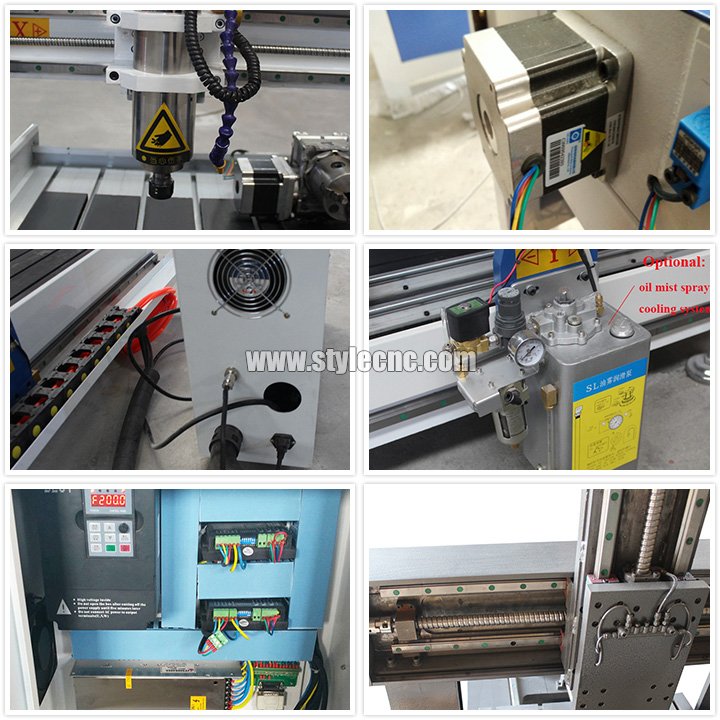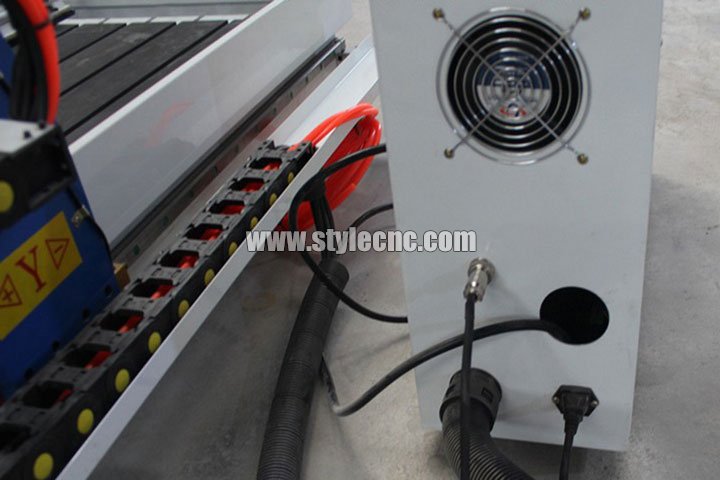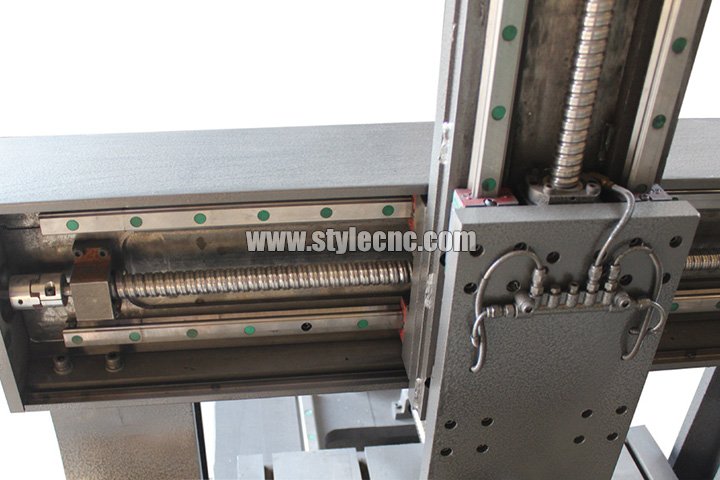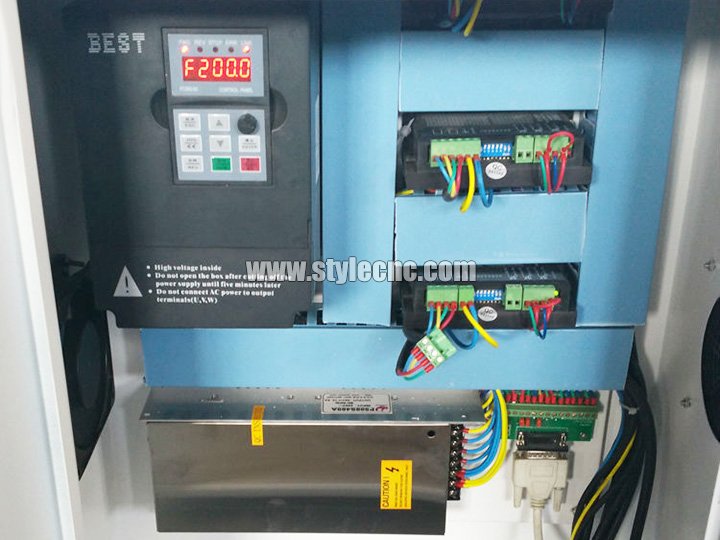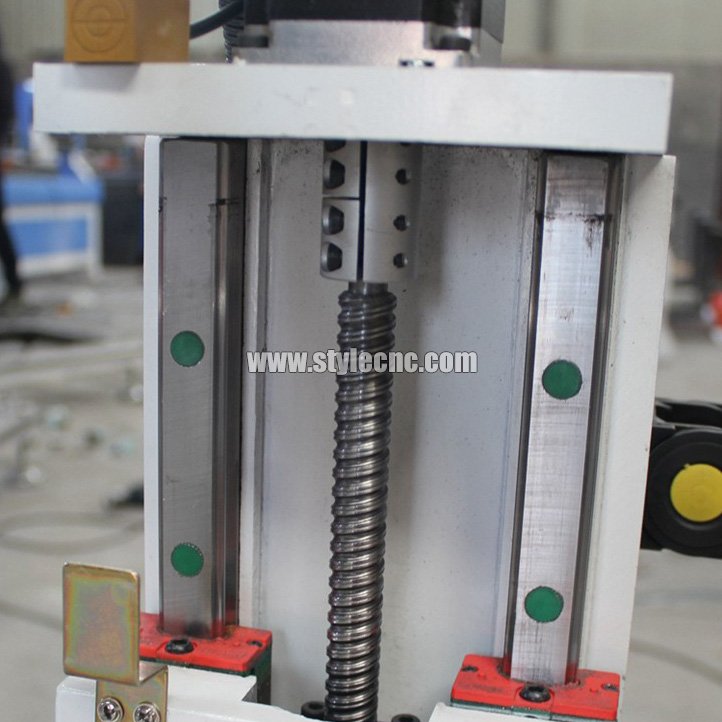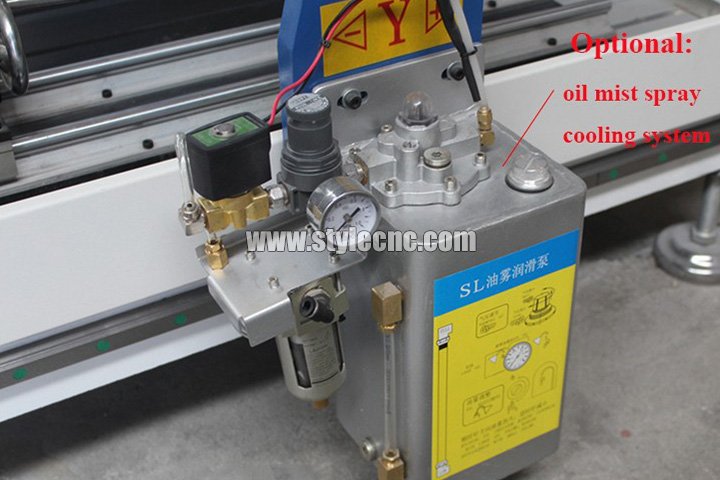 Standard Accessories of STG6090 Mini Desktop CNC Router with 4th axis rotary
1. Working size is 600*900*200mm(Z axis can be higher as your request).
2. T-Slot aluminum profile with PVC sheet work platform.
3. 1.5KW water cooling spindle.
4. Stepper motor and drivers.
5. HIWIN square linear guide rail, imported ball screw transmission.
6. Mach3 control system(can be changed to NC-Studio, DSP control system).
7. Appliable for many software: Wentai, Artcam, Type3.
8. Option: the rotary device, DSP control, Dust collector, Vacuum table, etc.
Technical Parameters of Mini Desktop CNC Router with 4th axis rotary
Model
STG6090
X,Y,Z Working Area
600x900x200mm
X,Y,Z Traveling Positioning Accuracy
±0.01/300mm
X,Y,Z repositioning Accuracy
±0.03mm
Table Surface
T-slot Extrusions with stainless water tank
Frame
Cast Steel
X, Z Structure
Ball Screw
Y Structure
Hiwin Rail Linear Bearings and Ball Screw
Max. Power Consumption (Without spindle)
0.8KW
Max. Rapid Travel Rate
6000mm/min
Max. Working Speed
4000mm/min
Spindle Power Motor
1.5KW / 2.2KW / 3.0KW
Spindle Speed
0-24000RPM
Drive Motors
Stepper System
Working Voltage
AC220V/50/60Hz
Command Language
G code
Operating System
Mach3 / DSP / NC studio
Interface
USB
Flash Memory
128M( U Disk)
Collet
Marched with spindle power
X,Y Resolution
<0.01mm
Software Compatibility
Type3 / Ucancam / Artcam
Running Environment
Temperature: 0°C~45°C
Relative humidity: 30%~75%
Applications of STG6090 Mini Desktop CNC Router with 4th axis rotary
Advertising industry: acrylic, double color boards, PVC, ABS, aluminum composite panels, kind of sign, chest signs, texts mould, trademark materials.
Arts and crafts: Artificial stone , engrave kind of texts , patterns on souvenirs.
Mold processing: Building models, physical model, hot stamping mould, trace injection mould, shoes mold, badges, embossed mold, biscuit, chocolate candy mold.
Projects of STG6090 Mini Desktop CNC Router with 4th axis rotary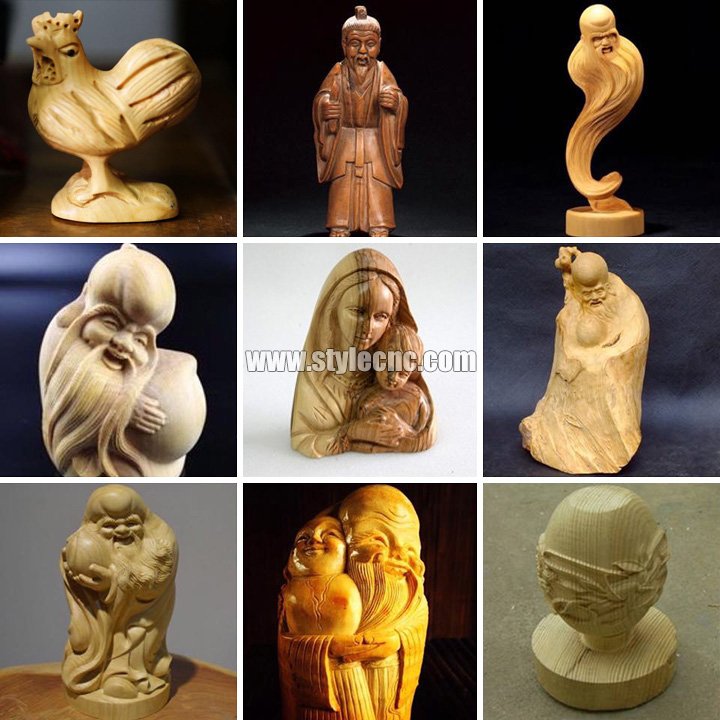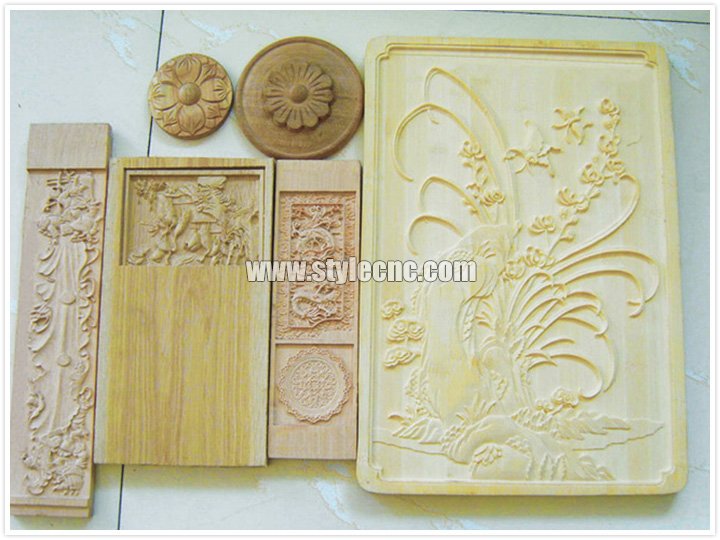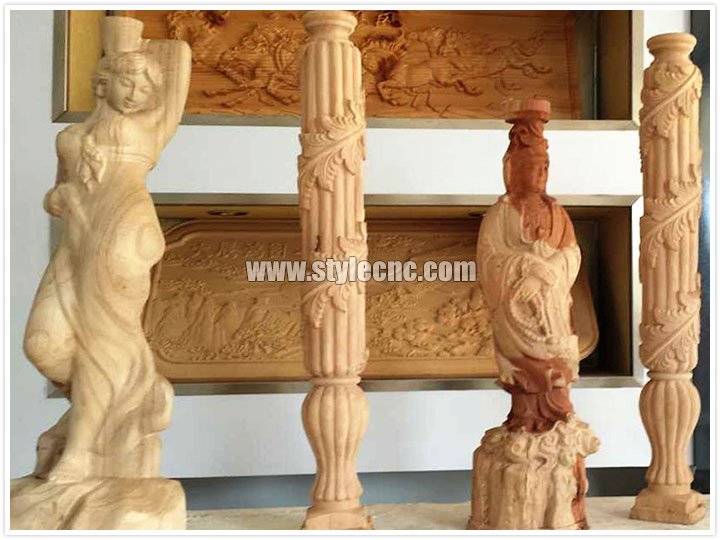 STYLECNC® Service for Mini Desktop CNC Router with 4th axis rotary
1. One year quality guaranty, the machine with main parts(excluding the consumables) shall be changed free of charge if there is any problem during the warranty period.
2. Lifetime maintenance free of charge.
3. Free training course at our plant.
4. We will provide the consumable parts at an agency price when you need replacement.
5. 24 hours on line service each day, free technical support.
6. The desktop CNC router has been adjusted before delivery.
7. Our staff can be sent to your company to install or adjust if necessary.
Scan QR code for mobile friendly

Data statistics, please wait a moment!
* is requiredRequest for Quotation
Write a customer review
Customer from United States [ IP: '172.58.152.*' ]

This is my first CNC machine so I can't really do any meaningful comparison. What I can say is that it exceeded my expectations. Machine seems very nice and I'm not having any problem getting 0.01mm or better accuracy when under load. Instructions / software is included on a CD. I am very satisfied with STYLECNC.

Customer from United States [ IP: '69.145.19.*' ]

Everything went well - fast delivery - no complaints at all. Thank you very much! Bonnie

Customer from Germany [ IP: '93.228.146.*' ]

I'm very satisfied, the manufacturer is cooperative and responsive to my problem very fast

Customer from United States [ IP: '4.69.201.*' ]

The machine speed and carving quality is perfect, I like it.

Customer from United Kingdom [ IP: '194.82.254.*' ]

This is my second orders in STYLECNC, the company after-sale service and machine quality is good.
Contact STYLECNC
Jinan Style Machinery Co.,Ltd
Tel: +86-531-83161518
Mob/Whatsapp/WeChat: +86-18766148818
Skype:
Email: info@stylecnc.com
Website: www.stylecnc.com
Office: Yongda Buliding, Nanquanfu Street, Licheng District, Jinan, Shandong, China
Factory: Huashan Industrial Park, Licheng District, Jinan, Shandong, China