Fiber Laser Machine Buying Guide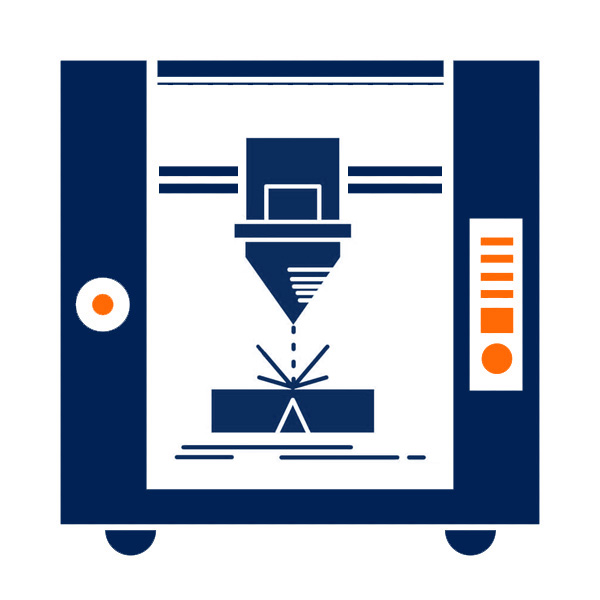 Do you have an idea to DIY or buy an affordable fiber laser machine? Check out the 2020 new fiber laser machine Overview as follows, we'll offer you the best fiber laser machines of 2022 with expert customer service to fit your requirements.
What Is Fiber Laser Machine?
A fiber laser machine is a CNC laser machine tool for engraving, cutting and marking metal, wood, cardboard, plywood, dieboard, chipboard, leather, paper, fabric, textile, foam, rubber, acrylic, plastic, MDF, ABS, EPM, PE, PES, PVC, PUR, PUR, PVB, PMMA or PTFE with home business, home shop, small business, small shop, hobbyists, school education and industrial manufacturing. A fiber laser machine is composed of machine frame, CNC controller, laser generator, laser head, laser power supply, laser tube, laser lens, laser mirror, servo motor or stepper motor, gas storage tank, gas cylinder, water chiller, dust extractor, air cooling filer, dryer, air compressor, laser software and laser system.
Fiber Laser Cutting Machines
Fiber Laser Engraving Machines
Feature Stories & Articles
Aug 26, 2022

Looking for 2022 top rated affordable laser engraver with rotary attachment for custom YETI cups, mugs, ramblers, or tumblers with best budget? Review 2022 best laser engraving machine buying guide to personalized cups, tumblers, ramblers, and mugs of stainless steel, glass, ceramic, titanium, aluminum, copper, brass, silver, gold, wood, plastic, acrylic, paper, stoneware, melamine with letters, logos, signs, monograms, names, vinyls, glitters, patterns, and pictures.

May 20, 2022

Except for marking black, white, gray, the MOPA fiber laser marking system can also etch colors (orange, yellow, red, purple, blue, green) on stainless steel, chrome, and titanium. Today, we will explore how does a fiber laser engraver mark different colors on stainless steel.

Dec 02, 2022

Looking for an affordable CO2 or fiber laser engraver cutter for custom jewelry maker with hobbyists or business to make money? Need a CNC laser jewelry engraver cutting machine for beginners? Review this guide to buy 2022 best laser jewelry cutter engraving machine for personalized jewelry gift & jewelry box making with metal, silver, gold, stainless steel, copper, brass, aluminum, titanium, glass, stone, acrylic, wood, silicon, wafer, zircon, ceramic, film.

May 19, 2022

Looking for a laser engraver to engrave logos, signs, names, tags, patterns or photos on knife blade blanks or knife handles? Review 2022 best CO2 or fiber laser engravers for knives with 3d deep engraving, online flying engraving, color engraving and black white engraving.

Jun 01, 2022

As a beginner or operator, you need to learn the 3 tips you should know before starting a laser cutting system, the 12 steps to learn how to use a laser cutter, the 12 precautions for a laser machine.

Oct 25, 2022

When you operate fiber laser cutting machine, you should do regular maintenance works for long lifespan, thus, how to maintain it daily? You will get in this guide.

May 26, 2022

Fiber laser marking system adopts laser wavelength of 1064nm fiber laser, and UV laser marking system adopts laser wavelength of 355nm ultraviolet laser (pumped purple light laser). Different working principles make them with different applications.

Sep 17, 2022

Looking for a profitable laser marking machine to start a personalization business? Review the guide on how to use a beneficial fiber laser engraver to make money.

Oct 25, 2022

A guide to understand the differences between fiber laser cutting machine and CO2 laser cutting machine to let you make the right choice for your cutting plans and ideas.

May 30, 2022

There are many types of fiber laser marking machines to satisfy different industries. We'll share with you all the different types of laser marking systems. All of them can be equipped with 20W, 30W, 50W Chinese Raycus laser source or Germany IPG laser source. Fiber lasers with MOPA laser source can mark colors on stainless steel and titanium.

Feb 28, 2022

STJ-30F-Handheld mini fiber laser engraver adopts 30W Raycus fiber laser source is designed for our customer from USA, which is used for marking metal crafts.

May 17, 2022

Looking for a handheld fiber laser welding machine in USA? Review 2022 best handheld fiber laser beam welding system in the United States.
Customer Reviews & Testimonials
Eric Pearson

from United StatesPosted on

Nov 17, 2022

Surprised at the quality of this compact laser jewelry cutter when it arrived. Put it together in 30 minutes. Small size and easy to move. I bought this unit to make pendant necklaces of silver and gold. It is easy to use with an automatic cutting software and there are no issues so far. I have tried this cutting tool to cut sterling silver sheet and it resulted in clear and smooth pendants without sanding in seconds. I will try to cut more types of metals in the next week.

Alexander Brabyn

from AustraliaPosted on

Nov 13, 2022

I purchased this fiber laser engraver after researching how to videos and learning its pros and cons in advance. Assembly was sort of easy with the instruction book. The software that comes with it is easy to use. I have done a few tests for 3D deep relief engraving and stippling guns with some examples and a couple of my own creations. It worked well and resulted in smooth and clear patterns. A great gun engraver kit for anyone with intuition and patience on custom personalized firearms. So far it is worth the money.

Hans Thrun

from AustraliaPosted on

Oct 11, 2022

I use this metal laser cutter to cut stainless steel sheet of 1/4in x 4ft x 8ft to make signs for my advertising business. So far so good. It is easy enough to work with, and cuts well, like a hot knife through butter. Just hope to continue to use for a long time in future.
The software came with the machine is easy to use for my business. With remote assistance from STYLECNC, the software installation and setup can be completed in 45 minutes. Excellent customer service and technical support.
Also, 1064nm fiber laser beam is dangerous to cause eye injury and hand burns, wear leather gloves and safety glasses when using this machine. Overall, take care.
I try to buy well made laser machines that are worth my money, this unit seems to qualify. No real complaints about this cutting tool. Great value. Would highly recommend it.

Derek Christian

from CanadaPosted on

Oct 02, 2022

No issues putting it together. Starts easily. Cuts extremely well. My first task with this machine was to cut the 3/8 steel plate, and it cut much better than the industrial units I am used to. I should mention that this fiber laser machine does NOT require you to touch the work to start the cutting with CNC controller which makes it VERY easy to use. A great laser cutter for sheet metal at a great price.

Clint GROSS

from United StatesPosted on

Aug 25, 2022

Bought this laser cutter to upgrade my metal crafting in commercial use. It is fast and easy to use with smooth & clean cut, and save you much more cost and time compared to waterjet and plasma cutters. In additional, it is an auomatic power tool with CNC contoller compared to handheld tin snips and shears. This machine has been cutting exactly as I expected. It is great to cut the edge of sheet metals. I have cut over 100 Pcs of 4x8 stainless steel plates 304 so far with no issues. Expect it to perform better in the future.

Edward Stratton

from United StatesPosted on

Aug 06, 2022

The IPG laser metal cutter is easy to setup and use for a novice user, it cuts great on 1/2 inch stainless steel sheet and 9/16 aluminum sheet at a higher speed up to 160 inches per minute, as well as works on 2 inch mild steel plate at a lower speed of 20 inches per minute. It cuts through with smooth edges, much better than the plasma cuts. In additional, it's an automatic precision metal cutting tool with CNC controller, almost no need of manual intervention.

Derek Christian

from CanadaPosted on

Jul 28, 2022

I was wary of purchasing a Chinese-made laser cutter off the internet, but the reviews convinced me to give it a try. Got this unit in 28 days. No trouble in assembly and parameter setting. I've tried it to cut 304 and 316 stainless steel plates and pipes for kitchenware and gotten the cleanest cuts. It's a powerful all-in-one machine for both sheet metals and tubes. No regrets with the buying of this great cutter.

Henry Browne

from United KingdomPosted on

Jul 09, 2022

STYLECNC is well known for making quality laser cutters. Considering it is a name brand, I bought ST-FC60M for my workshop last month. I have never used an automatic tube cutter like this one. However, it was easy to setup and operate. I used it to cut 5/8 inch OD straight copper and aluminum tubing and 1/4 inch OD D-shaped stainless steel pipe. All the edge cuts flared perfectly without cleanup. Did great jobs with ease. I'm impressed with how well it cuts with higher speed and precision.

Nikki

from United StatesPosted on

Jun 15, 2022

My husband is starting a custom gun building business and he has to make a mark on the completed firearm to stay in accordance with the law of ATF. I searched for weeks and made some feature comparisons and finally decided to give the ST-50F a chance. Took 7 days for shipping. Got it on June 9. How easy and precise the fiber laser engraver fits together makes it worth the money. This unit works great for small gun parts. Rotary laser engraved marks have surprised me. So far it has performed better than expected.

Cameron Godfrey

from United KingdomPosted on

May 06, 2022

The sheet metal cutter came in good condition. So far I've only used a handful of times, but not disappointed. It works great. I don't know why I didn't get this laser machine sooner. It cuts through 1/8 inch and 1/4 inch steel sheets like butter. Smooth edges are difficult to achieve with plasma cutters. Love my purchase. Make sure to buy the extra accessories you needed when you make an order.