Things To Consider When Buying Chinese Laser Cutters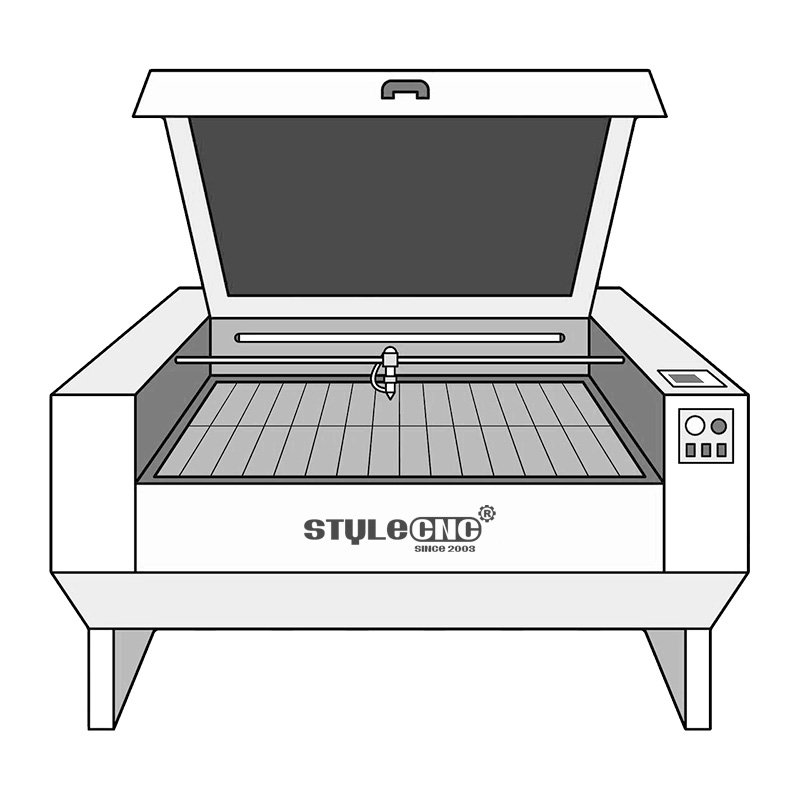 What is Laser Cutting?
Laser cutting is to concentrate the high-intensity laser beam emitted by the laser generator together, and then irradiate it on the surface of the material. The laser energy is rapidly converted into heat energy, so that the temperature in the irradiated area of the material quickly reaches the melting point and even the boiling point of the material, and the material is exposed to high temperature. Under the guidance of the numerical control system, with the continuous relative movement of the workpiece and the laser beam, there is a continuous interaction between the two. The melted residue is blown away, and the holes are continuously formed into narrow slits to complete laser-cuts.
What is Chinese Laser Cutter?
A Chinese laser cutter is an affordable laser cutting system made in China with CNC (Computer Number Controlled) controller that adopts laser beam to cut metal and non-metal materials with low cost, high quality, high speed, and high precision. Chinese laser cutters are used for industrial manufacturing, school education, small business, home business, small shop, home shop and hobbyists. You can find Chinese laser cutting machines everywhere in the world in 2022.
History
Forty years after Einstein proposed the laser theory, in 1957, Chinese scientists established China's first optical research institute, the Chinese Academy of Sciences (Changchun) Institute of Optics and Precision Instruments and Mechanics ("Institute of Optics and Mechanics" for short). "), under the leadership of the older generation of experts, a group of young scientific and technological workers has grown rapidly, and in a short period of time has gathered an innovative young and middle-aged research team, and put forward a large number of ideas and ideas to improve the brightness, unit color, and coherence of the light source. Experimental program. With the advent of the world's first laser generator in 1960, the research and development of laser generators in China also began to speed up. In 1961, the first ruby laser generator in China was successfully developed, and the first carbon dioxide laser generator was developed in 1965.
In just a few years after the first CO2 laser was developed in China, China's laser technology has developed rapidly. In terms of basic research and key technologies, a series of new concepts, new methods and new technologies have been proposed and implemented, many of which have Ingenuity, and began to gradually use the laser in the field of material cutting.
Since 1978, laser cutting technology has obtained unprecedented opportunities for development, laser technology has achieved unprecedented progress, and a number of internationally advanced achievements have emerged. Laser cutting technology has basically achieved full coverage in the field of material processing in China.
In 2014, the fiber laser cutting machine for metal sheet cutting came out. The laser with only 500W of power that year quickly became the favored object of the market due to the advantages of high cutting efficiency and high processing precision. With the development of laser technology, 1500W and 3000W power gradually appeared. Until 2016, Chinese laser cutter manufacturers broke the limit of 6000W power and launched 8000W fiber laser cutting machine, which opened the competition of laser power. In 2017, the 10,000 watt laser cutting machine came out, and the Chinese fiber laser cutting machine market began to develop into the 10,000 watt era. Until now, 15,000W, 20,000W, 30,000W, 40,000W, and more high laser powers came into being. Moreover, the world's laser generator manufacturers are constantly introducing higher power fiber laser generators.
In 2022, China's laser cutter industry will form an industrial scale concentration. CO2 laser cutting machines are concentrated in Liaocheng, Shandong, and fiber laser cutting machines are concentrated in Jinan, Shandong and Wuhan, Hubei.
Types
Types Based On Table Sizes:
Mini types, Small types, Hobby types, Portable types, Tabletop types, Desktop types, Large format types.
Types Based On Laser Sources:
Fiber laser cutters, CO2 laser cutters.
Types Based On Cutting Materials:
Laser metal cutters, laser wood cutters, laser paper cutters, laser leather cutters, laser fabric cutters, laser acrylic cutters, laser plastic cutters, laser foam cutters.
Materials
Chinese laser cutters can cut stainless steel, iron, copper, carbon steel, gold, silver, alloy, acrylic, Delrin, films & foils, glass, rubber, wood, plastics, laminates, leather, paper, foam & filters, fabrics, and textiles.
Applications
Chinese laser cutting machines are used in industrial manufacturing applications, school education, small businesses, home business, small shop and home shop for Architectural Models, Fablabs & Education, Medical Technology, Smartphones and Laptops, Rubber Stamps Industry, Awards & Trophies, Packaging Design, Giveaways, Sign&Displays Industry, Automotive Industry, Electronics Industry, Signage, Ball bearing, Mechanical engineering, Jewelry Industry, Watches, Barcodes serial numbers, Dataplates Industry, Machining Industry.
Laser Generator
CO2 Laser Generator
Since laser technology was introduced to cut thin metal sheets, CO2 laser generators have dominated the market. The CO2 laser light source requires a lot of energy to excite nitrogen molecules to collide with CO2 molecules (laser gas), prompting them to emit photons, and finally forming a laser beam that can cut through the metal. The molecular activity in the cavity releases light as well as heat, which requires a cooling system to cool the laser gas. This means that more energy is consumed during the cooling process, further reducing energy efficiency.
Fiber Laser Generator
The machine using the fiber laser generator occupies a small area, the laser light source and the cooling system are also smaller; there is no laser gas pipeline, and no need to adjust the lens. The 2000W or 3000W fiber laser light source only needs 50% of the energy consumption of the 4000W or 6000W CO2 laser light source to achieve the same performance, with faster speed, lower energy consumption and less impact on the environment.
The fiber laser generator uses solid-state diodes to pump the molecules in the double-clad ytterbium-doped fiber. The stimulated emission of light passes through the fiber core multiple times, and then the laser is output through the transmission fiber to the focusing head for cutting. Since all intermolecular collisions occur in the fiber, no laser gas is needed, so the energy required is greatly reduced-about one-third of the CO2 laser generator. As the less heat is generated, the volume of the cooler can be reduced accordingly. In short, while achieving the same performance, the overall energy consumption of fiber laser generators is 70% lower than that of CO2 laser generators.
Specifications
| | |
| --- | --- |
| Laser Power | 40W, 50W, 60W, 80W, 100W, 130W, 150W, 280W, 300W, 1000W, 2000W, 4000W, 6000W, 8000W, 10000W, 20000W, 30000W, 40000W |
| Laser Type | Fiber Laser, CO2 Laser |
| Laser Brand | IPG, Raycus, JPT, RECI, MAX |
| Cutting Materials | Metals & Nonmetals |
| Cutting Abilities | Flatbed sheet cut, tube cut, 3D cut |
| Table Sizes | 2x3, 2x4, 4x4, 4x8, 5x10, 6x12 |
| Models | 6040, 9060, 1390, 1325, 3015, 4020 |
| Price Range | $2,600.00 - $300,000.00 |
1

ST-FC3015E

$14000.00 - $20000.00

2022 top rated fiber laser cutting machine is designed for metal fabrication, including steel, titanium, aluminum, brass, copper, alloy, gold, silver, and iron with different laser powers (1000W, 1500W, 2000W). Now the affordable fiber laser cutter for sale at a low price, with the best fiber laser cutting system service and support.
2

STJ1390

$3500.00 - $4500.00

2022 top rated 100W laser wood cutting machine with CO2 laser tube is the cheapest laser wood cutter with CNC controller for beginners to engrave & cut wood (softwood, hardwood, solid wood, MDF, plywood) for crafts, 3D puzzles, letters, earrings, panels, signs, logos, arts, gifts and more designs into different 2D/3D shapes & profiles. Now the 2022 best affordable wood laser cutter for sale at cost price, free wood laser cutting service and support within your budget.
3

STJ1390-2

$3800.00 - $6500.00

Entry level CO2 laser cutter with dual head is used to cut paper sheets, cardstock, and stacked & layered cardboard for invitations, arts, crafts, sculptures, models, storages, and packaging boxes. Now the laser paper & cardboard cutting machine for sale at affordable price.
4

STJ1610-CCD

$4800.00 - $6000.00

CNC laser cutter with CCD camera visual recognition system for accurate cutting gaskets & seals made of rubber, neoprene, silicone, graphite, CNAF, PTFE.
5

ST-FC6025CR

$58000.00 - $236800.00

Affordable metal sheet & pipe fiber laser cutter is a type of automatic CNC laser metal cutting system not only for metal sheets and metal plates with different thickness, but also for metal pipes and metal tubes with different shapes.
6

ST-FC6040

$26500.00 - $38700.00

Portable fiber laser metal cutting machine ST-FC6040 is an entry level hobby metal laser cutter used to cut steel, titanium, gold, silver, aluminum, brass, copper, and more metalworking plans & projects in hobbyists, home shop, small business. The portable fiber laser cutting machine is designed for cutting metal jewelry, metal signs, metal tags, metal arts and metal crafts. Now the portable fiber laser cutter for sale at affordable price.
7

ST-FC1390

$26800.00 - $38800.00

2022 best budget small metal laser cutter ST-FC1390 adopts fiber laser generator, fully enclosed design, environmental friendly in all types of sheet metal cutting, which is a compact entry level fiber laser cutting system for hobbyists in small business with metal signs, metal tags, metal logos, metal letters, and metal jewelry, now the hobby fiber laser metal cutting machine for sale at a low price.
8

STJ1390M-2

$10000.00 - $12500.00

Profitable mixed CNC laser cutter hybrid cutting machine is a beneficial laser cutting system for wood, plywood, MDF, acrylic, fabric, leather, stainless steel, and more metals in commercial use.
9

STJ1325M

$8200.00 - $13000.00

Mixed CNC laser cutter engraving machine is used to engrave & cut wood, MDF, plywood, acrylic, metal. Now the best CNC laser engraver cutting machine for sale at affordable price.
10

STJ1630A-CCD

$8500.00 - $15000.00

Contour laser cutter for digital printed fabrics & textiles with CCD camera is a vision laser cutting system for sublimation printed fabrics with all shapes and sizes.
Showing 10 results on 1 page
Feature Stories & Articles
May 19, 2022

When you have an idea to buy an affordable laser engraver cutting machine to start your business, you should know what is a laser cutter engraving machine? what is it used for? how does it work? how much does it cost? how to buy it within your budget?

May 27, 2022

In this article, you will get the laser cutting basics, including definition, working principle, types, features, applications, and trends in future.

Jul 28, 2022

Are you troubled by how to set up a CO2 laser engraving cutting machine? We have summed up 12 easy-to-follow steps on how to assemble a CO2 laser machine with pictures & videos.

Feb 25, 2022

Digital cutting machine and laser cutting machine are both flexible material cutting CNC machine tool with different features and advantages, so what are the differences between digital cutter and laser cutter?

Jun 01, 2022

As a beginner or operator, you need to learn the 3 tips you should know before starting a laser cutting system, the 12 steps to learn how to use a laser cutter, the 12 precautions for a laser machine.

Jun 02, 2022

In this article, you'll understand 6 most common laser generators, source, and systems: solid-state, gas, dye, Diode, fiber, and free electron laser generators.

Apr 16, 2021

How much does a laser cutting machine cost? There are many things to consider, including accessories, parts, laser source, laser power, service and cutting methods. So, what is the final price?

May 12, 2022

Compared with plasma cutting machine, laser cutting machine has its own advantages and disadvantages, you should make a choice according to your requirements.

May 17, 2022

Looking for a laser cutter to start your business or pick up a hobby you've always wanted? Whether you are a beginner or CNC machinist, please follow the 26 steps on how to use a laser cutting machine.

May 30, 2022

What should you consider before buying, operating, or building a laser cutting machine? Let's start to learn the working principle in this article.
Chinese Laser Cutter Reviews & Testimonials
Eric Pearson

from United StatesPosted on

Nov 17, 2022

Surprised at the quality of this compact laser jewelry cutter when it arrived. Put it together in 30 minutes. Small size and easy to move. I bought this unit to make pendant necklaces of silver and gold. It is easy to use with an automatic cutting software and there are no issues so far. I have tried this cutting tool to cut sterling silver sheet and it resulted in clear and smooth pendants without sanding in seconds. I will try to cut more types of metals in the next week.

Hans Thrun

from AustraliaPosted on

Oct 11, 2022

I use this metal laser cutter to cut stainless steel sheet of 1/4in x 4ft x 8ft to make signs for my advertising business. So far so good. It is easy enough to work with, and cuts well, like a hot knife through butter. Just hope to continue to use for a long time in future.
The software came with the machine is easy to use for my business. With remote assistance from STYLECNC, the software installation and setup can be completed in 45 minutes. Excellent customer service and technical support.
Also, 1064nm fiber laser beam is dangerous to cause eye injury and hand burns, wear leather gloves and safety glasses when using this machine. Overall, take care.
I try to buy well made laser machines that are worth my money, this unit seems to qualify. No real complaints about this cutting tool. Great value. Would highly recommend it.

Derek Christian

from CanadaPosted on

Oct 02, 2022

No issues putting it together. Starts easily. Cuts extremely well. My first task with this machine was to cut the 3/8 steel plate, and it cut much better than the industrial units I am used to. I should mention that this fiber laser machine does NOT require you to touch the work to start the cutting with CNC controller which makes it VERY easy to use. A great laser cutter for sheet metal at a great price.

OctavioYEvans

from CanadaPosted on

Sep 13, 2022

STJ1390 is a great piece of laser cutter for beginners. I bought it to start a small advertising shop. Got it in 12 days, and everything was pretty good. Easy to put together in 1 hour. The software was easy to use, but the installation and setting took me some time to learn. Many thanks to the customer service team, which was awesome in troubleshooting and I would give them more credit. I used it to cut signs with plywood and acrylic, and got fine results with clean and smooth edges. I think this laser has a lot of potential to create many things, and I will try it on more materials. Overall, it is worth your money.

Clint GROSS

from United StatesPosted on

Aug 25, 2022

Bought this laser cutter to upgrade my metal crafting in commercial use. It is fast and easy to use with smooth & clean cut, and save you much more cost and time compared to waterjet and plasma cutters. In additional, it is an auomatic power tool with CNC contoller compared to handheld tin snips and shears. This machine has been cutting exactly as I expected. It is great to cut the edge of sheet metals. I have cut over 100 Pcs of 4x8 stainless steel plates 304 so far with no issues. Expect it to perform better in the future.

Edward Stratton

from United StatesPosted on

Aug 06, 2022

The IPG laser metal cutter is easy to setup and use for a novice user, it cuts great on 1/2 inch stainless steel sheet and 9/16 aluminum sheet at a higher speed up to 160 inches per minute, as well as works on 2 inch mild steel plate at a lower speed of 20 inches per minute. It cuts through with smooth edges, much better than the plasma cuts. In additional, it's an automatic precision metal cutting tool with CNC controller, almost no need of manual intervention.

Derek Christian

from CanadaPosted on

Jul 28, 2022

I was wary of purchasing a Chinese-made laser cutter off the internet, but the reviews convinced me to give it a try. Got this unit in 28 days. No trouble in assembly and parameter setting. I've tried it to cut 304 and 316 stainless steel plates and pipes for kitchenware and gotten the cleanest cuts. It's a powerful all-in-one machine for both sheet metals and tubes. No regrets with the buying of this great cutter.

Henry Browne

from United KingdomPosted on

Jul 09, 2022

STYLECNC is well known for making quality laser cutters. Considering it is a name brand, I bought ST-FC60M for my workshop last month. I have never used an automatic tube cutter like this one. However, it was easy to setup and operate. I used it to cut 5/8 inch OD straight copper and aluminum tubing and 1/4 inch OD D-shaped stainless steel pipe. All the edge cuts flared perfectly without cleanup. Did great jobs with ease. I'm impressed with how well it cuts with higher speed and precision.

Cameron Godfrey

from United KingdomPosted on

May 06, 2022

The sheet metal cutter came in good condition. So far I've only used a handful of times, but not disappointed. It works great. I don't know why I didn't get this laser machine sooner. It cuts through 1/8 inch and 1/4 inch steel sheets like butter. Smooth edges are difficult to achieve with plasma cutters. Love my purchase. Make sure to buy the extra accessories you needed when you make an order.

Hayden Berry

from AustraliaPosted on

May 05, 2022

I have a lot of experience with fiber laser cutters. I picked this powerful unit from STYLECNC for the weight, price point, performance, and service. In short, for the money, this is a great metal cutting machine with a large format to cut 1/4-in stainless steel plate 4x8 cleanly with high speed. It can also cut 3/4-in x 3-ft plain hot rolled steel round tube smoothly with high precision.

Kenneth Hass

from United StatesPosted on

Mar 20, 2022

It has worked as needed. Powerful cutter for the price. The concentrated power this laser stainless steel cutter machine exhibits is great. It's speed goes right through metal effortlessly without extra cutting blades. The software takes a little getting used to, but once you have mastered, the cutting will become a pure pleasure.

Domingo

from AustraliaPosted on

Mar 15, 2022

I bought this unit to cut 1/8 stainless steel plate and 1/4 SS sheet for kitchenware. The machine was shipped in 15 days and well packaged, it appears to be well made. I really like this laser metal cutter. It works great and fast for 4x8 full sheet metals with smooth cut edge, no binding or slowing down. Lot's of power for cutting. I'm happy with it.

Sean Mahmood

from United KingdomPosted on

Mar 10, 2022

Good purchase. Very powerful tool. About heavier and bulkier than I expected but that's not really a complaint. I used the machine to cut some store wall panels (10mm 4x8 full sheet plywood and 1mm galvanized steel sheet) into smaller shapes. It did a very good job cutting. This will be a good laser cutter to have around for more uses. Good value for the money.

Andrew Doyle

from United StatesPosted on

Mar 05, 2022

I bought this for my workshop to cut profiles in 1/4 thick steel tube and 12 gauge sheet metal. The fiber laser metal cutting system works great for the money. I would recommend purchasing this to anyone looking for the best budget sheet metal cutter. Be safe in cutting, it is a high power laser machine, follow the safety precautions.

Charles Johnson

from United StatesPosted on

Jan 23, 2022

I never tried a laser metal cutter before. I was skeptical at first about a cheap foreign made fiber laser cutter. But I thought I'd take a chance as this machine was on sale. I recently bought this unit and as such I soon had a need to cut steel. I have a chop saw but that has its limitations. Also have an angle grinder and I find that to be super slow and even a bit dangerous. So this laser machine seemed like the answer. So far I am happy with it even though I have no other one to compare it to.

George Krebs

from United StatesPosted on

Aug 26, 2021

I wanted a CO2 laser cutter to cut acrylic sheets for different craft ideas in my home shop, after weeks of researching, I finally made the purchase from STYLECNC. Everything showed up perfectly aligned and ready to engrave and cut right out of the box. That's unheard of from anything coming directly from China. This is the way to go if you live in the U.S. This is a pleasant surprise and a great start. I will update as I go through the startup.

Sam Buzacott

from AustraliaPosted on

Aug 15, 2021

I was on the fence about this purchase for several months. I wanted to be able to cut sheet metals for different jewelry ideas, but this is a hobby for me and 32 thousands of dollars is a big investment despite this model being one of the least expensive options available. I finally came across the STYLECNC's review of the ST-FC6040 and that pushed me to make the purchase.

So far so good. Unbelievable quick shipping. The metal laser cutter arrived well packaged against damage, with all components. Nothing missing. I was able to set it up easily.

Greg Petrie

from AustraliaPosted on

Jun 19, 2021

The laser machine is packed well, after the training was completed, I did a few practice cuts on some 1/2in x 18in steel pipes. And the tube cutter worked automatically and easy to make perfect cuts with no OD burrs. Well worth the purchase. Bonus: Made in China.

Randy Devine

from United StatesPosted on

Apr 08, 2021

I got one of these machines for my woodshop. I could have bought a similar wood laser cutter elsewhere for almost $2000 less. So why buy this one? Quality and features. Unlike the cheaper ones, this machine clearly underwent a QC process prior to shipment. It arrived ready to use. The mirrors were adjusted well enough to use the machine right out of the box. The mirror adjustment screws were retained with silicone to prevent movement in shipping. Unlike cheaper versions of these machines, the wiring was solidly connected with wire nuts, crimp terminals, and locking connectors and/or glue. I found no loose wires. Earth grounds were solidly connected and electrically sound, I measured less the 0.1 ohm to earth ground at both the power cord ground pin and the machine ground terminal. All non-crimped electrical connectors including PCB and power supply connectors were sealed with silicone. Cables were well bundled and retained with zip ties. With this machine, I was able to attach a water tank, power it on, and cut. Its amazing for cutting 1/4" and 1/8" wood.

I was happily surprised with the extras that are included. You get the aiming red laser, a strip of LEDs that illuminate the inside of the box, a powerful internal fan motor, temp sensors on the power supply and the tube, and venting of the electrical compartment. I thought I would have to add these myself. The only thing missing is an "open-door" shutoff switch for safety. You can easily add one of these with a microswitch and a two wire cable to the K+ - pins on the power supply.

Finally, a word about safety. CO2 lasers are invisible and thus EXTREMELY dangerous. Since you can't see the beam, it does not trigger a blink reflex. The first you know of a problem is when your retina boils. Really. If you get one of these machines you MUST purchase a set of safety glasses. Wear them whenever the machine is powered on, whether the laser is active or not. Make sure the lenses you buy are marked with the proper wavelength and an "OD" number, representing factor of 10 reduction. For instance, OD2 reduces power by 100, OD3 by 1000, etc. The wavelength of a CO2 laser is about 10600nm. The glasses should have an OD of at least 6 and preferably 7 for that wavelength. The lens will be marked something like "9000-11000 OD7+" directly on it. A decent pair will cost $30-$50. If the lenses are very cheap, avoid them.

Overall I am very happy with this purchase.

Joshua Olivia

from CanadaPosted on

Apr 01, 2021

I was excited to use this hobby laser cutter for some school projects. I purchased this product after extensive research and watching quality reviews on Youtube and different forums. For the price, it did not seem to be a bad option at all and easily upgradable.

It is a great starting out laser cutter. It will take some learning but after a few projects and using the software it will all make sense and become easier to use. Like many others here, the cutting job went great, the results were crisp and clean and I thought I'd found an amazing product that was perfect for me. For the price this is a super start up laser. I feel it is money well spent.