Things To Consider When Buying Laser Engravers for Metal In 2023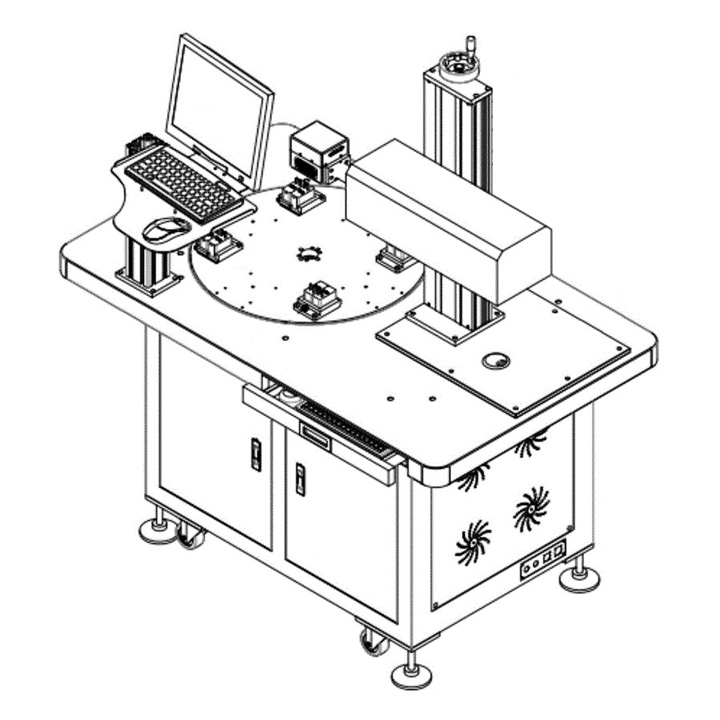 Do you have an idea to DIY or buy an affordable laser engraver for metal? Check out the 2023 best metal laser engravers as follows, we'll offer you the best CNC laser metal engraving machines of 2023 with expert customer service and support to fit your CNC metal engraving plans, ideas and projects.
What is Metal Laser Engraver?
Metal laser engraver is a type of CNC laser engraving system with fiber laser source for 2D/3D metal engraving on stainless steel, carbon steel, aluminum, galvanized steel, silver, alloy, gold, copper, titanium, iron and brass. Metal laser engravers can make 2D laser engraving, color laser engraving, rotary laser engraving, online flying laser engraving, deep laser engraving and 3D laser engraving on metal surface. CNC metal laser engraving machine uses the laser beam to remove the specific part of the metal material, so as to achieve the desired effect or mark. In metal engraving applications, the laser beam is like a chisel used in CNC engraving, chiseling away excess metal material. A laser engraver is the best way to engrave metals without tools.
How Does a Metal Laser Engraver Work?
Metal laser engravers can be equipped with MOPA fiber laser source for color engraving on stainless steel and titanium. Metal laser engravers can be equipped with rotary device for laser engraving on rings, bracelets and bangles jewelry. Metal laser engravers can be equipped with online flying system for mass production with continuous manufacturing process. Metal laser engravers can be equipped with high laser power for deep laser engraving on metal. Metal laser engravers can be equipped with 3D system for laser engraving on aspheric surface, angular surface, rollers, pipes, cylinders and most curved surface.
How Many Types of Laser Engravers for Metal?
Metal laser engraver is also known as laser metal engraving machine, metal laser engraving machine, laser metal engraver, laser engraver for metal, laser metal engraving system, laser metal engraving equipment, laser metal marking machine, metal laser marking machine, laser metal marker, metal laser marker, laser metal printing machine, metal laser printer, metal laser printing machine, laser metal printer, laser metal etching machine, metal laser etching machine, CNC metal engraving machine.
Laser metal engraving machines can be divided into small laser metal engraving machine(small metal laser engraver), mini laser metal engraving machine(mini metal laser engraver), handheld laser metal engraving machine(handheld metal laser engraver), portable laser metal engraving machine(portable metal laser engraver), desktop laser metal engraving machine(desktop metal laser engraver), tabletop laser metal engraving machine(tabletop metal laser engraver), large format laser metal engraving machine(large format metal laser engraver) according to sizes. laser metal engraving machines can also be divided into home laser metal engraving machine(home metal laser engraver), hobby laser metal engraving machine(hobby metal laser engraver), industrial laser metal engraving machine(industrial metal laser engraver) according to applications.
What Are Metal Laser Engravers Used For?
Metal laser engravers are used for engraving, etching or marking on stainless steel, aluminum alloy, alumina, tungsten steel, zinc alloy, titanium alloy, gold, silver, copper, iron, bamboo products, leather products, plastics, silica gel, paper, acrylic, glass, ceramics, jade, porcelain, PC board, PU and other materials.
Metal laser engraving machines are applied in electronic components, hardware products, tool accessories, integrated circuits (IC), electrical appliances, mobile communications, precision equipment, glasses and watches, jewelry, auto parts, plastic buttons, building materials, PVC pipes, PPR Pipe, medical equipment and other industries.
Technical Parameters
| | |
| --- | --- |
| Brand | STYLECNC |
| Laser Types | Fiber laser |
| Laser Power | 20W, 30W, 50W, 60W, 100W |
| Engraving Content | Letter, Number, Word, Name, Sign, Logo, Tag, Pattern, Picture |
| Engraving Materials | Aluminum, Carbon steel, Stainless steel, Galvanized steel, Silver, Alloy, Gold, Copper, Titanium, Iron, Brass |
| Applications | Metal Tags, Metal Arts, Metal Crafts, Metal Gifts, Metal Electronic Components, Metal Instruments, Metal Meters, Metal Hardware, Metal Jewelry, Metal Keyboard, Metal Mobile/iPhone Case, Guns, Firearms, Weapons, Package, Metal Coins |
| Price Range | $3,000.00 - $22,000.00 |
| Warranty | 2 years |
What are the Advantages of Laser Engravers for Metal?
Compared with traditional mechanical metal engraving, laser engraver has many advantages in metal engraving:
1. Laser metal engraving does not need to contact the engraved workpiece, so many fixtures and tools are omitted, and the workpiece will not generate internal stress after engraving, ensuring the original accuracy of the workpiece.
2. No corrosion to the working surface, no "tool" wear, no poison, no pollution.
3. The high-precision characteristics of laser engraving are also particularly suitable for the processing of complex graphics.
4. The mark will not fade due to environmental relations (touch, acid and reduced gas, high temperature, low temperature, etc.), and it has high anti-counterfeiting.
5. Non-contact: Laser metal engraving is processed by a non-mechanical "light knife", which can print marks on any regular or irregular surface.
6. Low operating cost: The engraving speed is fast and the engraving is formed at one time, with low energy consumption and low operating cost. Although the equipment investment of the laser metal marking machine is larger than that of the traditional engraving tools, from the operating cost, the use of the laser metal etching machine is much lower.
What are the Features of Metal Laser Engraver?
Metal laser engraving machine uses a laser beam to make permanent marks on the surface of various materials. The effect of engraving is to expose deep material through the evaporation of surface material, or to engrave traces by light energy causing chemical and physical changes on the surface material, or to burn off part of the metal material through light energy to show the text or pattern to be etched.
1. It can process most metal or non-metal materials.
2. The laser is processed with non-mechanical "tools", which does not produce mechanical extrusion or mechanical stress on the material, has no "tool" wear, is non-toxic and rarely causes environmental pollution.
3. The laser beam is very thin, so that the consumption of the processed material is small.
4. During engraving, it will not generate X-rays like electron beam bombardment and other processing methods, nor will it be interfered by electric and magnetic fields.
5. The operation is simple, the use of computer numerical control technology can realize automatic processing, can be used for high-speed and high-efficiency processing of parts and components on the production line, and can be used as a part of the flexible processing system.
6. The precision workbench can be used for fine micro processing.
7. Use a microscope or camera system to observe or monitor the condition of the processed surface.
8. It can pass through light-transmitting materials (such as quartz, glass) to process its internal parts.
9. The prism and mirror system can be used to focus the beam on the inner surface or inclined surface of the workpiece for processing.
10. Can mark bar codes, numbers, characters, patterns and other signs.
11. The line width of these signs can be as small as 12mm, and the line depth can be up to 10mm or less, so it can mark the zero surface of the "millimeter" size.
When the common metal materials are engraved, lines with a depth of several microns or more (the width can be several microns to tens of microns) are ablated from the surface to make the color and reflectivity of the lines different from the original ones, resulting in visual contrast, so that people can be sensitive to these lines (and the shape codes, numbers, patterns, trademarks, etc. formed by the lines). For glass, these ablated lines have a "dullening" effect. For plastics, due to the photochemical reaction and ablation, there are visual contrast and smoldering effects. If the surface of the material is coated with a special colored substance for marking, the colored substance will be fixed (a high temperature ablation with the material) on the line and make it colored.
Light Engraving VS Deep Engraving for Metal
Laser metal engraving is divided into two types: light engraving and deep engraving (relief engraving). Generally, the depth of light engraving is 5-25mm, the depth of deep engraving is generally deeper, and the specific depth depends on the different metals, the laser power and the time of engraving.
Light engraving is mainly used for permanent marking on the surface of various tools and parts. Deep engraving is mainly used for engraving abrasive tools, seals, etc.
Generally speaking, the engraving depth is related to factors such as the absorption of the laser by the engraved material, the power of the laser, and the action time of the laser on the engraved metal. Deep engraving usually requires a longer action time. Deep and light engravings can be carried out on the surface of various metal materials, such as signs, identification codes, company logos, and more complex images.
How to Choose a Metal Laser Engraver Manufacturer?
As a guaranteed CNC metal laser engraving machine manufacturer and supplier, STYLECNC provides all kinds of best laser metal engraving machine for sale to fit your metal engraving works.
STYLECNC's metal laser engraving machines are equipped with genuine CNC metal laser engraving software and CNC metal laser engraving system, the best original metal laser engraver parts.
STYLECNC offers cost price for your metal laser engraving plans without any intermediate. You will get the best laser metal engraving machines with affordable price from us.
STYLECNC also offers smart metal laser engraving solutions, 24/7 one-to-one free service and support, which is available free.
How to Buy a Laser Engraver for Metal?
1. Consult:
We will recommend the most suitable CNC metal laser engraver to you after being informed by your requirements.
2. Quotation:
We will offer you with our detail quotation according to the consulted metal laser engraver. You will get the most suitable specifications, the best accessories and the affordable price.
3. Process Evaluation:
Both sides carefully evaluate and discuss all the details (including the specifications, technical parameters and business terms) of the order to exclude any misunderstanding.
4. Placing an order:
If you have no doubts, we will send the PI (Proforma Invoice) to you, and then we will sign a contract with you.
5. Production:
We will arrange the laser machine production as soon as receiving your signed sales contract and deposit. The latest news about production will be updated and informed to the CNC laser metal engraver buyer during the production.
6. Quality Control:
The whole production procedure will be under regular inspection and strict quality control. The complete CNC laser metal etching machine will be tested to make sure they can work very well before out of factory.
7. Delivery:
We will arrange the delivery as the terms in the contract after the confirmation by the metal laser engraver buyer.
8. Custom Clearance:
We will supply and deliver all the necessary shipping documents to the CNC laser metal marking machine buyer and ensure a smooth customs clearance.
9. Support and Service:
We will offer professional technical support and free service by Phone, Email, Skype, WhatsApp, Online Live Chat, Remote Service. We also have door-to-door service in some areas.
STJ-50F

$3800.00 - $4200.00

2023 best value 50W fiber laser engraving machine is used for 3D relief engraving on metal (guns, firearms, parts, tools, stainless steel, titanium, aluminum, brass) and nonmetal surface. It can also cut thin metals. Now the deep metal engraving machine for sale at affordable price.
STJ-20F-Portable

$2800.00 - $4000.00

Portable laser engraving machine with JPT fiber laser source is used to etch tools, parts, jewelry, watches, phone case, keypad, rings, tags, electronic components with metal and plastic. The portable laser engraver is compact and easily carried or moved like the handheld type
STJ-50F

$3800.00 - $11000.00

2023 best budget laser engraver for gun stippling and grip texturing is equipped with IPG fiber laser generator for 2D/3D color engraving or deep engraving on gun grip, PMAGs, gun barrel, gun stock, gun magazine, gun magazine holder, gun muzzle, and gun cylinder of metals, carbon fibers, polymer plastics. Now the best laser gun engraving machine for sale at affordable price with 24/7 customer service and support.
STJ-30F

$3000.00 - $9000.00

Mini handheld laser marking machine with powers of 20W, 30W, 50W, 100W is small and portable to be operated while being held in the hand for engraving metal, plastic, leather, alloy, jewelry, medical devices, mobile case, electron components, and more plans. It is portable with small size. Now the portable handheld engraver for sale at affordable price.
STJ-60FM

$5000.00 - $6800.00

Color laser engraving machine for metal with MOPA fiber laser source is used to engrave white, black, grey and colors on metals of stainless steel, chromium, and titanium. Now the best MOPA color metal laser engraver for sale at cost price.
STJ-30F-3D

$8500.00 - $11000.00

Dynamic focusing 3D fiber laser engraver with rotary attachment is used to etch & engrave on 3D curved surfaces of metals and nonmetals. Compared with the ordinary etcher, it can make rotary engraving and 3D embossing projects. Now the best 3D rotary laser engraving machine for sale at affordable price.
STJ-100F

$19800.00 - $22000.00

100W IPG fiber laser metal engraver cutting machine is used to make personalized jewelry such as rings, earrings, bracelets, pendants, necklaces, brooches, cufflinks and other personal ornaments with stainless steel, titanium, aluminum, copper, brass, alloy, silver, gold with names, logos, signs, letters, numbers, patterns or photos. Now the best metal engraver cutting machine for sale at an affordable price within your budget.
STJ-30FM

$4800.00 - $6200.00

2023 top rated 3D fiber laser engraving machine is especially used for deep etching to realize the 3D surface of metal & nonmetal, and the engraver has enclosed structure for safe protection. Now the affordable 3D laser engraver for sale at low price.
STJ-60FM

$6600.00 - $8200.00

2023 best budget fiber laser engraving machine with XY axis moving table is used to DIY, custom, personalize, repair or refurbish iPad, iPhone, and mobile business, you can engrave numbers, letters, signs, logos, names, patterns, or IMEI on the shell, case, accessories, or parts of iPhone, iPad, and more mobiles and pads.
STJ-20F

$2600.00 - $3600.00

20W online flying Raycus fiber laser marking system is used for marking on the fly (MOTF) in industrial mass production and assembly line production with metal parts, tools, tags, signs, wire, electron components. Now the online flying industrial laser printing system for sale at affordable price.
STJ-20FM

$5200.00 - $6800.00

2022 best rotary fiber laser engraver is a new type of MOPA laser marking system with rotary attachment to DIY custom patterns with black, white, colors on cups, mugs, and tumblers made of stainless steel, titanium, aluminum, copper, brass, gold, silver, and plastic.
STJ-50F-Enclosed

$4800.00 - $11800.00

Hobby laser engraver with full enclosed cover to keep the smoke in the protection case for health and safety. 2022 best hobby laser engraving machine has advantages of healthy, environmental and user friendly, which is suitable for small business and home shop.
Showing 12 results on 1 page
Free DIY Projects & Plans
Feature Stories & Articles
Jan 09, 2023

Looking for 2023 top rated affordable laser engraver with rotary attachment for custom YETI cups, mugs, ramblers, or tumblers with best budget? Review 2023 best laser engraving machine buying guide to personalized cups, tumblers, ramblers, and mugs of stainless steel, glass, ceramic, titanium, aluminum, copper, brass, silver, gold, wood, plastic, acrylic, paper, stoneware, melamine with letters, logos, signs, monograms, names, vinyls, glitters, patterns, and pictures.

May 20, 2022

Except for marking black, white, gray, the MOPA fiber laser marking system can also etch colors (orange, yellow, red, purple, blue, green) on stainless steel, chrome, and titanium. Today, we will explore how does a fiber laser engraver mark different colors on stainless steel.

Dec 02, 2022

Looking for an affordable CO2 or fiber laser engraver cutter for custom jewelry maker with hobbyists or business to make money? Need a CNC laser jewelry engraver cutting machine for beginners? Review this guide to buy 2022 best laser jewelry cutter engraving machine for personalized jewelry gift & jewelry box making with metal, silver, gold, stainless steel, copper, brass, aluminum, titanium, glass, stone, acrylic, wood, silicon, wafer, zircon, ceramic, film.

May 19, 2022

Looking for a laser engraver to engrave logos, signs, names, tags, patterns or photos on knife blade blanks or knife handles? Review 2022 best CO2 or fiber laser engravers for knives with 3d deep engraving, online flying engraving, color engraving and black white engraving.

May 26, 2022

Fiber laser marking system adopts laser wavelength of 1064nm fiber laser, and UV laser marking system adopts laser wavelength of 355nm ultraviolet laser (pumped purple light laser). Different working principles make them with different applications.

Nov 09, 2019

The following procedures are listed for reference only to provide a general overview of the laser marking machine setup process. Refer to the laser marking machine installation and maintenance manual for complete setup details. 

Feb 28, 2023

Fiber laser marking machine is professional to engrave stainless steel, iron, copper, magnesium, aluminum, gold, silver, titanium, platinum and other metals. It can meet the custom engraving requirements of higher depth, smoothness and fineness.

Mar 16, 2020

There are some differences between laser engraving machine, laser etching machine and laser marking machine. How to distinguish them, STYLECNC will tell you as following.

May 25, 2022

Need a CNC sign making machine to custom signage for your home & business to meet your budget and style? Review the guide on how to make custom signs with CNC router, laser engraver, laser cutter, plasma cutter or other CNC machines.

Aug 30, 2021

Compared to traditional mechanical engraving, chemical etching, screen printing, ink printing, you can get 10 major benefits from fiber laser engravers (fiber laser marking machines).
Customer Reviews & Testimonials
Dorsett

from AustraliaPosted on

Jan 14, 2023

I have just received the STJ-50F. Worked out of the box and had no issues at all. Exactly the same as described. I puchased the latest model and the EZCAD software was included. Got the fiber laser engraver up and running with the software installed and my first engraving and cutting in about 30 minutes. Resulted in clear & smooth edges and lines. Easy to use for a novice with the instructional videos. Great for the price and worth buying. Recommend getting the exhaust fan, which is a must have for indoor use.

Alexander Brabyn

from AustraliaPosted on

Nov 13, 2022

I purchased this fiber laser engraver after researching how to videos and learning its pros and cons in advance. Assembly was sort of easy with the instruction book. The software that comes with it is easy to use. I have done a few tests for 3D deep relief engraving and stippling guns with some examples and a couple of my own creations. It worked well and resulted in smooth and clear patterns. A great gun engraver kit for anyone with intuition and patience on custom personalized firearms. So far it is worth the money.

Tony Gomez

from United StatesPosted on

Aug 08, 2022

I like the size of the laser engraver a lot. Assembly instructions are not the greatest but useable. Software is easy to use for beginners. The seller was very responsive when I had an issue with a part. Have used it to engrave a couple of metal blanks. It made good engravings while it lasted.

Gravart Jagodina

from SerbiaPosted on

Jul 29, 2022

This fiber laser arrived in 7 days with surprise via TNT courier. Thanks for the USB stick came with it, which contains software, digital directions, videos, and easy-to-follow tips to setup and operate. Also had paper copy of instructions. Took about 20 minutes to put it together and figure it out. Used this to make personalized metal credit cards for my workshop. Did a good job with engraving patterns and texts on stainless steel and titanium.

Matthew Andrus

from United StatesPosted on

Jul 28, 2022

Got it very quickly in less than 13 days and everything was great. The only issue was that the laptop came without a battery. STYLECNC's explanation is that due to the shipping policy, the battery cannot be shipped with the laptop, so I had to buy one myself from Amazon.

Antonio

from ItalyPosted on

Jun 26, 2022

This is my first tool getting into laser. For a novice, the manual is easy to follow. The STJ-20FM is quick to set up and easy to get running with the software provided. Fast speed and have had impressive results with engraving colorful signs on stainless steel cards. The rotary attachment is fantastic for etching YETI cups, as well as bracelets and rings.

Nikki

from United StatesPosted on

Jun 15, 2022

My husband is starting a custom gun building business and he has to make a mark on the completed firearm to stay in accordance with the law of ATF. I searched for weeks and made some feature comparisons and finally decided to give the ST-50F a chance. Took 7 days for shipping. Got it on June 9. How easy and precise the fiber laser engraver fits together makes it worth the money. This unit works great for small gun parts. Rotary laser engraved marks have surprised me. So far it has performed better than expected.

Kazuhiro

from JapanPosted on

May 07, 2022

これは最高の投資です。10 分で準備が整いました。 正しく使用するには、説明書をよく読む必要があります。金属への深い彫刻には非常に実用的です。 私はこのレリーフ彫刻家に満足しており、カスタム彫刻を始める準備ができている人には強くお勧めします.

Masahiro Kamei

from United StatesPosted on

Mar 08, 2022

Very good fiber laser engraver. It's portable, easy to carry and move. On receipt, I was slightly concerned about some damage to the shipping container, but once I opened it, the system was so well-packed that it made no difference. Assembly was easy and probably add a secondary platform from Thorlabs or Newport to improve the precision by which targets may be placed for etching, which I anticipate going as easily as placing the guides that came with the system. Software and driver installation was easy and now it's a matter of adjusting to the quirks and limitations of EZCAD. The foot pedal seems to do nothing and it is not even mentioned in the documentation. Mechanically, there is only one way for it go in, so that's not the issue. In consequence, I have it on a switched outlet and I further safeguard against accidents by unplugging it when not in use. Does very well on the business card targets provided. Etched Ni-steel test target, but slightly faint. If deep etching steel, go 50W.

Felipe

from SpainPosted on

Oct 02, 2021

I just figured out and installed the software, everything working fine, nice laser metal engraving machine in want to buy another one next year. But now, will contact Therese send the charge by Alibaba to buy a rotary attachment for marking rings and bracelets.