Hobby Fiber Laser Engraver for Home Shop and Small Business
Type: Fiber Laser Marking Machine
Sale Price: $4800.00 / Set
Price Range: $4800.00 to $11800.00 / Set Based On The Features
Supply Ability: 600 Sets / Month Waiting for Your Order in Stock
Global Shipping: Available to Your Location in
Payment Terms: T/T, Credit Cards, e-Checking, Alibaba Trade Assurance
Hobby fiber laser engraver with full enclosed cover to keep the smoke in the protection case for health and safety. 2022 best hobby laser engraving machine has advantages of healthy, environmental and user friendly, which is suitable for small business and home shop.
Demonstration Video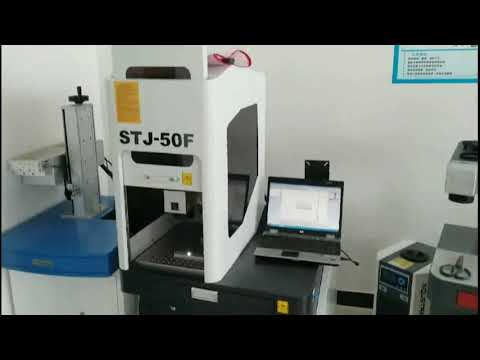 Product Details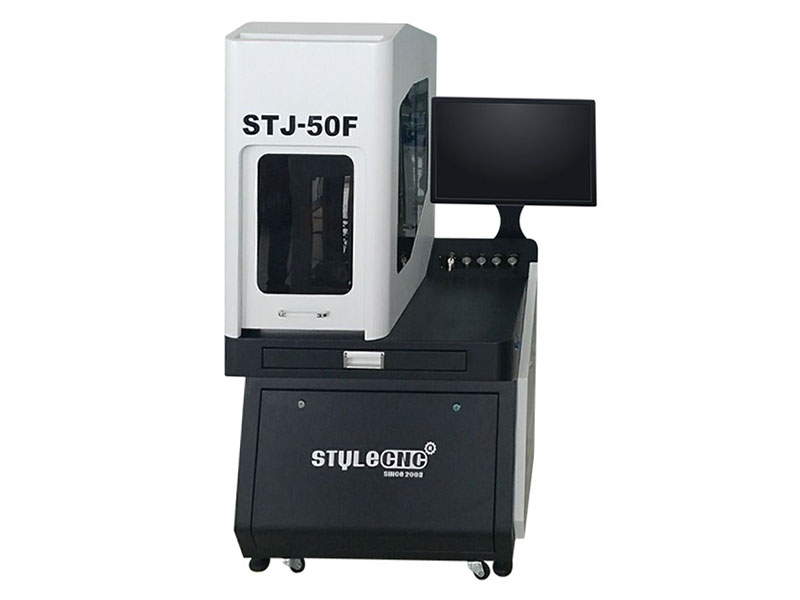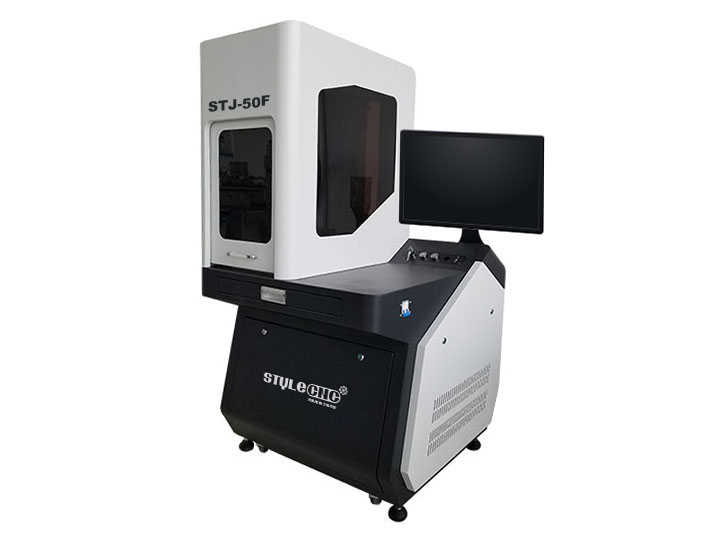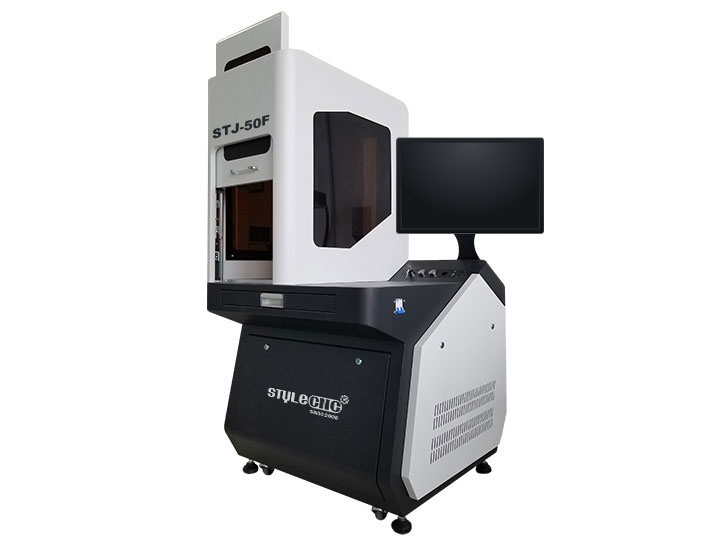 2022 Best Hobby Fiber Laser Engraver Features
1. Low Cost in use: No wearing part. Free of maintenance.
2. High Speed: Imported laser scanning system makes the marking speed up to 7000mm/s.
3. High Precision: High precision, re-position precision is 0.002mm.
4. Energy Saving: The efficiency of optic-electrical converting is up to 70%.
5. High Reliability: MTBF (Mean Time Between Failures) >100,000 hours
6. Integrated and Compact: Small size with wheels, easy to move.
7. Easy Operating: Easy operation, free training, trouble free.
8. 10 Years Long Lifetime: Fiber laser device 100000 hours lifetime.
10. Air Cooling: No consumables, low running cost, saving electricity and energy.
11. Innovative integrated all-in design, fully enclosed maintenance-free optical system.
12. MOPA laser is available, which can mark colors on stainless steel.
13. 3D dynamic engraving is available, which can mark on 3D curved surface with auto focusing system.
Hobby Fiber Laser Engraver Technical Parameters
| | |
| --- | --- |
| Brand | STYLECNC |
| Model | STJ-50F |
| Laser Source | Fiber laser |
| Laser Power | 50W |
| Laser Wavelength | 1064nm |
| Fiber Cable Length | 2m |
| Pulse Width | 200ns |
| Repetition Frequency Range | 1-600kHz |
| M2 | <1.8 |
| Max.Single Pulse Energy | 1.25mJ |
| Output Power Stability | <5% |
| Output Beam Diameter | 7±0.5mm |
| Power Range | 0-100% |
| Marking Range | 110*110mm/200*200mm/300*300mm |
| Minimum Line Width | 0.01mm |
| Minimum Character | 0.1mm |
| Marking Speed | ≤7000mm/s |
| Marking Depth | Depend on materials |
| Repeatability Accuracy | ±0.001mm |
| Marking Format | Graphics, text, bar codes, QRcode, automatically date, batch number, serial number,etc. |
| Graphic format supported | Ai, plt, dxf, dst, svg, nc, bmp, jpg, jpeg, gif, tga, png, tiff, tif |
| Working Voltage | 220V±10%/50Hz or 110V±10%/60Hz or customized |
| Unit Power | <0.5kw |
| Working Environment | Clean and dust free or dust less |
| Working Condition Humidity | 5%-75%, 0-40 degree, free of condensed water |
| Laser lifetime | >100000 hours |
| Net weight | 180 kgs |
| Packing Size | 900*950*1700mm |
| Price Range | 4,800$ -11,800$ |
Hobby Fiber Laser Engraver Applications
Application Scope:
Portable fiber laser engraver with full enclosed cover can be used for both metal and non-metal material marking, and it can mark time, date,text, serial and part numbers, company logos, icon, symbol, bar codes, 2D codes, matrix and vector fonts on all plain, painted, powder coated, anodized, plated metal surfaces, whether they are flat sheets, curved surfaces, or cylinders.
Application Industry:
Electronics: iPhone, iPad, iPod, Keyboard and more standard parts.
Jewelry Acessories: Rings, Pendant, Bracelet, Necklace, Sunglasses, Watches, etc.
Electronic Components: Phone, Pad, Resistors, Capacitors, Chips, Printed Circuit Boards, etc.
Mechanical Parts: Bearings, Gears, Standard Parts, Motor, etc.
Instrument: Panel Board, Nameplates, Precision equipment, etc.
Hardware Tools: Knives, Tools, Measuring Tools, Cutting Tools, etc.
Automobile Parts: Pistons, Rings, Gears, Shafts, Bearings, Clutch, Lights
Handicrafts: Zipper, Key Holder, Souvenir, etc.
Hobby Fiber Laser Engraving Machine Projects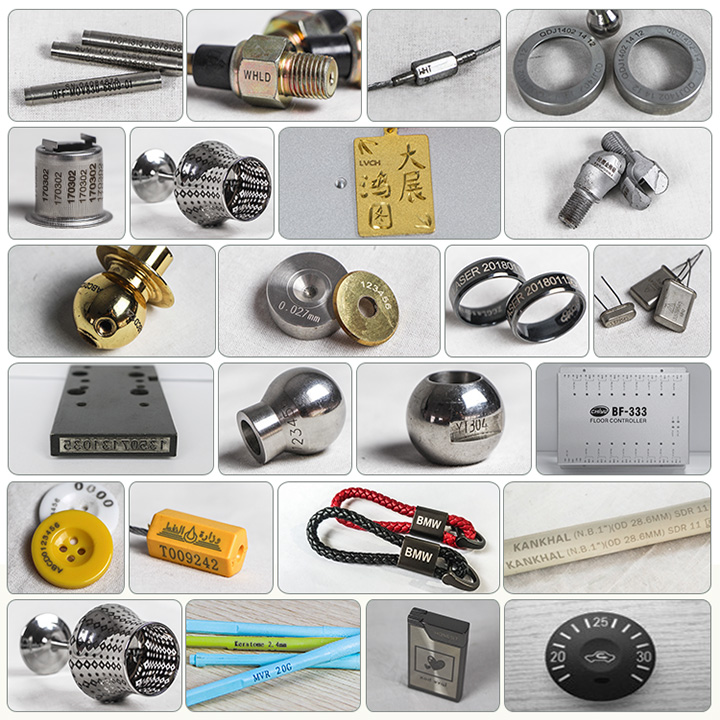 Shipping & Package for 2022 Best Hobby Fiber Laser Engraving Machine with Full Enclosed Cover
1. Durable wooden case or as per required.
2. The delivery lead time would be 5-7 working days after recieving the payment.
3. As for the wholsalers/distributors, we could send the cargo by air, by sea or by railways via reliable forwarder.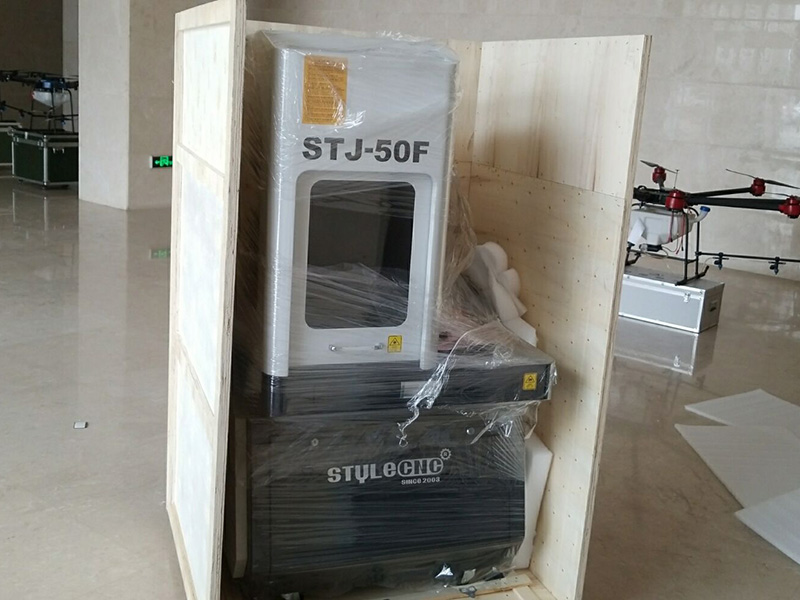 Service for 2022 Best Hobby Laser Engraver with Fiber Laser Source

1. Warranty
3 years warranty for this fiber laser engraver.
Our customer will be fully trained for the operation and maintaining technology after the order confirmed.
24-hour full after sales service: our skilled engineer will help customer to solve the problem by Skype or Whatsapp in time when problems happen, if necessary, door-to-door service is available.
2. Quality Control
Skilled and strict quality inspection team is available during the material purchasing and production procedure.
All finished fiber laser engraver we delivered are 100% strictly tested by our QC department and engineering department.
3. OEM Service
Customized and OEM orders are welcome due to our aboundant experiences.
All the OEM services are free, customer only need to provide us with your logo drawing, function requirements, colors, etc.
No MOQ required.
4. Privacy
None of your personally identifiable information (such as your name, address , email address, bank info, etc ) will be disclosed or shared with any third parties.
Contact: All of your inquiries, questions or problems will be answered within 24 hours, even in holiday. Also, please feel free to call us if you have any emergency questions.
5. Payment Terms
30% T/T paid in advance, the balance paid before shipment.
Irrevocable L/C at sight.
Credit card.
International Shipping Around the World
All the CNC laser machines can be shipped worldwide by sea, by air or by international express logistics via DHL, FEDEX, UPS. You are welcome to get a free quotation by filling up the form with name, email, detailed address, product and requirements, we will shortly contact you with the full information including the most suitable delivery method (fast, secure, discreet) and freight.
Post A Review
Customer Reviews and Testimonials
Kiran

from PalestinePosted on

Dec 07, 2020

Set up was easy in 15 minutes. There is a learning curve but once you understand how to operate this machine, it will be lots of fun. And the fiber laser engraver is easy to use, and as long as you are a beginner with a little bit of computer savvy, you should have no problems with this unit. I think it's made well and worth checking out if it fits into your budget. I would call it a 5 star buy for price vs quality and features.

Benjamin

from United StatesPosted on

Oct 17, 2020

Delivered quickly. Packaging is good. This fiber laser continues to surprise me - it is a lot of fun if you are willing to take the time and are skilled in hardware/software. This after sell servicer has been very nice and given me great support. Highly recommend all around.

Amy Gerhardt

from United StatesPosted on

Jun 23, 2017

Fabulous engraver for the money. Assembly was easy with directions. There were only a few issues I had to go back and fix. Portable design makes it easy to carry and use. I would definitely recommend.

Evgeniya

from RussiaPosted on

May 20, 2017

После долгих раздумий и множества обзоров и сравнений я остановился на этом лазере. Я просто не увидел никаких преимуществ перед известными на рынке лазерами, которые к тому же значительно дороже. STJ-50F производит очень солидное впечатление и до сих пор выполнял поставленные задачи с честью. После нескольких модификаций для меня больше нет никакой разницы с профессиональным лазерным гравировальным станком. Также следует отметить отличное обслуживание клиентов STYLECNC. Так как вилка сломалась при сборке, я написал в службу поддержки и тут же получил отзыв и замену.