Online Flying Raycus Fiber Laser Marking Machine for Metal Parts & Tools on Sale
Type: Fiber Laser Marking Machine
Sale Price: $2600.00 / Set
Price Range: $2600.00 to $3600.00 / Set Based On The Features
Supply Ability: 600 Sets / Month Waiting for Your Order in Stock
Global Shipping: Available to Your Location in
Payment Terms: T/T, Credit Cards, e-Checking, Alibaba Trade Assurance
20W online flying Raycus fiber laser marking system is used for marking on the fly (MOTF) in industrial mass production and assembly line production with metal parts, tools, tags, signs, wire, electron components. Now the online flying industrial fiber laser printing system for sale at affordable price.
Demonstration Video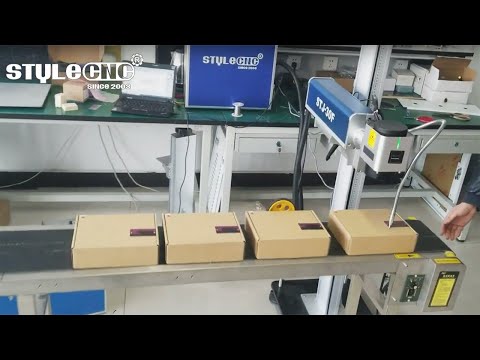 Product Details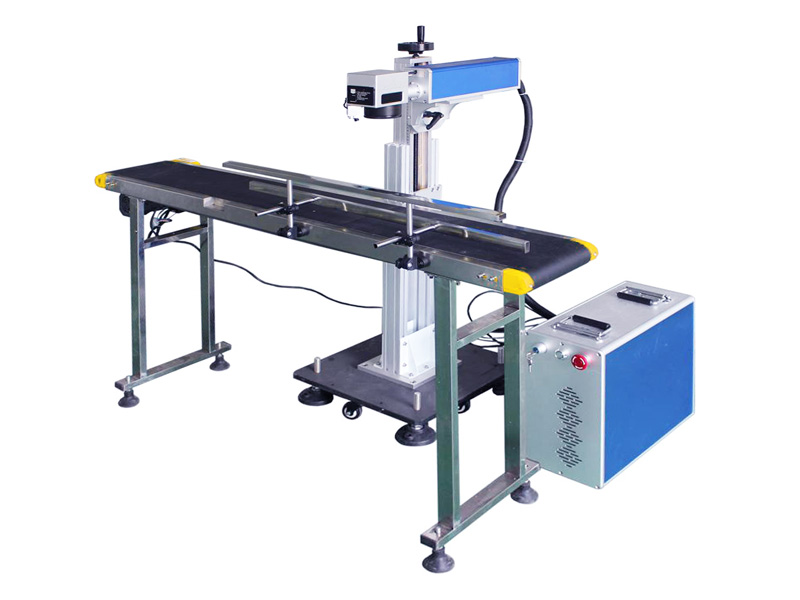 What Is Online Flying Fiber Laser Marking Machine?
Online flying fiber laser marking machine is a type of laser engraving system for marking on the fly (MOTF) in industrial mass production in the form of an assembly line. It adopts a rotatable laser head, which can realize marking in multiple directions, such as downward and forward. It can be installed in a variety of production lines to realize online flying marking.
How Does Online Flying Fiber Laser Marking Machine Work?
Online flying fiber laser marking machine adopts a fiber laser generator, connected with a photoelectric probe, and automatically triggers to complete the automatic flying marking function on the assembly line. It can mark text and graphics. The flying laser marking system has strong text layout and graphics processing functions, and the flying laser marking system can automatically generate batch numbers and serial numbers. The plug-in intelligent control interface can be flexibly connected with various automation equipment and sensors, and the software functions can be flexibly modified according to specific conditions. For the characteristic requirements of the variable speed of the assembly line, optional speed card marking settings are provided to ensure the coordination of the symbol function and the speed.
Flight dynamic marking means that there is no work surface, and a more flexible method can be used to mark the appearance of the product without restrictions at 360 degrees, or it can be assembled on the assembly line, and the cooperation track rolls and completes the product marking. In recent years, it has caused widespread Applications. Choosing laser marking is not only environmentally friendly, but also anti-counterfeiting and enhances the product level from the side. The height of the main beam and the front and rear orientation of the flying laser marking machine can be easily scheduled. The laser head can be rotated 180 degrees and has a red light focus indicator device.
How To DIY Online Flying Fiber Laser Marking Machine?
The utility model discloses a flight type fiber laser marking machine, which comprises a post, marking, laser printing control system, laser cavity, base, electric control box, above the middle column is vertically positioned on a base, a rear panel control box and column connected by screws, after traversing tooling transverse in the column and central column the vertical position and fixed with screws, adjusting device before and after traversing tooling support frame is connected to the laser cavity is arranged transversely, adjusting device, laser printing control system located in the side column, marking and laser cavity with a connecting frame and is positioned at one end of the laser cavity. The optical fiber flying laser marking machine provided by the utility model has the advantages of compact structure, simple structure, easy manufacture and easy placement, and greatly reduces the space occupied by the equipment and is easy to move. And the fault rate is low, safe and reliable, easy to operate, easy to realize multi style marking scheme. One touch screen mode, the operation is more user-friendly, so that users easier to use.
Features of Online Flying Industrial Raycus Fiber Laser Marking System for Metal Parts & Tools
1. Wide Application Range
It is used for many materials such as metal, plastic, leather, alloy.
It is suitable for users who require batch production and high marking precision in food printing, medicine printing, soft-drink printing, cigarette code, wines industry, mineral water, daily cosmetic, wires, cables and all types of production lines.
2. Permanent Marking
Laser marking is a permanent marking. It won't fade, run or become less discernable as time passes like traditional marking including ink jet, hand engraving, dot-peen marking.
3. Long Service Time
Fiber laser model has a over 100,000 hours service life. Almost no maintenance during this period.
4. Easy to Operate
Support almost any Windows-based software like Coreldraw, AutoCAD, Photoshop.
5. High Precision
0.0025mm re-position accuracy. Minimum line width 0.01mm.
6. Non-Contact Process
Won't cause mechanical extrusion or mechanical stress to materials. Laser beam won't move the work piece.
7. Portable
Integration design causes small volume. Can be easily installed. Small footprint, easy to move and transportation. Size like a computer case.
8. High Speed Scanning Galvo Mirror
Providing high speed precise marking & engraving.
9. Various Lens for Different Marking Size
F=100mm/160mm/254mm/300mm/430mm.
10. Red Dot Pointer
To indicate the laser beam position.
11. Different Brand Fiber Laser Source
IPG/Raycus/JPT 20W/30W/50W/100W fiber laser source for option.
12. Powerful Software
It can be used in many applications like serial number marking, data marking, text/logo/graphic marking, barcode, 2D code.

13. Support Files with Many Formats
PLT, PCX, AI, DXF, BMP, JPG, etc.
Various add-ons for different applications like rotary marking on cylinder items, automatic marking on production line, filling line.
Applications of Online Flying Industrial Raycus Fiber Laser Marking System for Metal Parts & Tools
Applicable Industries
1. Mechanical Parts: Bearings, Gears, Standard Parts, Motor.
2. Instrument: Panel Board, Nameplates, Precision equipment.
3. Hardware Tools: Knives, Tools, Measuring Tools, Cutting Tools.
4. Daily Necessities: Handicrafts, Zipper, Key Holder, Sanitary Ware.
5. Automobile Parts: Pistons and Rings, Gears, Shafts, Bearings, Clutch, Lights.
6. Electronic Components: Resistors, Capacitors, Chips, Printed Circuit Boards, Computer Keyboard, Wire Marking.
Applicable Materials
Metals (including rare metals), engineering plastics, electroplating materials, coating materials, coating materials, plastics, rubber, epoxy resin, ceramic, plastic, ABS, gold, sliver, brass, steel, titanium, copper and other materials.
Technical Parameters of Online Flying Raycus Fiber Laser Marking System for Metal Parts & Tools
| | |
| --- | --- |
| Model | STJ-20F |
| Laser power | 20W |
| Laser source | Raycus fiber laser |
| Marking area | 110*110mm |
| Max marking speed | 7000mm/s |
| Min linewidth | 0.01mm |
| Min marking character | 0.2mm |
| Cooling way | Air cooling |
| Power supply | 220V/50Hz |
| Re-position accuracy | 0.0025mm |
| Laser indicator | Red dot pointer |
Projects of On-The-Fly Industrial Fiber Laser Marking Machine for Metal Parts & Tools in Industrial Assembly Line Production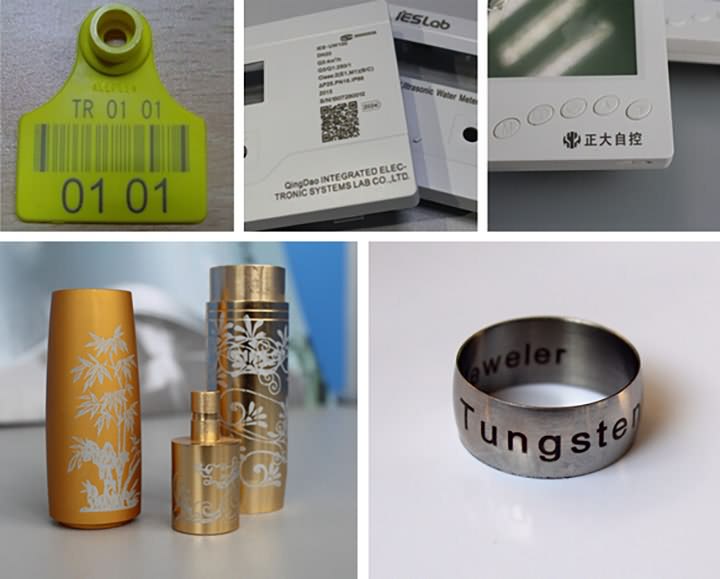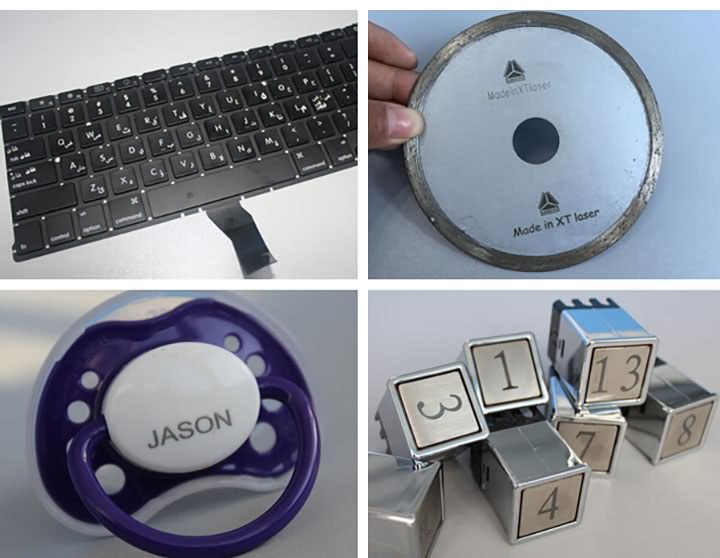 What Is Raycus Fiber Laser?
Raycus fiber laser is a high-tech enterprise specializing in the R&D, production and sales of fiber lasers from Wuhan, China. It is an influential fiber laser brand and service provider in the world.
Raycus fiber laser's main products include pulsed fiber laser generators from 10W to 2,000W; continuous fiber laser generators from 10W to 30,000W; quasi-continuous fiber laser generators from 75W to 450W; direct semiconductor lasers from 80W to 8,000W. The products are widely used in laser manufacturing such as marking, cutting, welding, cladding, cleaning, additive manufacturing and other fields; the main products of ultrafast lasers include 10W to 20W nanosecond lasers, 2W to 100W infrared picosecond lasers, 5W to 50W green picosecond lasers, 5W to 30W Ultraviolet picosecond lasers, 1W to 20W femtosecond lasers, are widely used in laser manufacturing such as: display and panel glass cutting, automotive glass cutting, FPC cover film cutting, 5G LCP cutting, OLED flexible display material cutting, LED wafer cutting, Semiconductor chip cutting and other applications.
Packing for On-The-Fly Raycus Laser Marking Machine for Metal Parts & Tools in Industrial Assembly Line Production
Normally use wooden box to pack the machine.
Payment & Shipping for On-The-Fly Industrial Raycus Fiber Laser Marking Machine for Metal Parts & Tools
1. Payment: T/T, 30% deposits; 70% balance before delivery.
2. Delivery Time: 3-5 work days after payment will ship the machine.
3. MOQ: 1 set.
Service & Support for Online Flying Raycus Fiber Laser Marking System for Metal Parts & Tools in Industrial Mass Production
1. We offer life-long technical support by call, email.
2. Our technician can give you remote guide online if you have any question.
3. We can record videos of operating the laser machine.
4. Free training course in our factory.
5. Engineer available to service machinery overseas.
6. Machine will be adjusted before it is delivered, operation disk/CD was included.
International Shipping Around the World
All the CNC laser machines can be shipped worldwide by sea, by air or by international express logistics via DHL, FEDEX, UPS. You are welcome to get a free quotation by filling up the form with name, email, detailed address, product and requirements, we will shortly contact you with the full information including the most suitable delivery method (fast, secure, discreet) and freight.
Post A Review
Customer Reviews and Testimonials
Riza Karasu

from NetherlandsPosted on

Jun 20, 2018

Shipping was speedy. The package was very secure, there were no dings or breaks during shipping. Everything stayed in place and there was no damage. I was able to be up and running in no time. I am very satisfied.

Augustine Dharmaraj

from QatarPosted on

Nov 13, 2017

Thank you very much for the excellent service, very satisfied with the fiber laser marker, excellent quality, thanks for all.

Vladislav

from RussiaPosted on

Jul 07, 2017

все супер. доставка до дома. приехало все целое.