MOPA Fiber Laser Marking Machine for Color Marking
Type: Fiber Laser Marking Machine
Sale Price: $5000.00 / Set
Price Range: $5000.00 to $6800.00 / Set Based On The Features
Supply Ability: 600 Sets / Month Waiting for Your Order in Stock
Global Shipping: Available to Your Location in
Payment Terms: T/T, Credit Cards, e-Checking, Alibaba Trade Assurance
Color laser marking machine with MOPA fiber laser source is used to engrave white, black, grey and colors on metals of stainless steel, chromium, and titanium. Now the best MOPA laser marking system for sale at cost price.
Demonstration Video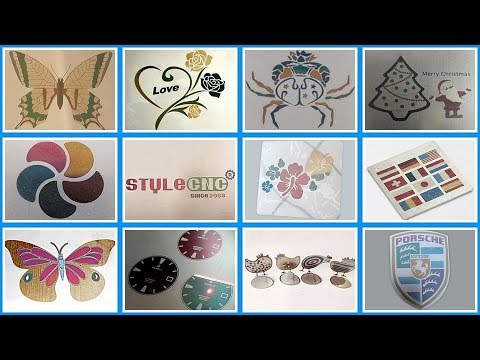 Product Details
What Is MOPA Laser Marking Machine?
MOPA laser marking machine is a fiber laser engraving system with main oscillation power amplification. MOPA refers to main oscillation power amplification. MOPA laser marking machine can easily black out alumina and aluminum alloy, and it can also be used on stainless steel and titanium. Color patterns are marked on metal materials such as chrome, chromium, etc., but it is difficult for other laser equipment to do this. MOPA laser marking machine adopts direct electric modulation semiconductor laser as the fiber laser of the seed source (MOPA) scheme, which has good laser characteristics and good pulse shape control ability.
MOPA laser marking machine outputs laser light from MOPA fiber laser with adjustable pulse width, and realizes marking function through high-speed scanning galvanometer system. With high-quality laser beam, low cost of use, 100,000 hours of maintenance-free, it is suitable for alumina blackening, stainless steel coloring, black plastic whitening, white plastic blackening and other fields. The laser pattern fonts are environmentally friendly and meet ROHS standards.
Compared with the common laser marking machine, the outstanding feature of MOPA laser marking machine is that the pulse width is adjustable and the frequency range is large. Generally, the pulse width of laser marking machine is fixed about 200ns, and the frequency is 1-600kHz. MOPA marking machine has an adjustable pulse width of 2-500ns and a frequency of 1-4000kHz. This equipment is designed with an integrated frame structure in the entire structure. It runs very stably during use, and there is no noise. The operator can also know the specific advantages when operating, so that it can be used more reasonably.
MOPA laser marking machine is suitable for mobile phone back cover, IPAD, aluminum blackening, mobile phone buttons, plastic transparent buttons, electronic components, integrated circuits (IC), electrical appliances, communication products, sanitary ware, tool accessories, knives, glasses and watches , Jewelry, auto parts, luggage buckles, cooking utensils, stainless steel products and many other industries.
How to Mark Colors on Metal with MOPA Laser?
MOPA laser marking machine can change the color of the surface layer of the material by adjusting the laser beam, so as to achieve the purpose of color marking. Under the action of the laser, the metal surface produces a laser thermal effect. Through the laser thermal effect, it is obtained that the laser energy density is proportional to the film thickness. As the laser energy increases, the color of the metal surface shows regular changes: yellow, red, blue, green until green gradually darkens. By controlling the laser energy density, the desired color can be produced on metal materials such as stainless steel, chromium, and titanium.
Features of Color Laser Marking Machine with MOPA Fiber Laser Source
1. JPT brand 60W MOPA fiber laser source, fiber laser service time is over 100,000 hours without maintenance.
2. Laser source with Air cooling, small size, low power consumption.
3. Motorized Z axis system, it is easy to mark and engrave different workpieces.
4. The machine has more higher photoelectric conversion efficiency. The efficiency of optic-electrical converting is up to 30%.
5. High speed galvo scanner to guarantee the stable beam and good performance.
6. Red light preview, make the marking visible before marking.
7. The proprietary control software may compatible software output of AutoCAD, CorelDraw, Photoshop, etc. It can realize automatic edition and correction of characters, signs, graphs, images, bar codes, 2D codes.
Technical Parameters of Color Laser Marking Machine with MOPA Fiber Laser Source
| | |
| --- | --- |
| Model | STJ-60FM |
| Laser Source | MOPA fiber laser |
| Laser Power | 60W |
| Laser Wavelength | 1064nm |
| Fiber Cable Length | 3m |
| Pulse Width | 2-500ns |
| Repetition Frequency Range | 1-4000kHz |
| M2 | <1.8 |
| Max Single Pulse Energy | 1.5mJ |
| Output Power Stability | <5% |
| Output Beam Diameter | 7±0.5mm |
| Power Range | 0%-100% |
| Anti-Reflection Protection | Yes |
| Marking Range | 110*110mm/175*175mm/200*200mm/300*300mm |
| Minimum Line Width | 0.01mm |
| Minimum Character | 0.1mm |
| Marking Speed | ≤7000mm/s |
| Marking Depth | Depend on materials |
| Repeatability Accuracy | ±0.001mm |
| Marking Format | Graphics, text, bar codes, QRcode, automatically date, batch number, serial number,etc. |
| Graphic format supported | Ai, plt, dxf, dst, svg, nc, bmp, jpg, jpeg, gif, tga, png, tiff, tif |
| Working Voltage | 220V±10%/50Hz or 110V±10%/60Hz or customized |
| Unit Power | <0.5kw |
| Working Environment | Clean and dust free or dust less |
| Working Condition Humidity | 5%-75%, 0-40 degree, free of condensed water |
| Laser lifetime | >100000 hours |
| Net weight | 65 kgs |
| Packing Size | 770*480*780mm |
| Camera system | Optional |
| Auto Focus Function | Yes |
Details of Color Laser Engraving Machine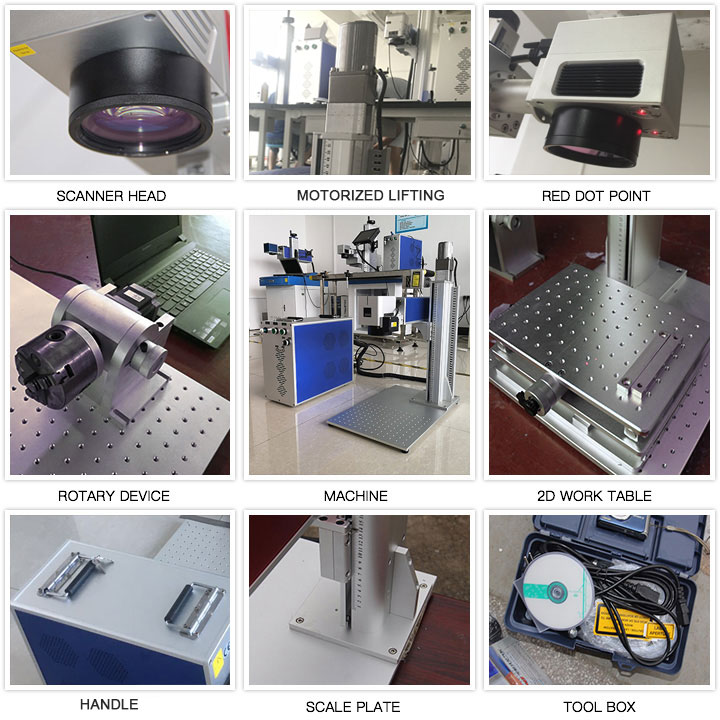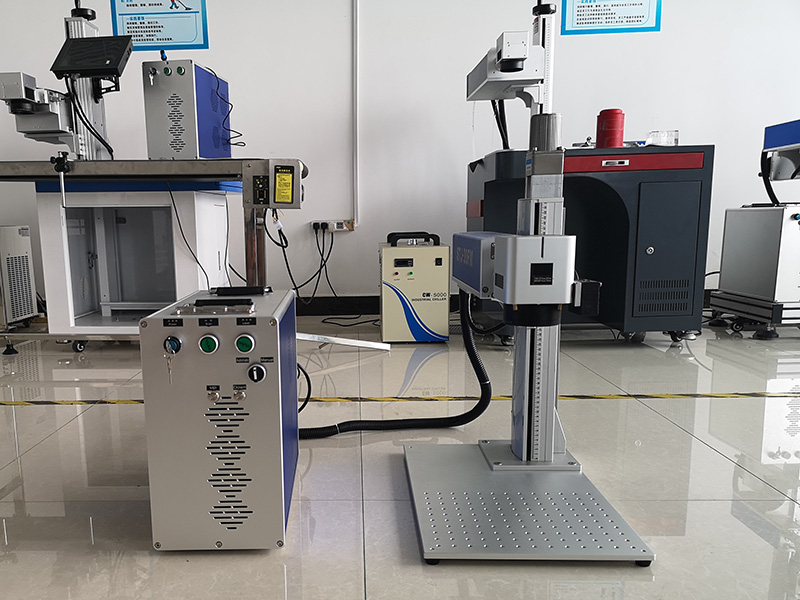 MOPA laser engraving machine head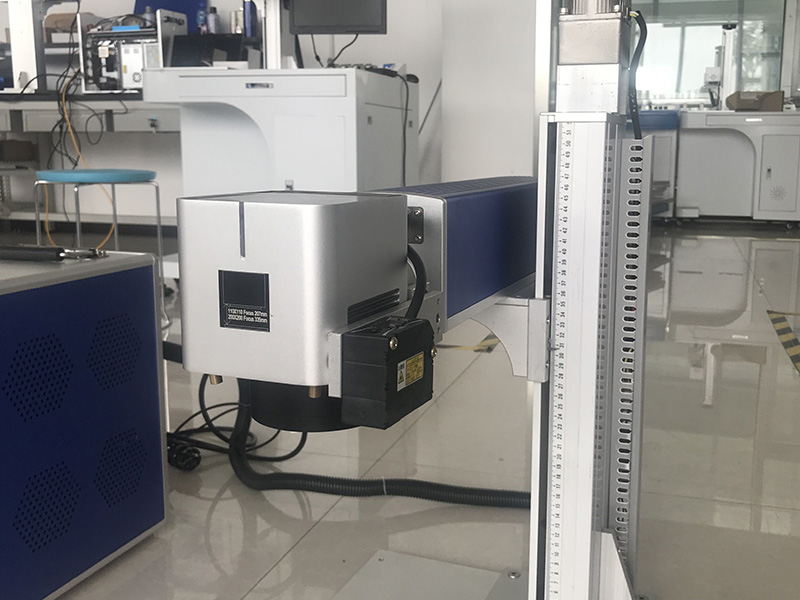 MOPA laser engraving machine field lens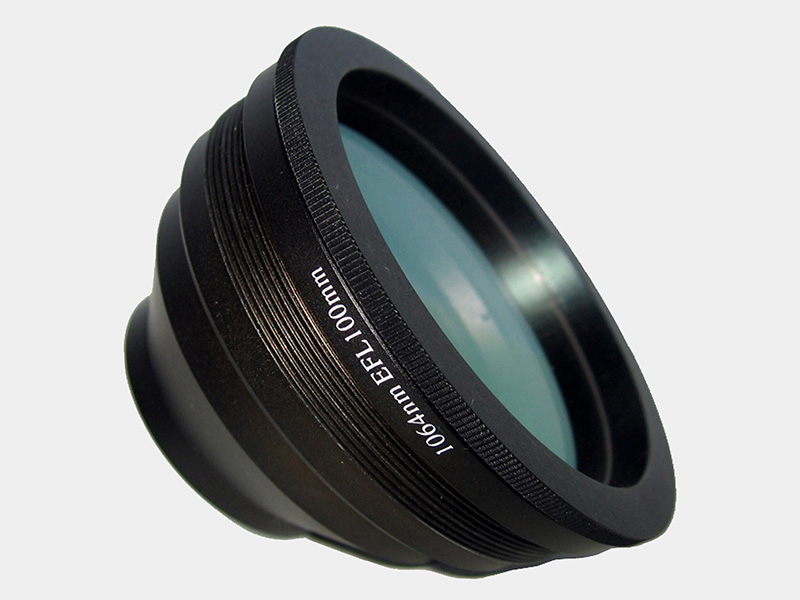 MOPA laser marking machine control card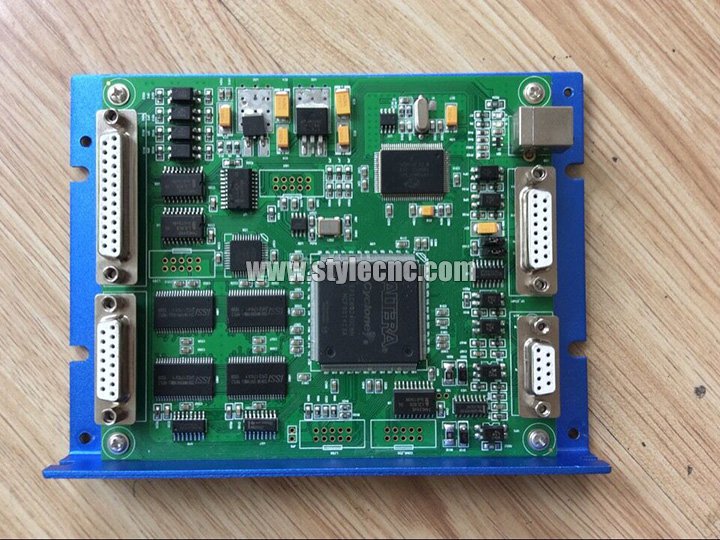 Applications of Color Laser Marking Machine with MOPA Fiber Laser Source
1. Aluminum sheet stripped surface: No deformation, fine marking.
2. Aluminum sheet black color marking.
3. Metal depth marking.
4. Stainless steel color marking: marking different colors by setting the parameters.
5. PCB, ABS, plastic without yellow color.
6. Light transmission paint keyboard: easy to make it pervious to light.
7. Electronic, semiconductor components, ITO precision machining: the pulse can be adjusted to get best facula, and make the power balance.

8. DIY custom metal credit cards with titanium, aluminum, stainless steel, gold, and silver.
MOPA Color Laser Marking Machine Projects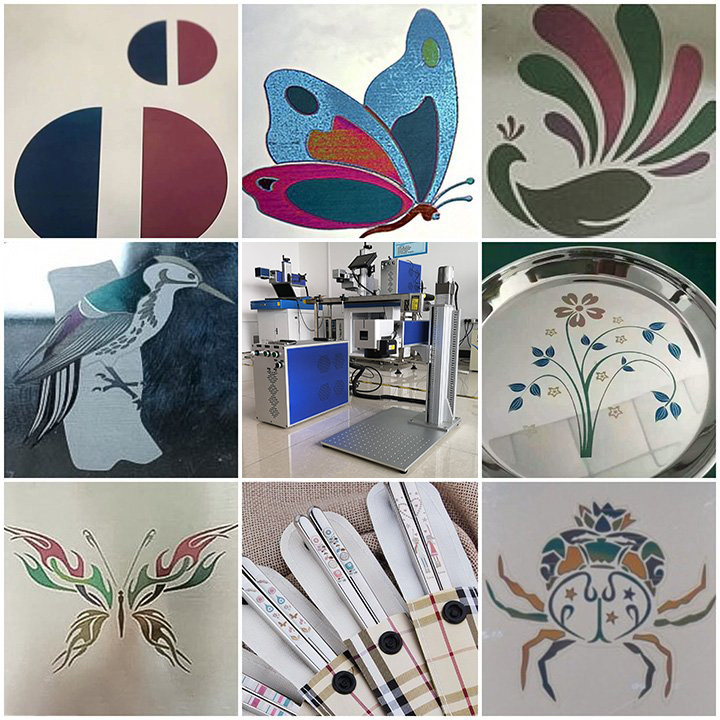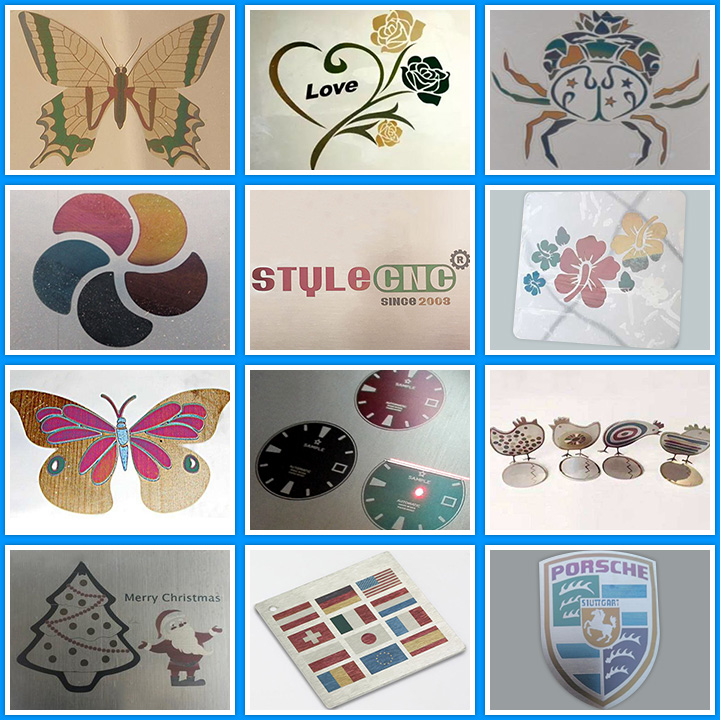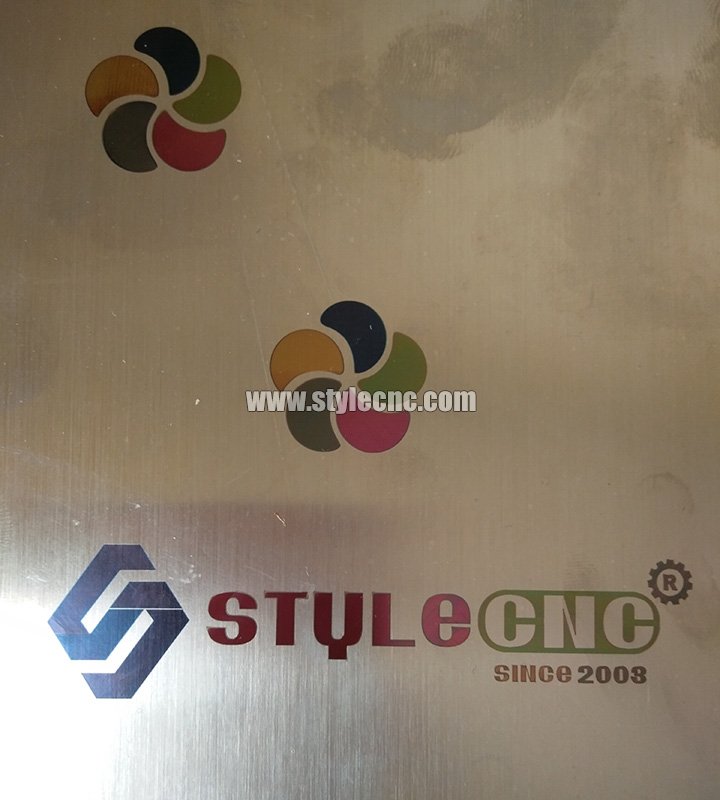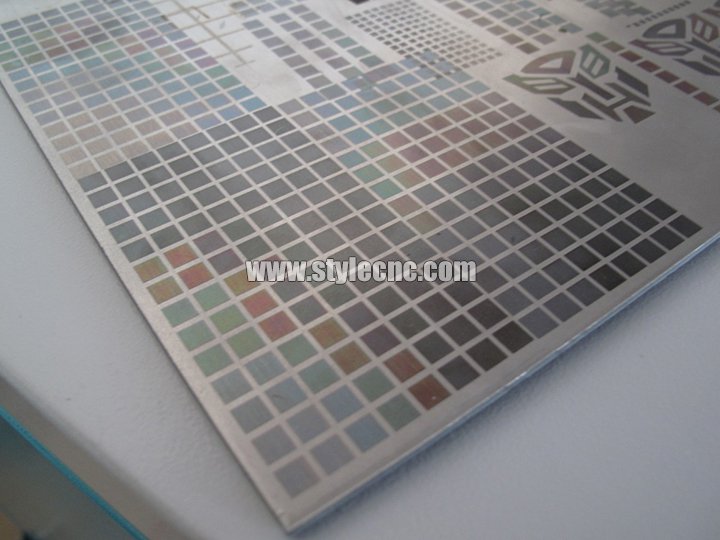 International Shipping Around the World
All the CNC laser machines can be shipped worldwide by sea, by air or by international express logistics via DHL, FEDEX, UPS. You are welcome to get a free quotation by filling up the form with name, email, detailed address, product and requirements, we will shortly contact you with the full information including the most suitable delivery method (fast, secure, discreet) and freight.
Post A Review
Customer Reviews and Testimonials
Yunus Demir

from TurkeyPosted on

Mar 18, 2020

I received this color laser marking machine promptly. This is so amazing. Now I am working on learning how to set the power and speed to make the best marking. Enjoy!

Edward Milum

from United StatesPosted on

Aug 07, 2018

I did a lot of research before buying this laser marking machine for color engraving. The box carrying it didn't look too bad. Plenty of Styrofoam protection inside with it being a box within a box. Overall the machine looked in pristine condition, no dings, cracks and no broke. So far, this engraver has been working well.

Jeffrey N Bailey

from United StatesPosted on

Jul 13, 2018

This engraver was light-weight and easy to take. I used this to etch logos, names and date on the surface of metal credit card blanks. Worked great as advertised. Also, I tested the color engraving on stainless steel cards and it performed well and met my expectations. All in all I'm pleased with this kit.