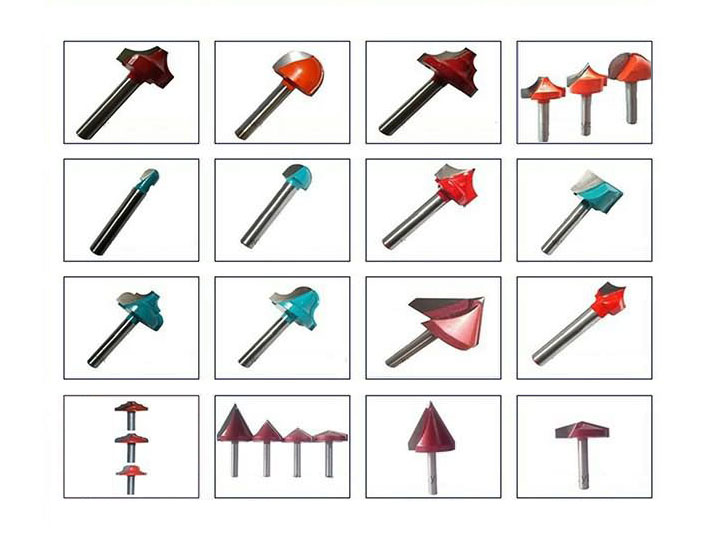 CNC router tools usually come in three different materials: high speed steel (HSS), solid carbide and diamond tooling. Before starting the guide, let's learn the CNC router tool geometry:
Flutes: This is the part of the tool that augers out the cut material. The number of flutes on a cutter is important in determining the chip load.
Shank: The shank is the part of the tool that is held by the tool holder. It is the part of the tool that has no evidence of machining. The shank must be kept free of contamination, oxidation and scratching.
Length of cut: This is the effective cutting depth of the tool or how deep the CNC router tool can cut into the material.
Cut diameter: This is the diameter or the width of the cut that the tool will produce.
Next, let's start CNC router bits and CNC router tools guide.

3D Burin CNC Tools
It has high concentricity, sharp edge. It is recommended to do precision 3D carving processing.
Edge CNC Router Bits
High density MDF, wood is recommended to use edge CNC router bits.
Double Edge Straight Slot CNC Bits
The multilayer board and plywood processing are recommend using double edge straight slot CNC bits.
Round Bottom CNC Tools
Precision small anaglyph processing is recommended using round bottom tools.
Double Blades Rowed Spiral Cutter
MDF cutting processing (advertising mould opening) is recommended to use double blades rowed spiral cutter. it has two high-capacity chip groove, double edge design, both has the very good chip removal function, and achieve a good balance tool. In processing high MDF, there is no black, no cap smoke. And it has long service life.
Single Blade Special Aluminum CNC Bits
Aluminum plate cutting processing is recommended using single blade special aluminum CNC bits. Non-stick knife in the processing, and quick speed, high efficiency.
Single and Double Blade Up-Down Cutter
On the double sides burr-free cutting processing, I recommend using single blade and double blade up-down cutter.
Single and Double Blade Straight Flute Sharp Cutter
Metal sculpture processing, I recommend using single and double blade straight flute a sharp knife.
Single Blade Spiral CNC Cutter
Acrylic cutting processing, I recommend using single blade spiral CNC cutter.
The characteristic is when processing it is smokeless and odourless, fast speed, high efficiency, non-stick crumbs, real environmental protection. The special manufacturing process ensures that processing acrylic does not burst broken, very fine grain (or even no cutter grain). And the surface is bright, clean and level off.
Machining surface to achieve frosted effect, it is recommended to use double three blade spiral CNC cutter.
Diamond Graver
Acrylic mirror engraving processing is recommended to use diamond graver.
Multi-Stripes CNC Router Tools
A rough machining particieboard is recommended to use multi-stripes CNC tools.
Tungsten Steel CNC Router Tools
The metal mold processing and milling cutter, it is recommended to use tungsten steel CNC cutter. The cutter has violet black hardened titanium plating surface.
Single Blade Helical Ball End Mill
Cork, density board, the original wood, PVC, acrylic large deep anaglyph processing, I recommend using single blade helical ball end mill.
Incised Cutter
The use effect of incised cutter processing is product surface without burr, And it won't become warped plate processing.
These are the details of the guide to CNC router tools. Hope this can help you. If you have any problems or requirements, please feel free to tell us.
No Previous Post Available