How to Make Custom Signs with CNC Machines?
Overview
Do you want to create custom signs for outdoor and indoor use for your home or business? Do you want to grow up to a sign maker to make money for industrial and commercial plans or fulfill your hobbyist ideas? Do you want to carve, engraver or cut signs with wood, metal (aluminum, stainless steel, copper, brass, gold, silver and more), acrylic, plastic, stone, foam for banners for store fronts, yard art, home decor gifts, yard signs, custom coat racks, vehicle graphics and wraps, wall art, stencils, signage for shops, office interiors, corporate identification, street signs, safety signs and more? From this article, you will learn how to make a variety of signs, and how to choose a right CNC router, laser engraver, laser cutter, plasma cutter, or other CNC machines for signs making with cheap price and low cost.
Fiber laser machine is a common CNC metal sign maker with high precision, high efficiency, high quality for all kinds of metal signs. If you want to custom metal signs, personalized stainless steel signs, aluminum signs, copper signs, brass signs, or display your name & logo for your business outdoor & indoor. A fiber laser cutter or fiber laser engraver is the best CNC metal sign making machine. A fiber laser engraver with MOPA laser can even engrave colors on stainless steel and titanium.
Fiber Laser Engraver for Signs Making
Fiber laser engraving machine is mainly used for metal signs marking, such as stainless steel, aluminium, automobile part, sanitary ware, jewelry, telecom apparatus, electronic parts, plastic key button, integrated circuit, etc.
Fiber Laser Engraver Prices
From $3,500.00 to $28,500.00.
Fiber Laser Marking Machine Features
1. Compact design: Advanced fiber laser module, air cooling way.
2. High precision: Re-position precision is 0.002mm, which is suitable for preicsely marking on metal parts, electronic components, etc. (Samples is below for reference).
3. Long service time: More than 100,000 hours.
4. Easy operating: Afford the specific marking software based on Windows, which is real-time adjust the laser power and pulse frequency. You can input and output by computer according to edit in the both of the specific marking software and the graphic software such as AutoCAD, CorelDRAW or Photoshop.
5. Low consumption: Due to the all air-cooled design, no consumable materials and free of maintenance, it has a low cost at use.
6. High marking speed: The speed can reach 10000mm/s.
7. Permanent marking effect.
8. Free of maintenance: No need adjust laser path.
Fiber Laser Engraving Machine for Sign Making Projects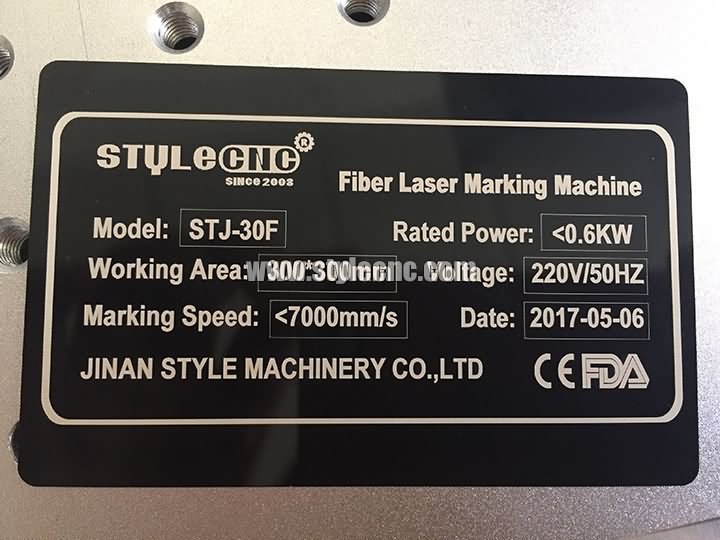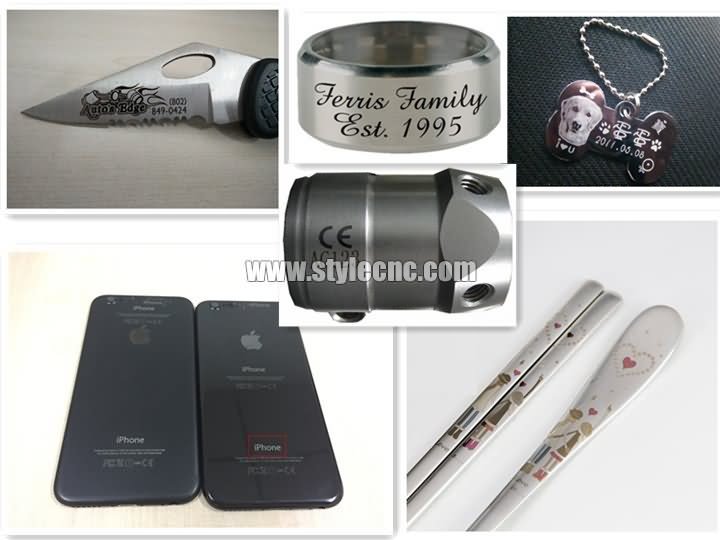 Fiber Laser Cutter for Metal Signs Making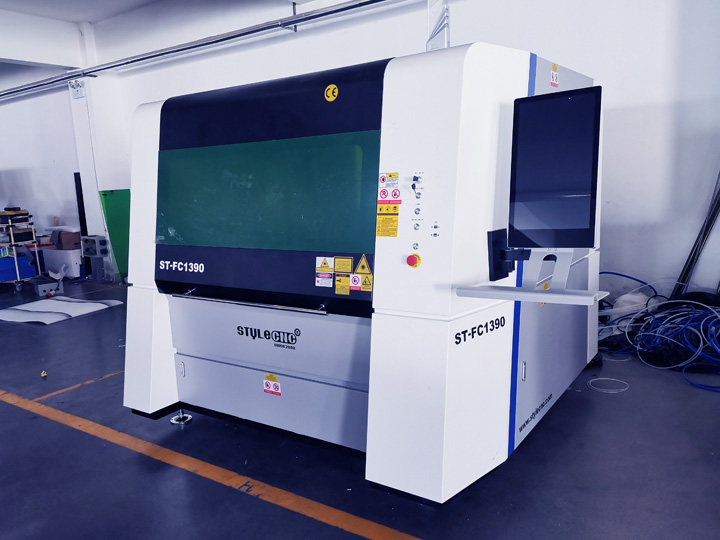 Fiber laser cutting machine is mainly used for cutting metal signs with carbon steel, silicon steel, stainless steel, galvanized steel sheet, aluminum, copper, brass, gold, silver and more metal materials.
Fiber Laser Cutter Prices
From $22,500.00 to $260,000.00.
Fiber Laser Cutter Features
1. Cutting head: Switzerland Raytools brand laser cutting head with auto sensor system to ensure metal cutting out of shape.
2. Control system: Cypcut control system and software with English language, applicable insert files with DXF or AI format. Drawing in the software is also okay. Software with fly cutting mode for the same projects to save time. With nesting function, autonomic compose type for saving materials and spaces.
3. Water chiller: When laser head cutting metals, it will produce some hot energy in laser head and laser device. Water chiller is used for cooling these two parts.
4. Transmission system: Gear-rack transmission system make the X and Y axis moving speed to be max 80m/min.
5. Driving system: Japanese Yaskawa drive motors. Match-able with the transmission system, improve cutting speed and precision.
6. Blade table: Feeding system with rolls. It is easy to load heavy sheet metals, it can protect the CNC machine to avoid to be scratched.
Fiber Laser Cutting Machine for Metal Signs Making Projects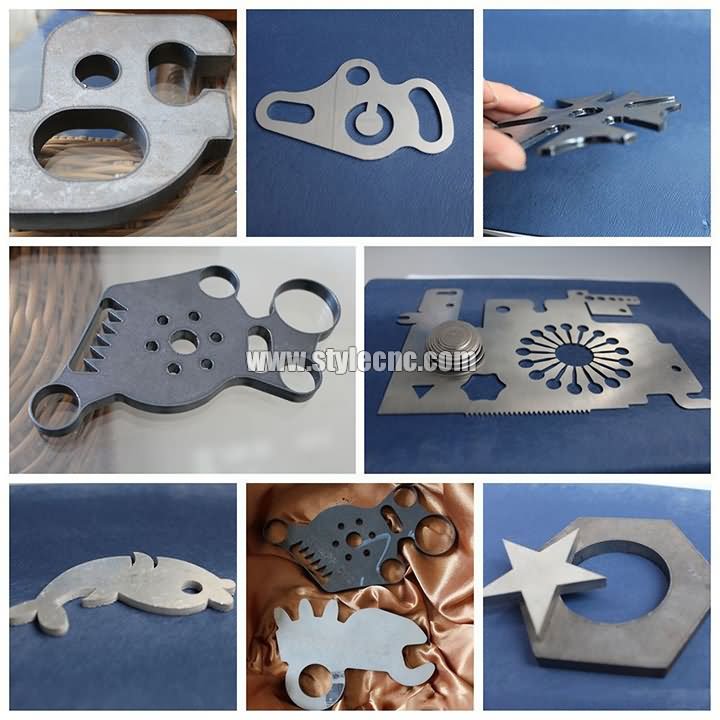 CNC router is a popular CNC wood sign maker for signage design, lettering design, logo design, graphic design, which is different from a laser engraver and laser cutter for wood sign making. CNC routers are also used to carve and cut signs in MDF, plywood, plastic, acrylic, bronze, composites, foam, aluminum and other materials.
CNC Router for Signs Making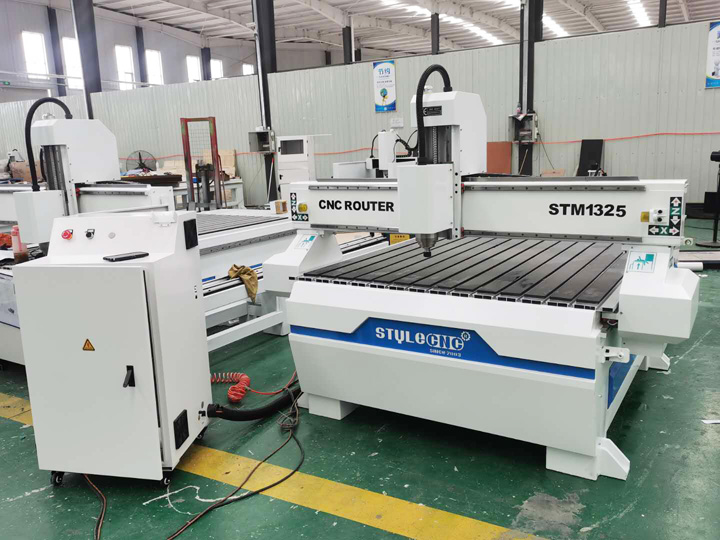 CNC router machine is maily used for carving and cutting signs with wood, aluminum board, plastic, density board, MDF board, wave board, PVC, acrylic, crystal, light marble and soft metal materials, like aluminum, copper, brass.
From $2,580.00 to $150,000.00.
CNC Router Machine Features
1. The whole machine is welded with seamless steel structure with aging treatment.
2. It adopts Taiwan HIWIN high precision linear orbit. X and Y axis adopt rack and pinion transmission, fast working, high efficiency. Z axis adopts Germany and Taiwan ball screw with high precision and long life time.
3. Well compatibility: CAD/CAM designing software like Type 3, Artcam, Castmate and more.
4. The function of re-carving after break point and power failure, it has the function of forecasting process time.
5. DSP, Mach3, or original Nc Studio control system for option.
6. Perfect oil-inject system makes maintenance more easier.
7. Good dust-collect function and considerate oil plate to keep the table always clean.
CNC Router Table for Sign Carving and Cutting Projects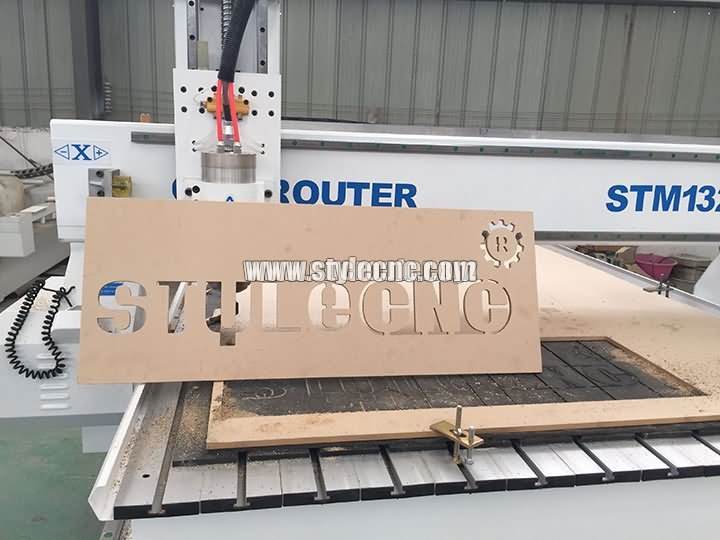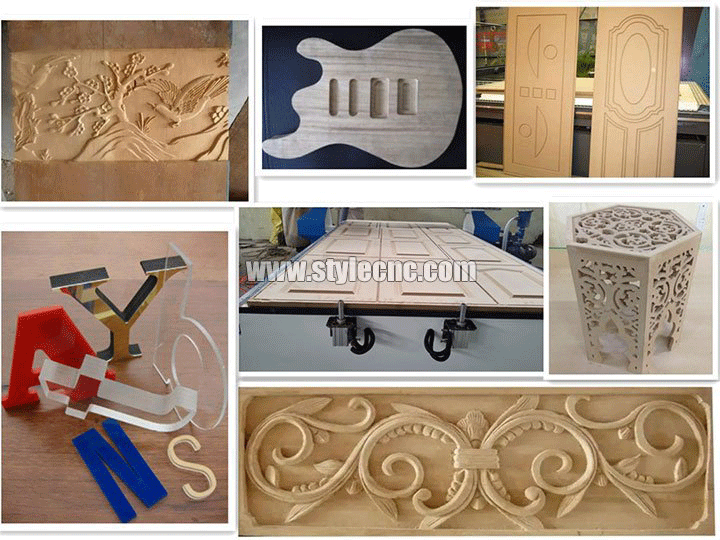 CO2 Laser Engraver and Laser Cutter for Sign Making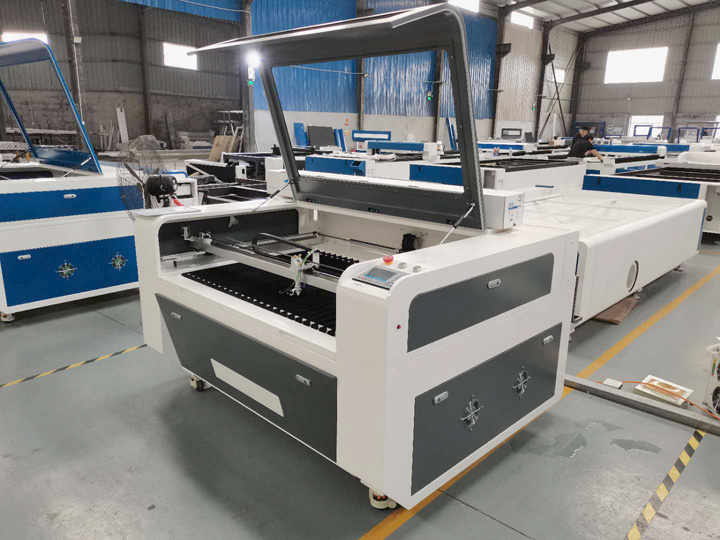 CO2 laser machine is an economical CNC sign making machine for wood, MDF, plywood, acrylic, plastic and thin metals, which is different from a CNC router machine and fiber laser machine.
CO2 laser engraving cutting machine is mainly used for engraving and cutting signs with plywood, MDF, acrylic, wood planks (light planks, paulownia wood), bamboo ware, double-color sheets, paper, leather, shells, coconut shells, ox horns, resin animal greese, ABS boards, lamp shade and more.
CO2 Laser Machine Prices
From $2,600.00 to $20,000.00.
CO2 Laser Engraving Cutting Machine Features
1. Taiwan HIWIN square linear guide rail is installed on X/Y axis to ensure the works stably and precisely.
2. The professional manufacturers adopts square tube framework with more than 40% higher fuselage strength than iron sheet structure. This design prevents the machine from quivering, resonance and distortion during long term work.
3. New-style high-efficiency RECI CO2 laser tube is adopted. Laser beam is more stable than the traditional type. The life span is more than 10,000 hours.
4. Red dot position system is added in standard configuration, contributing to simple and precise working position.
5. Advanced LCD Screen + USB port + Offline Control with professional motion control chip, it has the function of consecutively high-speed curve cutting and the shortest path selection, which greatly improves your working efficiency.
6. USB offline control system makes the operation more convenient and faster.
7. Automatic up-down table can be chosen for thicker materials and higher objects.
CO2 Laser Machine for Signs Engraving and Cutting Projects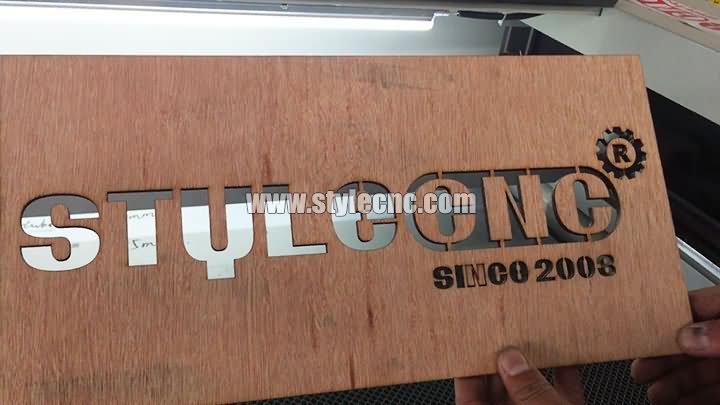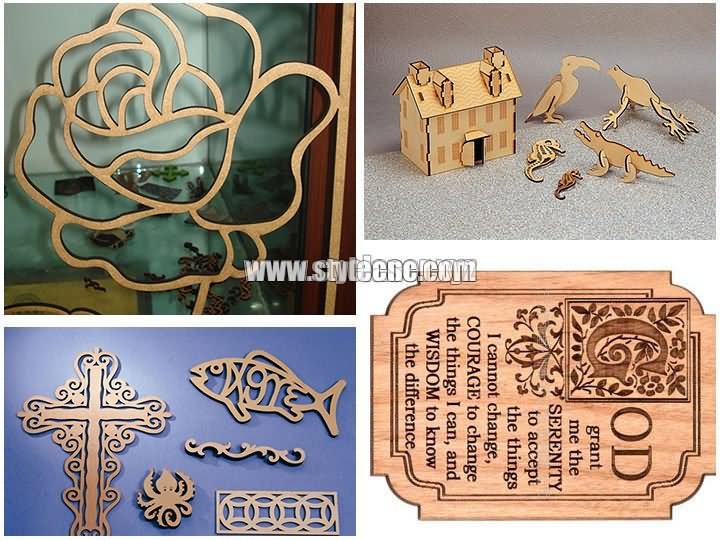 CNC Plasma Cutter & CNC Plasma Table for Custom Metal Signs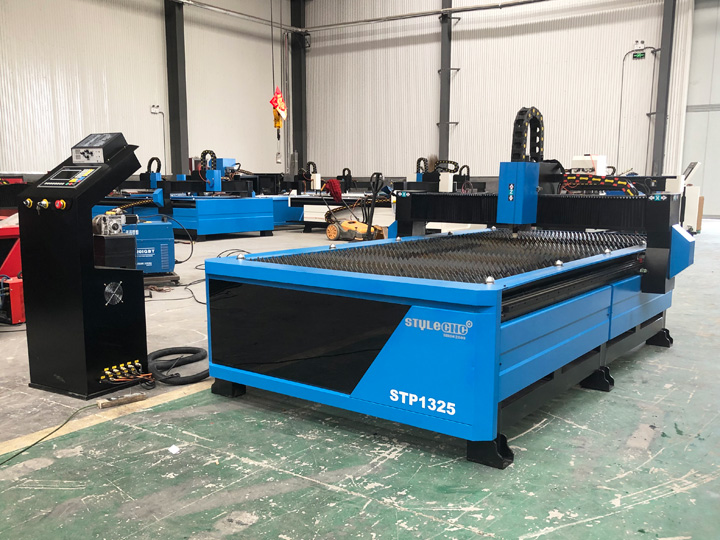 CNC plasma cutter is another metal sign making machine for cutting metals, which is cheaper than fiber laser cutting machine whthin your budget. If you want to custom plasma cut maltese cross, personalized metal signs, monogram metal signs, metal gifts, firefighter decor, aluminum or steel signs, custom last name signs without enough money, a CNC plasma cutter is an economical and practical choice.
A CNC plasma cutter or CNC plasma table can be used to cut metal signs, logos, and displays with steel, aluminum, iron, copper and brass for your home & business.
CNC Plasma Cutting Machine Prices
From $4,000.00 to $30,000.00.
CNC Plasma Cutter Table Features
1. HUAYUAN plasma torch is equipped, and USA Hypertherm plasma cutter for option.
2. HUAYUAN 100A power supply can cut less than 15mm sheet metal, its cutting thickness same as USA 65A Hypertherm power supply.
3. STARFIRE/START/FLMC-2300A/NC-Studio control system all is ok, English, Chinese, Russian, Spainsh, French, Czech, Janpanese, Slovakian and more version for your option, so you don't need worry about operate problem regarding language.
4. Automatic torch height controller can up and down with automatic regarding the sheet radian, so through your sheet is not flat, you also don't need to worry, the torch will collide the sheet to protect the plasma torch and ensure the cutting performance.
5. After nest your drawing by FASTCAM nesting software, it can make your cutting sheet in biggest usage, then it can reduce waste and save cost. STARCAM for option.
6. Taiwan Hiwin square guide rail will make machine with higher precision and higher cutting speed, more better cutting performance.
7. Open the Drawer to take cutting rubbish and small cutting pieces, instead of open the cutting table blade every time, then you can clean machine easily, and save more time.
8. Oiling system is used for oiling to rail automatically to keep the rails running smoothly to confirm the cutting precision all the time.
9. Janpan Yaskawa servo motor with Shmpo reucer can cut more complex drawing, the cutting precision is more better than step motor, and cutting is more smooth.
10. Water tank can absorb cutting smoke, and keep clear cutting environment, water cooling to guarantee cutting performance.
CNC Plasma Cutting Table for Custom Metal Signs and Displays Projects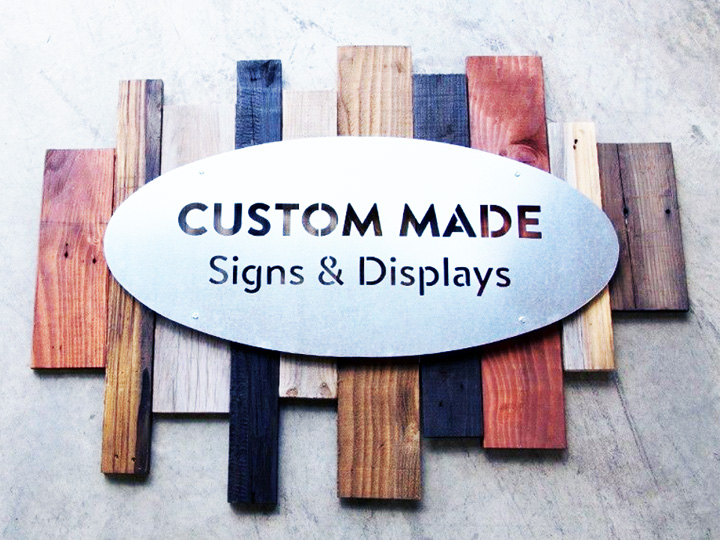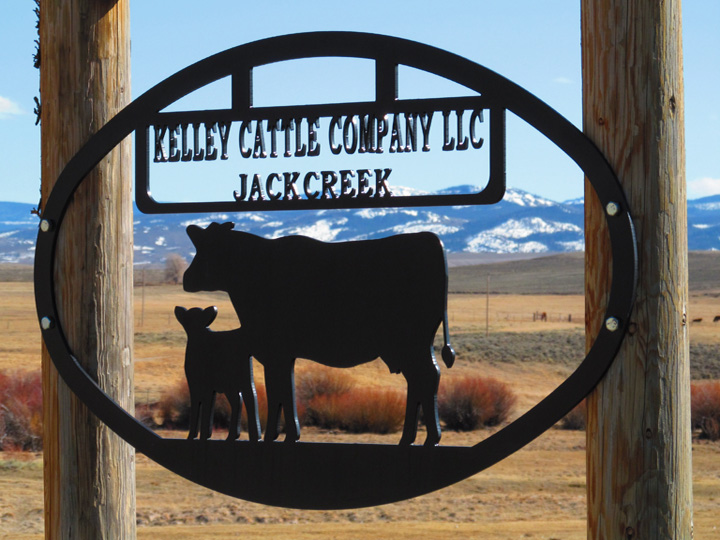 FAQs
What is a CNC Router for Sign Making?
A CNC router is an automated power machine tool controlled with a CNC controller, which can be used for carving, milling and cutting signs with wood, MDF, foam, stone, acrylic, aluminum, brass, and copper.
What is a Laser Machine for Sign Making?
A CNC laser machine uses fiber or CO2 laser beam to engrave, etch, mark or cut signs with stainless steel, carbon steel, aluminum, copper, brass, gold, silver, wood, plywood, MDF, foam, fabric, acrylic, leather, stone, plastic, and glass.
What is a Plasma Cutter for Sign Making?
A CNC plasma cutter or CNC plasma table is a computer numberical controlled metal cutting system for metal signs, logos, displays of steel, aluminum, iron, copper, brass and a wide variety of custom designed metal pieces for signage.
Summary
If you need a CNC wood sign making machine, choose a CNC router or CO2 laser engraving cutting machine; If you need a CNC metal sign maker, a fiber laser engraving cutting machine or plasma cutter is a good choice, of course, CNC router and CO2 laser machine can also custom metal signs. When you have an idea to make custom signs & signage or DIY personalized signs, don't hesitate to tell us, we'll send you free quote of sign making solutions with configurations of CNC machines (CNC router machine, laser cutting machine, laser engraving machine, laser marking machine and plasma cutting machine), materials of signs, prices of sign making machines. All will help you to choose an affordable CNC sign making machine with cutting, carving, engraving, marking and milling.