Wood, Acrylic, MDF laser cutter for sale with best price
Model: STJ1325-4
Category: Non-metal laser cutting machine
Views:

572
Brand:
STYLECNC
®
Rating:
Standard Price:

$

4900.00

/ Set
Price Range:

$

4900.00

to

$

6900.00

/ Set according to configuration

The price will float according to the configurations of Wood, Acrylic, MDF laser cutter with four laser cutting heads
Supply Ability: 10 Sets / Month In stock! From - Jinan Style Machinery Co.,Ltd
Payment Terms: L/C(Letter of Credit), T/T(Telegraphic Transfer), Western Union, Alibaba
Mail to us
Request for Quotation
STJ1325-4 150W laser cutter with four laser cutting heads is used to cut wood, acrylic, MDF with high speed and efficiency. Now the laser cutter for sale with best price.
Video Show
Product Show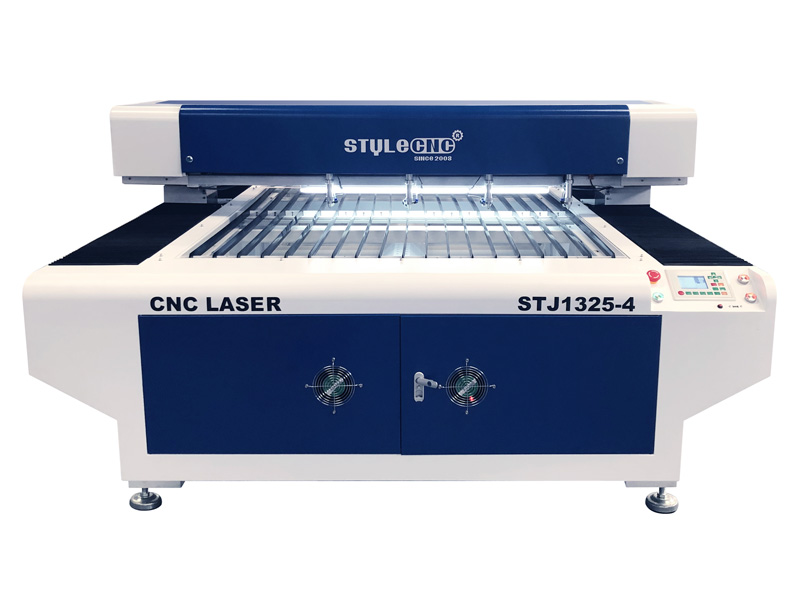 Applicable Industries:
Applied to Acrylic, cloth, leather, rubber, toys, computer embroidery cutting, mould, crafts, bamboo and wood, advertising and building decoration, packaging and printing, paper products industries .
Applicable Materials:
Available for engraving and cutting acrylic, color plates, ABS board, rubber, plastic, cloth toys, leather, wool, crystal, glass, ceramic tile, MDF, jade, bamboo products, wood products.
Features of Wood, Acrylic, MDF Laser cutter:
1. New-style high-efficiency RECI laser tube is adopted. Laser beam is more stable than the traditional type. Usage age is more than 10000 hours.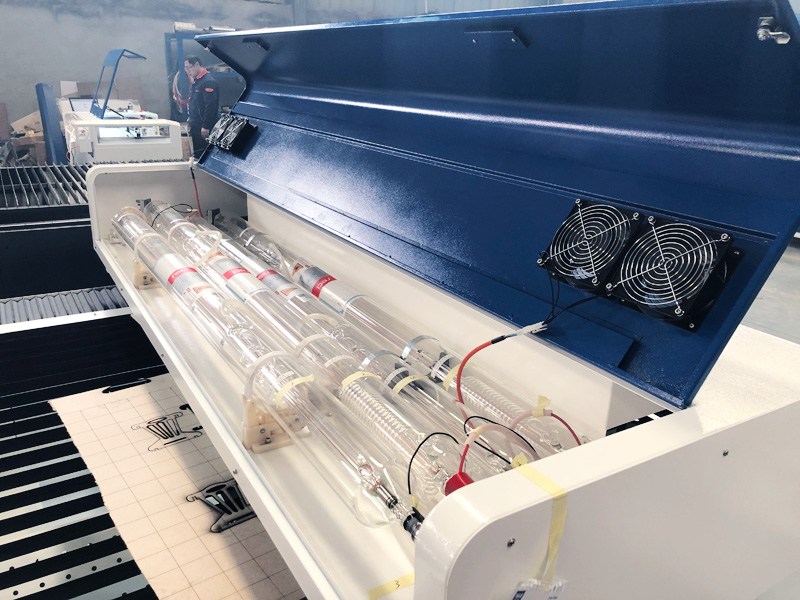 2. Imported lens and mirrors from America with good reflective effect.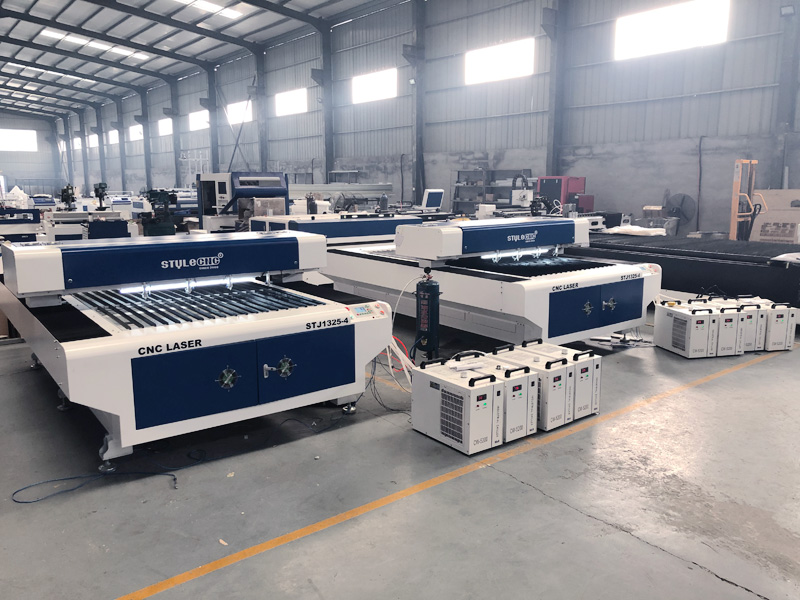 3. Four Laser cutting heads with distance 30cm.It can cut 4pcs same working pieces at same time to improve the working efficiency.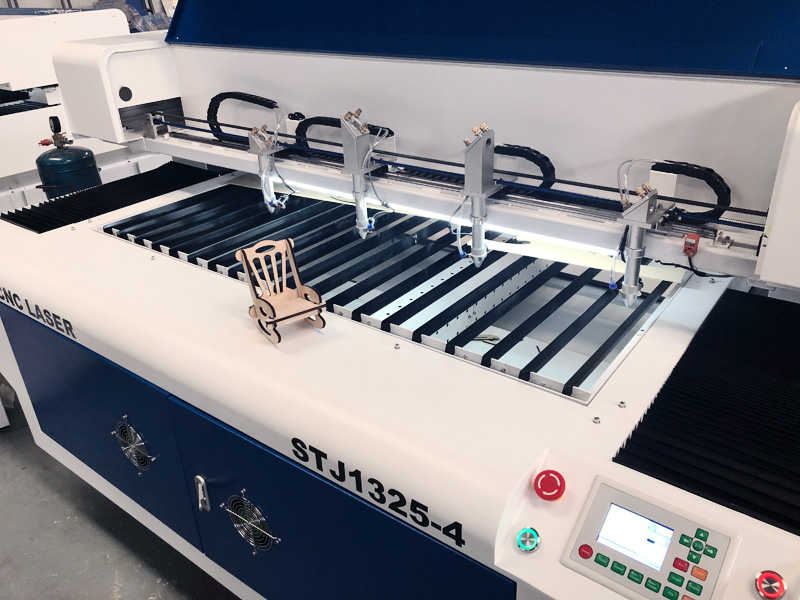 4. With double channel exhaust fans for clean the cutting chippings.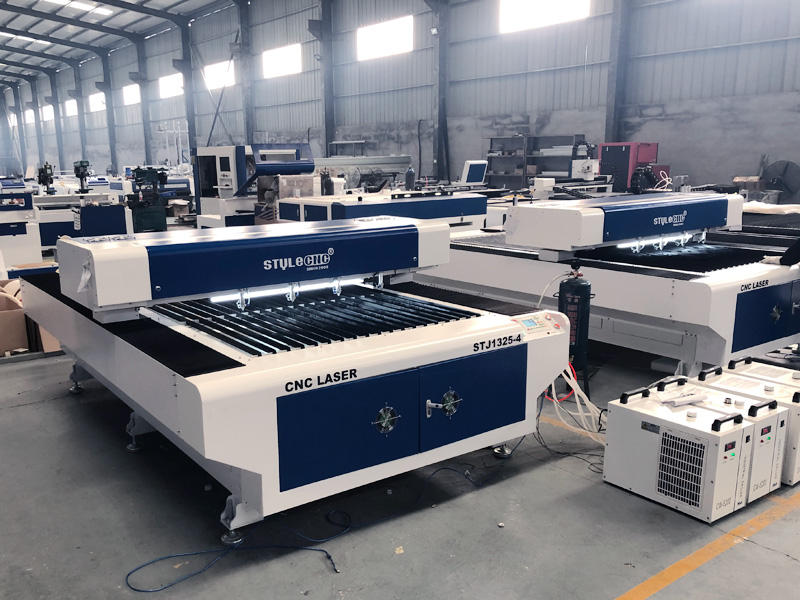 5. Taiwan PMI square linear guide rail installed on X Y axis, make sure the works stably and precisely.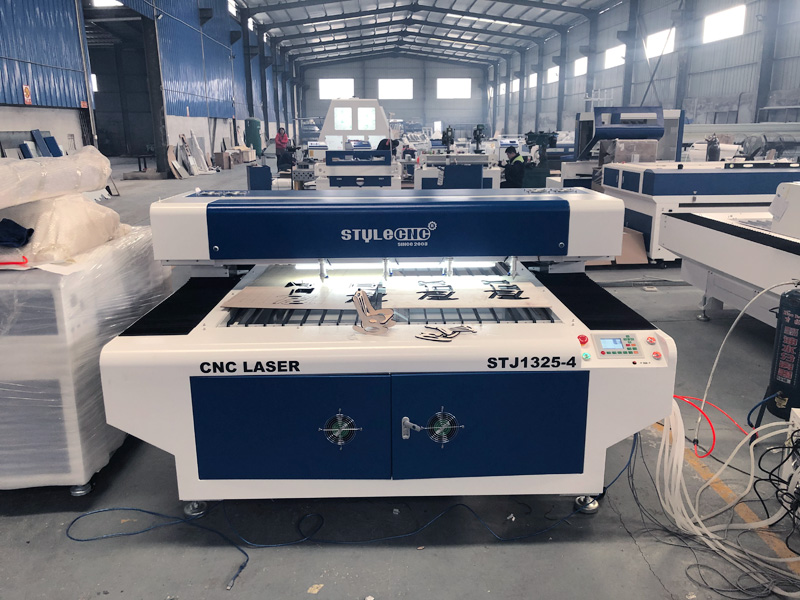 6. Leadshine brand stepper motor and drivers transmission,no need feedback signal to control with high precision.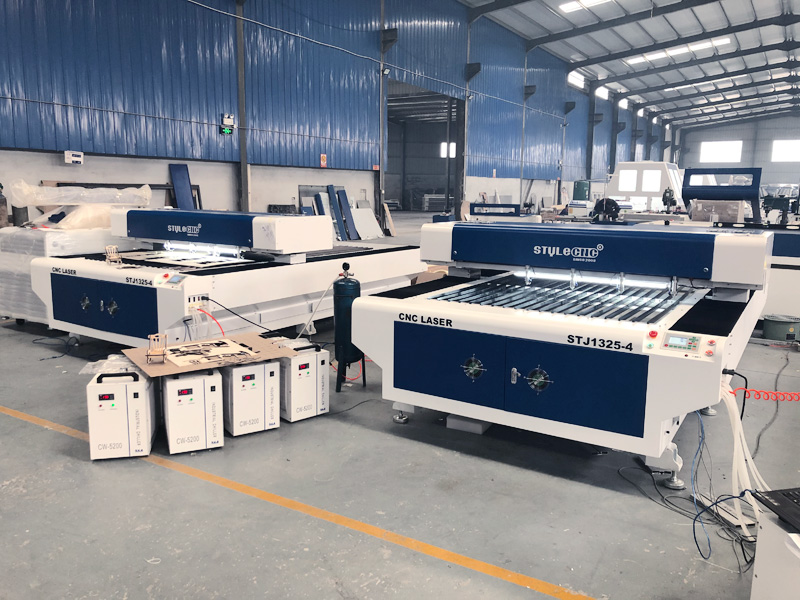 7. Blade working table, It main for hard materials cutting,such as wood,acrylic,MDF. Honeycomb table for soft materials,such as cloth,leather,rubber for choose.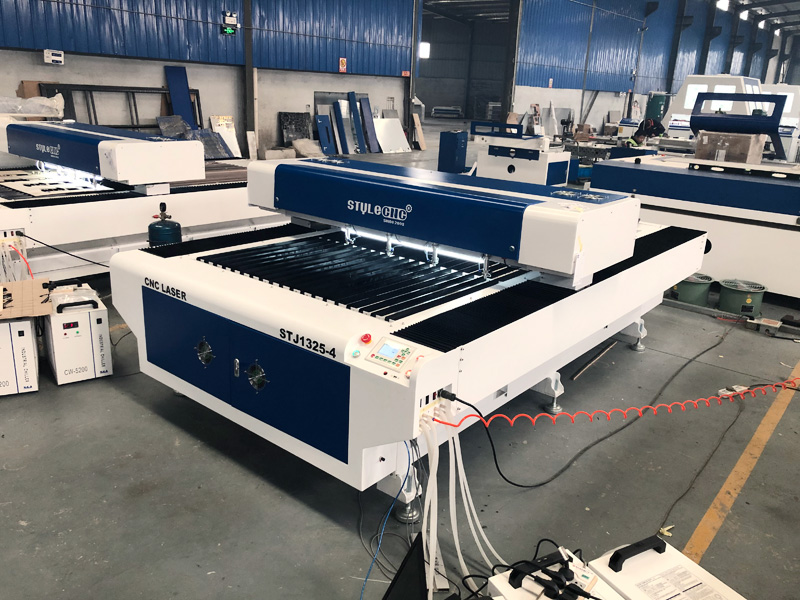 8. Advanced LCD Screen+ USB port+ Offline Control,with professional motion control chip, has the function of consecutively high-speed curve cutting and the shortest path selection, which largely improves your working efficiency.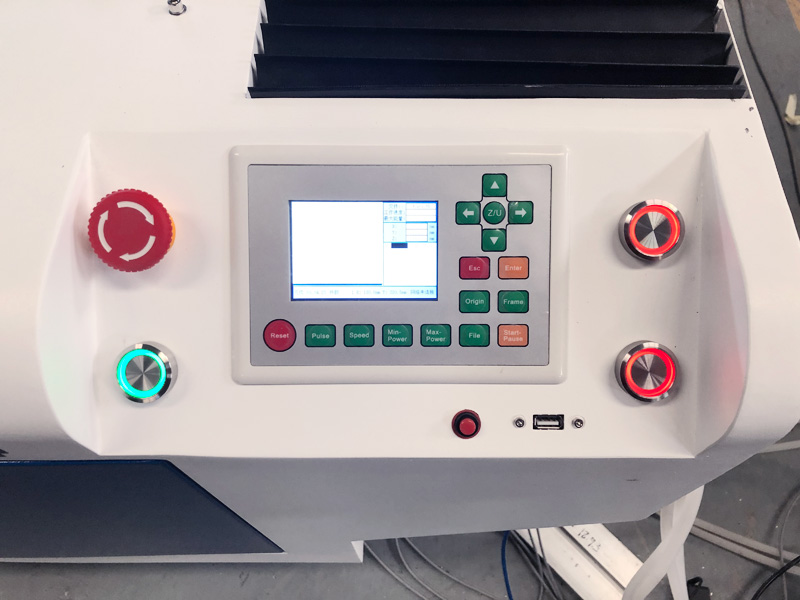 Technical parameters of Wood, Acrylic, MDF laser cutter:
| | |
| --- | --- |
| Model | STJ1325-4 |
| Working area | 1300mm*2500mm |
| Laser power | 150W RECI Brand |
| Laser type | CO2 sealed laser tube,water-cooled |
| Driving system | 3 phases leadshine brand stepper motor |
| Transmission | Belt transmission |
| Guide way | Taiwan PMI Square guide rails |
| Control system | Ruida control system |
| Lens and mirrors | 3pcs mirrors and 1pcs lens from America |
| Working table | Blade table or Honeycomb table for option |
| Red pointer | Included |
| Engraving speed | 0-7500mm/min (According to the materials) |
| Cutting speed | 0-4000mm/min (According to the materials) |
| Power supply | 220V/50HZ |
| Graphic format supported | BMP, PLT, DST, DXF, AI |
| Software supported | CorelDraw, PhotoShop, AutoCAD,TAJIMA |
| Optional parts | Up-down worktable |
| | Auto focus |
| | Rotary device |
| | CCD camera |
Wood, Acrylic, MDF laser cutting samples: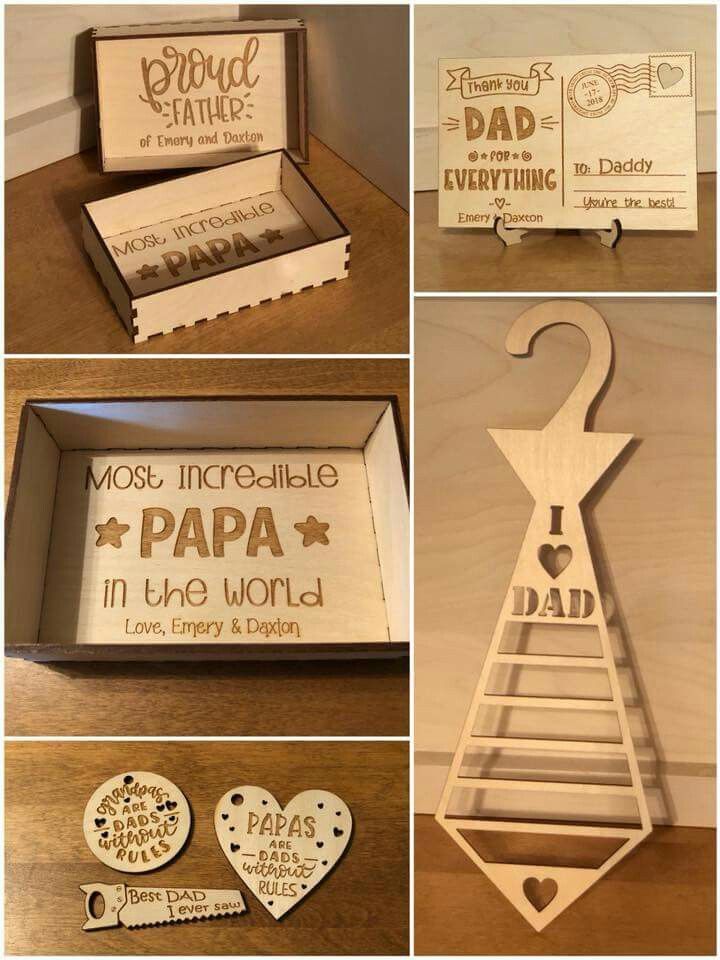 STYLECNC laser cutter warranty:

1. The whole Machine: one year.
2. Laser tube : 40w for 5 months, 60w for 6 months, RECI 80W,100W,130W,150W for 10 months (this is what laser tube supplier offer to us).
3. If the accessories are broken because of quality problems during warranty time,we will change it by free.
4. 24 hour technical support online like skype/whatsapp/remote, you can calling us if urgent.
5. We offer free training in our factory, and our engineers available to service overseas, but the round-trip air tickets, hotel and meals for the engineers should be paid by our buyer.
Scan QR code for mobile friendly

Data statistics, please wait a moment!
* is requiredRequest for Quotation
Related Articles
How to operate a laser cutter machine?

In the use of a laser cutter machine, you will encounter many operation issues, it is to your benefit to know how to correctly operate a laser cutter machine.User Manual

STYLECNC laser cutter maintenance

Laser cutters are very expensive piece of equipment - chances are you spent over $5,000 on yours which means its important to keep the machine in good condition. STYLECNC News

500W fiber laser cutting machine is ready to be delivered to Saudi Arabia

500W fiber laser cutting machine has finished manufacturing, and the fiber laser cutting machine is ready to be delivered to Saudi Arabia.STYLECNC News

Metal Sheet and Pipe Laser Cutter for UK Customer

Our UK customer came to our factory to order fiber laser cutter for cutting metal sheet and pipes. we look forward to your coming.STYLECNC News

280W mixed metal and nometal laser cutter STJ1390M

280W mixed metal and nometal laser cutter STJ1390M with Yongli brand beam combined laser tube,so as to cut steel,acrylic,MDF,wood,etc.STYLECNC News

A guide to buy your first CO2 laser engraving and cutting machine

Before you buy a CO2 laser engraving and cutting machine, you should know what is a CO2 laser engraving and cutting machine? how does a CO2 laser engraving and cutting machine work? how much does a CO2 laser engraving and cutting machine cosCNC Solutions

4000W fiber laser cutter systems with IPG laser source

Our this ST-FC3015C fiber laser cutter adopts 4000w IPG laser source, not only can cut thick metal, and also can cut high reflective material, such as brass, copper, aluminium, etc.STYLECNC News

What you should know before buying a fiber laser cutting machine for metal?

When you have an idea to buy a fiber laser cutting machine, you should know what is a fiber laser cutting machine? what is a fiber laser cutting machine used for? how does a fiber laser cutting machine work? how to buy a fiber laser cutting CNC Solutions

1325 150W mixed laser cutter shipped to Argentina

1325 150W mixed laser cutter is maily used for cutting 3mm stainless steel, 4mm carbon steel, 2mm galvanized sheet and other nonmetals.STYLECNC News

Denmark 1390 CNC laser cutter with air filter

New design 1390 CNC laser cutter with air filter has moved to its new home in Denmark, our Denmark client will use the 1390 CNC laser cutter to cut wood, MDF, HDF and plexiglass, etc. The air filter can absorb the smoke and dust in laser cuSTYLECNC News
Contact STYLECNC
Jinan Style Machinery Co.,Ltd
Tel: +86-531-83161518
Mob/Whatsapp/WeChat: +86-18766148818
Skype:
Email: info@stylecnc.com
Website: www.stylecnc.com
Office: Yongda Buliding, Nanquanfu Street, Licheng District, Jinan, Shandong, China
Factory: Huashan Industrial Park, Licheng District, Jinan, Shandong, China