On-The-Fly Laser Marking Machine for Industrial Assembly Line Mass Production
Type: Fiber Laser Marking Machine
Sale Price: $3800.00 / Set
Price Range: $3800.00 to $4600.00 / Set Based On The Features
Supply Ability: 600 Sets / Month Waiting for Your Order in Stock
Global Shipping: Available to Your Location in
Payment Terms: T/T, Credit Cards, e-Checking, Alibaba Trade Assurance
Online flying industrial fiber laser engraver is designed for marking on the fly (MOTF) in mass production with assembly line of parts, tools, crafts, pens, knives, tags, wire, and signage, review On-The-Fly industrial fiber laser marking system to meet your custom engraving plans, ideas and projects.
Demonstration Video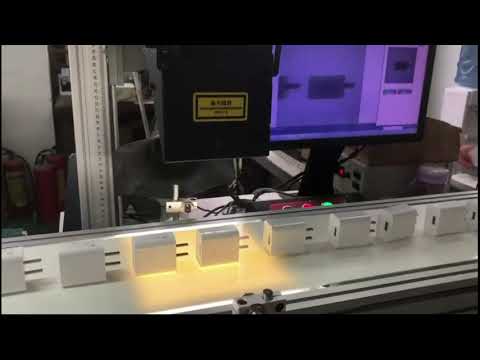 Product Details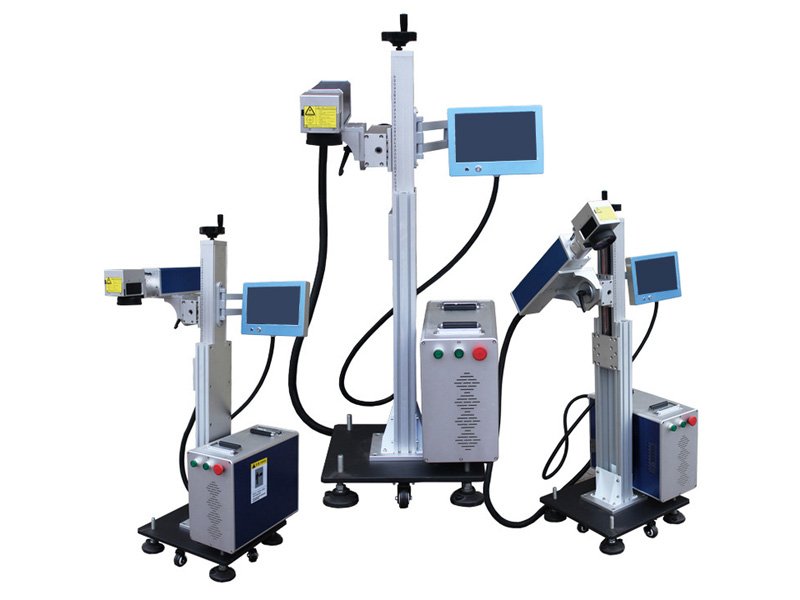 What is On-The-Fly Laser Marking Machine?
Marking On The Fly (MOTF) is a form of marking system relative to static laser marking. As the name suggests, it is a form of surface laser marking for products that flow at a constant speed while the products are moving next to the assembly line. Flying laser marking means to place the product on the conveyor belt and follow the assembly line to work, in conjunction with industrial automation, let it automatically complete the continuous marking without manual feeding, which is a manifestation of automation in industrial mass production with assembly line.
On-The-Fly laser marking machine is an industrial laser engraving system with assembly line, industrial automation, high speed, high integration, no need to add additional jobs, reduce staff costs, increase marking efficiency, and improve work progress. The flying laser engraving system has strong text and graphics marking functions, and the flying laser marking system can automatically generate batch numbers and serial numbers. The plug-in intelligent control interface can be flexibly connected with various automation equipment and sensors, and the software functions can be flexibly modified according to specific conditions. On-The-Fly laser marking machine is also known as online flying laser marking machine, industrial laser printing machine, industrial laser engraving machine.
On-The-Fly Fiber Laser Engraver Advantages:
1. Most advanced: New style fiber laser engraving machine is the 3th generation laser engraving machine, which is manufactured by the most advanced laser technology in current of the world.
2. Delicate engraving: The quality of laser beam is very good, therefore it is very suitable for delicate engraving.
3. Fastest engraving: With high repeat of the pulse, power output steadily, energy surge of single pulse is lower than 1%, it can achieve high speed engraving, and control the depth and shape of the facula.
4. The processing speed is 2-3 times than the traditional engraving machine.
5. Compact: The size of the macine is very small, portable, suitable for both mobile and fixed working.
6. 10 years service life, ultra-low running cost. Long life, ultra-low power consumption, the conversion efficiency is more than 30%, the unit power of the machine is no more than 0.5KW.
7. Wide range of application: The laser machine can mark on all the metal materials and some of nonmetal materials.
8. Easily Operating: Afford the specific engraving software based on Windows, which is real-time adjust the laser power and pulse frequency. You can input and output by computer according to edit in the both of the specific engraving software and the graphic software such as AutoCAD, CorelDRAW or Photoshop.
On-The-Fly Fiber Laser Marking Machine Features:
1. High electro-optic conversion efficiency.
2. Low power consumption, stability laser output.
3. High quality beam, consumable free,small machine dimension.
4. Smaller output laser beam, finer engraving line, high precision engraving.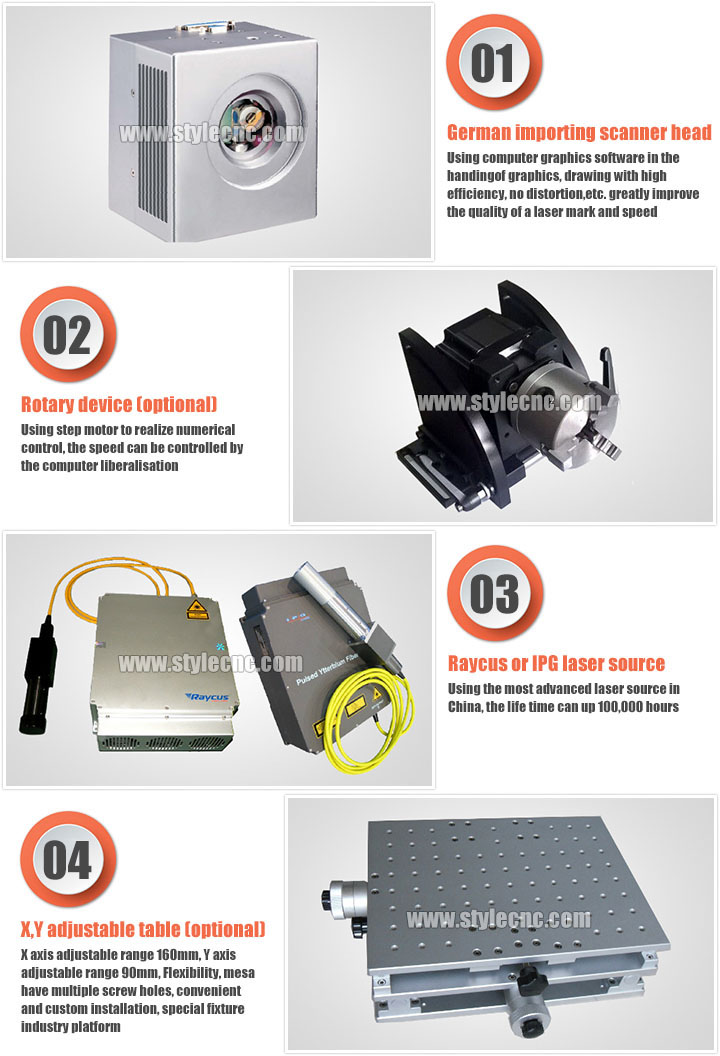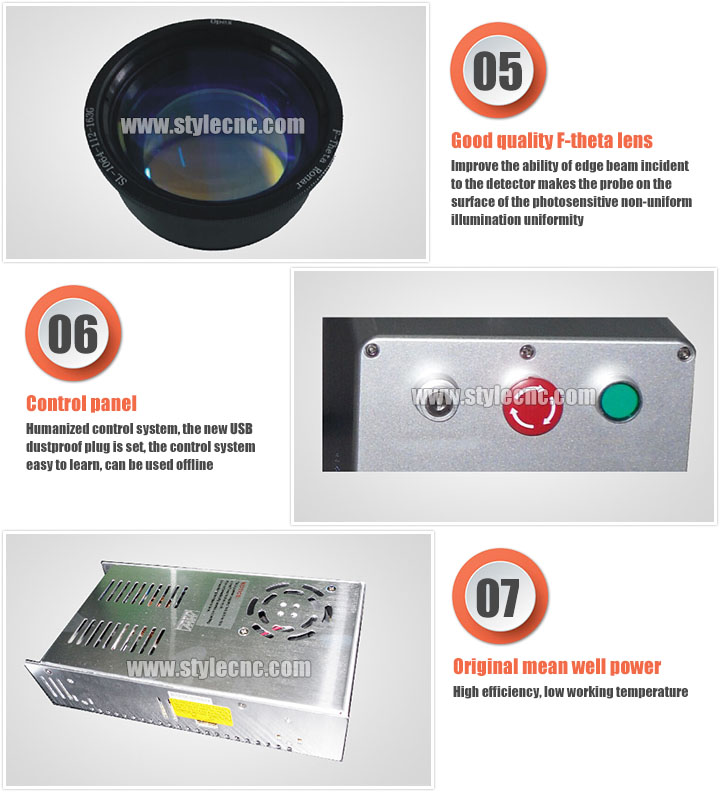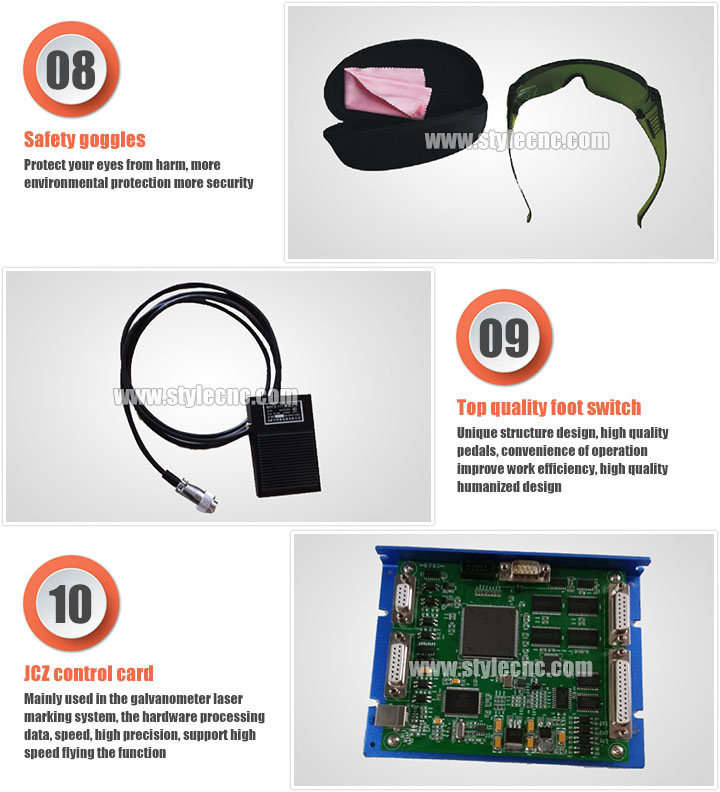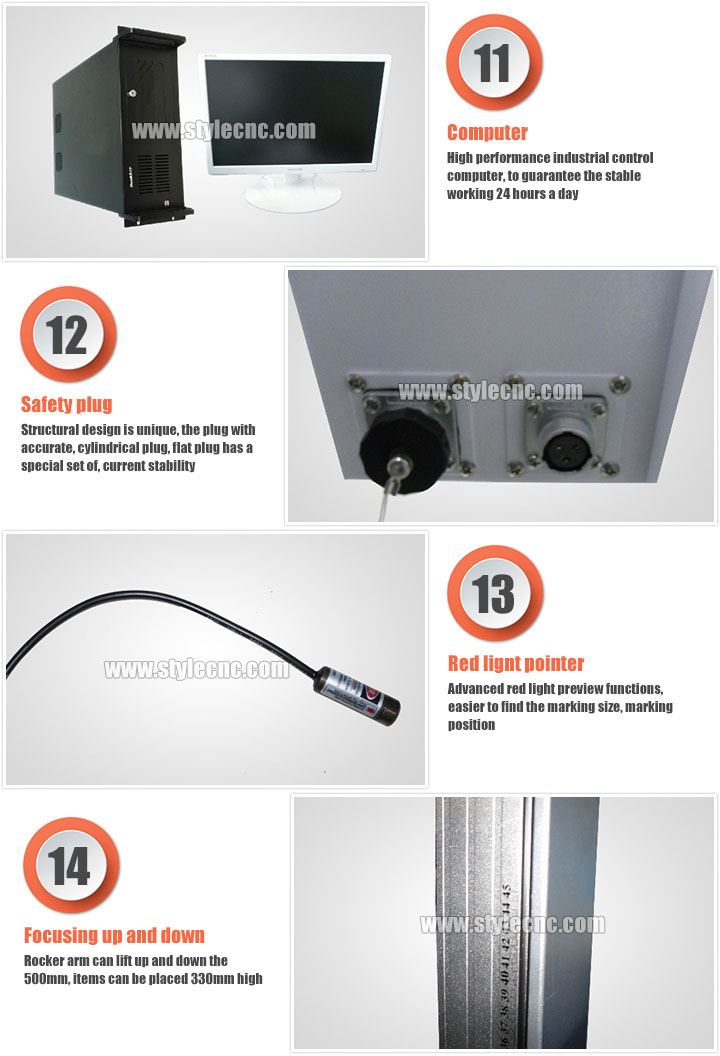 On-The-Fly Fiber Laser Engraver Technical Parameters:
| | |
| --- | --- |
| Model | STJ-30F-Flying |
| Output Power | 30W |
| Repeat frequency | 10KHz - 100KHz |
| Engraving scope | 110mm×110mm |
| Engraving speed | ≤12000mm/s |
| Min.line width | 0.015mm |
| Characters type | English letters, numbers, production date and punctuations |
| Engraving depth | As request |
| Maximum Production line speed | 70 m/min |
| Input power | 0.6KW |
| Electrical source | 220V/110V |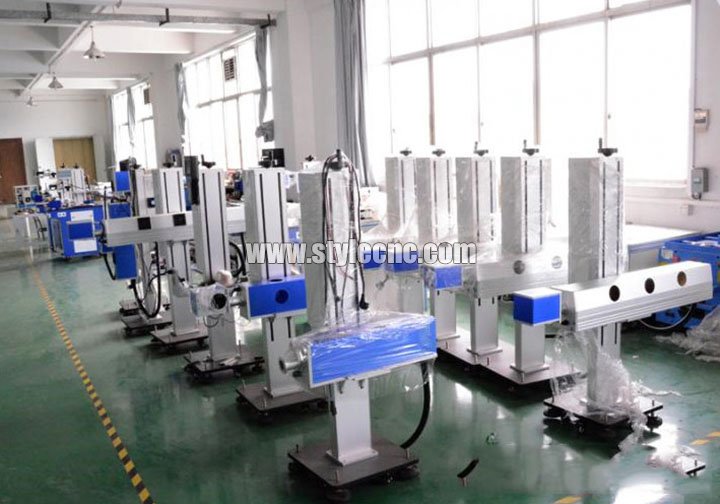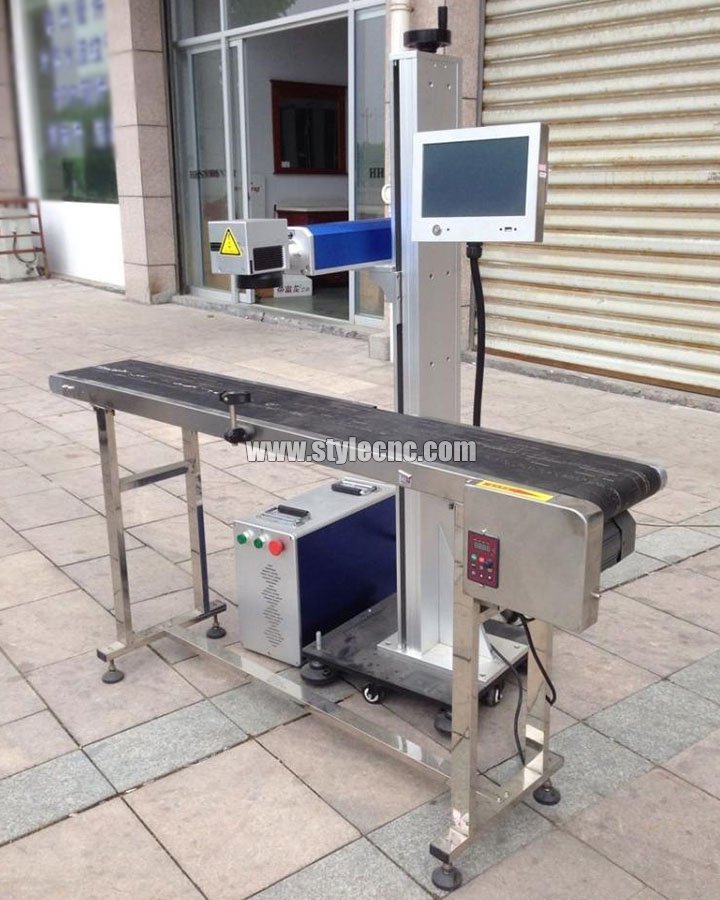 On-The-Fly Industrial Laser Marking Machine Applicable Industries:
1. Electrical engineering and electrical part and component.
2. Mobile (cover, battery, keyboard, iPhone case), plastic case.
3. Jewellery (ring, pedeant, bracelet), eyeglass, clocks and crafts.
4. Building materials, PVC pipe.
5. Car industry (motor spare parts).
6. Insturment and meters and cutting tool.
7. hardware fitting and accessory.
8. Sanitary appliance.
9. Food and beverage.
10. Medicine package and surgical instruments.
11. Wire marking.
Industrial On-The-Fly Laser Marking Machine Applicable Materials:
1. Metals.
2. Engineering Plastics.
3. Electroplating Materials.
4. Coating Materials.
5. Plastics, Rubber.
6. Expoxy Resin.
7. Ceramic.
9. ABS, PVC, PES.
Industrial Laser Engraving Machine for Marking On The Fly Projects: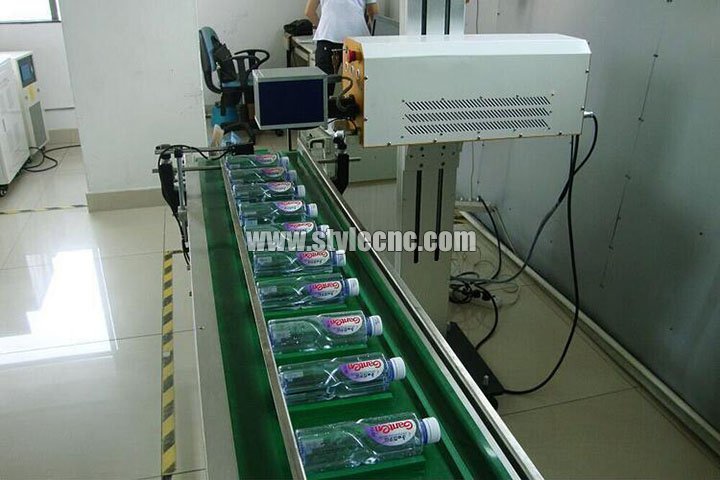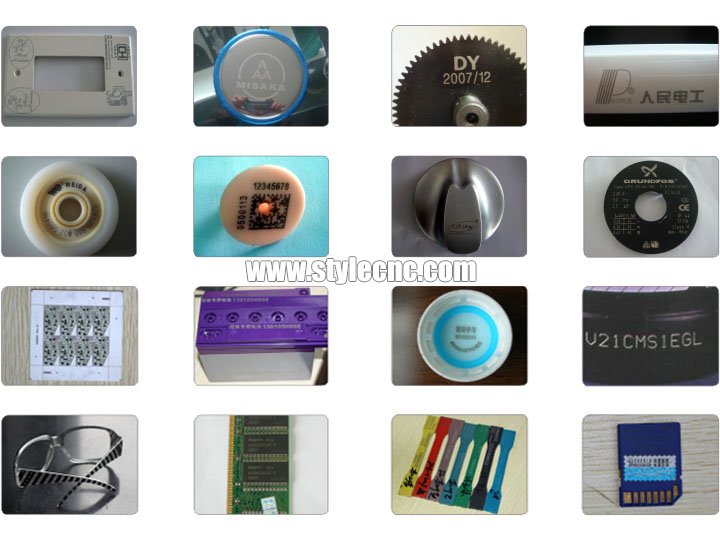 International Shipping Around the World
All the CNC laser machines can be shipped worldwide by sea, by air or by international express logistics via DHL, FEDEX, UPS. You are welcome to get a free quotation by filling up the form with name, email, detailed address, product and requirements, we will shortly contact you with the full information including the most suitable delivery method (fast, secure, discreet) and freight.
Post A Review
Customer Reviews and Testimonials
Melanie

from United StatesPosted on

Oct 10, 2020

This is Melanie from USA, I am really happy to get a good machine from STYLECNC. The unit arrived undamaged and in working order. This is huge. The overall quality of the flying laser marking machine was as expected or slightly better. They have given me great customer service.