Graphite Sheet Cutting Machine for Gasket Manufacturing
Graphite sheet cutting machine is a type of CNC digital cutting system with vibrating knife, pneumatic knife, scoring knife, drag knife, punching knife, round knife and other tools, which is designed for cutting flexible graphite sheets. The flatbed digital cutter is suitable for cutting graphite sheets with a thickness of less than 50mm. It is more for cutting graphite gaskets. At present, this digital cutting machine has been used by many gasket manufacturers. Compared with punches and other cutting forms, the cutting effect of the digital graphite sheet cutting machine is relatively good, no mold is needed, and it can cut laminated graphite sheets. A digital graphite sheet cutting machine is also known as digital graphite sheet cutter, digital graphite sheet cutting table, graphite sheet digital cutting table, flatbed graphite sheet cutting machine, CNC graphite sheet cutting machine.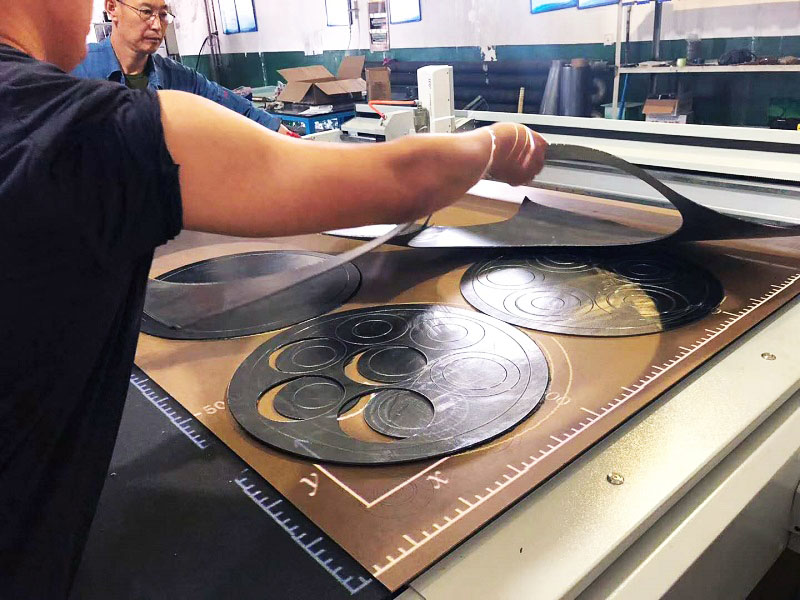 Graphite Sheet
Graphite sheets are made of high-quality graphite carbon materials and added organic compounds with strong acid resistance. It is refined by high-pressure forming, vacuum impregnation, and high-temperature heat treatment. It has extraordinary acid and temperature resistance. It is an ideal lining material for phosphoric acid reaction tanks and phosphoric acid storage tanks in the chemical industry.
Graphite sheet adopts compression molding, the product has good molding quality, accurate shape and size, and can produce special products according to user requirements, which can fully meet the requirements of construction and masonry technology. Graphite sheet uses high-strength organic glue as the bonding agent and introduces high-tech additives at the same time, so the product has high strength, good wear resistance, and extremely stable structure. The structure of the product does not change with temperature changes.
Graphite sheet has the features of wear resistance, temperature resistance, pressure resistance, corrosion resistance, creep resistance, oil-free self-lubrication, small expansion coefficient, and superior sealing performance.
Graphite sheets are widely used for pumps, valves, fans, compressors, mixers, reactors, hydraulic and pneumatic, electrical components, glass instruments, rotary joints, mechanical seals, pipeline flanges, petrochemical equipment, drying equipment, dyeing and finishing equipment, chemical fiber equipment, chemical machinery, rubber and plastic machinery, food machinery, separation machinery, fluid machinery and other rotating and sealing parts.
Laminated graphite sheet (also known as reinforced graphite sheet) is a composite of metal core board and flexible graphite coil. There are two types of punching type and bonding type. It can be punched into various gaskets, such as cylinder air cushion, drainage, water level gauge gasket, flange heat. It is an ideal sealing material with wide application range and strong sealing performance.
Digital Graphite Sheet Cutting Machine Advantages
1. No mold required, data import and cutting, low cost
2. High cutting precision, pulse positioning, cutting error ±0.01mm.
3. Strong practicability, suitable for cutting graphite plates, asbestos, PTFE and other plates, and suitable for cutting all kinds of fabrics.
4. The use of high-strength honeycomb aluminum countertops, imported felt conveyor belts, and large suction fans ensure that the products have super adsorption power when processing products.
5. Flatbed graphite sheet cutting table adopts imported multi-axis, multi-channel control system, which has the characteristics of high response, high anti-interference and high stability. It adopts imported AC servo motor, which has the features of high speed, high response and high stability.
6. CAM control software independently.
7. Automatic edge-finding and positioning function. The high-definition CCD camera is used to realize automatic positioning of various materials, eliminating manual positioning inaccuracy, printing deformation and other problems, combined with table detection function to realize intelligent front and back graphics cutting function
8. The intelligent table top compensation function of the graphite sheet digital cutting table realizes the automatic positioning and cutting of various materials through the high-precision distance detection sensor, preventing the occurrence of inaccurate manual positioning problems, thereby improving the cutting accuracy.
9. The special drawing design module for the seal industry, generally traditional parts processing, requires professional designers to use third-party software to typeset the drawing, and then output the corresponding file and import it into the equipment for processing; while using professional digital cutting software, you can call your own dedicated drawing design module, no need for professional drawing personnel, as long as the corresponding parameters are input in the prompt parameter box, the required graphic file can be automatically generated.
10. The industry cost accounting module of the digital graphite sheet cutter machine can quickly calculate the area, quality, loss factor, labor cost, packaging cost, transportation cost and other information of the processed graphics, and can be freely structured into the accounting project (interval price can be set).
Digital Graphite Sheet Cutting Machine Technical Parameters
Feeding Method: Semi-automatic feeding.
Knife Tools: vibrating knife, round knife, pneumatic knife, punching knife, creasing knife, marking pen, half cut, and more tools.
Accessories: Laser positioning.
Cutting Thickness: ≤50mm
Positioning Accuracy: ±0.01mm
Intelligent System: Software compensation, intelligent typesetting
Supporting files: AI, PLT, DXF, CDR, and more formats.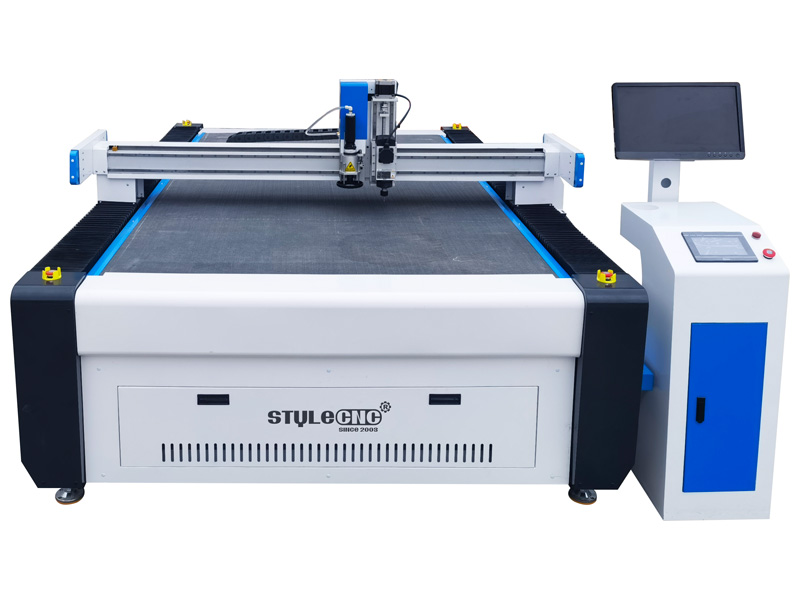 Flatbed Digital Graphite Sheet Cutting Machine for Gaskets