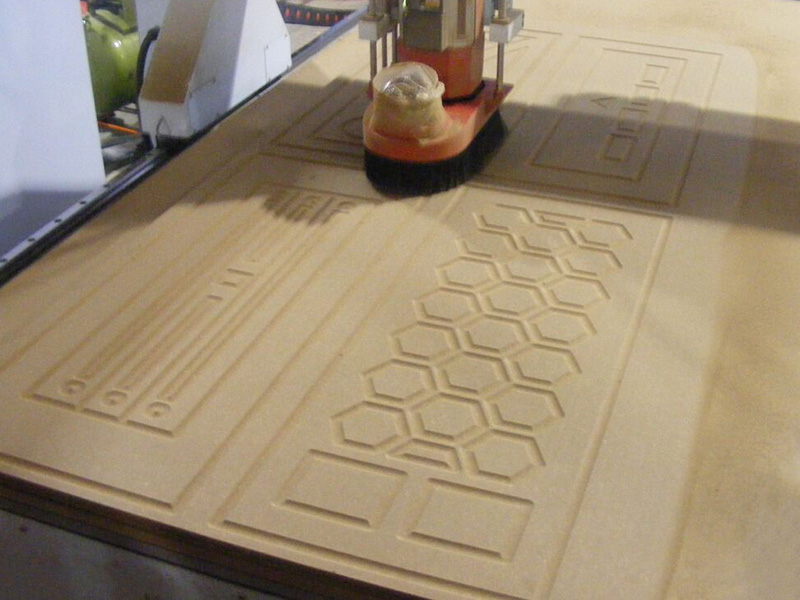 Door CNC router is mainly used for flat plate, three-dimensional wave board processing, screen, craft fan window processing, cabinet doors, solid wood doors, embossed doors, wooden craft, paint the door carving, cutting, engraving, drilling and other processing, and non-ferrous metal, copper, aluminum, stainless steel cutting, carving wide range, so many customers of all ages. CNC router for door making is one of our main products, in order to allow our customers to better understand our products, STYLECNC will take you to learn how to buy wood CNC Router for door making.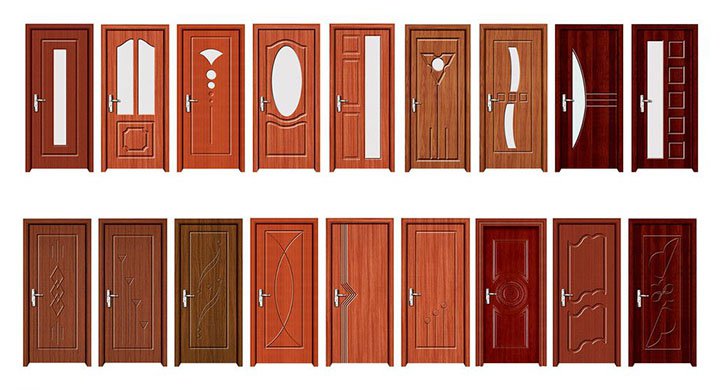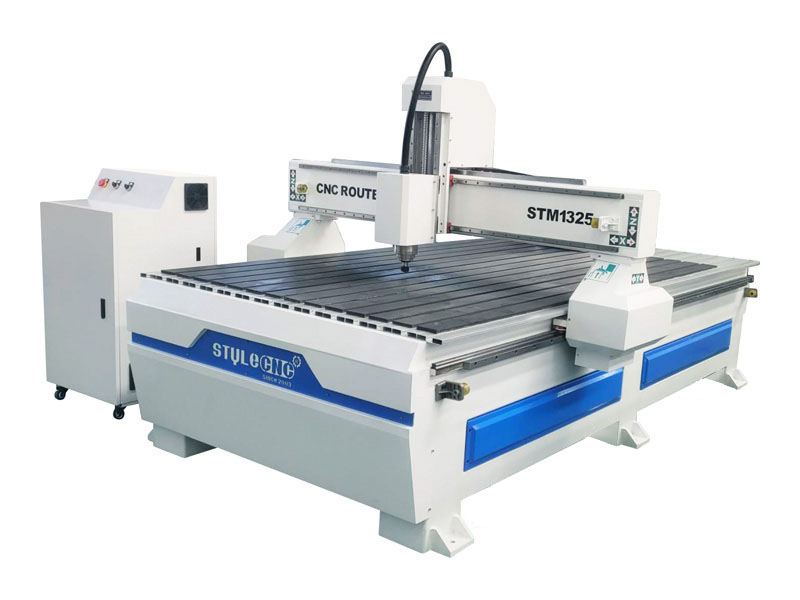 STM1325 CNC Router for door making
Features of STM1325 CNC Router for door making:
1. The machine's body is strong, high-precision, reliable and durable.
2. Imported high-precision ball screw, which moving smoothly, to ensure the machine's high precision.
3. High-performance drive motor to ensure the machine's high speed and accuracy.
4. Perfect design, top quality accessories, to minimize the machine's failure rate.
5. Breakpoint specific memory to keep the carving status when power off, processing time forecast and other functions in case of the accidental power outages.
6. 2 motors for Y-axis, high speed.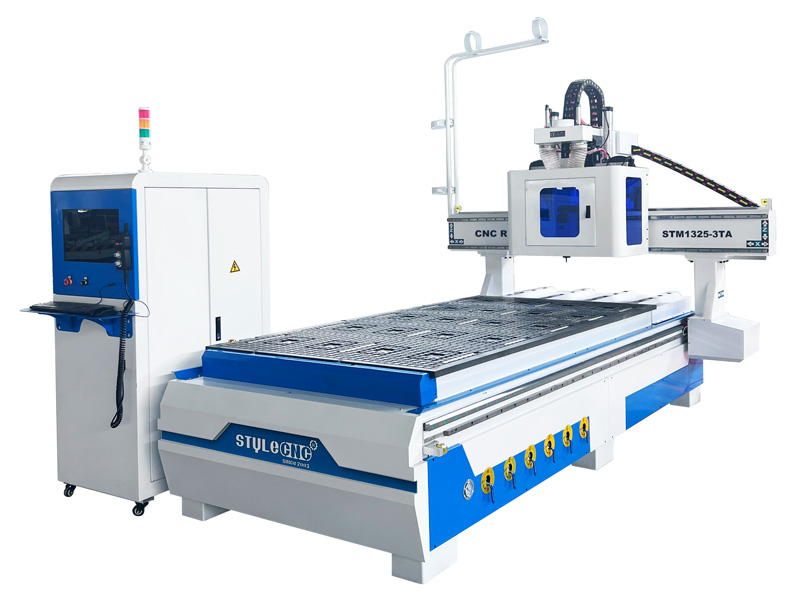 Three Process CNC Router for door making
Features of Three Process CNC Router:
1. The three-process is smart and economical equipment with automatic tool change. Through the automatic change of three independent electric spindles, the automatic machining of multi-process is completed.
2. The tool change mode is immediate and instant change of the spindle.
3. Lathe bed adopts strong welded steel tube to avoid distortion.
4. The high power air cooling spindle is used to achieve precision higher, longer service life, uniform speed, running stable, rapidly change the necessary props at random which can save the machining time and enhance the working efficiency.
5. Square Liner Rail with high accuracy and heavy burthen.
6. The screw rack transmission with high precision, and the servo motor with high resolution and fine mixing, the straight guide rail with high rigidity, levelness and flexible transmission.
7. All processes will be completed after the startup of the tool one time to shorten the tool change and matching time, thus the tool is applicable to the product for which the tool has to be changed for several times.
8. The 3 axis CNC router is applicable to produce the cupboard door, solid wood door, computer table, panel furniture and so on, it is used for the works of high-density boards with large area and production, plane engraving, cutting, 3D carving, etc.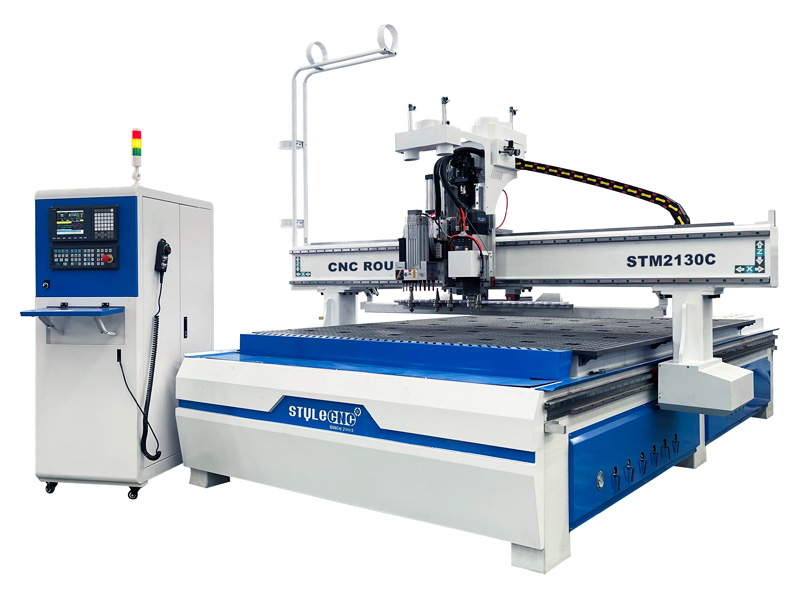 S2-II CNC Router for Door Making
S2-II CNC router is suitable for standard or bespoke production. Such as Wooden door, cabinet, panel furniture, closet, etc.
S2-II CNC Router features:
1. Perfect Function, automatic feeding, playing a vertical hole, slot cutting, automatic feed in one step.

2. Saving time, labor and materials, replace traditional CAD draftsmen, splitting men, cutting men, only need 8 minutes to input size design and split. Automatic layout optimization, improve material utilization. High quantity automatic design, Automatic type setting,no human intervention.minimizing error rate to minimum, ensure the quality of the order.
3. The two spindle is 6KW Air-cooling spindle to cut and with another gang drill to make vertical hole .

4. High efficiency: CNC Cutting machine with double table for kitchen cabinets ,when finish one work line,it can auto work on another table,greatly improve the work efficiency.

5. Drive Faster:Two axis rotation,Fast speed,high efficiency,Max Air move speed to 60m/min.Fast engraving speed.

6. Operation Steadily: Imported linear square guide,double row and four row ball slider,large loading capacity.Convenient operation,high precision,long life time.

7. Intelligent control: Adopt the original Weihong card computer control system, has a break point, power outages, Has the function of re-carving after break point and power failure.
8. Sturdy Durable: Heavy T type of lathe bed, strong rigidity, big strength, smooth rotation, speed for a long time not deformation, not shake.

9. Independently Electric Control Box, with perfect wiring and free moving pulleys.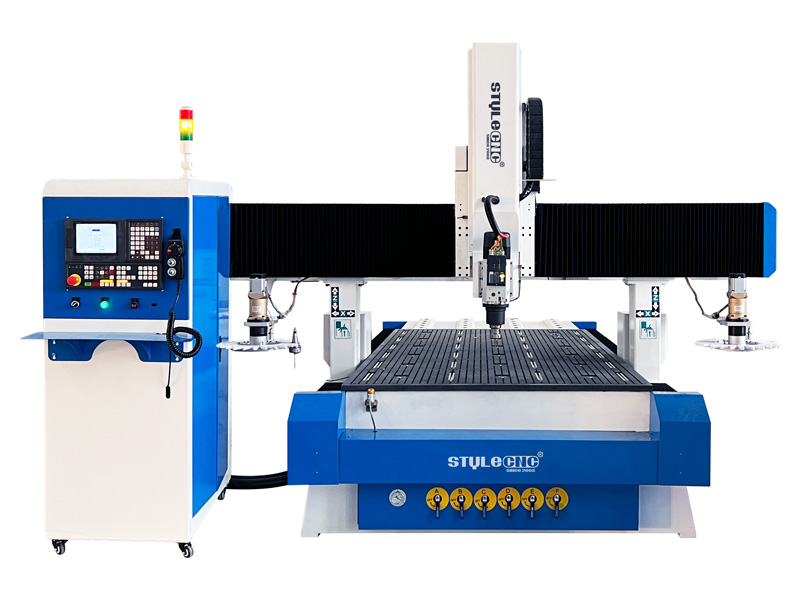 ATC CNC machining center for door making
Features of ATC CNC machining center for door making:
1. The whole machine uses high quality seamless welded steel structure, the assembly contact surface is used scraping process, the whole structure high-temperature aging treatment, upright and support plate, using aluminum cast process that ensures the high stability.
2. Driving rail adopts original Taiwan Hiwin 30mm square lead rail.
3. Z axis adopts Taiwan TBI original coarse pitch precise rubbing screw rod, high precision transmission。
4. Wood working CNC machining center adopts Italian high-speed HSD 9kw air-cooled spindle motor, spindle cooling fully guaranteed, can work long time.
5. It use imported Japanese Yaskawa Servo drive system, torque, high precision, fast and stable performance.
6. Use Taiwan Syntec controlling system, good compatibility, compatible with type3 /Artcam /Castmate /Artcut /CAD/CAM and other design softwares.It can control the completion of multi-dimensional 3D processing, and can do fast, smooth three-dimensional processing , carving and cutting.
7. Woodworking CNC machining center table is vacuum adsorption countertops which is an international leader technic, made of high strength rigid plastic, high-absorption edge and strong adsorption of different sizes of materials, density, non-deformation.
8. Auto-oiling lubrication system, easy to operate, greatly improve the life of the various components of the machine.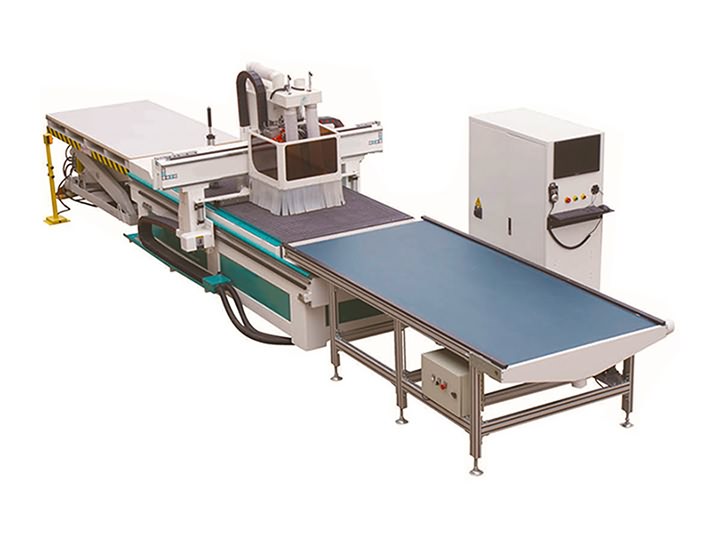 Auto feeding CNC Machine for panel furniture production line
Features of Auto feeding CNC Machine for panel furniture production line:
1. Automatic feeding, cutting and optimization, playing vertical hole, automatic cutting coherent, continuous processes, maximize efficiency output.
2. Userfriendly Machine control interface design .Workers can operate the machine expertly just by simple training.High efficiency of the machine help you achieve productivity leap.
3. We use High Quality spare parts for this machine .Such as Italian HSD Spindle, YASKAWA AC Servo system,German Becker Pump and so on .It is with stable performance.