Are you looking for a free or commercial software to run with your laser engraver cutting machine? Are you worried about which laser cutter engraving software to choose? Don't worry, in the following article, we will take you to explore 15 common and powerful Windows-based best laser engraver cutting software, as well as some software designed for macOS and Linux.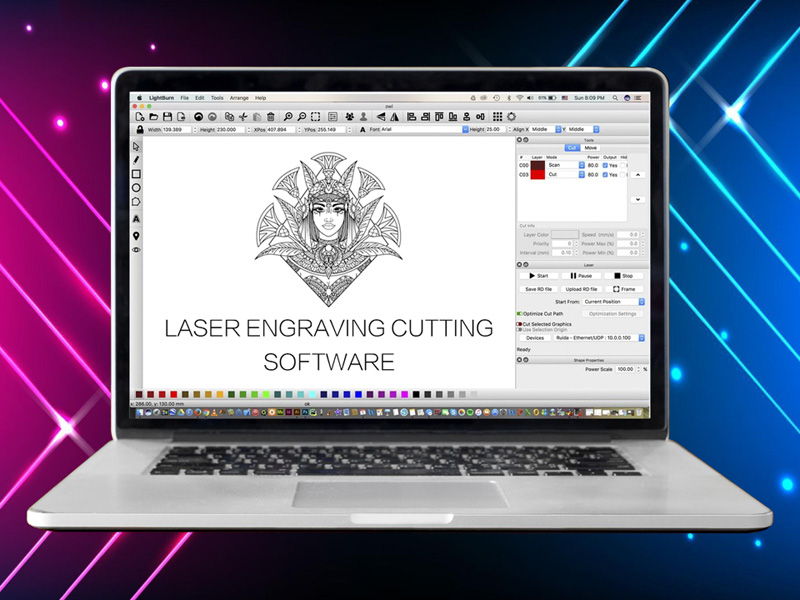 LaserCut
LaserCut control software makes full use of the high-speed data processing capability of DSP and the powerful logic processing capability of FPGA, and organically combines motion trajectory control and laser control to realize the coordination and synchronization between the laser system and the motion system, and simultaneously control the laser energy and motion speed. Organic connection to achieve energy balance control. It supports CO2 glass tube and RF tube laser, low power fiber laser used for laser engraver cutting machine.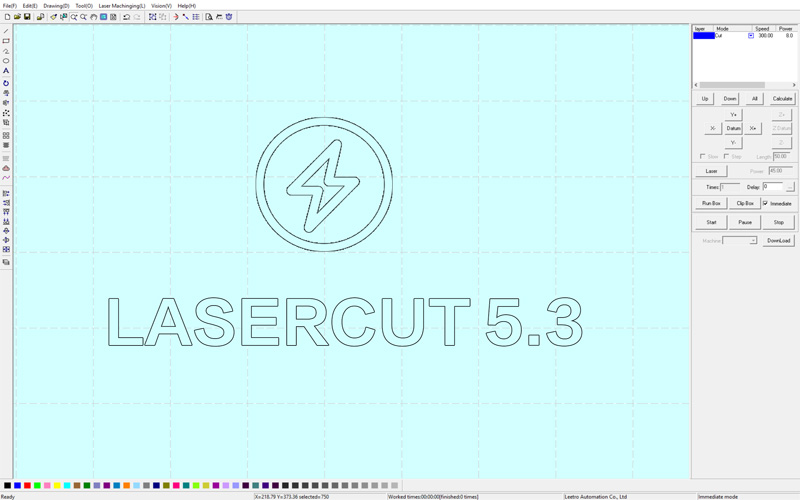 LaserCut 5.3
Price: Paid Version + Dongle.
Stable Version: 5.3.
Latest Release: 6.1.
CypCut
CypCut laser cutting software is an easy-to-use laser cutter control system with comprehensive functions. It is a software specially developed for deep customization of the laser cutting industry. It is easy to use and has rich functions, and is suitable for various processing occasions. Using this software can easily and quickly carry out laser cutting management operations. Users can freely control the cutting angle, size, etc., and have functions such as adding layout sidebars, cleaning nozzles, and exchanging workbench control modules. CypCut is a laser cutting software that is deeply loved by users and friends. It supports operations such as importing graphics, editing and drawing, and adding leads. Supports adding nesting sidebars, cleaning nozzles, and exchanging workbench control modules.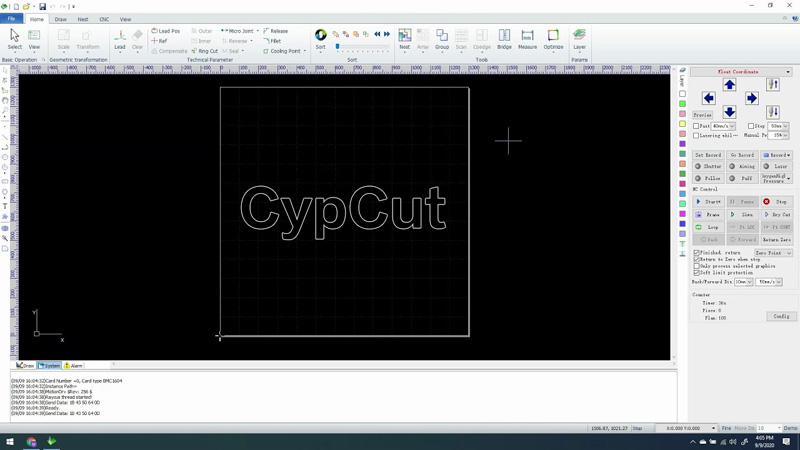 CypCut
Price: Paid Version + Dongle.
Stable Version: V6.3.
Latest Release: 765.5.
CypOne
CypOne controller software is a practical laser cutting system, which supports drawing processing, tool path planning, process setting, focus control and other functions, and is suitable for medium and low power laser cutting machines. CypOne is a multi-functional and cost-effective control software specially developed for the thin sheet metal/advertising processing industry. It is suitable for medium and low power laser cutting machines, and can realize rich functions such as drawing processing, tool path planning, process setting, focus control, table exchange, which is convenient, fast, high-quality and efficient to do laser cut. CypOne can help users control the machine and achieve precise cutting work. There are rich functions in the software, allowing users to easily adjust the parameters to achieve the desired cutting effect. The software is suitable for medium and low power laser cutting machines, and can control the machine well for work.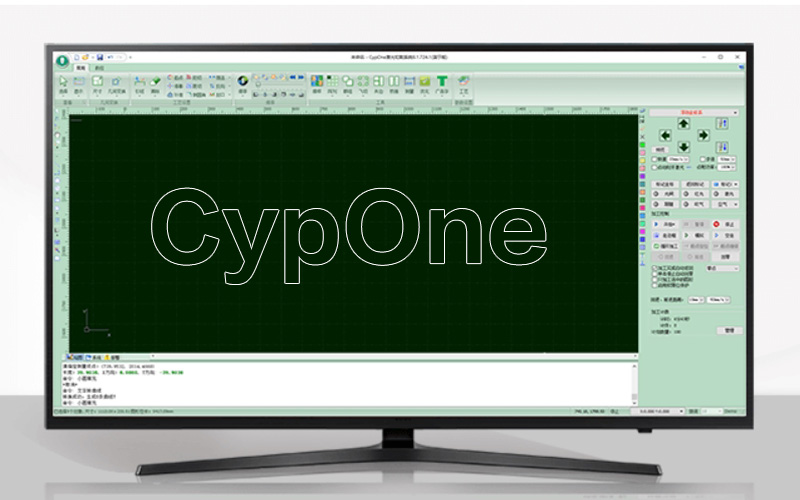 CypOne
Price: Paid Version + Dongle.
Stable Version: V6.1.
RDWorks
RDWorks is a powerful laser cutting software used for cutting operations in various projects. It is compatible with various mainstream motherboard models and is compatible with commonly used file formats, including DST, DSB. The software It provides powerful import and export functions, and supports fast cutting and custom cutting parameters. The installation program includes a USB driver, and the user interface of the software includes the viewing of various documents, user links, output settings, processing settings, can define the software language and use type, and can adjust the screen resolution. For quick settings, the software can also adjust various colors according to your needs. The intuitive user interface allows you to easily get started with the software. It is recommended that the screen display area be 1024*768 or higher resolution rate, supports a variety of motherboard models. RDWorks supports most of RUIDA controllers. The software supports vector files, image files, CAD files, image and text cutting functions, curve cutting functions, CAM functions, graphics output functions, and supports multi-language versions.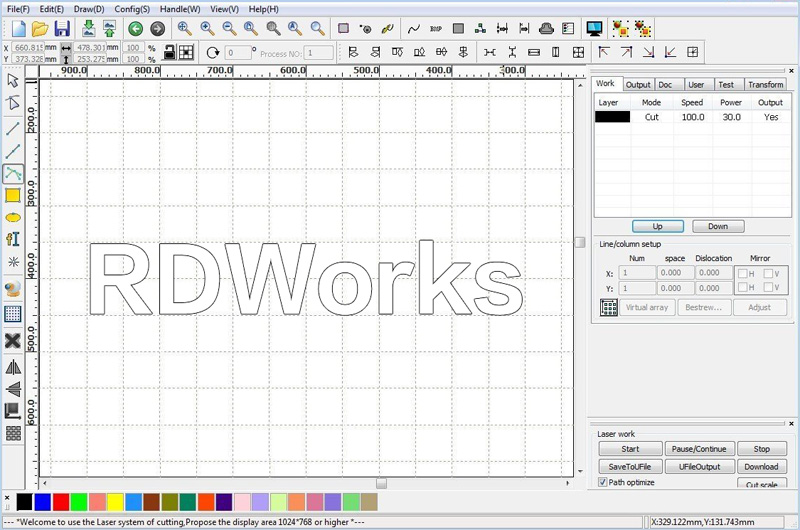 RDWorks V8
Price: Paid Version + Dongle.
Stable Version: V8.
Latest Release: V9.
EZCAD
EZCAD is a laser engraver controller software, which is popular for all types of laser marking machines. It can freely design and edit the processed patterns, such as breaking up the lines, combining, cutting, dragging, drawing and other operations on the pattern. You can also freely draw various vector lines such as points, lines, circles, polygons, free lines, and arcs. It supports a rich font library, including its own fonts and a variety of third-party fonts such as TrueType fonts, monoline fonts (JSF), SHX fonts, and bitmap fonts (DMF). It supports editing and automatically generates 1D barcodes and 2D barcodes in various formats. It provides rich and flexible variable text processing, can automatically generate serial numbers and numbers in arbitrary bases, and set up a variety of hopping rules to achieve: production date, time, week, days and other counting and automatic hopping functions, during processing Change the text in real time, you can directly read and write TXT text files and Excel files dynamically. It can automatically split the text when rotating and splitting marking, which is suitable for more complex marking occasions. It supports direct import of various image formats (BMP, JPG, GIF, TGA, PNG, TIFF) and vector graphics (AI, DXF, DST, PLT) for marking. It has powerful photo marking function, image processing (grayscale conversion, black and white image conversion, dot processing), and can process 256-level grayscale images. It has a powerful filling function, supports ring filling, dashed filling and other functions, supports various angle filling, and the technical holding filling angle automatically changes according to the set angle. It supports multiple languages such as Chinese, English, Japanese, Korean.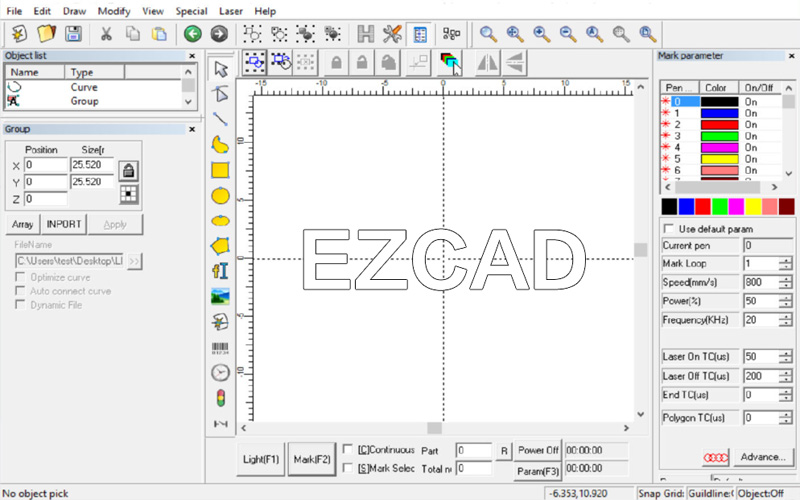 EZCAD2
Price: Paid Version + Dongle.
Stable Version: EZCAD2.
Latest Release: EZCAD3.
Laser GRBL
Laser GRBL is one of the most popular free and open source laser engraving software in the laser software market. You probably won't find some advanced features in Laser GRBL as it's designed for general use. But at the same time, it is very efficient and user friendly to use. The Laser GRBL automatically controls the laser engraver to build the design. If you have any designs in G-code, you can import that file into the software for sculpting. You can also make manual changes before engraving the final design.
Price: Free Version.
Inkscape
This is a professional laser engraving software designed for advanced users. Inkscape's user interface is minimalistic, with a variety of features and programs to experiment with. Inkscape allows users to export 2D vector art to external laser engravers. You can also use engraving software to create your designs. Inkscape has a storage friendly design that is easy to download and use. It also allows you to export your designs as SVG. Additionally, a text program is available in Inkscape for writing designs in letters.
Price: Free Version.
Stable Version: 0.92.4.
Latest Release: 1.2.1
EzGraver
If you are an enthusiast or beginner in the field of laser engraving, then EzGraver will be a great choice for you. The software has an easy-to-use interface and automatic functions, suitable for novice users. Also, EzGraver is an open-source program that is free to use. Users may not get advanced features compared to other professional software, but it still provides design programs for making custom designs. You'll also get a machine instructor to specify feed times, feed lengths, and more for easy engraving.
Price: Free Version.
SolveSpace
SolveSpace is a free laser engraver software capable of controlling external laser cutters based on custom designs. The great thing about SolveSpace is that you can import multiple files and collaborate to make your unique engraving design. In addition, the software has a simple and clear user interface, which is easy to operate. Since SolveSpace uses vector and raster files for sculpting, you will be able to sculpt large and small designs with it. The software also allows you to customize different parameters such as pass depth and cut rate.
Price: Free Version.
LaserWeb
LaserWeb is an excellent free laser engraving software for Windows-based systems. Various pre-designed shapes in the software can be sculpted directly onto the material or merged with other designs. Additionally, you can import designs from SVG files, DFX files, and more. Another nice feature is that you can choose the engraving area according to the size.
Price: Free Version.
LightBurn
LightBurn is an excellent professional laser cutting typesetting software based on Windows system. It is used for the layout, editing and control of laser cutters. It can communicate with the laser directly without any third-party software. After operations such as shifting, Boolean operation, welding, node editing, etc., directly send the plan to the cutting machine, and the cutting operation can be performed automatically according to the user-defined settings. It supports most controllers based on RUIDA, Trocen, TopWisdom and G-Code. Import artwork in a variety of common vector graphics and image formats (including AI, PDF, SVG, DXF, PLT, PNG, JPG, GIF, BMP), arrange, edit and even create new vector shapes in the editor with partial Powerful features like shifting, boolean operations, welding, and node editing, apply settings like power, speed, number of passes, cut order, brightness and contrast, dither mode, and more, and send the results directly to your laser cutter.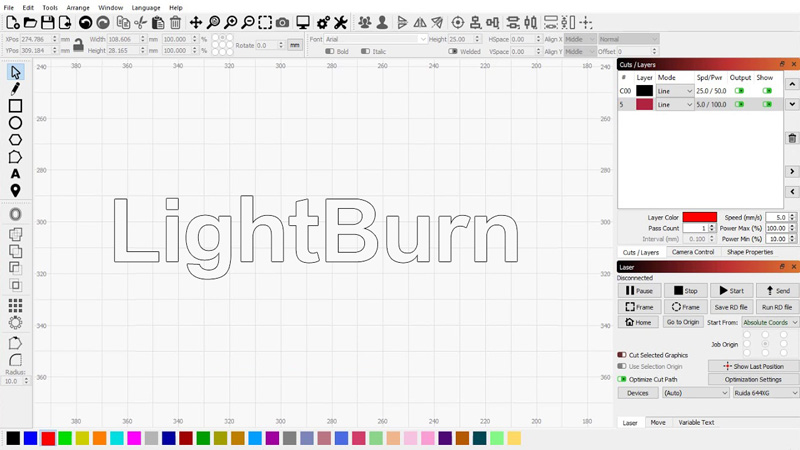 LightBurn
Price: Free Version.
CAD/CAM Software
CAD/CAM software is program used on a computer with Windows, macOS, and Linux to design DWG, DXF, 3DS, WMF, DWF, PLT, AI, PDF, SVG, EPS, and more vector files for laser engraving cutting.
Adobe Illustrator
Adobe Illustrator is the most famous vector editing software that allows you to create vector graphics for any project with the precision and efficiency of professional drawing tools.
Corel Draw
Corel Draw has all the standard features of a vector graphics editor, allowing you to easily create a variety of shapes and objects. The application provides a simple and friendly interface, so you can easily view all tools and organize objects and paths.
AutoCAD
AutoCAD is a professional tool for architects, but also useful for electricians or mechanics. The software allows you to choose from a palette of blocks and add various objects. In addition, there is a quick measurement tool available to ensure all objects are the correct size.
Archicad
Another software that can be used for laser cutting is the Archicad. This software is designed to allow architects to easily and easily model various buildings. The software also supports Solibri connections, allowing you to easily collaborate with other users.
FAQs
What is the best software used for a laser cutter?
The best laser cutting software based on Windows, macOS, Linux include LaserCut, CypOne, CypCut, RDworks, Laser GRBL, EZCAD, LightBurn, Inkscape, EzGraver, LaserWeb, SolveSpace, Corel Draw, Adobe Illustrator, Archicad, AutoCAD and other CAD/CAM software.
How to make a laser engraving file with CAD/CAM software?
How to use CAD/CAM software to design laser engraving drawings, generate machine-readable AI, PDF, SVG, DXF, PLT, PNG, JPG, GIF, BMP file formats, and finally produce laser engraved projects. The 4 easy-to-follow steps are listed below:
Step 1. Manually trace the outline & details of the project;
Step 2. Automatically extract the outline of the project and simplify it;
Step 3. Draw a simple pattern;
Step 4. Typesetting the pattern and exporting the laser engraving file.
How to install a laser cutting software?
You can contact the supplier or customer service personnel to get the software installation program, or you can download the installation program directly from the laser cutting software official website. Before installation, please check that your computer operating system meets the following officially recommended minimum requirements. After the check is complete, you can start to install the software and run the installer directly. To prevent program files from being modified during the installation process and ensure the normal installation of all drivers, please close the antivirus software on the computer operating system during installation.
How to use a laser engraving software?
After installation, the icon shown will appear on the computer desktop, double-click to run the laser engraving software. The startup window will pop up during the startup process, and the main interface of the software will automatically pop up after the startup is complete. For specific operation steps, please refer to the user manual provided by the merchant.
Things To Consider
So far, you have learned about ten of the most popular laser engraving and cutting software, each with their own advantages and disadvantages. Whether you use it for personal hobbies or industrial production, there is always one that can meet your needs.