Industrial Digital Fabric Cutting Machine for Textile & Leather on Sale at Cost Price
Type: CNC Digital Knife Cutting Machine
Sale Price: $14500.00 / Set
Price Range: $14500.00 to $17800.00 / Set Based On The Features
Supply Ability: 100 Sets / Month Waiting for Your Order in Stock
Global Shipping: Available to Your Location in
Payment Terms: T/T, Credit Cards, e-Checking, Alibaba Trade Assurance
Automatic digital fabric cutter is a type of industrial fabric cutting machine with CNC controller to cut textile and leather for commercial use in small business and industrial manufacturing.
Demonstration Video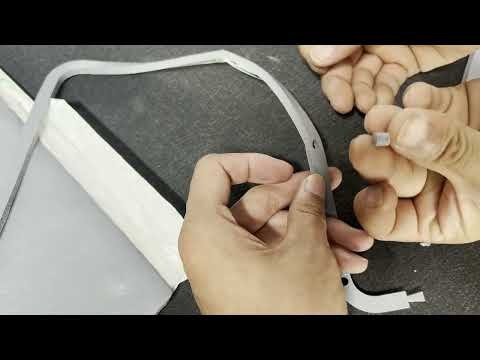 Product Details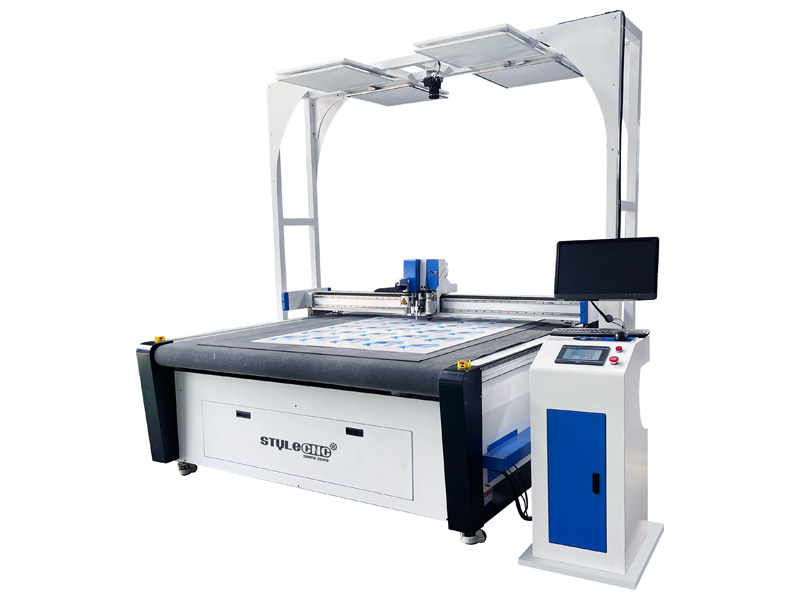 Digital fabric cutting machine is an automatic industrial CNC cutting system for fabric, textile, leather, carpets, foot mat, leather seat, lining, tail box pad, car seat cushions, wire ring pads, automotive interiors, it can also cut sponge, EVA, soft glass, silicone, rubber and more. Digital precision fabric cutting machines are widely used in the industries such as costume, shoes, furniture, sports goods, package, home textiles, decorations, cars and so on. This digital fabric cutting machine is also known as CNC fabric cutting machine, industrial fabric cutting machine, digital fabric cutting system, digital fabric cutter, precision fabric cutter, digital leather cutting machine, digital textile cutting machine, industrial leather cutter, industrial textile cutter.
Technical Parameters of Industrial Digital Fabric Cutting Machine
| | |
| --- | --- |
| Model | STO1625A |
| Working area | 1600×2500mm |
| Control system | Kinco touch screen control system |
| Precision | ±0.01mm |
| Cutting thickness | ≤50mm |
| Maximum cutting speed | 500-1000mm/s |
| Safety device | Infrared sensors |
| Drive system | Panasonic servo motor |
| Transmission system | Taiwan square linear guide and belt |
| Graphic format supported | DST,PLT, BMP, DXF, DWG, AI, LAS, etc. |
| Vacuum pump | Included |
| Working table | Flat table or Automatic feeding table |
| Voltage | 380V±10%, 50Hz or 220V±10%, 60Hz |
| Machine Size | 3570mmx2290mmx1165mm |
Advantages of Automatic Industrial Digital Fabric Cutting Machine
High Speed
Only need 80 seconds to finish one set of car foot mat, only need 6 minutes to finish one set of car cushion mattress.
High Efficiency
No need of any die mold, or die mold cutting machine, this digital cutting machine can press mark, cutting and molding on soft materials such as fabric, leather, textile, carton and more, saving much labor and cost.
Low Cost
The digital fabric cutting machine machine can do design, cutting instead of manual design and cutting, save labor, and material wastage cost.
Wide Applications
This digital leather cutting machine can cut textile, fabric, leather, paper, carton, PU, fiber, PVC foot mat, EVA, XPE, fiberglass, composite cladding, sponge cladding, sponge+drape+composite leather, plastic board and other soft materials.
High Performance
The flatbed digital cutter adopts Taiwan TBI ball screw or high precision rack pinion with low noise, accurate transmission, long service life, and high precision.
Features of Automatic Digital Fabric Cutting Machine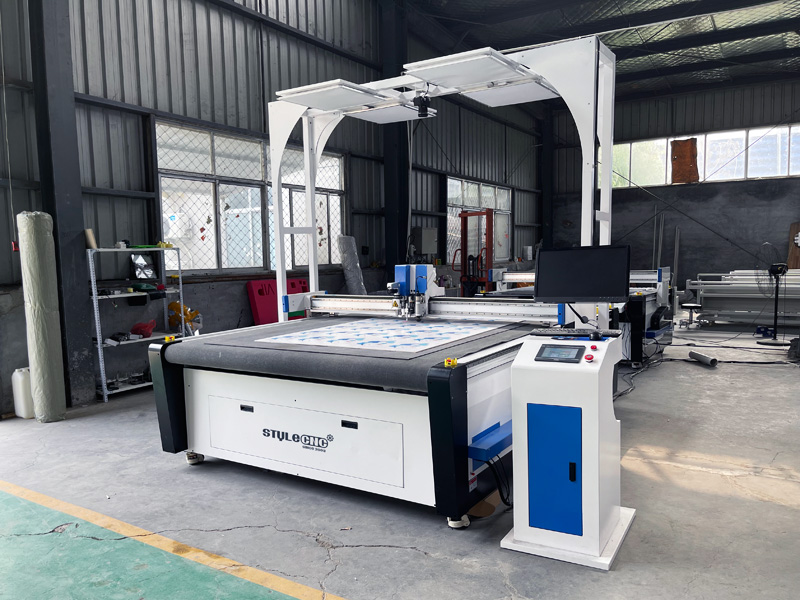 1. Electric Oscillating Tool (EOT):
The Electric Oscillating Tool is ideally suitable for cutting soft, medium-density materials. The high oscillating frequency makes it possible to cut at high processing speeds for greater throughput.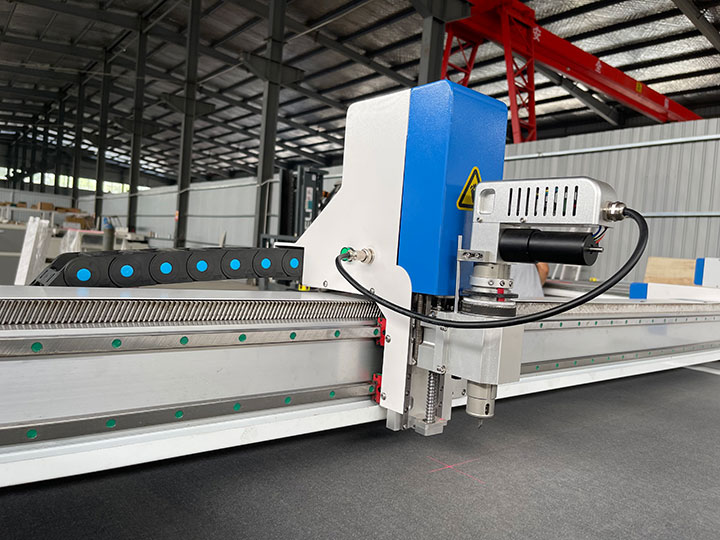 EOT+POT+CCD+Marking pen: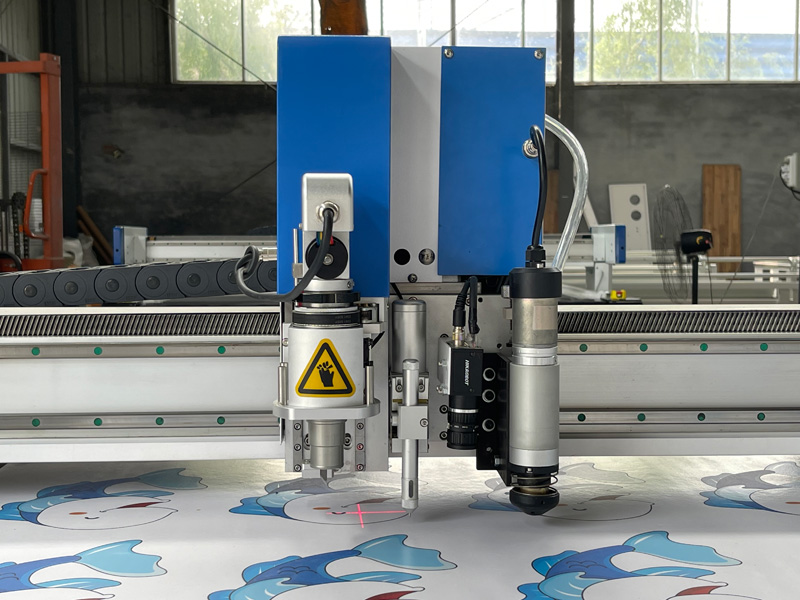 2. Aluminum vacuum table with high density felt covered.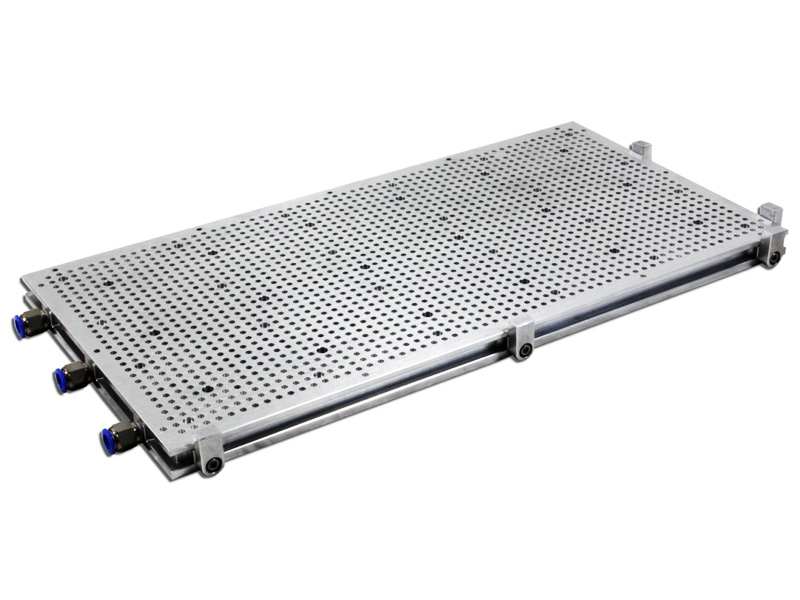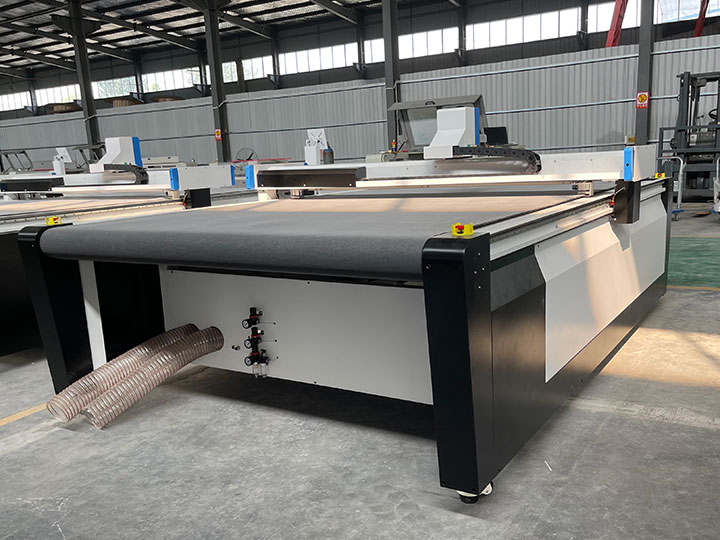 3. Infrared sensors can effectively protect the safety of the operator.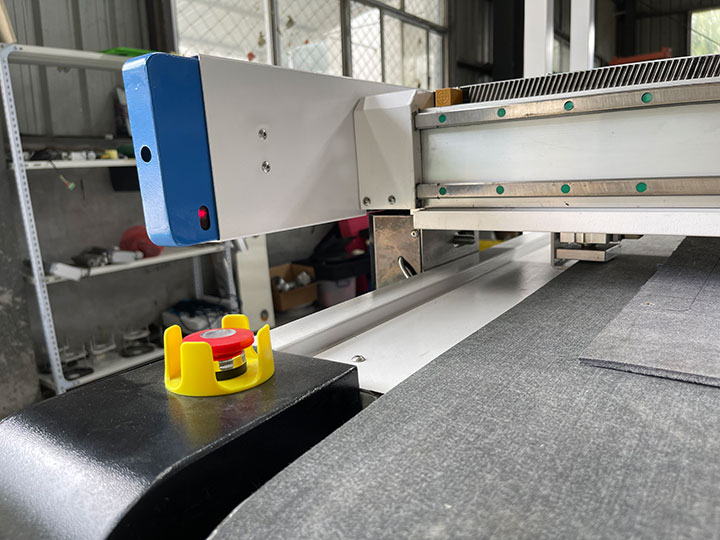 4. Taiwan Hiwin square rails to guarantte high speed cutting automotive interior designs.
5. CNC controller: Automatic English operation system with touch screen, easier to operate.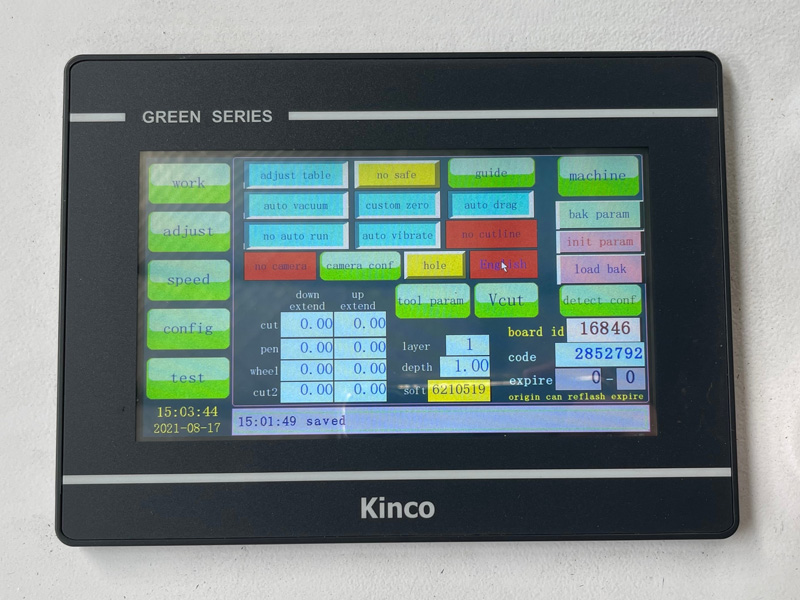 6. Stable structure: Thick wall square tube welding, side plate tempering treatment, the lathe bed is processed by five side milling machining center, aging treatment, solid without deformation.
7. Kinco touch screen control system with high precision, high efficiency, high reliability, green and environmental protection automatic cutting.
8. Modular structure design, simple and safe operation mode, to ensure the speed and accuracy of operation.
9. Vacuum adsorption table, high-power vacuum pump, air volume up to 300m³/hour.
10. Perfect lubrication system to extend the service life of the machine.
11. The gantry type movement is adopted, and the materials on the working table can be processed at will, so the operation is convenient.
12. X/Y axis is driven by high-precision rack, with high speed and precision.
13. The Z axis is driven by high-precision double nut automatic clearance ball screw with high precision.
14. The digital leather cutting machine adopts square linear guide rail to ensure the high precision and bear large load.
15. The wire adopts imported high flexible shielded cable.
Automatic Digital Fabric Cutter Applications
Automatic digital fabric cutter is applied in industrial manufacturing for sofa, seat, car seat cover, car floor mat, car carpet, handbag, shoe industry, clothing industry, composite material industry, luggage industry, automobile industry, advertising and printing industry, electronic industry, decoration industry, furniture industry, packaging industry and more.
Industrial Digital Fabric Cutting Machine Projects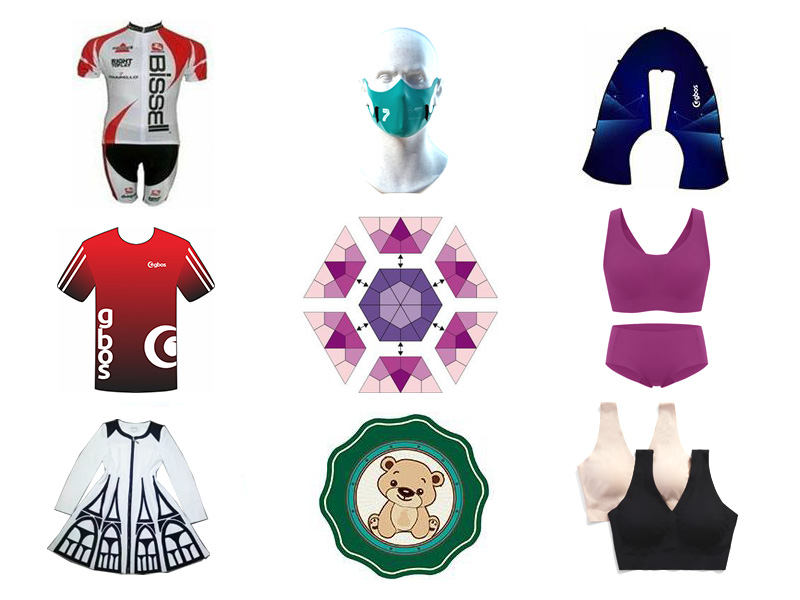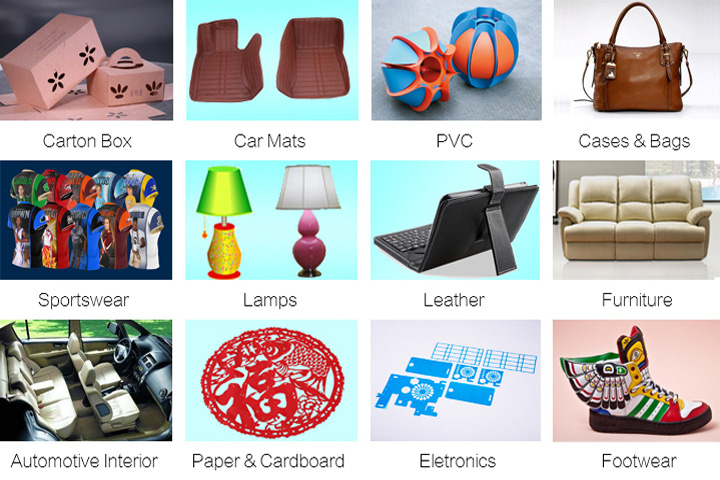 Automotive Interior Cutting Designs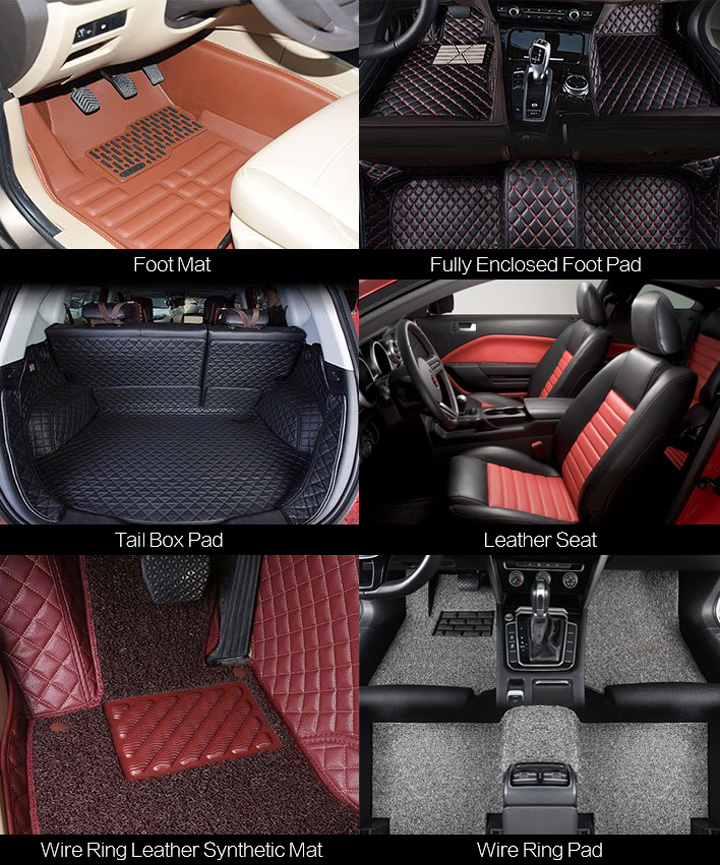 Automatic digital fabric cutter is able to configurate with different cutting tools for different work, such as V-cut tool for producing complex structural designs from foam or corrugated paper materials, pneumatic oscillating tool for cutting tough and dense materials, wheel knife tool for cutting glass and carbon fiber as well as textiles, and kiss cut tool for cutting vinyl and so on.
If you are not sure what type tools you need, please send us inquiry with your details of materials, we have professional service team to recommend the best suitable industrial digital cutting machines and tools.
International Shipping Around the World
All the CNC machines can be shipped worldwide by sea, by air or by international express logistics via DHL, FEDEX, UPS. You are welcome to get a free quotation by filling up the form with name, email, detailed address, product and requirements, we will shortly contact you with the full information including the most suitable delivery method (fast, secure, discreet) and freight.
Post A Review
Customer Reviews and Testimonials
Lodano

from AustraliaPosted on

Oct 05, 2022

This automatic digital cutter has completely changed my way of thinking in cutting fabric. I have always used different sizes of scissors for this job in the past, However, I used this automated fabric cutting machine on cotton fleece fabric in my clothing customization workshop, and it was like a hot knife through butter. It was precision with the clean edges. In addition, it is stable and easy to use and it has an impressive automatic controller. I think for the price you do get a quality machine which will save you cost and time.

Olivia

from United StatesPosted on

Feb 11, 2021

I use this digital cutting machine to cut fashion and textiles. Cuts perfectly well with smooth edge. I like how easy it is to use this fabric cutter. Great value for the price.