CNC Wood Lathe Machine for sale with affordable price
Model: STL2030-S
Category: CNC wood turning lathe machine
Views:

199
Brand:
STYLECNC
®
Rating:
Standard Price:

$

7380.00

/ Set
Price Range:

$

7380.00

to

$

7680.00

/ Set according to configuration

The price will float according to the configurations of Affordable CNC Wood Lathe Machine for sale
Supply Ability: 10 Sets / Month In stock! From - Jinan Style Machinery Co.,Ltd
Payment Terms: L/C(Letter of Credit), T/T(Telegraphic Transfer), Western Union, Alibaba
Mail to us
Request for Quotation
Affordable CNC Wood Lathe Machine is used for turning complex shape of rotary or semi-finished wood products, such as staircase column, cylindrical, conical, curved, spherical, etc. now the CNC wood lathe machine for sale with affordable price.
Video Show
Product Show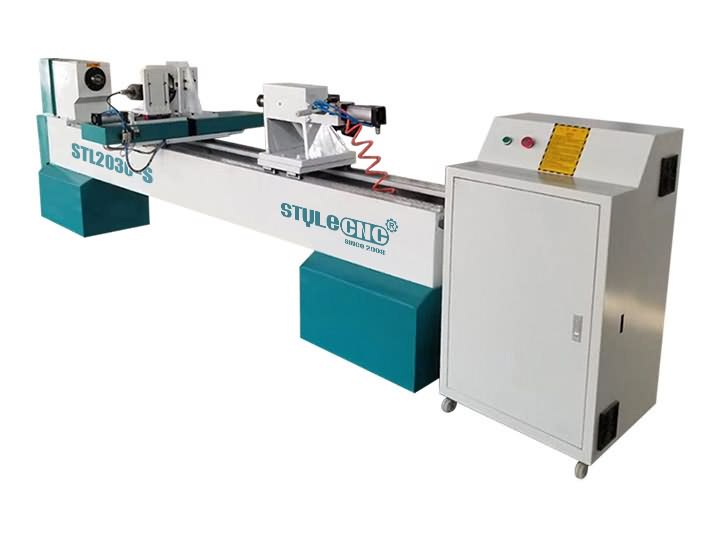 Features of Affordable CNC Wood lathe machine:
1. Maximum working length is 2000mm and Maximum turning diameter is 300mm.
2. The Affordable CNC wood lathe Machine has two cutters at two sides of the machine, the two cutters can work together to improve the work efficiency greatly.
3. Linear square rails, ball screws, electronic components with high quality, high precision and durable.
4. Heavy-duty with good stability to avoid shaking when the spindle rotates with high speed or the big sizes workpiece process, and the main spindle speed can be adjusted through the frequency converter.
5. Easy operation, we can draw by Coredraw, Artcam, autoCAD and other softwares, and the control directly by the CNC cabinet computer (Industrial PC configuration) or transfer the files to machine by USB (DSP handle configuration).
5. High Class frequency converter with high stability.
6. High accuracy stepper motor, after program calculating, guarantee the exact processing size.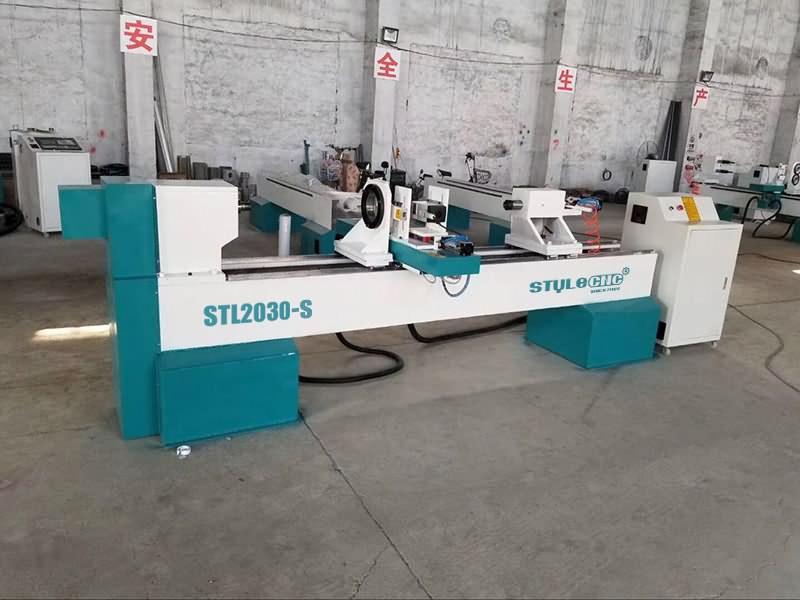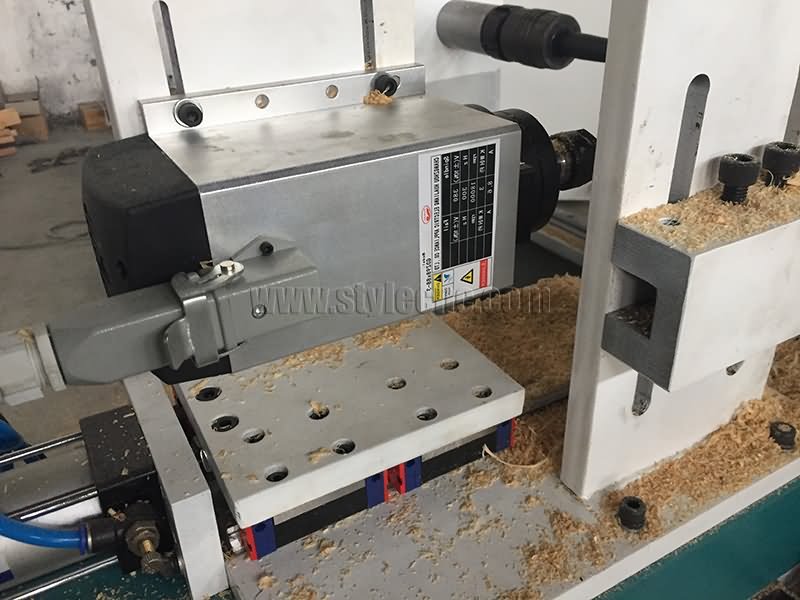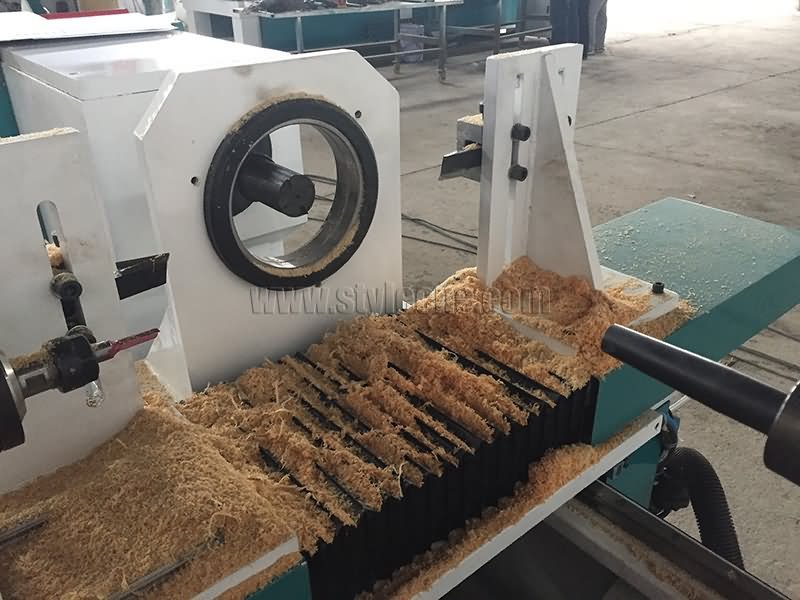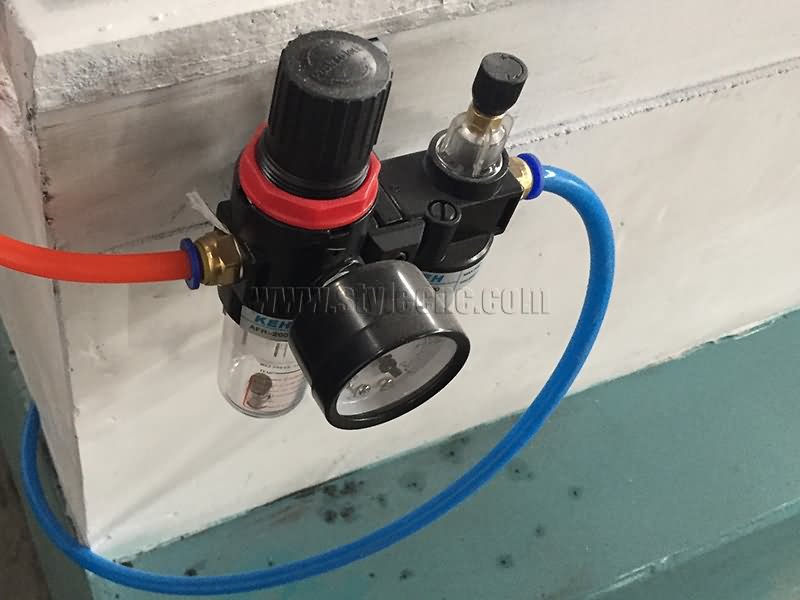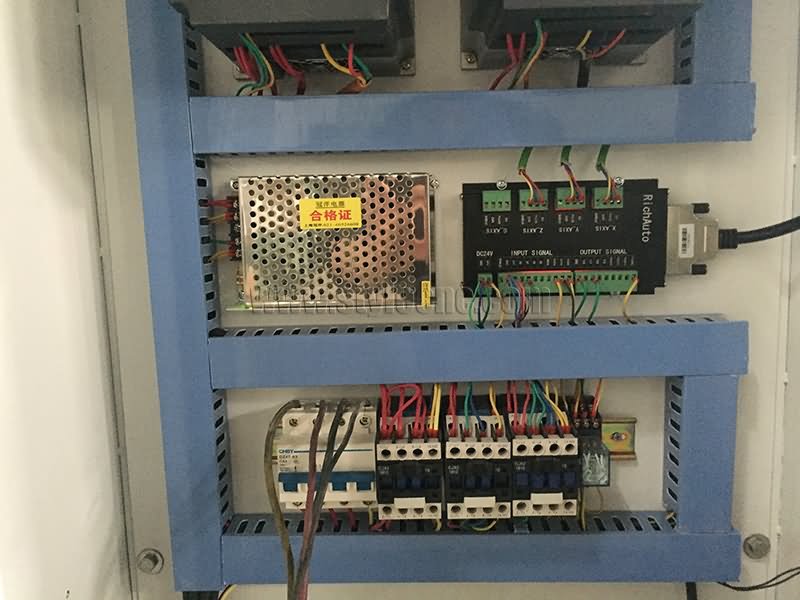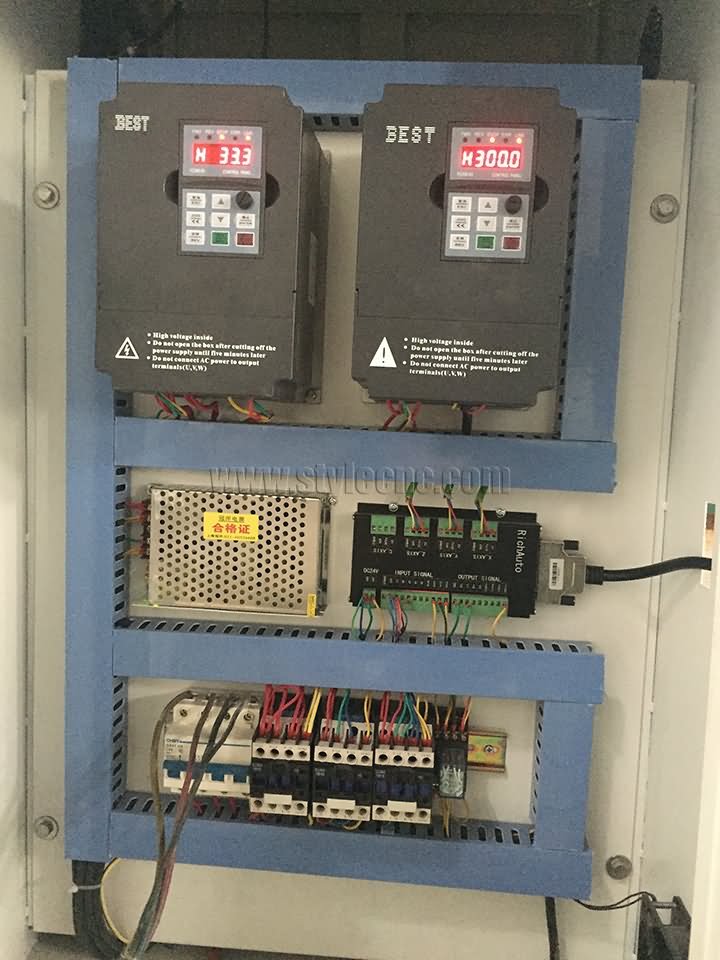 Technical Parameters of Affordable CNC Wood Lathe machine:
| | |
| --- | --- |
| Model | STL2030-S |
| Max turning length | 2000mm |
| Max turning diameter | 300mm |
| Spindle | 3.5KW air cooling spindle |
| Maximum feed rate | 200cm/min |
| Spindle speed | 0-3000r/min |
| Minimum setting unit | 0.01cm |
| Control system | DSP |
| Driving system | Stepper motor |
| Power supply | AC380v/50hZ |
| Overall dimensions | 0.6-0.8MPa |
Applications of Affordable CNC Wood lathe Machine
Applicable Materials:
Bodhi, Bodhi root, mahogany, gold-rimmed nanmu, rosewood, mahogany, boxwood.
Applicable Industries:
Bead, barrel, all kinds of buddha heads, gourd pendant, hoist pieces, wood cup, bowl, whip, cigarette holder, eggs, ashtray, scroll painting head, pens and wine stoppers.
Various cylindrical workpieces, bowl sharp, tubular sharp and vehicle wood crafts, various staircase column, stairway balusters, stairway newel posts, dining table legs, end table legs, sofa table legs, bar stool legs, Roman column, general column, washstand, wooden vase, wooden table, baseball bat, car wooden furniture, children' s bed column, chair arm posts, chair stretchers, sofa and bun feet, bed rails, lamp posts, baseball bats, etc.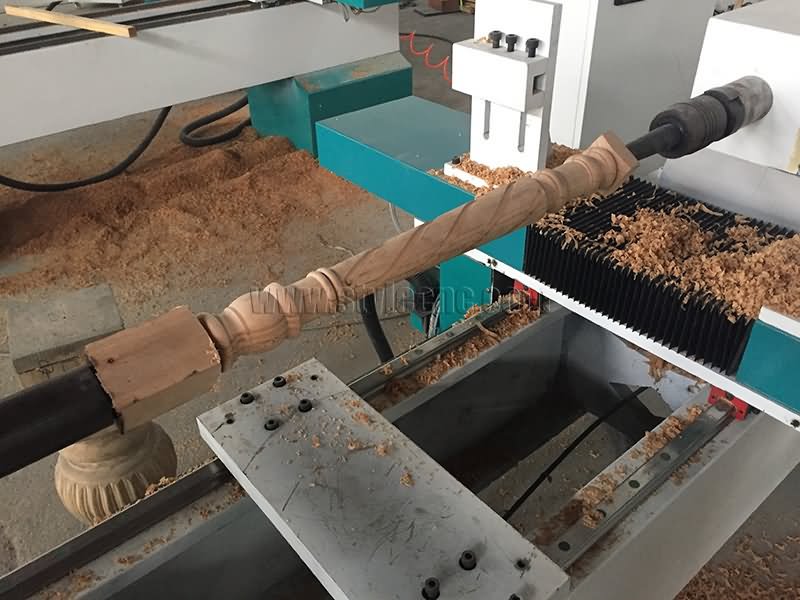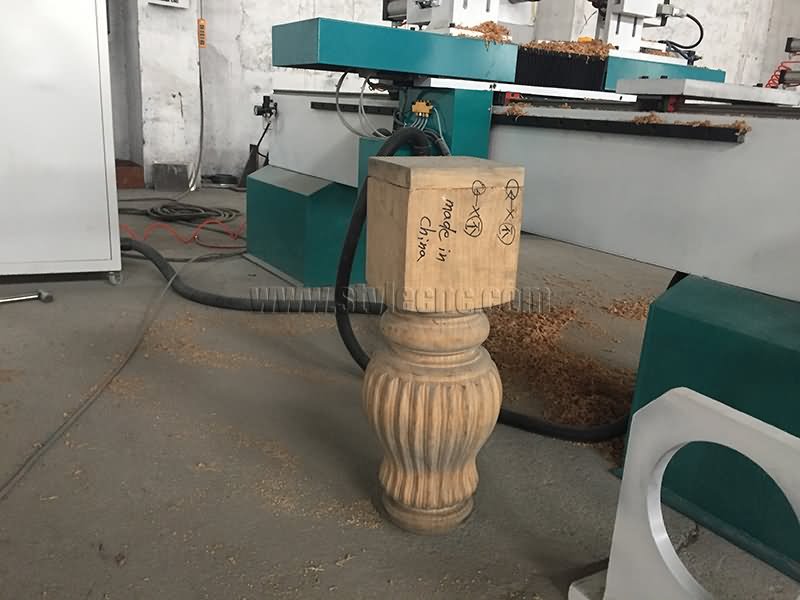 Projects of Affordable CNC Wood Lathe Machine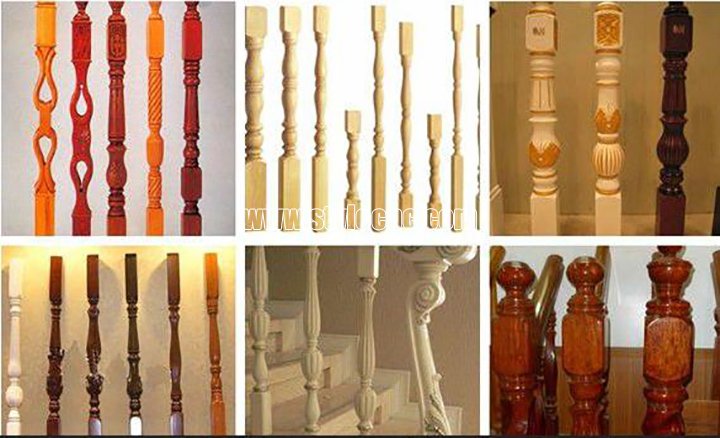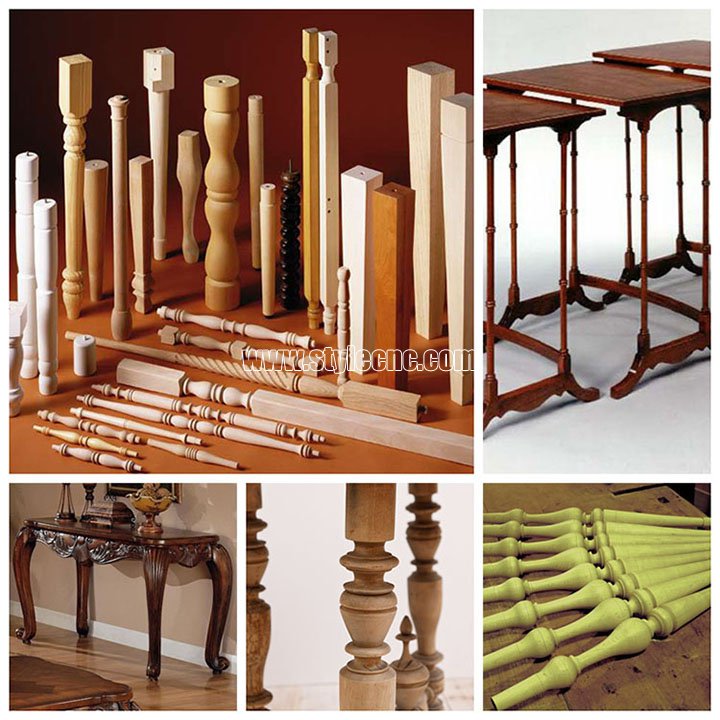 Scan QR code for mobile friendly

Data statistics, please wait a moment!
* is requiredRequest for Quotation
Related Articles
CNC Wood turning lathe STL1530-S is ready for delivery to Turkey

CNC Wood turning lathe STL1530-S is finished and ready for delivery to Turkey. The customer uses it to make stair railing, baseball bat, chair leg etc cylinder wood materials engraving.STYLECNC News

STL1516 CNC wood turning lathe machine is ready to be shipped to Argentina

​STL1516 CNC wood turning lathe machine is designed for our Argentina customer, the machine is ready to be shipped to Buenos Aires, Argentina.STYLECNC News

CNC wood lathe turning operation

CNC wood lathe has entered a stable period, at present, the CNC wood lathes on the market have no different with ordinary wood lathes, but they also have their own little personality. CNC Solutions

In the use of a CNC wood lathe, there will be system and random errors, STYLECNC will analysis the reasons of CNC wood lathe errors for everyone.User Manual

New CNC wood lathe is ready for delivery to Romania

Romania CNC wood lathe STL1530-S with single axis, double blade for wood turning, the spindle has installed gymbal for wood grooving, carving and hollowing.STYLECNC News

Big size CNC wood lathe with spindle for carving

Big size CNC wood lathe can max turn 200mm length column with 300mm diameter, The spindle can do carving, grooving, twisting and hollowing, etc.STYLECNC News

A guide to buy the right CNC wood lathe machine?

There are so many models CNC lathe machine for different work, so some customer don't know which model CNC lathe machine is suitable for their work, now STYLECNC will let you know every model machine's features and function.CNC Solutions
Contact STYLECNC
Jinan Style Machinery Co.,Ltd
Tel: +86-531-83161518
Mob/Whatsapp/WeChat: +86-18766148818
Skype:
Email: info@stylecnc.com
Website: www.stylecnc.com
Office: Yongda Buliding, Nanquanfu Street, Licheng District, Jinan, Shandong, China
Factory: Huashan Industrial Park, Licheng District, Jinan, Shandong, China