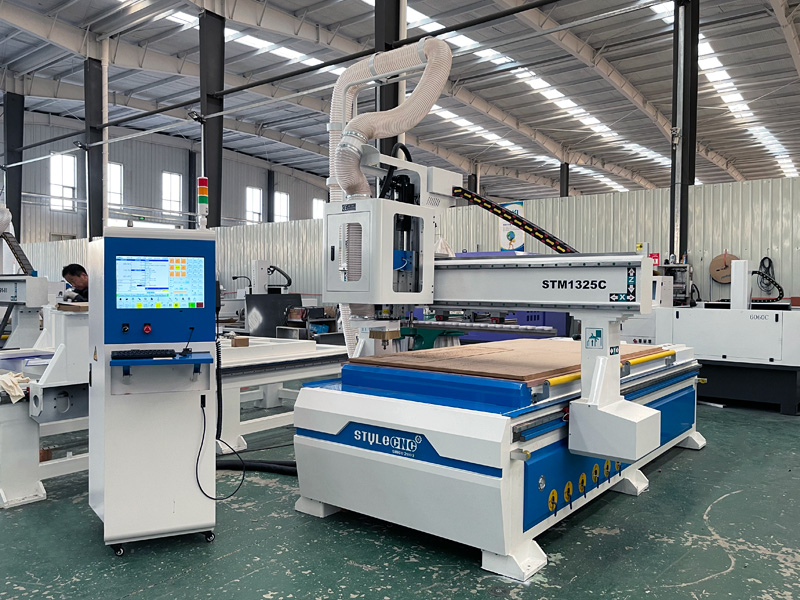 STM1325C
STM1325C 4x8 ATC wood CNC router machine is a type of heavy-duty and multi-purpose CNC woodworking machine with automatic tool changer for carving, milling, drilling, grooving, and cutting from STYLECNC. It has the industrial features of high precision, high speed, constant torque, low runout, strong stability and long life. It is suitable for wood, acrylic, aluminum, copper, aluminum-plastic panels, plastics, and carbon fiber composite materials.
4x8 ATC CNC wood router machine is a high-end CNC woodworking machining center, also known as a CNC cutting machine. The tool magazine is located under the crossbeam. Eight different tools can be placed and the tool change speed is fast. Proficient in cutting, carving, drilling, and everything, it is a good helper for making furniture, and it can also be equipped with automatic loading and unloading and automatic labeling, which greatly improves the manufacturing efficiency.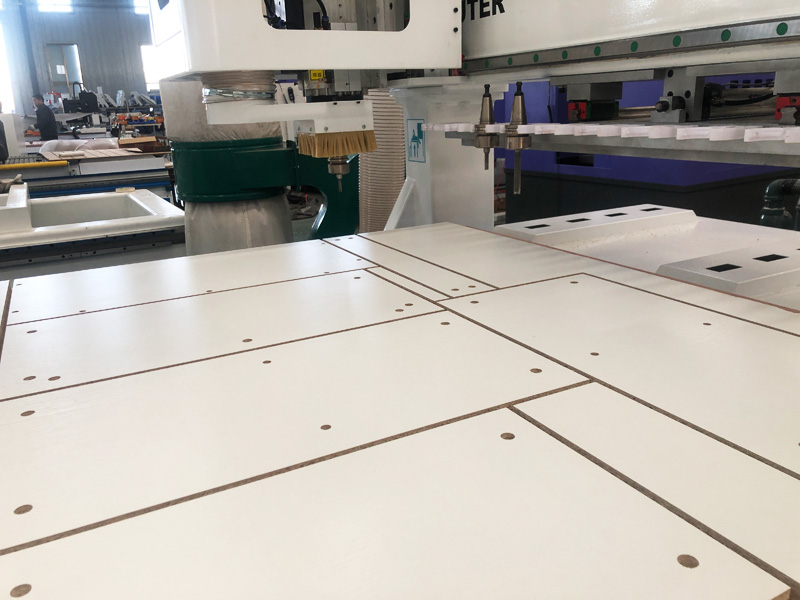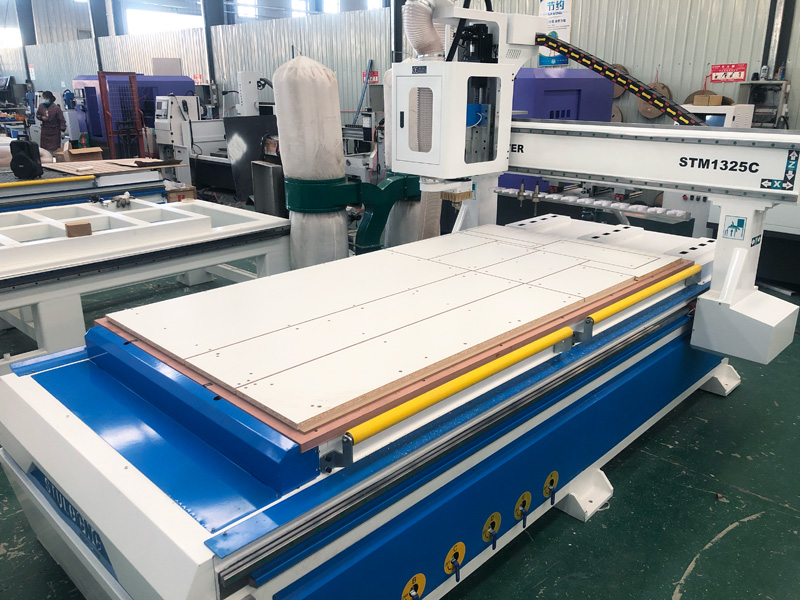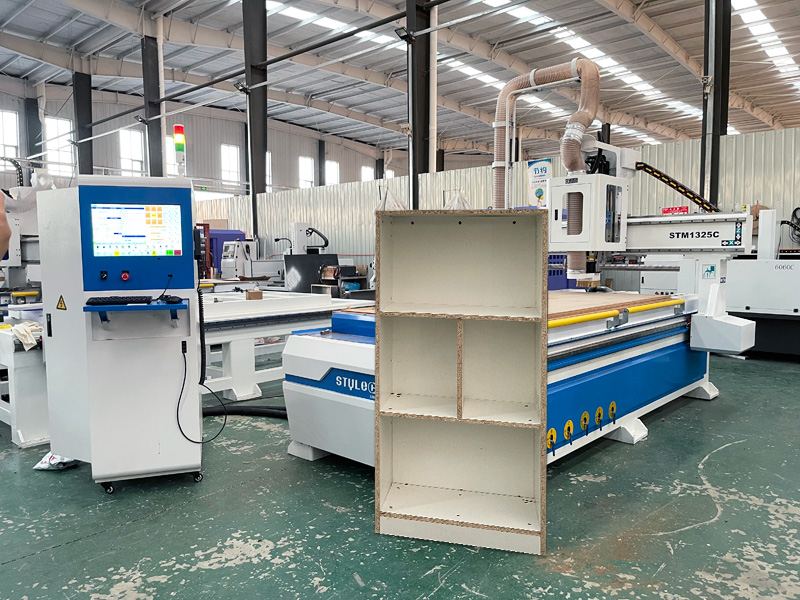 4x8 CNC Wood Router for Furniture Making
STM1325C industrial wood CNC machine adopts T-type bed structure design and gantry movement mode. The bed adopts industrial welding technology, and is processed by high-precision 5-axis gantry milling after stress relief quenching to ensure the rigidity and geometric accuracy of the machine tool.
STM1325C 4x8 ATC CNC router machine adopts grid phenolic resin vacuum adsorption to fix the worktable. The advantage of the vacuum adsorption table is that even if it is an irregular plate, it can still be tightly fixed on the table of the CNC machine. During the routing process, vibration will not affect the routing effect. Obviously, the table with vacuum adsorption will be to a certain extent. Improve the accuracy of routing, especially for thinner, lighter or irregular plates. After this type of fixture is fixed, it may still cause small displacements due to machine vibration during the routing process, which affects the accuracy of routing, and the vacuum adsorption table is very A good solution to this problem.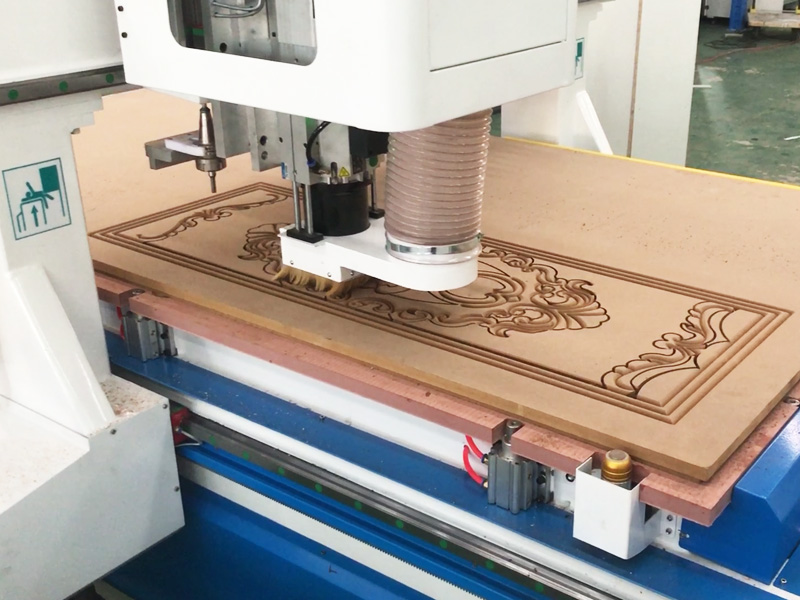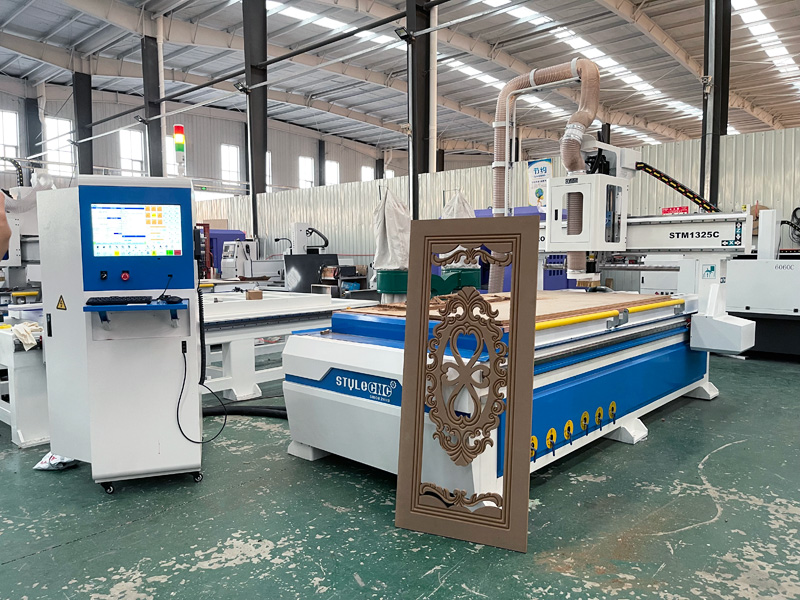 4x8 CNC Router for Cabinet Making
The X and Y axes use high-precision racks, and the Z-axis uses high-precision grinding grade ball screws, which have the features of high precision, reversibility and high efficiency.
X, Y, Z axis adopt high-precision self-lubricating linear rail. Grinding grade high-precision linear slide. High positioning accuracy, good reproducibility; Low friction resistance, can maintain accuracy for a long time; Can withstand high load capacity in four directions; With automatic centering ability, walking parallel accuracy ≤18um; Self-lubricating, low noise.
STM1325C automatic tool changer CNC router is driven by all-digital AC servo motor. It has the advantages of high speed, high precision, high response, quiet and balanced operation; it can realize precise position control, speed control, torque control; support MODBUS communication protocol, adopt RS-232/RS-485 communication interface; provide rigid meter Setting, inertia identification and vibration suppression functions are simple and easy to use; it adopts precision planetary reducer, which has small size, low noise, high output torque and long life; it adopts high quality limit switch, which is sensitive in induction and fast in feedback.
STM1325C 4x8 CNC router table adopts 9.0KW high frequency ATC tool change spindle. It has the features of high speed and quietness; It adopts special spindle for mold making, which has the features of high precision and low runout; Constant function and constant torque are suitable for high-speed cutting and milling cutting industry.
STM1325C industrial CNC router machine uses a professional CNC motion control system, it can directly support G code and PLT code formats generated by various CAD/CAM software such as Type3, MASTERCAM, CASMATE, Art CAM, AUTOCAD, UG, CorelDraw, etc. The control system software is based on the Microsoft Windows operating system, which has the advantages of simple, reliable operation and easy to learn. In addition to the functions of manual, stepping, automatic and machine origin return, the numerical control system also has unique functions such as simulation, dynamic display tracking, Z-axis automatic tool setting, breakpoint memory (program skip execution) and rotary axis processing, strong anti-interference ability, good system stability, support 3D simulation display function, support tool change function, support disc tool magazine, straight-line tool magazine and multi-cylinder control.
STM1325C-R1 4x8 CNC Router Machine with 4th Rotary Axis is Optional for 3D Woodworking Projects & Plans.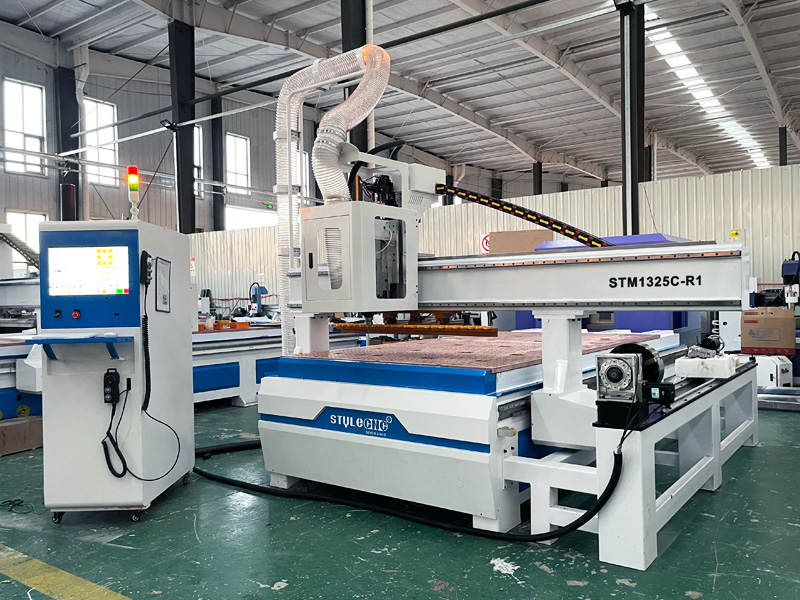 STM1325C-R1