Large Gantry Industrial Plasma Cutting Machine for Sale at Cost Price
Sale Price: $6800.00 / Set
Price Range: $6800.00 to $15600.00 / Set Based On The Features
Supply Ability: 100 Sets / Month Waiting for Your Order in Stock
Global Shipping: Available to Your Location in
Payment Terms: T/T, Credit Cards, e-Checking, Alibaba Trade Assurance
Industrial gantry plasma cutting machine is designed for large format sheet metal fabrication, the industrial plasma system is used to cut mild steel with flame cut and cut high carbon steel, stainless steel, aluminum, copper and other non-ferrous metal with plasma cut. Now the industrial gantry CNC plasma cutter for sale at cost price.
Demonstration Video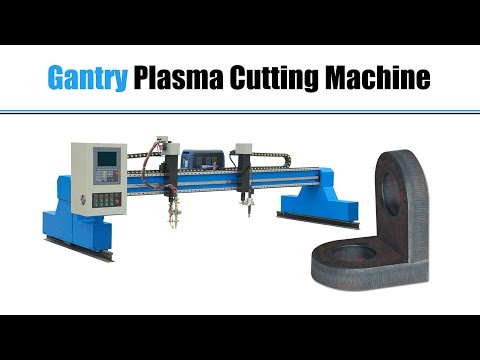 Product Details
Large gantry industrial plasma cutting machine is specially designed for sheet metal fabrication, it is characterized of high automation and efficiency, easy operation and long service time. This industrial plasma cutter has gantry structure with double-driven system, working size can be customized upon requirements. It can be used for cutting carbon steel, stainless steel and non-ferrous metal in any 2D graphics. The gantry CNC plasma cutting machine is widely used in sheet metal cutting fields.
CNC plasma gantry kit has simple structure, convenient adjustment and precise control. It can realize horizontal and vertical movement separately or in conjunction, and can easily form a variety of processing tracks to meet the processing needs of different workpieces. It has a wide cutting range, great flexibility, and adjustment space. The height of the cutting torch in the vertical direction can be precisely adjusted to meet the height setting requirements of different processes. Due to the large span of the gantry, a bilateral drive is adopted laterally to make the movement stable.
CNC plasma table gantry kit is bidirectionally supported, the force is more uniform, the equipment has good rigidity, and can achieve a large lateral span, usually up to 3 to 10m. However, the equipment installation requirements are high, the structure is relatively large, and it takes up more plant area. The driving mode is divided into unilateral driving and bilateral driving. Unilateral drive and bilateral drive each have their own characteristics and applications. The unilateral drive avoids the high-precision synchronous control and complicated structure of the bilateral drive. However, due to the offset of the center of mass and the driving force does not pass through the center of mass, asymmetric inertial force will be generated during operation, which is prone to vibration, deformation and tilt. Therefore, it can only be used in a small span. The double-sided drive structure is relatively complicated and requires high-precision synchronous control on both sides, which can be used for a larger span and more stable movement.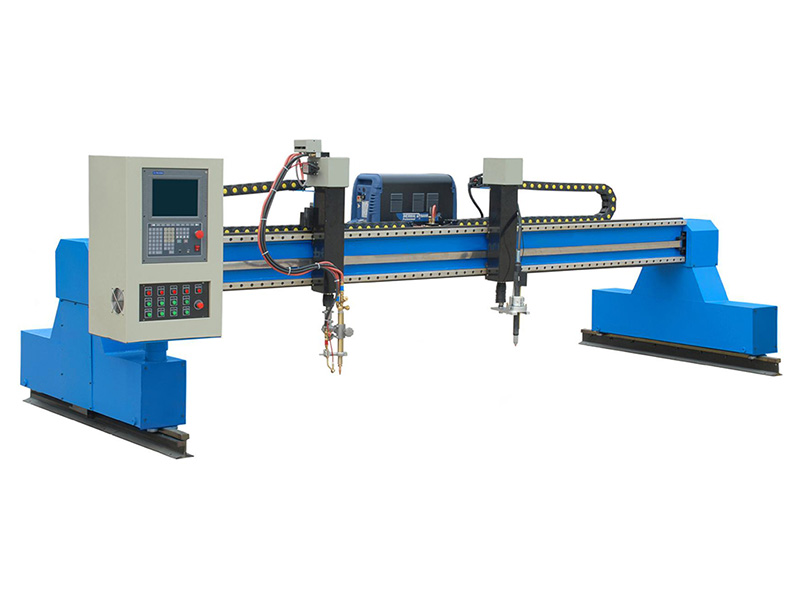 Features of Industrial Gantry Plasma Cutting Machine
1. Steel hollow beam design ensures good heat dissipation without deformation.
2. The gear-rack driving motions without engagement gap ensure the machine running smooth at high speed.
3. Fully functionalized CNC controller and optocoupler device enhance the super anti-jamming capability of the plasma cutting system.
4. World's top branded components and circuits ensure long service life.
5. Multiple cutting torches can be configured. Both flame and plasma torches are optional to meet the needs of cutting different materials in a range of thickness.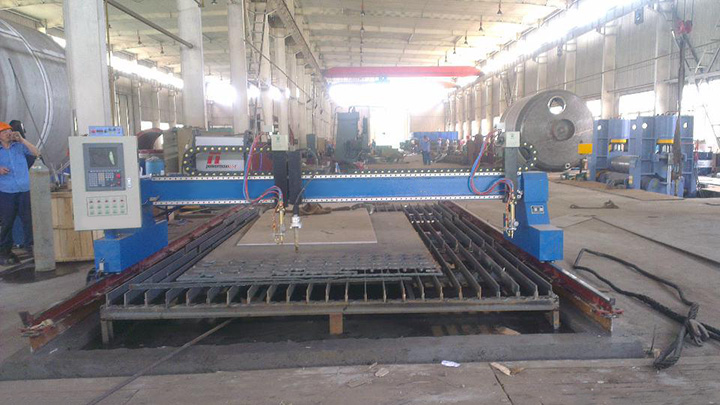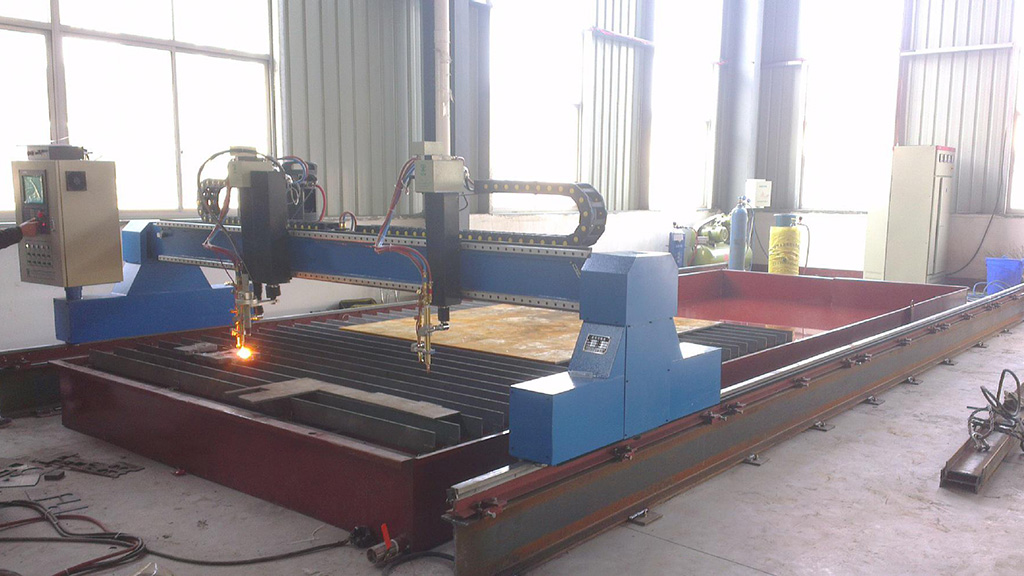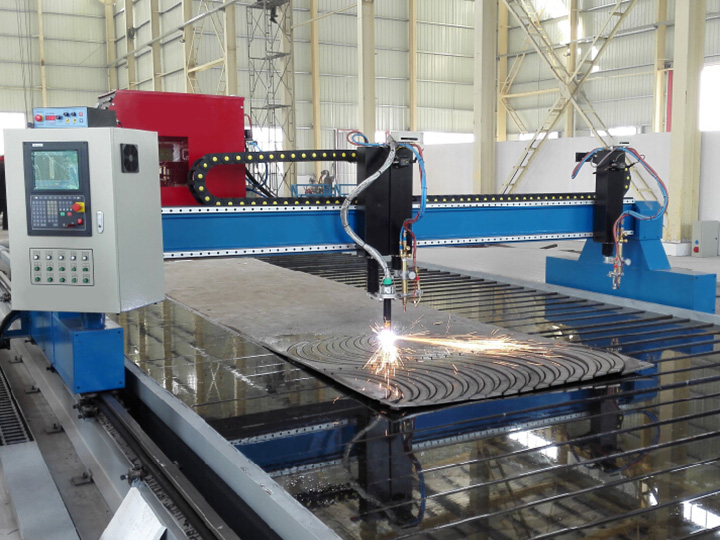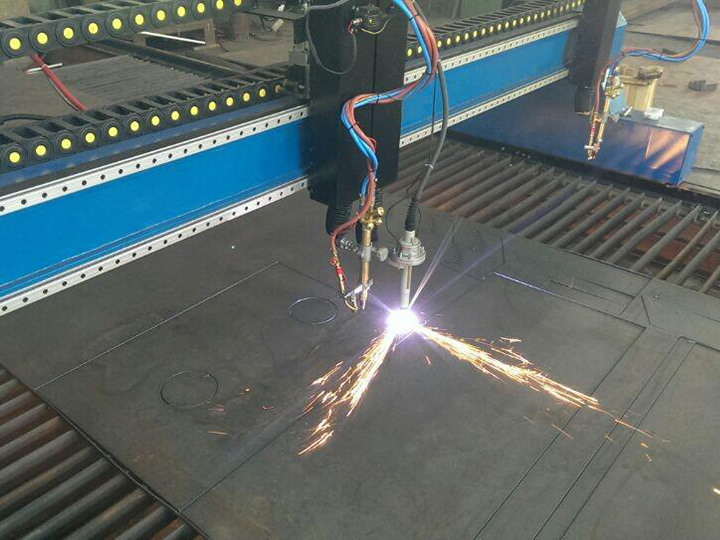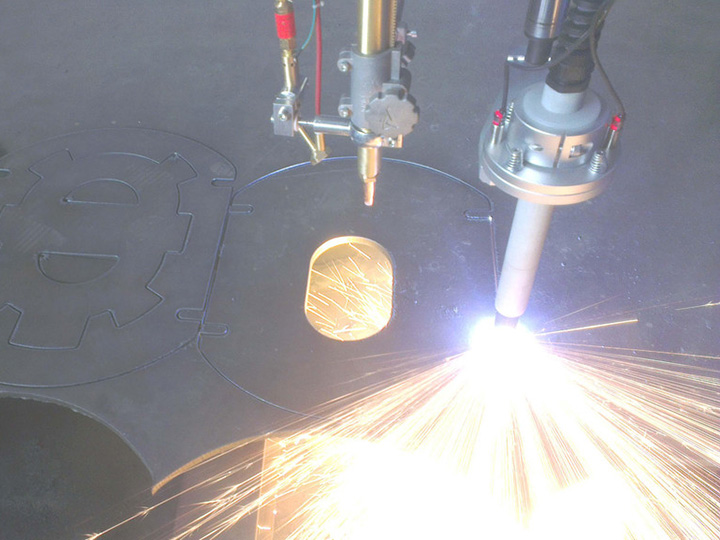 Technical Parameters of Large Gantry Industrial CNC Plasma Cutting Machine
Model

STP3000-G

Cutting Area

3000mm

Input Power

220 ± 10%V AC 50Hz /60 Hz

Cutting Modes

Plasma Cutting / Flame Cutting / Plasma Cutting+ Flame Cutting

Transmission Style

Rack&Gear

Drive Style

Stepper Motors

Servo Motors for option.

Torch Lift Distance

200MM

Torch&Number

One Plasma Torch / One Flame Torch.

One Plasma Torch + One Flame Torch.

Two Flame Torches/One Plasma Torch + One Flame Torch.

Plasma Cutting Thickness

Depend On Plasma Source

Torch Height Control

Plasma Automatic Torch Height Control.

Flame Capacitance Torch Height Control.

Cutting Speed

For Servo Motors: 0 - 10000 mm/min

For Step Motors: 0 - 4000 mm/min

Cutting Table

Standard cutting table.

Work piece collect drawer cutting table.

Smoke and dust collector with work piece collect drawer cutting table.

We can supply drawing of the cutting table with the machine for free.
Industrial Large Gantry CNC Plasma Cutting Machine Applications
Industrial large gantry plasma cutter with big size can cut mild steel with flame cutting and cut high carbon steel, stainless steel, aluminum, copper and other non-ferrous metal with plasma cutting, it can be configurated as your request, thus it is widely applied in industries such as machinery, automobile, shipbuilding, petro-chemical, war industry, metallurgy, aerospace, boiler and pressure vessel, locomotive, etc.
Large Gantry Industrial CNC Plasma Cutter Projects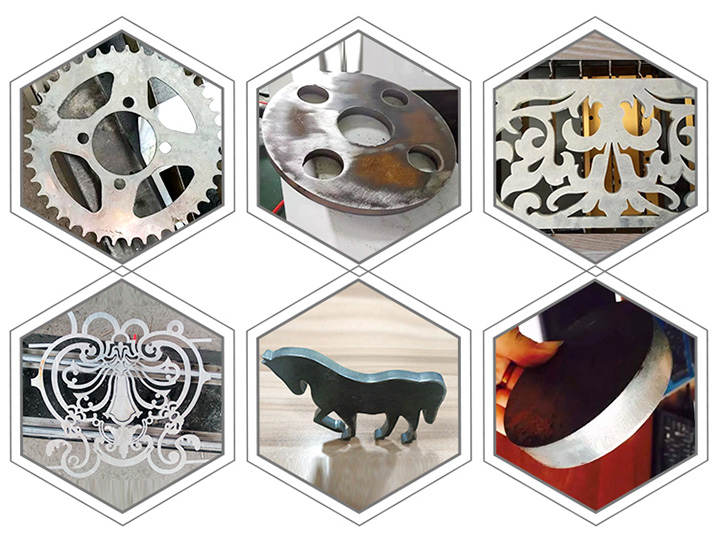 Package of Large Gantry Industrial Plasma Cutter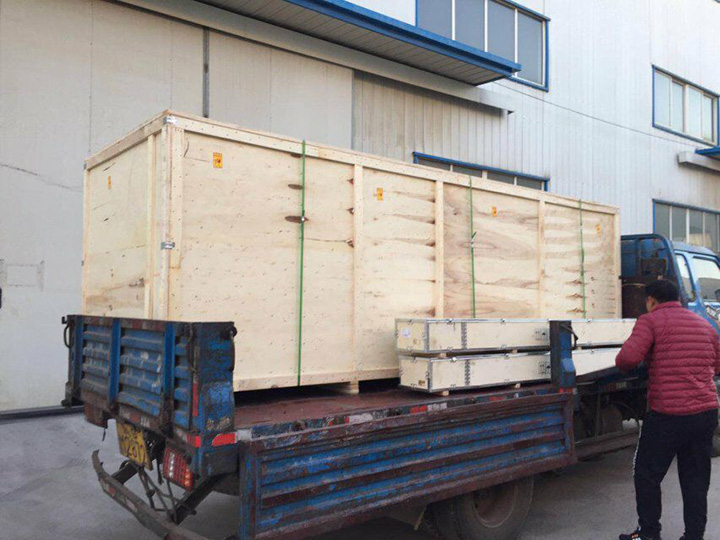 International Shipping Around the World
All the CNC machines can be shipped worldwide by sea, by air or by international express logistics via DHL, FEDEX, UPS. You are welcome to get a free quotation by filling up the form with name, email, detailed address, product and requirements, we will shortly contact you with the full information including the most suitable delivery method (fast, secure, discreet) and freight.
Post A Review
Customer Reviews and Testimonials
Кристинка Столока

from UkrainePosted on

Nov 23, 2020

I had a smaller plasma cutting machine before for 2-3 carbon steel, also bought from STYLECNC. This time for 30mm thick carbon steel, they recommended me the heavy gantry plasma cutting machine. The machine has arrived for 3 months. the workers use it every day, so far it works very well. Sometimes the workers contacted after-sale service for some questions, they also gave the response immediately. I really appreciated it.