STP1325 Gantry CNC Plasma and Flame Cutting Machine for sale
Model: STP1325
Category: CNC plasma cutter
Views:

972
Brand:
STYLECNC
®
Rating:
Standard Price:

$

4800.00

/ Set
Price Range:

$

4800.00

to

$

25000.00

/ Set according to configuration

The price will float according to the configurations of Portable Gantry CNC Plasma and Flame Cutting Machine STP1325
Supply Ability: 10 Sets / Month In stock! From - Jinan Style Machinery Co.,Ltd
Payment Terms: L/C(Letter of Credit), T/T(Telegraphic Transfer), Western Union, Alibaba
Mail to us
Request for Quotation
Portable gantry CNC Plasma and Flame Cutting Machine is designed for heavy metal plate cutting, The CNC plasma and flame cutting machine has gantry structure with double-driven system, working size can be customized upon requirement. It is widely used in metal cutting fields.
Video Show
Product Show
Portable Gantry CNC plasma and flame cutting Machine is widely used in ship, car, boiler pressure vessel, steel structure, plane, engineering machinery and other fields.
The flame cutting head used to cut thicker metal materials and Plasma cutter for thin metal cutting, such as carbon steel, cut stainless steel, aluminum, copper and other metal plates. It is especially designed for irregular drawing batch cutting.
| | |
| --- | --- |
| Plasma power | Cutting thickness |
| Hypertherm 65A | Carbon steel 12mm, stainless steel 8mm |
| Hypertherm 85A | Carbon steel 16mm, stainless steel 12mm |
| Hypertherm 105A | Carbon steel 22mm, stainless steel 18mm |
| Hypertherm 125A | Carbon steel 25mm, stainless steel 20mm |
| Flame cutting head | Can cutting metal 1-200mm |
Gantry CNC Plasma and Flame Cutting Machine features:
1. Gantry cnc plasma and flame cutting machine can cut very big and small parts. The size is 1.3*2.5m and we also can make it according your need to make it more big, like the Y axis can make it up to 8-10m.
2. It has two cutting head, one of them is Hypertherm plasma cutting head and other is independent lift Flame cutting head can cutting around 150-200mm metal.
3. With very famous power supplier Hypertherm. Can provide a big and stable power when tha machine working.
4. STARFIRE control system and with Arc voltage Auto Height-adjusting Device, arcing can protect cutting torch from damage, increase cutting quality. And advanced CNC control system, success rate over 99%.
5. Double guide and square rails can keep the machine stability.
6. Big torque stepper motor and driver,which with features of function detecting, high running precision, wide speed range and short speed up time.
7. Imported high-precision Hiwin Rail Linear guide, smooth movement, to ensure that the machine tools high-precision. Small cutting gap, no residua.
8. Excellent performance on cutting illuminated letters for advertising and channel letters on metal surface board
9. Designer perfectly, select the best machine accessories, to minimize the failure rate preferred.
10. Support G code files of Wentai, ARTCAM, Type 3 software. Also support DXF files of AUTOCAD by transfer software. Control system supports U disk file transfer, easy operation
Hypertherm Powermax plasma cutting source: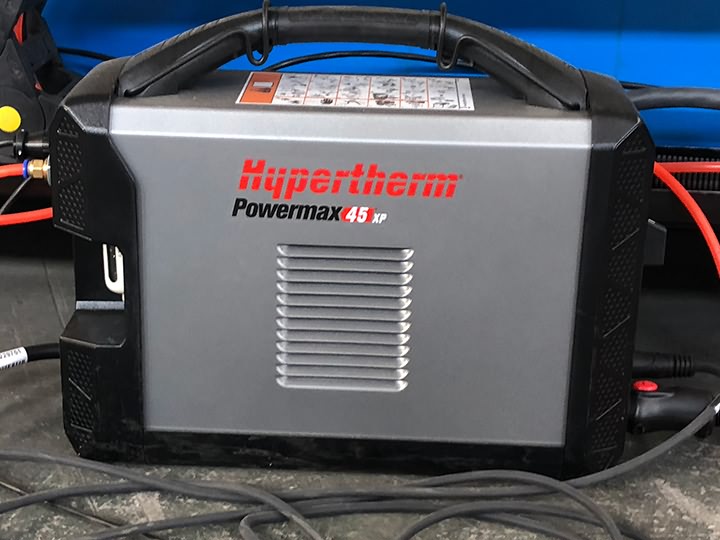 Hypertherm cutting torch: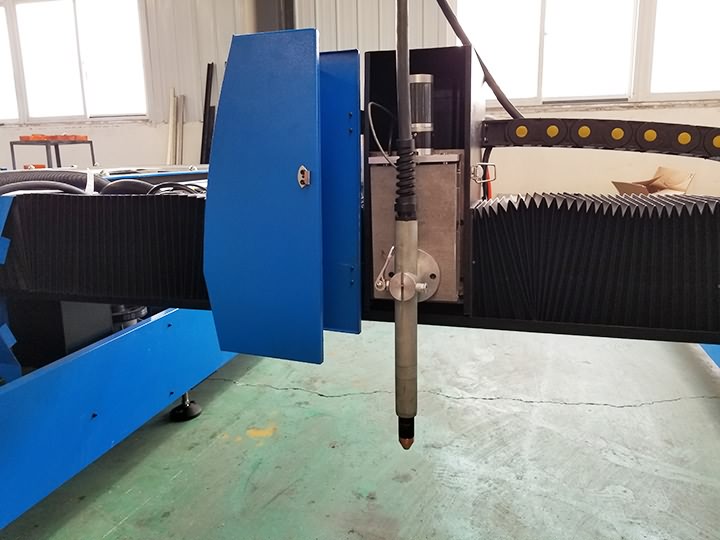 Professional plasma cutting control system: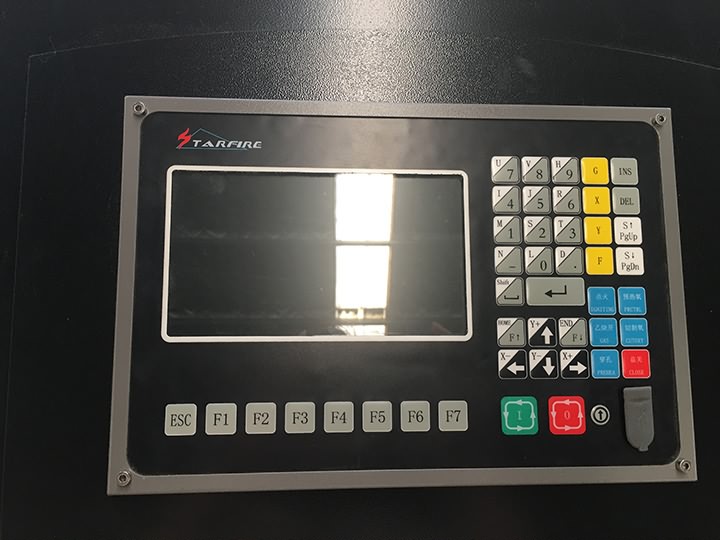 CNC plasma cutting nozzle: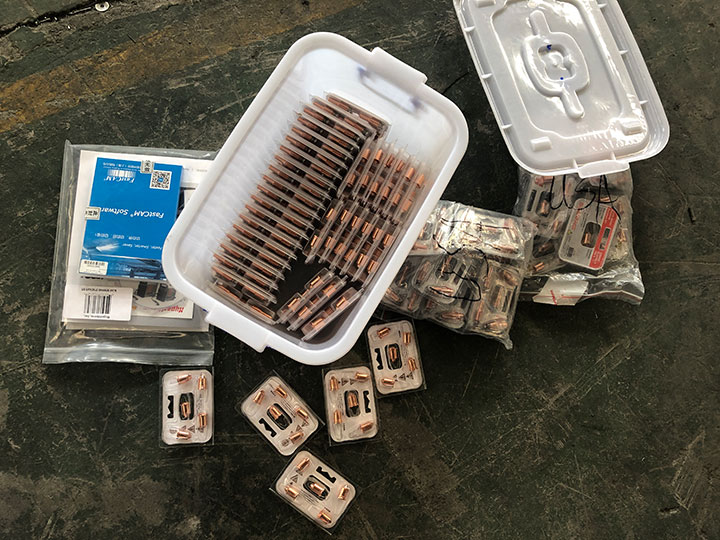 Technical parameters of Gantry CNC Plasma and Flame Cutting Machine:
| | |
| --- | --- |
| Model | STP1325 |
| Motor Style | Stepper Motors Dual Drive |
| Effective Cutting Range for each Tool X*Y | 1300*2500mm |
| Cutting Speed | 0-4000mm/min |
| Input Power | Single Phase AC 220V |
| Cutting Modes | Plasma Cutting and Flame Cutting |
| Transmission Style | Rack And Gear |
| Working Precision | ± 0.2 mm / meter |
| Plasma Cutting Thickness | Depends on the cutting capacity of the Plasma Generator |
| Flame auto igniter | Including Flame device |
| Gas Pressure | Acetylene Gas or Propane Gas Max 0.1Mpa |
| Oxygen Pressure | Oxygen Gas Max 0.8Mpa |
Samples of Gantry CNC Plasma and Flame Cutting Machine: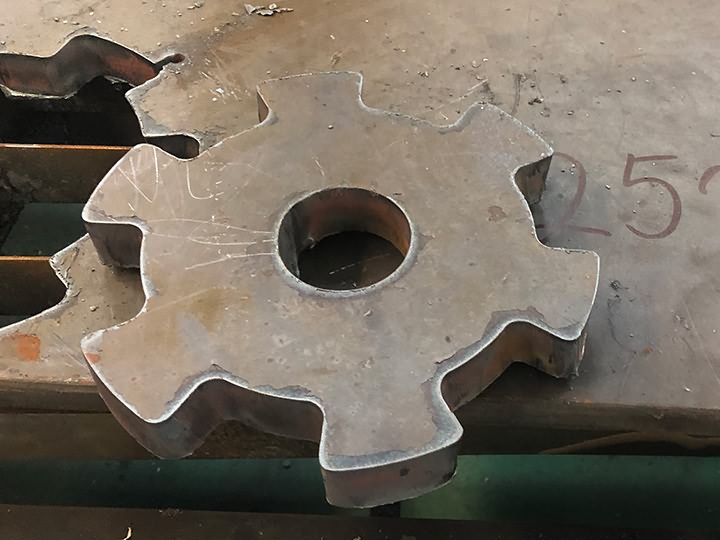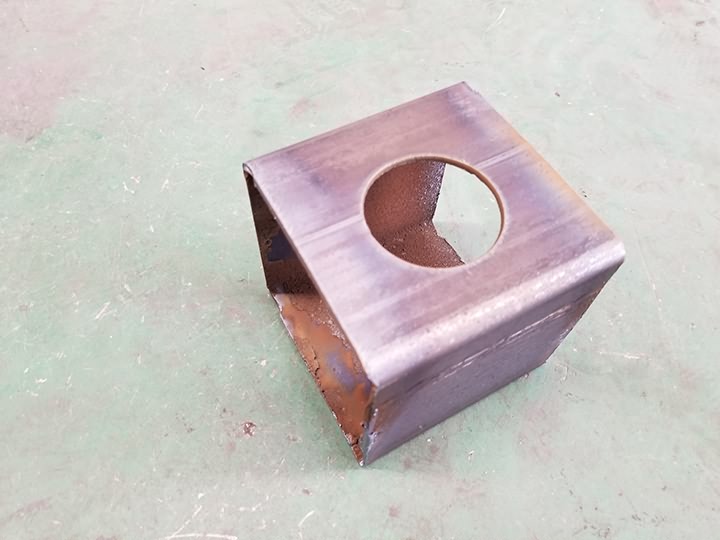 Gantry CNC Plasma and Flame Cutting Machine package:
1. Foam packing inside.
2. Carton packing in middle.
3. Wooden case packing outside.
1. After-sale service and maintenance:
STYLECNC supply good technical service, the installing, operation, maintenance service, user can through telephone or Web ( QQ, Skype, email, remote assistance, and other way ) to communicate with our technical department .
Our portable gantry CNC plasma cutting machine team ensure give the feedback in 24 hours after received the question. If the telephone or the remote assistance can't solve the problem, we will arrange our CNC plasma cutter engineer to come to user scene for equipment maintenance.
2. Quality warranty:
STYLECNC provide one year warranty for the portable gantry cnc Plasma cutting machine without consumable parts. After 12 month warranty, STYLECNC supply the maintenance, user only need charge the cost of the basic fee.
We will supply the different spare and accessory parts in low cost at a long time.
Scan QR code for mobile friendly

Data statistics, please wait a moment!
* is requiredRequest for Quotation
Related Articles
13 Most Common CNC Plasma Cutter Problems and Solutions

STYLECNC will take you to learn the 13 most common CNC plasma cutter problems in plasma cutting process and tell you the solutions to solve the problems.CNC Solutions

Laser cutting machine VS Plasma cutting machine

Compared with plasma cutting machine, laser cutting machine has its own advantages, also has its own disadvantages, you should make a choice according to your actual needs.User Manual

Trends of CNC plasma cutting machine price

With the development of high technology, CNC plasma cutting machine power prices have also been compared to previous years, has also been under, especially USA Haibao power in the domestic price is also reduced, so the CNC plasma cutting macIndustry News

What is A CNC Plasma Cutter used for?

A CNC Plasma Cutter is used for cutting sheet metal, metal plates, metal arts, metal signs, metal pipes, metal tubes and other metal cutting works.User Manual

How to evaluate the quality of CNC plasma cutting machine?

How to evaluate the quality of CNC plasma cutting machine? one is cutting nozzle height and stability, the second is the cutting speed and working pressure of matching.User Manual

Customized gantry plasma cutting machine with 4*8m

4*8m gantry plasma cutting machine with cutting size 4000*8000mm,it is customized by our customer for their iron and steel cutting.STYLECNC News

How to prolong plasma cutting machine consumption parts life?

How to prolong the consumption parts life of plasma cutting machine? ensure the correct pressure and flow of the plasma cutting machine, using a reasonable cut distance for plasma cutting machine.User Manual
Contact STYLECNC
Jinan Style Machinery Co.,Ltd
Tel: +86-531-83161518
Mob/Whatsapp/WeChat: +86-18766148818
Skype:
Email: info@stylecnc.com
Website: www.stylecnc.com
Office: Yongda Buliding, Nanquanfu Street, Licheng District, Jinan, Shandong, China
Factory: Huashan Industrial Park, Licheng District, Jinan, Shandong, China