Contour Laser Cutter for Digital Printed Fabrics with Vision CCD Camera
Type: CO2 Laser Cutting Machine
Sale Price: $8500.00 / Set
Price Range: $8500.00 to $15000.00 / Set Based On The Features
Supply Ability: 600 Sets / Month Waiting for Your Order in Stock
Global Shipping: Available to Your Location in
Payment Terms: T/T, Credit Cards, e-Checking, Alibaba Trade Assurance
Contour laser cutter for digital printed fabrics & textiles with CCD camera is a vision laser cutting system for sublimation printed fabrics with all shapes and sizes.
Demonstration Video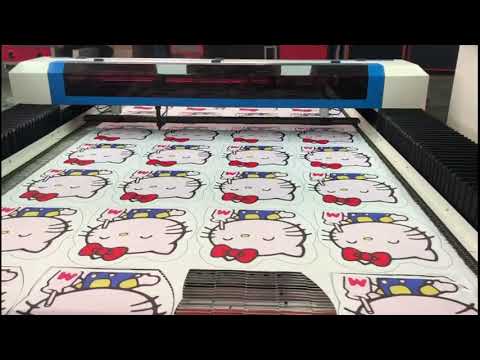 Product Details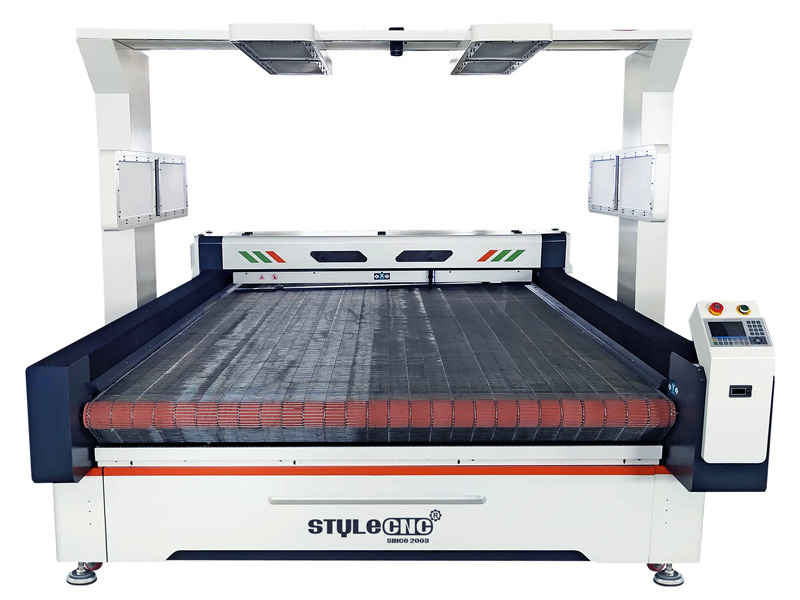 Contour laser cutter uses high-quality digital cameras to realize full-frame single shooting and full-frame image recognition, which greatly improves the efficiency of automatic camera positioning. The laser contour cutting machine supports full-frame automatic recognition of image contour generation templates and custom drawing of multiple graphic templates. The software matches the entire page material according to the characteristics of the template, and sends the processing data to the motion controller to achieve rapid and accurate positioning and cutting. The contour laser cutting machine supports setting camera calibration offset compensation, correct and recognize the overall offset that appears after the device has been running for a period of time, to ensure accurate graphics cutting. The automatic laser contour cutting system can directly cut according to the material thickness setting parameters, and the operation is simpler. The automatic feeder and conveyor is used to keep cutting continuous, saving time and increasing production. The automatic contour laser fabric cutting machine is equipped with a professional suction box design, which can effectively absorb materials and remove dust. The mesh belt has the characteristics of light weight, stable structure, no deformation, no breakage, no deviation, and good flatness. This mesh belt can be replaced one by one, cleaned at any time, convenient for maintenance, maintenance and repair, long service life, strong stability, low cost of use, and supports long-term continuous fatigue operations.
Advantages of Contour Laser Cutter for Digital Printed Fabrics & Textiles with Vision CCD Camera
1. Automatic without manual intervention.
2. Directly detect roll printed fabrics.
3. No required the original graphics files.
4. Recognition within 5 seconds on the whole cutting area.
Technical Parameters of Contour Laser Cutter for Digital Printed Fabrics with Vision CCD Camera
| | |
| --- | --- |
| Model | STJ1630A-CCD |
| Working area | 1600mm*3000mm |
| Laser power | 150W laser tube |
| Laser type | CO2 sealed laser tube, water-cooling |
| Driving system | Leadshine brand stepper motor |
| Transmission | Belt transmission |
| Guide way | High speed inner guide rails |
| Control system | Ruida control system RD6442S |
| Working table | Open stainless steel meshed worktable |
| Water chiller | CW5200 cooling system |
| Dust collector | 2 pcs dust collector |
| Air pump | included |
| Engraving speed | 0-7500mm/min (According to the materials) |
| Cutting speed | 0-4000mm/min (According to the materials) |
| Power supply | 220V/50HZ, 110V/60HZ |
| Graphic format supported | BMP, PLT, DST, DXF, AI |
| Software supported | CorelDraw, PhotoShop, AutoCAD, TAJIMA |
| Red pointer | Yes |
Details of Laser Contour Cutter for Sublimation Printed Fabrics with Vision CCD Camera
Vision CCD camera for scanning the fabric.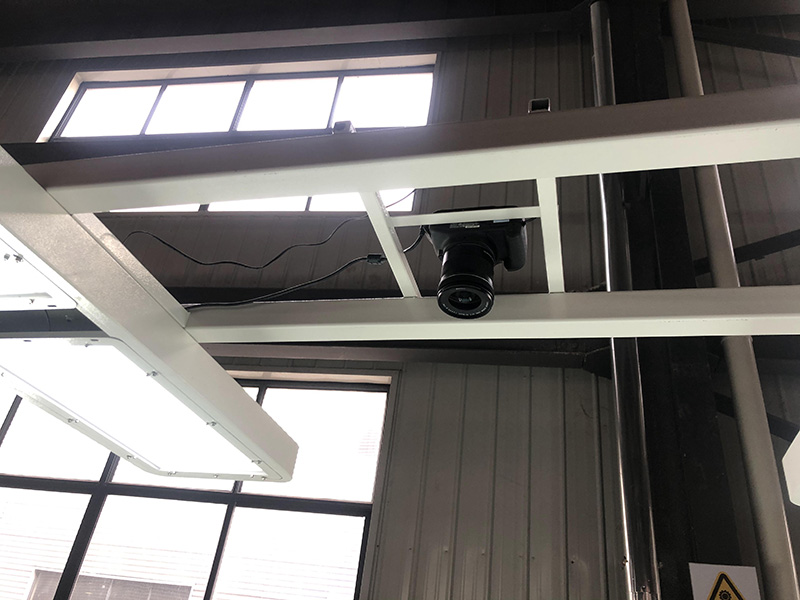 Automatic feeder to keep cutting continuous, saving time and increasing production.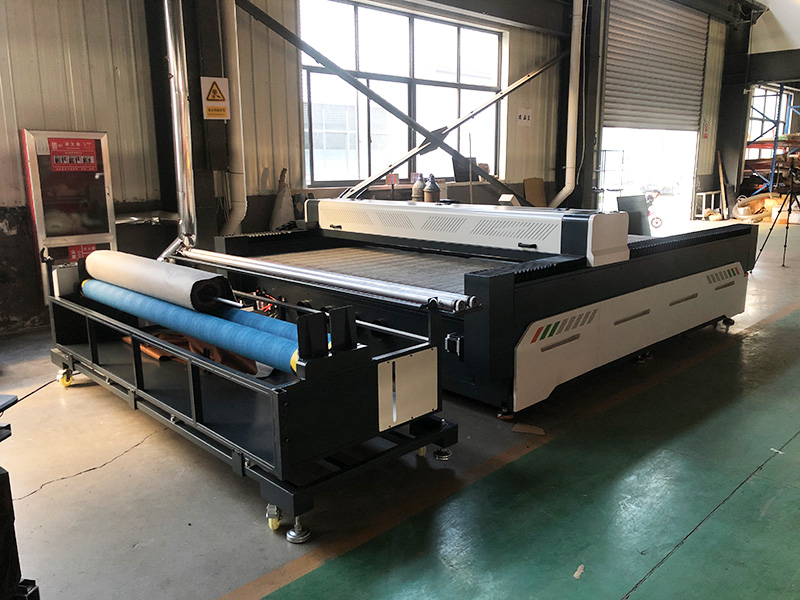 Smaller camera for option to cut small size fabric contour.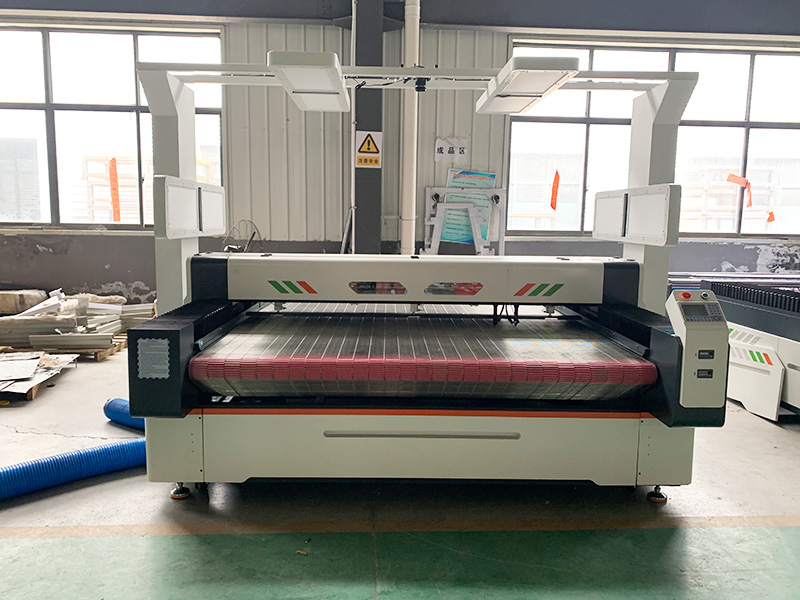 Stainless steel meshed worktable with auto feeding device to realize continuous feeding and cutting.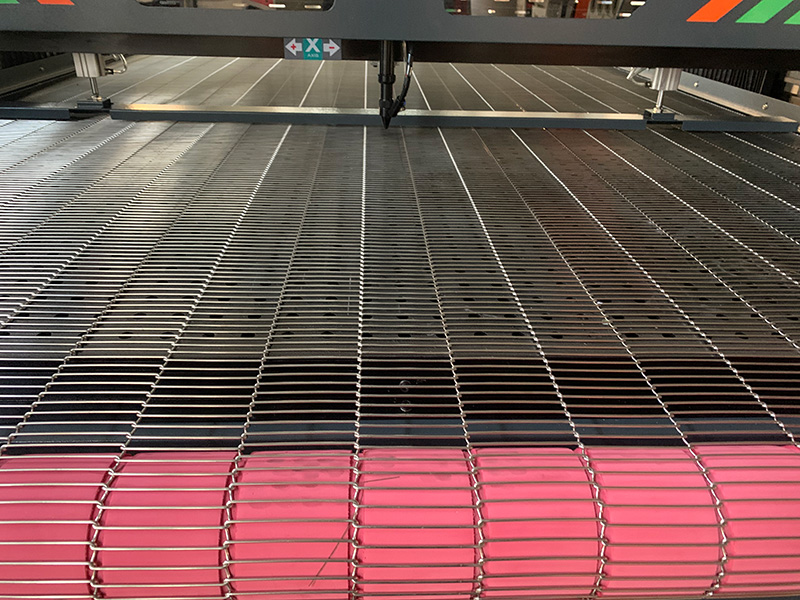 Applications of Contour Laser Cutting Machine for Sublimation Printed Fabrics with Vision CCD Camera
Vision laser cutter with CCD camera is ideal for cutting digital printed fabrics and textiles of all shapes and sizes, such as team uniforms, sportswear, polo shirt, jersey, swimwear, cycling apparel, sports shoes, banners, flags, stripe matching, plaid matching, repetitive visual pattern fashion garment, bags, suitcase, soft toys, etc.
1. Sportswear, sports garment, swim suit and all printed fabrics.
2. Strips/plaids cutting suit, shirt, dress.
3. Fabric with Repetitive Visual Motifs.
4. Arabesquitic luxury bags, suitcase and sofa upholstery.
5. Advertising banners, flags, vinyl billboard and all polyester printed signs.
Projects of Laser Contour Cutting Machine for Digital Printed Fabrics with Vision CCD Camera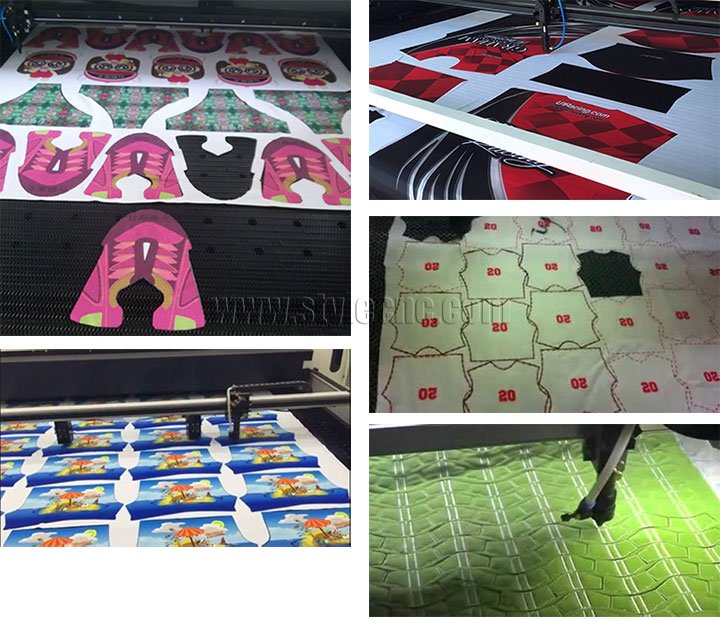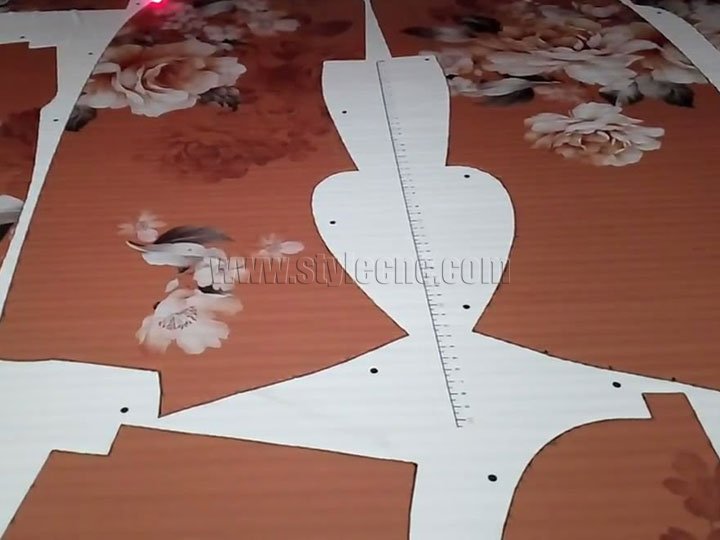 International Shipping Around the World
All the CNC laser machines can be shipped worldwide by sea, by air or by international express logistics via DHL, FEDEX, UPS. You are welcome to get a free quotation by filling up the form with name, email, detailed address, product and requirements, we will shortly contact you with the full information including the most suitable delivery method (fast, secure, discreet) and freight.
Post A Review
Customer Reviews and Testimonials
Hussain Tayyabi

from PakistanPosted on

Mar 29, 2019

I bought the laser fabric cutter for sportswear pattern cutting, its cutting ability is out of my imagination, I really like it.