Double Heads Stone Carving CNC Router Machine for Marble
From: https://www.stylecnc.com |
Mar 13, 2017
| Author: Cherry |
856
Views
Double Heads Stone Carving CNC Router Machine for Marble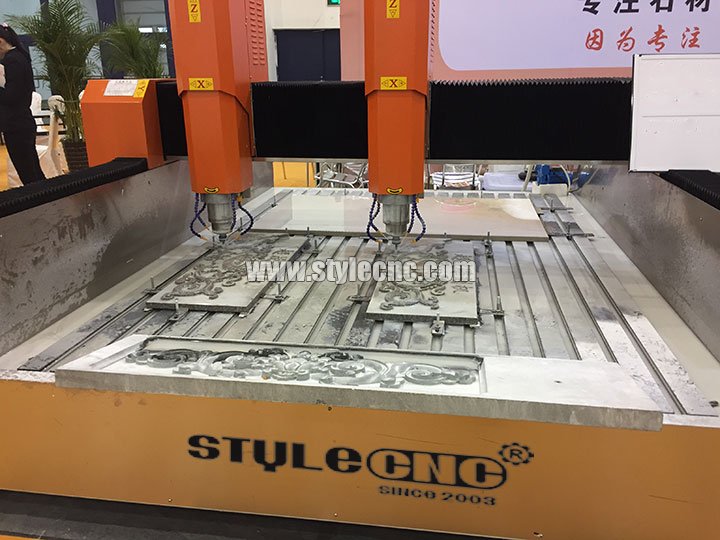 Features of Stone Carving CNC Router Machine:
1. Machine bed is welded by the thick wall steel seamless tube, high temperature tempering treatment, high rigidity, bearing strength better .
2. Dual stepper motor drive for Y-axis, moving stably.
3. DSP control with good software compatibility, suitable for Type3, Artcam, Castmate, Ucanam.
4. Constant spindle motor 3.0 KW power, strong cutting strength, high efficiency.
5. High precision rack transmission, fast speed.
6. Imported linear square guide way, double row four row slider, high precision, long life time.
7. Well selected electrical accessory, let the failure rate to the minimum.
8. With water and automatic water supply and cooling system.
9. Dustproof and waterproof design, better to protect the machine driving part.
Application of Stone Carving CNC Router Machine:
Applicable Material:
Natural marble, granite, bluestone, sandstone, artificial stone, tombstone, milestone, ceramic tile, jade, crystal, ceramics, glass, plastic, wood, bamboo, cambered surface, sphere, stainless steel, iron, copper, aluminum, titanium alloy, can doing 3D embossment, and line engraving, bevelling, drilling 2D engraving.
Applicable Industry representative Products:
Stone Industry: Stone, ink-stone cutting, tomb stone, jade and marble products.
Kitchen Ware Industry: Man-made marble cabinet table surface.
Artwork Decoration Industry: Wood crafts, gift box, jewelry box and other exquisite art crafts.
Woodworking industry: Chair, door, window, bed, cabinet, kitchen ware and other furniture; Redwood classical and antique furniture, Exquisite European furniture, decorative products sculpture.
Mold Industry: Engraving copper, aluminum, and other metal molds;Building models, shoes, badge, embossed mould, biscuit, candy, chocolate mould; Artificial marble, plastic sheeting, PVC, wood, foam and other non-metallic mold.
Advertising Industry: Billboard, signage, badges, logo, company plate, signs, emblem, badge, display panels, fair signs, building numbers, signs of decoration, literal hole cutting etc.; 3D character cutting, acrylic cutting, LED/neon channel, light box.
Post A Review
User Reviews