Cheap Automatic Tool Changer CNC Router Machine for Sale at Affordable Price
Sale Price: $7500.00 / Set
Price Range: $7500.00 to $9000.00 / Set Based On The Features
Supply Ability: 360 Sets / Month Waiting for Your Order in Stock
Global Shipping: Available to Your Location in
Payment Terms: T/T, Credit Cards, e-Checking, Alibaba Trade Assurance
Economic automatic tool changer CNC router machine STM1325-3T operates like an ATC CNC machine with 3 spindles, the middle 4.5KW spindle for cutting, both-sides 3.5KW spindles for carving, which is applied in cabinet making, door making, furniture making.
Demonstration Video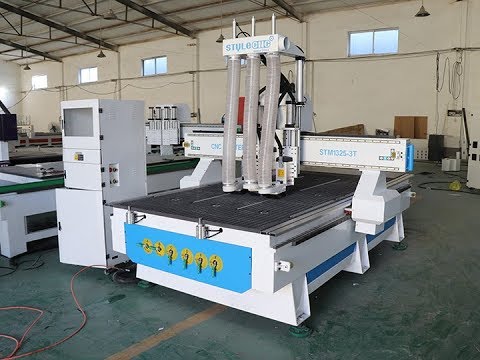 Product Details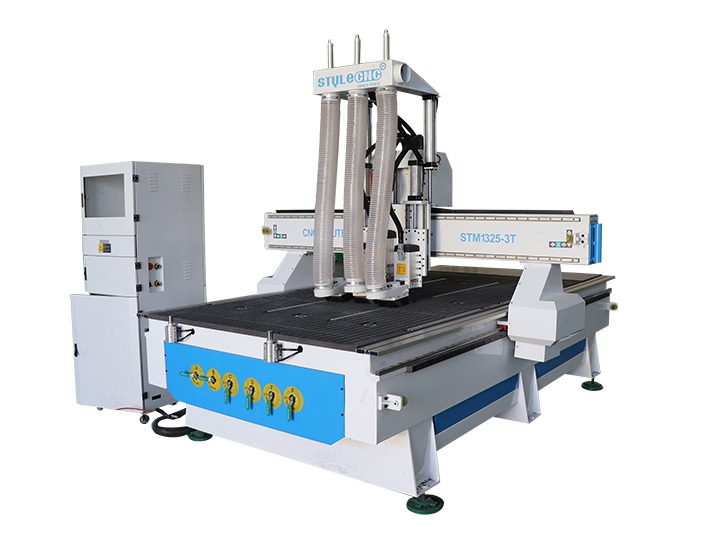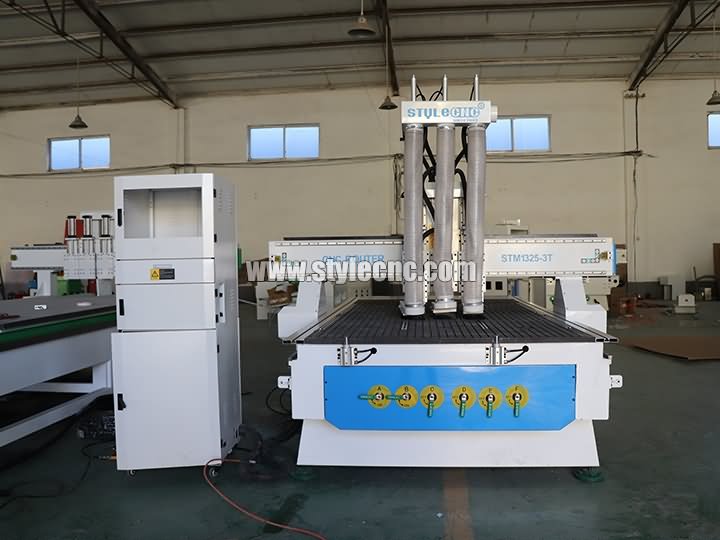 Advantages of Automatic Tool Changer CNC Router Machine:
1. Three pieces spindles can work one by one automatically, so this machine can finish three different work on one board without changing tools by hands.
2. The CNC router uses heavy-duty machine structure, welded by 8mm thickness steel square tube, so that it can ensures minimum distortion, excellent rigidity and powerful strength.
3. Position materials by 5 pcs position cylinder to improve the working efficiency.
4. Dust collection system collect the dust when the economic automatic tool changer cnc router working in time.
5. Protection device to protect the wire and one emergency switch on each later plate.
Features of Automatic Tool Changer CNC Router Machine:
1. Whole machine is welded with seamless steel structure, the stability is excellent, not easy to be deformed.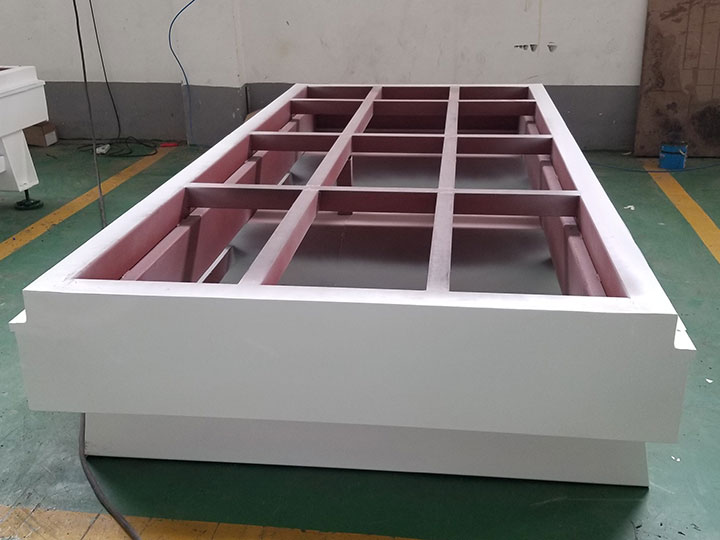 2. Three axes adopt Taiwan Hiwin high precision square guide rails; X and Y axes adopt helical rack and pinion transmission, fast working and high efficiency , Z axis adopts Taiwan TBI ball screw,with high precision and longevity.
3. Vacuum table with 6 vacuum zones, which can adsorb different size materials.Vacuum&T-slot holding worktable for optional.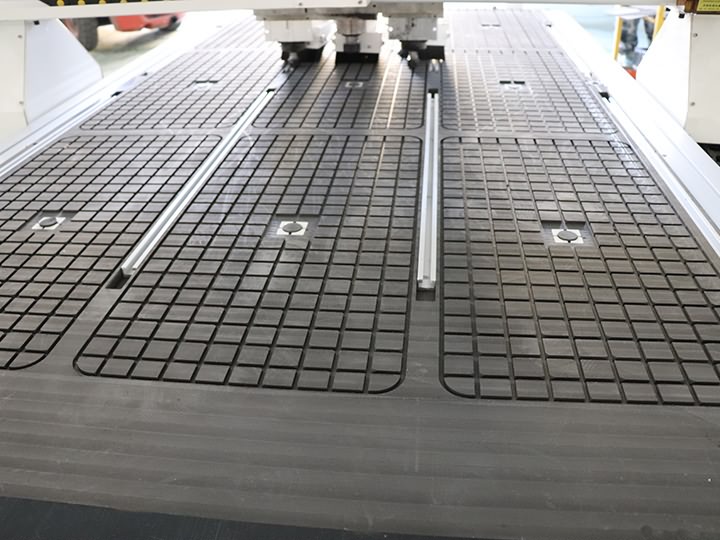 4. Transmission by hybrid servo driver and motor,more precision and fast.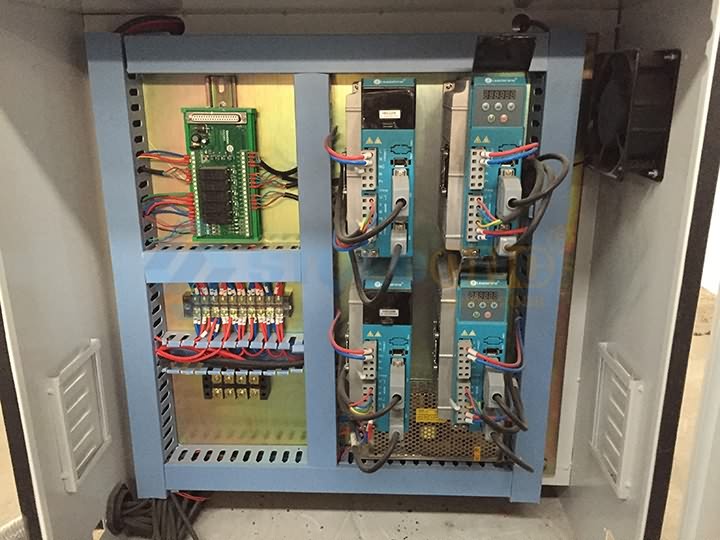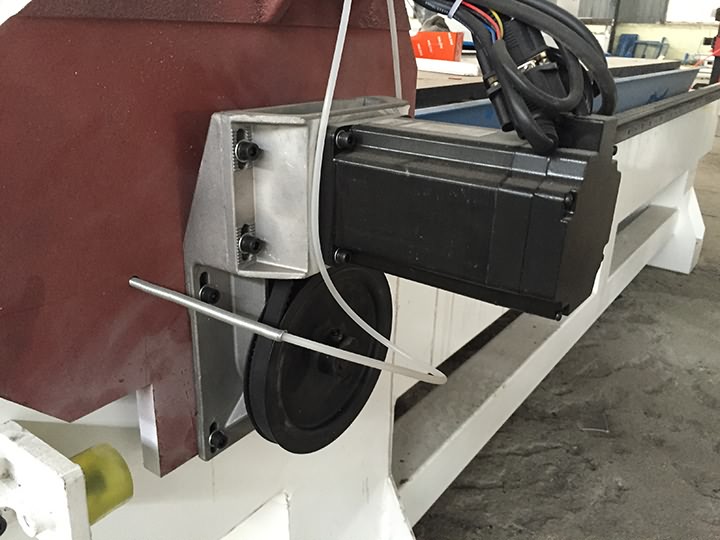 5. Adopting NC Studio control system(Original),it working with computer,make the working more stable and precision.
6. Well compatibility: CAD/CAM designing software e.g. Type 3 / Artcam / Castmate / Wentai.
7. The CNC router has the function of re-carving after break point and power failure. It also has the function of forecasting process time.
Technical Parameters of Automatic Tool Changer CNC Router Machine:
| | |
| --- | --- |
| Model | STM1325-3T |
| X,Y Working Area | 1300*2500mm |
| Z Working Area | 200mm |
| Tool change function | 3pcs spindles work one by one automatically |
| Table Size | 1640*3040mm |
| Package size | 2040*3140*1900mm |
| Resolution | 0.1mm |
| Max. Idling Speed | 35m/min |
| Spindle Motor Power | 3.5 Kw air cooling spindle |
| Working Mode | Hybrid servo motor |
| Inverter | Fulling Inverter |
| Vacuum system | Yes |
| Vacuum pump | 5.5Kw air cooling vacuum pump |
| Operating System | Real NC studio control system |
| Lathe Structure | Seamless welded steel structure |
| X,Y Structure | Rack and pinion transmission, |
| Z Structure | Imported high-precision Ball screw |
| Gantry | Steel gantry |
| Rail | Taiwan made HIWIN square rail |
| Spindle Rotate Speed | 0-18000r/min |
| Working Voltage | AC380V/50Hz |
| Command | G code,HPGL,U00,mmg,plt |
| Diameter of cutter | φ3.175-φ12.7mm |
| Manual oil-injection | Yes |
| Package | Wooden case |
Applications of Automatic Tool Changer CNC Router Machine:
1. Furniture industry:
To engrave versitile patterns on Solid wooden door, Composite door, Cabinet door, Sofa legs, bedside board, classical furniture and kinds of board furniture.
2. Decoration Industry:
Decorating kinds of patterns for wall fresco, folding screen, cubic wave board, acoustic board.
3. Musical instrument:
Shaping the guitar, piano, and other instruments, and the embossing on the surface of the instruments.
4. Mould industry:
Precision founding the wooden mould, founding foam, food mould, etc.
5. Arts and Crafts industry:
To process kind of embossing, shadow engraving, pendant,car Accessories and so on.
6. Building moulds.
7. Advertising industry : Acrylic cutting, engraving, sign making.
Projects of Automatic Tool Changer CNC Router Machine: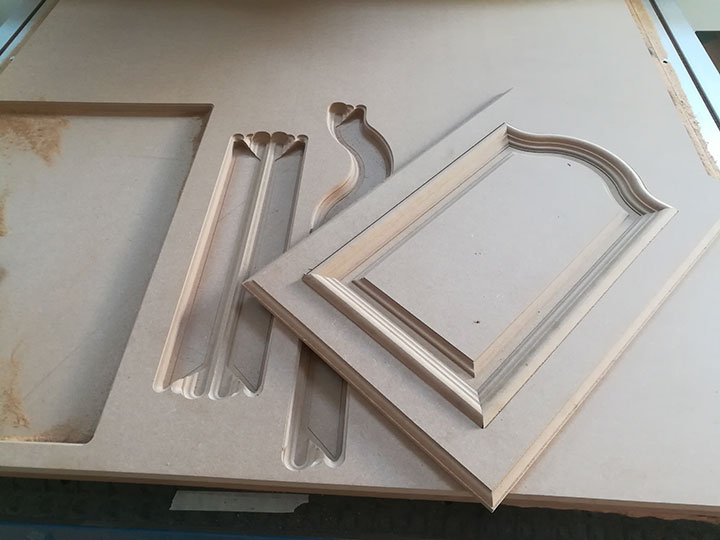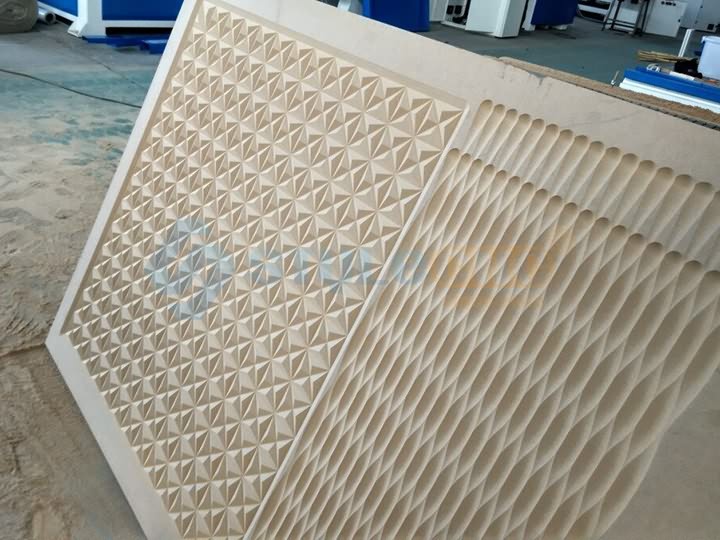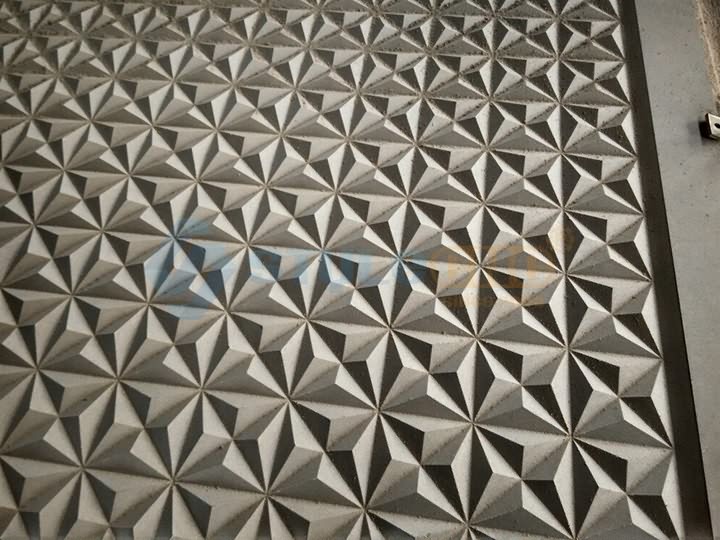 Package of Automatic Tool Changer CNC Router Machine:
How to Choose the Best Automatic Tool Changer CNC Router Machine?

1. Machine quality. If you plan to choose a so cheap machine, maybe the quality is bad.And you have to order another machine,after you use it for a period. This situation will have a bad effect on your producing. So the quality is most important factors to choose a automatic tool changer cnc router.
2. Future more, after-sales service is very important too. Good after-sales service represent the image of a company. After you use the machine and find some problems of the machine, a good after-sale service can solve it effectively and protect the right of customer.
3. The third is technical support. Because of time difference, there is a big problem to communicate with the sellers. When you need help, maybe it is the sleeping time for your sellers.
So effective contact and the good service is also important to you. Other sellers maybe can not do this, but we can provide 24/7 service a day.
4. The last is manufacturer. A manufacturer with good reputation usually can produce high quality machine. As STYLECNC, we specialized in automatic tool changer CNC router for over 10 years, the professional engineer team, the high quality equipment and the great after-sales service have earned us good reputation in the world market.
International Shipping Around the World
All the CNC routers can be shipped worldwide by sea, by air or by international express logistics via DHL, FEDEX, UPS. You are welcome to get a free quotation by filling up the form with name, email, detailed address, product and requirements, we will shortly contact you with the full information including the most suitable delivery method (fast, secure, discreet) and freight.
Post A Review
Customer Reviews and Testimonials
Steven Baird

from United KingdomPosted on

Sep 14, 2020

Got this CNC router last week. That being said, I had no issues in my build. I did have issues with one of the pieces of external software, but after an email and a quick response from the company. I was up and running with my own designs. I have no experience with CNC or G-code, but asked the help to STYLECNC team, now i am good at it. I highly recommend this product.

ERIK HARTL

from GermanyPosted on

Aug 06, 2020

I just finished a set of raised panel cabinet doors which is about the most challenging thing I use a cnc router table for. The doors ended up nice with the good fit, the minor flaws are most likely due to the operator, not the tools.
Overall, I would recommend this cnc machine to the friend.

Bryant

from United StatesPosted on

Feb 24, 2020

I have to say, this is a amazing cnc router machine. I got the extra power supply and tools for free, The frame feels nice and rigid for what this machine does, the bearings are smooth and not sloppy after a bit of wear in. The linear motion rails are hardened, well ground carbon steel, so they should last a long time.

Carlos Pereira

from PortugalPosted on

Feb 23, 2020

I do lots of CNC work, so I'm pretty used to setting up machines like this. This CNC router machine went together without a hitch using the drawings in the instructions. It took maybe three hours to have it up and running, and then a few more to really dial in the setup. A satisfying machine.

Robert Jaworski

from PolandPosted on

Sep 15, 2019

Excellent! I couldn't be happier. I am new to CNC. The support at STYLECNC wood machine is excellent. At the beginning I'm confused by software for machine control but the support is excellent. STYLECNC team gave me a lots of help, thanks them.

Fabio Gutierrez

from PeruPosted on

Sep 08, 2019

This CNC machine is a masterpiece of engineering :-)

Kevin

from RomaniaPosted on

Dec 06, 2018

Îmi place foarte mult STM1325-3T, munca mea este să fac toate tipurile de uși și dulapuri pentru casă. În ceea ce mă privește, această mașină CNC este potrivită pentru munca mea. Mulțumim pentru ajutorul STYLECNC.

Makayla

from CanadaPosted on

Oct 18, 2018

Easy to setup with the manual provided. I've had this CNC router for approximately 3 weeks, and I'm impressed with the woodworking projects I have made. Also, the after-sales support is excellent, any queries will be responded in minutes.

Chris Haley

from United StatesPosted on

Oct 17, 2017

Great CNC for woodworking. Customer service is outstanding like the other reviews say. So far the quality and price it's well worth it. Don't waste your time looking at other machines as this one will work well for you.

Johann Wolfgang

from United StatesPosted on

Sep 01, 2017

I have no any experience with CNC at all. The build was a simple process, and the directions were easy to follow, but there is a steep learning curve with the software. Need to set different parameters for different materials. Still in a learning process.