Fiber laser engravers are becoming more and more popular in the customized marketing. Many people want to buy a profitable fiber laser engraver and start a small shop with personalized business to make money. The custom laser marking service cannot be underestimated. This is a place to dig for treasure. The earlier you invest, the higher your income. Once you understand the purpose and functions of a laser marker, complete your market and web research. You will find it very versatile and many products are inseparable from laser marking. There are many handicrafts that require laser marking, such as jewelry, small pendants, metal lighters, nameplates, finger tops to process their own sales and give a person a personalized brand. The beneficial fiber laser marking machine can print any picture and text on the product, including trademark, model, production date, serial number, and has become a good helper for product manufacturers. The effect of marking is to reveal the deep material through the evaporation of the surface material, and then engrave exquisite pictures, trademarks and characters. It is mainly used in some occasions requiring finer and higher precision, and has broad market prospects. The text and photos marked by laser are clearly visible, which can be described as fine products.
What is a Profitable Fiber Laser Engraver and How does it Work?
Profitable fiber laser engravers can etch various exquisite patterns, characters, amd trademarks. By evaporating laser beams on the surface of different products. The operation is very simple, just enter the pattern to be printed into the computer, set the size of the pattern text, and align the object to complete the marking. Laser marking does not require any consumables, no cost marking processing, laser engraving is non-toxic, non-polluting, fast engraving, only a few seconds to engrave some simple text or patterns, supports two-dimensional codes, numbers, text, patterns, photos. This type of marking is fast and accurate, the processed information has good wear resistance, it is not easy to erase and change, and it has the characteristics of permanent marking. You can basically operate it anytime and anywhere on your rest day or when you are free from get off work, which brings economic benefits. Benefit is very high. The profitable laser marking machine is easy to carry and move, and can be pulled with a trolley or put into the trunk of the car for transportation. It is mainly used in some gift customization, handicrafts, nameplates, water cups, and gift boxes for moneymaking.
What Benefits can I Get from a Profitable Fiber Laser Engraver?
The profitable laser marking machine adopts a fiber laser generator, which has a high electro-optical conversion rate, so the energy consumption is small. In addition, the all-fiber structure design of the laser ensures the high reliability of the laser, without the need for optical components for alignment adjustment and excellent marking effect, and can mark various fine and complex patterns required by users on the extremely tiny surface.
The device is compact, easy to carry and move, and has good flexibility. Customers can process products at home or in a small space, and flexibly change their work location. There is no need for a huge water cooling system during use, just simple air cooling. It can also work normally in harsh environments such as shock, vibration, high temperature or dust. Greatly improved work efficiency in commercial use.
The laser marking machine has no use and low cost. First of all, the engraver is affordable, with low input cost, long service life and high cost performance. Secondly, it consumes less power during use, has no consumables, and is environmentally friendly and energy-saving. Finally, the integrated modular design is convenient for maintenance and the maintenance cost is extremely low.
What are Profitable Fiber Laser Engravers used for?
Fiber laser engravers are suitable for personalized customization, such as mobile phones, keychains, U disks, glass ceramic cups, photo frames, pillows, and pendants. To do personalized laser customization services, buying good equipment is a key step, while laser engraving technology, location, business scope, service enthusiasm, and business time are also very critical. Only by doing a good job of products, doing services attentively, and accumulating for a period of time, you will definitely have your own business for profit-making.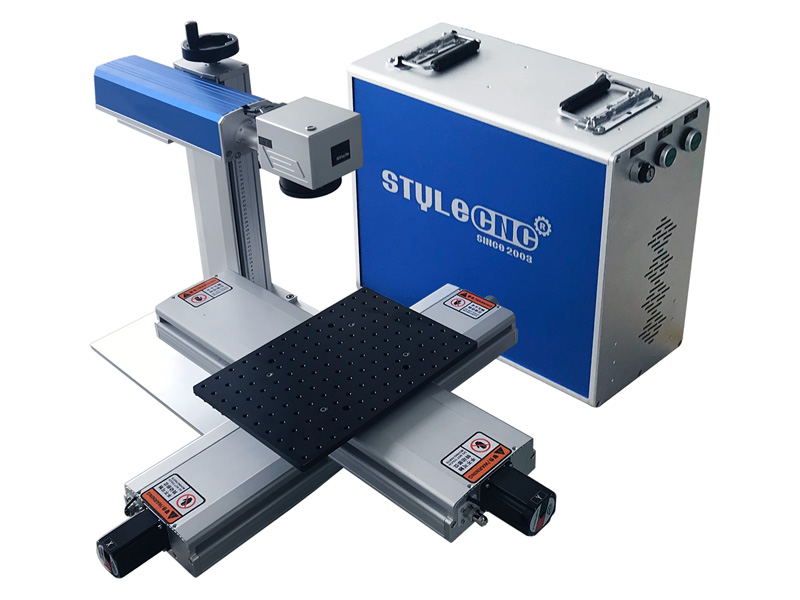 Profitable Fiber Laser Engraver
DIY customization: The bags can be marked and customized, the mobile phone cases can be customized with personalized marking, the customized printing of creative coasters can be completed by fiber laser marking machine.
Crafts customization: Custom jewelry, rings, metal lighters, tags, and finger tops.
Gift customization: Providing laser customization services for some consumers who need gifts with U disk, glass ceramic cup, photo frame, pillow, and pendant.
Daily Necessities Customization: Cups, makeup mirrors, key chains, ashtrays and other products can be customized by laser marking. If you sell some daily necessities in your stall, the profitable laser engraving machine can also be used as an eye-catching gimmick. While selling daily necessities, we help customers to customize and mark as gifts.
The advanced laser technology of fiber laser engravers can quickly attract the curiosity of consumers, and some small objects around them become meaningful immediately through laser marking. In addition to daily engraving in your own store, you can also find some Amazon or eBay merchants and manufacturers to cooperate with them to process the date, logo, serial number of the laser-marked products for these merchants.
How to Use a Profitable Fiber Laser Engraver to Make Money?
Then in daily life, in addition to engraving some necessary products internally, you can also carry out product processing externally. This part is additional income. Here are a few examples:
1. Laser marking of general gold and silver jewelry is $20 a piece.
2. Laser engraving of mobile phone case, the price is generally $8 a piece.
3. Laser etching of stainless steel pendants, the price is $15 a piece.
4. The price of marking the vacuum flask is generally $5 a piece.
5. Laser marking of Internet celebrity cola, $6 a can, can also be adjusted according to the batch.
6. Nameplates or other small products are generally calculated in large quantities, which are probably more than $3.
In addition, the profitable laser engraver can also be rented when it's idle, this is also an additional income.
Of course, in addition to fiber laser marking machines, CO2 laser marking machines can also be used to make money. It is mainly used to mark non-metallic surfaces, such as bamboo, crystal, horn, paper, plexiglass, marble, cloth , leather, rubber, plastic and other non-metallic materials for laser engraving. Clothing, embroidery, cloth toys, home decoration fabrics, handbags, gloves, leather materials in the toy industry, leather cutting and surface carving. Precision cutting of non-metallic sheets such as acrylic sheets and medium-density decorative sheets in the handicrafts, models, advertisements, decoration, electrical appliances, and plastic industries, but its marking will generate high temperature and smoke.
Things To Consider
What I want to say is, don't underestimate the custom laser marking market, this is a place to dig treasure, the sooner you invest, the greater the profit. When you understand the purpose and function of the fiber laser engraver, complete the market and network research. You will find that it is very versatile, and many DIY products are inseparable from laser engraver. Take bold steps, bid farewell to lazy life, and don't worry about success. It is always better than standing still and waiting in ignorance. Time does not wait for people. Entrepreneurship is to dare to work hard. In my knowledge, many bosses who have succeeded in starting a business are inevitably sad and sweaty, and I have never encountered an example of a successful business with ease.