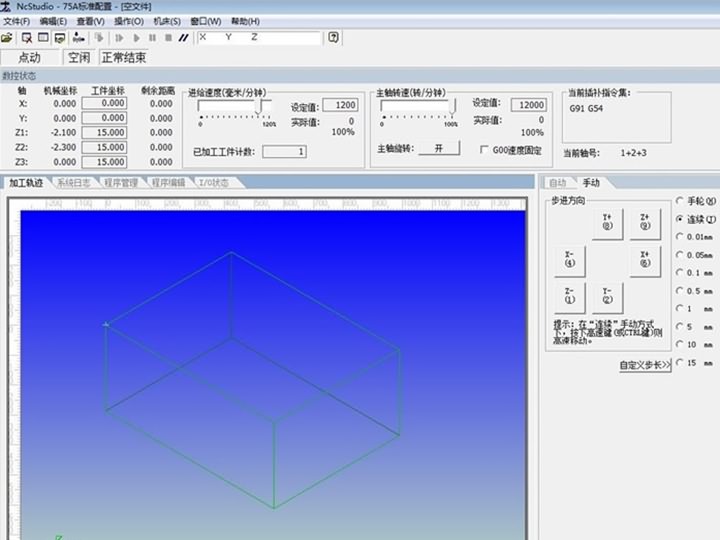 Manual debugging of CNC router table

First, find the lowest point of the CNC router table, and then put the knife under 0.5 - 1mm depth, start the spindle, manual operation to run back and forth, repeated control to the appropriate location. Need to pay attention to is based on the different surface materials, choose different feed rate.
Manual debugging steps are relatively simple, but the process of debugging and time will be relatively long, and the accuracy of the general debugging.
CNC router table computer debugging
CNC router computer debugging refers to the use of engraving software program to automatically debug. The specific operation steps are as follows:
1. set layout
Open - set the page size (cnc router software with a ruler measuring table black PVC plate size)
2. set the origin
Click [options] - to define the origin - click on the lower left corner of the page to determine the right click to cancel the definition of the origin command
3. mapping
Click [graphic] -- [square], free to draw a rectangle -- right click the rectangular modifying graphical parameters -- the wide and high setting and layout the same size - click [change], click on the right sidebar align toolbar - centered horizontally and vertically ranks in the graphics and layout of coincidence
4. do the path
Select graphics, click [D] -- overcast carved, carving depth (down milling deep set much), cancel the tool compensation, carving way choice horizontal milling bottom, straight knife: random distribution of the bottom knife (width W1: 20,height H1:10) add and select, click tool library, cancel processing -- [identified]
5. save the carving path
Selected well path, click [save carving a path -- click [search] find the location to save and file types choose the second *.nc named after the click [save] -- to lift distance generally set 5-10, click [confirmed]
6. the path into the application to do the macro control
CNC router table debugging correction of two operation methods are relatively simple, but if you want to pursue the processing precision, usually using the computer debugging operation, only to the surface of cnc wood router debugging good, in order to improve the work efficiency and the processing quality.