UV Laser Engraving Machine for Glass Etching
From: https://www.stylecnc.com |
Nov 15, 2021
| Author: Claire |
1691
Views
UV Laser Engraving Machine for Glass Etching
Customized logos on the surface of glassware are mainly achieved through sandblasting and CO2 laser engraving.
The sandblasting process has a fast processing speed and is suitable for mass production. The disadvantage is that the sandblasting paper needs to be customized in advance, the waiting period is long, and it is laborious in the case of fragmented orders and small orders. In terms of effect, the pattern processed by the sandblasting process is not fine enough, especially the edge part of the pattern is not smooth enough, rough with irregular protrusions. In addition, the sandblasting process produces a large amount of consumables, which is not conducive to environmental protection.
The CO2 laser engraving machine can complete the engraving of any logo according to the vector diagram, which is more flexible in small batch customization, but the speed of CO2 glass engraving is slower than the sandblasting process, and the engraving pattern is not fine enough.
Similar to carbon dioxide laser engraving, the UV laser marking machine uses a numerically controlled high-energy laser beam to process the glass surface, which is flexible and convenient, and can instantly print any vector diagram onto glassware; unlike the CO2 laser engraving machine, the ultraviolet laser marking machine uses Compared with the CO2 laser, the 355nm UV ultraviolet laser has a smaller focus spot diameter (1.2 filaments, 12um, which is 1/15 of the diameter of the CO2 laser focus spot), and the lines drawn are finer, and the UV laser photon energy is higher High, the photon energy directly breaks the molecular chain between the glass crystal molecules, and directly completes the peeling of the material on the glass surface. The processing effect is similar to frosting, the logo is delicate, the edges are smooth, and the hand feels good. The CO2 laser heats the glass surface material through the energy of the laser beam to melt and evaporate the surface material. It is a thermal processing method that easily leaves large cracks on the surface and affects the fineness of the engraving.
Why Use UV Laser Engraving Machine for Glass Etching?

UV laser engraver is designed for glass, crystal products, arts and crafts of surface and internal thin film etching, ceramic cutting or engraving, clocks and watches and glasses.
UV laser marking machine is widely used in electronic components, battery chargers, electric wire, computer accessories, mobile phone accessories (mobile phone screen, LCD screen) and communication products.
UV laser engraving machine can mark on polymer material, majority of the metal and non-metallic materials for surface processing and coating film processing, previous to light polymer materials, plastic, fire prevention materials.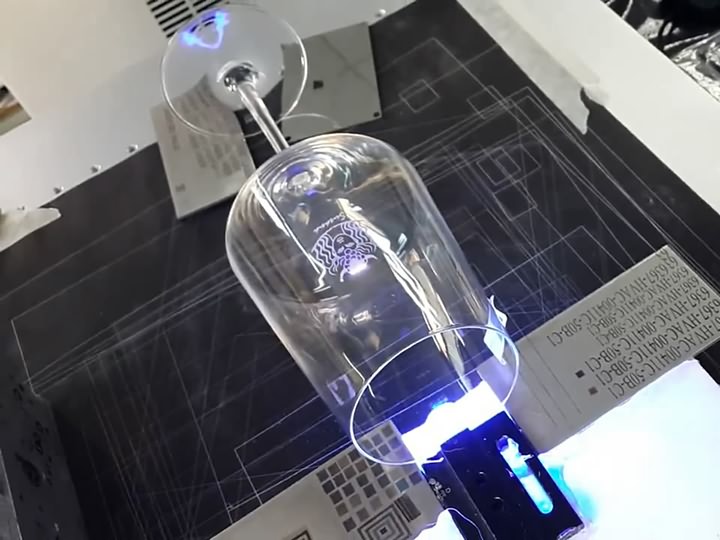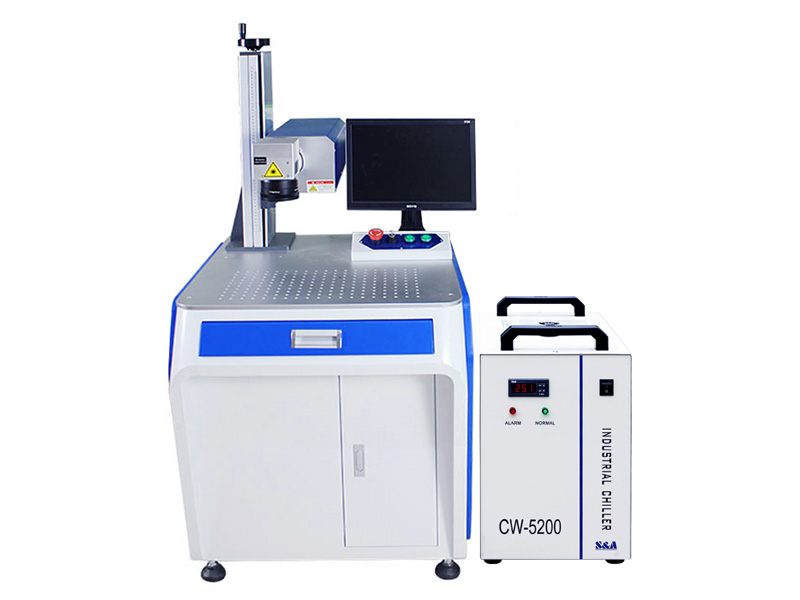 Desktop UV Laser Marking Machine for Glass
Post A Review
User Reviews