How to Custom PMAGs for Guns with Laser Stippling Machine?
From: https://www.stylecnc.com |
Feb 25, 2022
| Author: Jimmy |
1385
Views
How to Custom PMAGs for Guns with Laser Stippling Machine?
Laser stippling technology is a non-contact marking method. Compared with the traditional engraving methods (inkjet printing, electrical discharge machining, mechanical knife cutting), it has many incomparable advantages. It adopts computer control technology, high efficiency, fast pace, fine laser marking, it can mark the surface of various materials, and has good durability and anti-counterfeiting effect.
With the breakthrough of the key technology of the fiber laser marking device, the fiber laser stippling machine has been developed by leaps and bounds throughout the world, and it has been rapidly applied by various laser stippling enterprises. It has played an important role in many fields now, not only in terms of performance than the previous semiconductor equipment has been greatly improved, but also in terms of service life and maintenance are better than the previous traditional laser equipment. It is possible to process a variety of materials, especially for marking current materials with high hardness, high melting point, and brittleness. Although the laser output of current fiber lasers is also 1064nm laser, fiber lasers have The electro-optical conversion effect of more than 28% can emit high-quality laser beams, so it is very suitable for current precision processing and ultra-fine processing. With the continuous development of current technology, processed products are becoming more and more refined. It is difficult to adapt to current processing needs by using traditional technical means. In order to obtain better engraving results, especially in the current micro-engraving field, it is necessary to use the laser stippling technology.
Different from traditional engraving methods, laser stippling is a non-contact engraving process. At the same time, the laser can form a very small laser beam after focusing, which provides a prerequisite for the application of lasers in the field of micro-processing. At the same time, the laser adopts the current computer software system in the whole process. With the current software system, we can complete the marking according to the actual needs in a fixed and quantitative manner, which makes the laser play an important value in many fields of processing.
Fiber laser stippling machine is a high-tech integrating laser, computer, automatic control, and precision mechanical technology. The fiber laser inside uses the current integrated design. It not only has convenient operation, small size, stable performance, high reliability, long service life, low maintenance cost, and more, while also providing extremely high peak power and good beam quality. After focusing, the smallest spot diameter is 0.01mm, so the scribe line is deep, smooth and fine, and has the advantages that other lasers cannot replace. Therefore, the current integrated circuit chips, computer accessories, industrial bearings, watches, guns & firearms, electronic manufacturing, aerospace devices, automobile manufacturing, home appliances, hardware, packaging and printing, jewelry making and other fields are widely used, and can also meet the needs of mass operations and customization.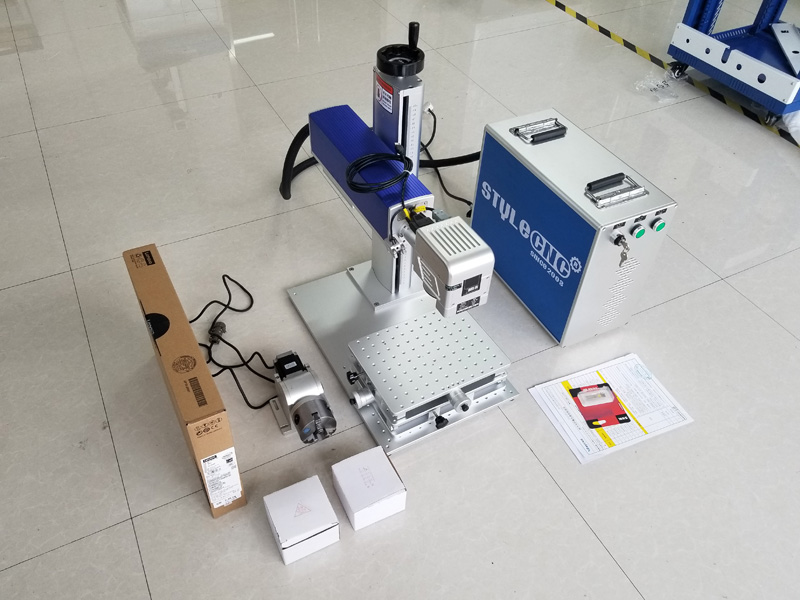 Laser Gun Stippling Machine
Do you want your laser engraved polymer magazine to be spotted from a pile of others? Are you looking to gift a laser engraved PMAG? Feel free to tell us, we'll provide you the best laser gun stippling solutions.
Post A Review
User Reviews