CNC Shoe Mold Making Machine Projects
From:
https://www.stylecnc.com
Date:
Mar 08, 2022
Author:
Claire
Views:
1609
mold making machine

Shoe mold making sample

Metal shoe mold

Aluminum shoe mould

Shoe mould

Shoe mold

Mold making

Shoe mold making

mold making samples

cnc mold making machine

Shoe mold making samples

Shoe mould making samples

Shoe mold making
CNC Shoe Mold Making Machine Projects
What Are Shoe Molds?
Shoe molds usually refer to the molds of sports shoes, beach shoes, slippers, rubber shoes and other footwear, among which sports shoes are the main ones. Molds refer to various molds and tools used in industrial production to obtain the desired products by injection molding, blow molding, extrusion, die casting or forging, smelting, stamping, stretching and other methods.
The trend of sports shoes has not only paid attention to shape design and popularity, but also function and comfort have become one of the key points. Especially the sole part, the major brand sports shoe manufacturers have spared no effort to invest in R & D and innovation. Therefore, the sole mold factory is faced with the needs of changing the free-form surface of the shoe shape, shortening the product life cycle, and improving the quality. In order to meet the market demand, it is necessary to greatly improve the design and manufacturing technology of the sole mold.
Sports shoe sole materials are generally: RB (rubber), RS (foamed rubber), TPR (thermoplastic elastomer), EVA (ethylene-vinyl acetate copolymer, including IMEVA injection molding EVA and CMEVA traditional secondary molding EVA), PU, TR, BR, TPU, PVC, etc. Due to the continuous development of modern technology, many new materials are being applied to the research and development of soles.
Sole molds require different designs due to different materials. Among them, molds of several main materials such as RB, EVA, and TPR are the most widely used. Generally speaking, shoe molds are injection molding (injection) molds, with some exceptions. For example, the production process of CMEVA is a combination of injection and cold pressing, and some are formed by blow molding.
Features of CNC Metal Molding Machine with Automatic Tool Changer:
The CNC mold making machine with automatic tool changer is a type of automatic CNC milling machine especially for metal mold making, the CNC mill has features as follwing:
1. The CNC metal molding machine is the product of the combination of numerical control technology and milling machine. It is a type of multi-functional CNC machine. Similar to the ordinary numerical control machine, it realizes the milling automation through the numerical control system, which controls the machine movement according to processing procedure code.
2. Stable and rigid structure: With the gantry type bed and table are one, it is not only good rigidity, but also no installation error for both. Processing precision will not be affected even if being used for long time.
3. The CNC molding machine adopts fully enclosed design, it adopt external circulating cutting oil processing way. Machine body is fully casting with stable structure and great weight-bearing ability.
4. The machine is equipped with accurate bidirectional ball screw of famous brand, Taiwan square rail and accurate bearing with strong rigidity and high dynamic accuracy. It is also equipped with Japan YASKAWA ac servo motor with high accuracy and high power make amplitude smaller and three-axis more stable.
5. The CNC milling machine is equipped with automatic tool changer spindle kits.
Advantages of CNC Mold Making Machine with Automatic Tool Changer:
1. Gantry structure: Whole cast-iron structure, steady structure, high rigidity, precision 0.01mm. The double column is whole part, greatly increase machine rigidity.
2. Adopt high-speed water cooling variable frequency motor, big torque, strong cutting, high-frequency, long-lifetime for long time continuous working.
3. Cooling system: Oil circulating oil cooler for spindle, cooling workpieces with water or oil in the tank or atomization liquid through or spray nozzle.
4. Quality assurance: Each device before leaving the factory, we will test the cue with laser interferometer.
5. Servo motor and drives: Made in Japan with high precision and long life.
6. HIWIN linear guide: Made in Taiwan for linear reciprocating stadium.
7. Three axis all use Germany ball screw and Taiwan linear orbits to make sure the accuracy and reposition precision.
8. Functional and easy-to-operate control system made by Taiwan SYNTEC with high performance and competitive price.
9. Adopt table movement to keep stable and high precision.
10. Enclosed work space ensures safe and contamination-free work.
11. Automatic tool changing system with 4 tools.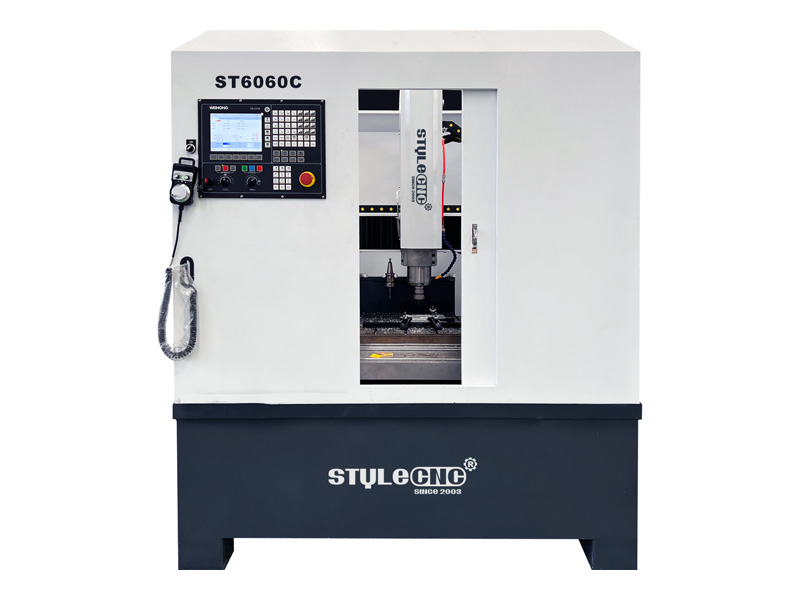 Post A Review
User Reviews