2022 Top Rated Trolley-Type Portable 100W Pulsed Laser Rust Removal Machine for Sale at Affordable Price
Type: Laser Cleaning Machine
Sale Price: $10500.00 / Set
Price Range: $10500.00 to $19500.00 / Set Based On The Features
Supply Ability: 600 Sets / Month Waiting for Your Order in Stock
Global Shipping: Available to Your Location in
Payment Terms: T/T, Credit Cards, e-Checking, Alibaba Trade Assurance
Looking for the best budget portable laser cleaning machine with the 100W (50W and 200W for option) pulsed fiber laser rust removal gun in 2022? Review the top rated trolley-type portable handheld pulsed laser rust remover for surface treatment, including cleaning paint, coatings, greases, oil, oxides, resins, stains, glues, dust, and residues.
Demonstration Video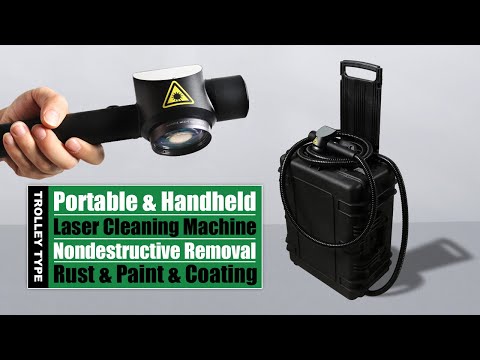 Product Details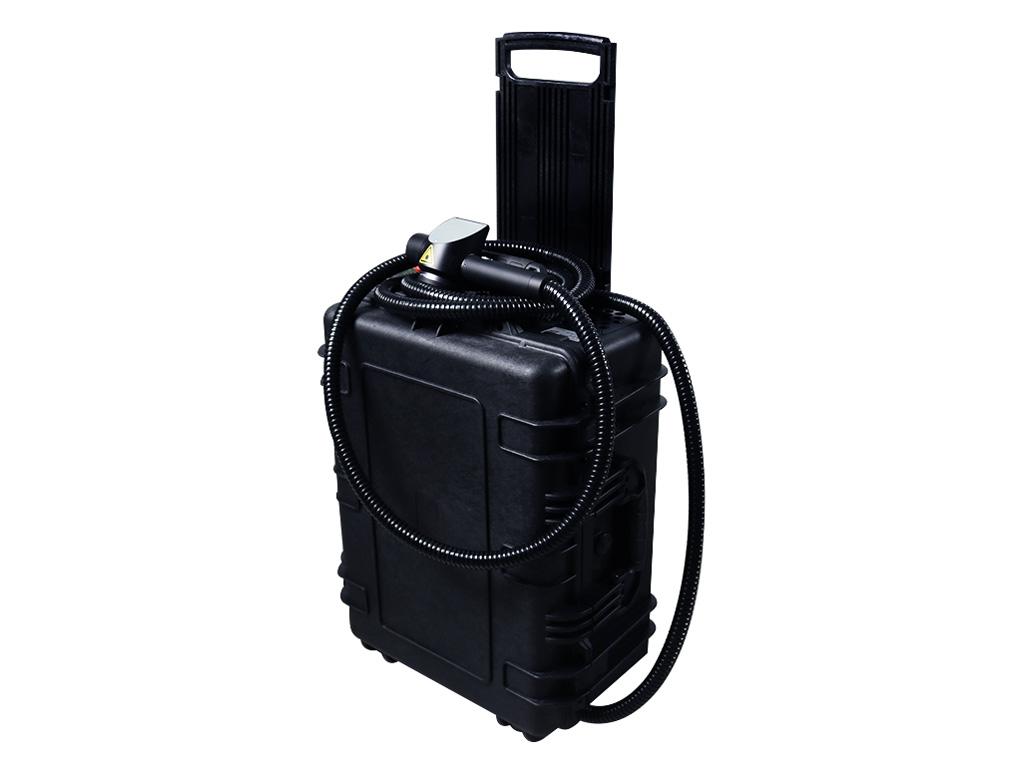 What Is Trolley-Type Portable Pulsed Laser Rust Cleaning Machine?
Trolley-type portable pulsed laser rust cleaning machine is a new type of high-end laser cleaning system for surface treatment with handheld laser rust removal gun, which is portable and lightweight with luggage & suitcase style. It is easy to setup and use for beginners. It features with no medium requirements, no chemical reagents, anhydrous and dust-free cleaning. It has advantages of high surface cleanliness, fit crank surface cleaning, and automatic focus system. It can remove the rust, coating, paint, resin, oil, dirt from variety types of surfaces.
The portable laser rust cleaning machine is equipped with the 50W, 100W, or 200W handheld pulsed fiber laser cleaning gun. The fiber laser rust removal gun adopts MOPA (The full form is Master Oscillator Power Amplifier) structure. The master oscillator uses diode lasers as seed sources to achieve amplification through a traveling wave fiber amplifier. This MOPA fiber laser cleaning gun has the features of independent and adjustable pulse frequency & width, and maintain a high and stable peak power output under the condition of changing pulse width and frequency, so as to be applied in a wider range of cleaning scenarios.
2022 Top Rated Portable 100W Pulsed Laser Rust Cleaning Machine Features & Advantages
The appearance is the same as that of a suitcase or a trolley case, making it easy to carry. Also the best demo machine to fly with you on an airplane. It can quickly remove rust, paint, dirt, grease, coatings, oxide layers, and residues with high performance and low cost without damaging the substrate.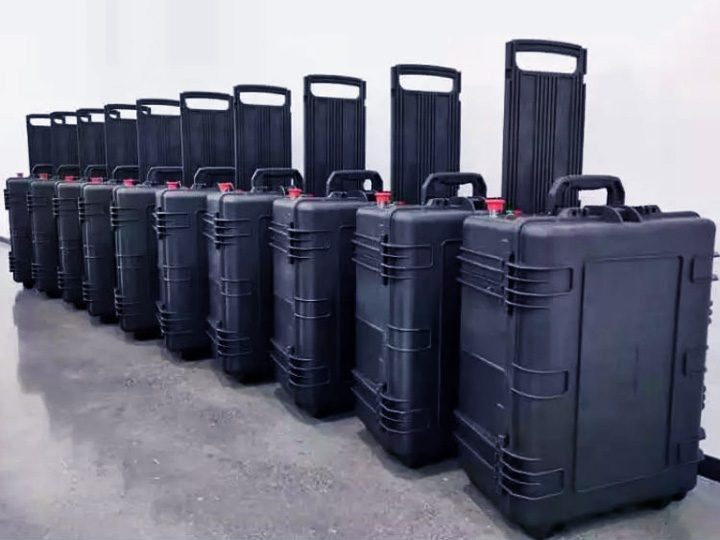 1. Laser collimation output (4mm spot).
2. It can run offline and can start cleaning after power on.
3. The 100W laser rust removal gun is extremely light, and can be operated manually for a long time.
4. It adopts wireless control, which can remotely realize parameter setting and light control, and update parameters at any time.
5. The patented red light assisted focusing technology can adjust the focusing position according to different field lenses.
6. Super-integrated injection molding chassis, shock-absorbing design, stable structure, wear-resistant, shock-resistant, and anti-fall.
7. Portable trolley case design, the weight of the whole machine is 33KG, which can be checked by high-speed rail or air.
8. The length of the standard optical cable is 3m, if you have other requirements, we can shorten or lengthen it.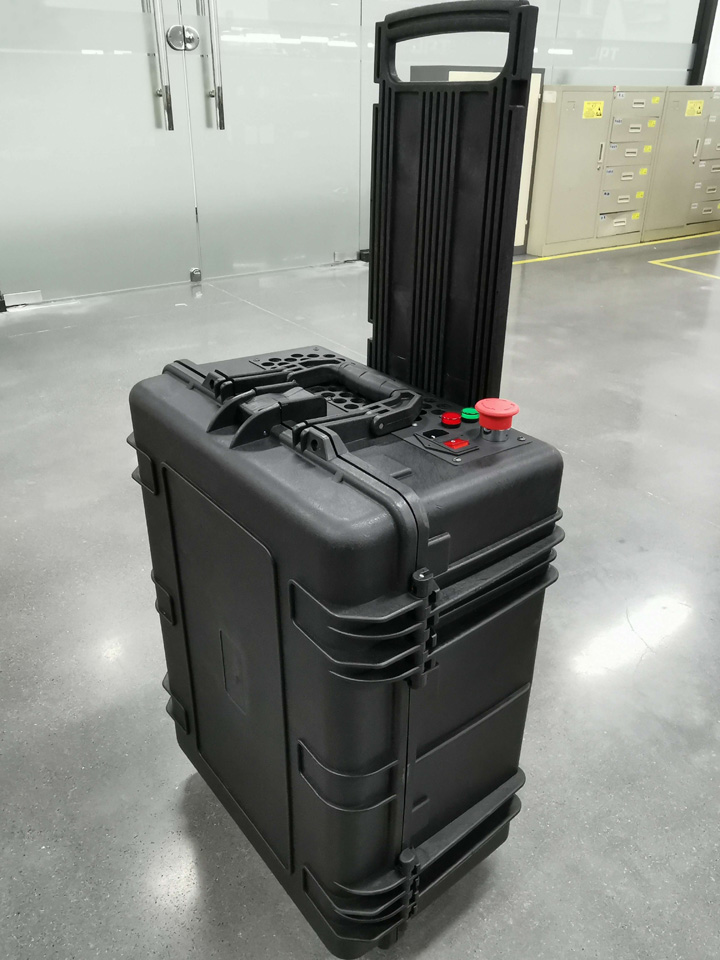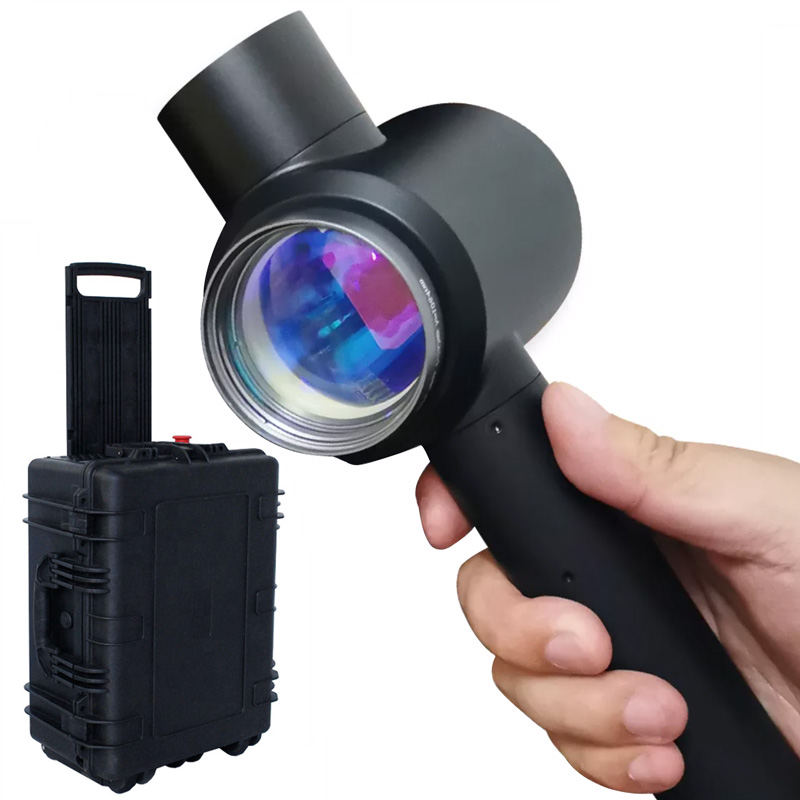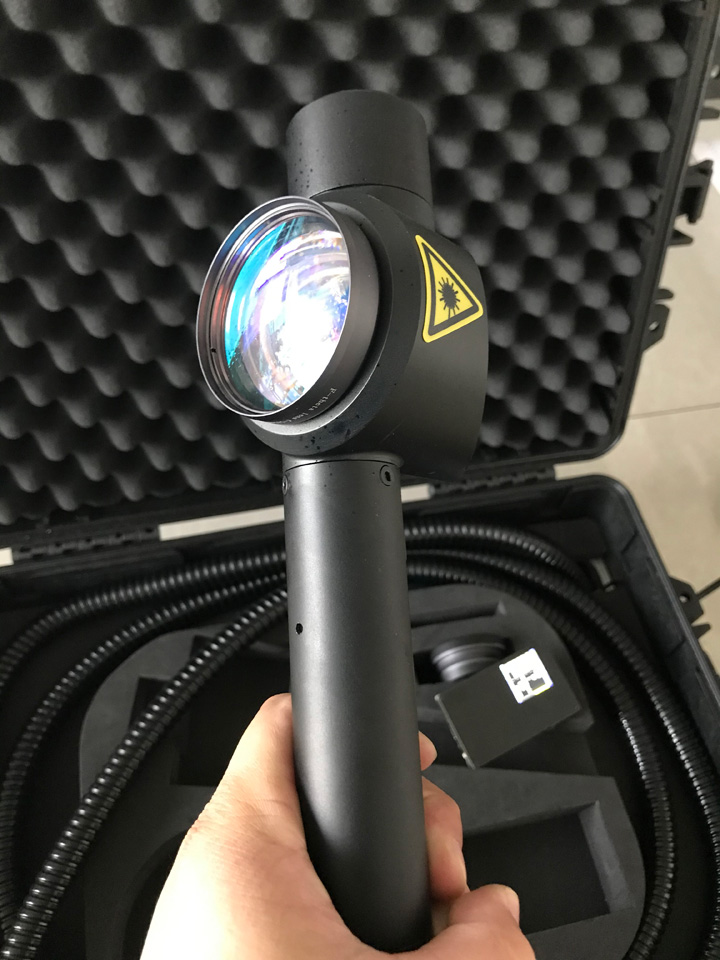 Handheld Laser Rust Removal Gun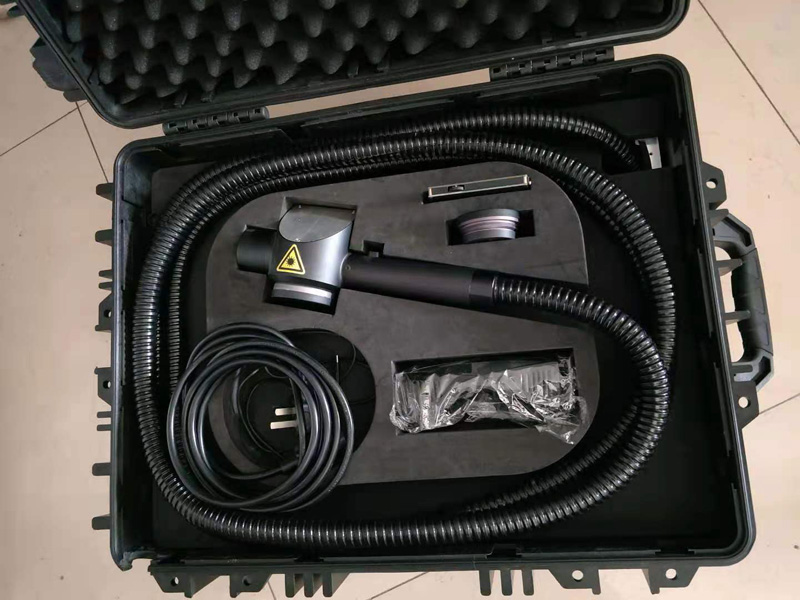 2022 Top Rated Portable Pulsed Laser Rust Cleaning Machine Technical Parameters
| | |
| --- | --- |
| Model | LC100 |
| Laser Source | Fiber Laser |
| Laser Power | 100W (50W, 200W for Option) |
| Laser Type | Pulsed Laser |
| Fiber Cable Length | 3m |
| Laser Wavelength | 1064nm |
| Pulse Energy | 2 mJ |
| Pulse Frequency | 1-2000KHz |
| Cleaning Speed | ≤12m²/Hour |
| Cooling Method | Air Cooling |
| Dimension | 500x300x650mm |
| Packing Size | 680x450x530mm |
| Net Weight | 33kg |
| Gross weight | 37kg |
| Beam Width | 10-100mm |
| Optional | Manual |
| Temperature | 5-40℃ |
| Voltage | Single Phase AC 220V 4.5A |
How Much Does 100W Laser Rust Removal Machine Cost?
In 2022, the average cost to buy a handheld pulsed laser rust removal machine is $12,800 on the world market. The true cost of owning the portable 100W laser rust removal machine with handheld pulsed laser cleaning gun is $13,800. It typically costs $9,000 for the 50W laser rust remover and $19,800 for the 200W laser rust cleaning machine.
Beyond the sticker price, however, there are the costs of shipping, tax, custom clearance, and other expenses customers need to consider.
2022 Top Rated Portable 100W Pulsed Laser Cleaning Machine Applications
Portable 100W laser cleaners can quickly remove paint, coatings, rust, greases, oxides, stains, resins, dust, glues, residues from metal or glass surfaces. It's professional to clean oil stains, post-weld oxides, and pre-weld treatment residues. It can also be used for mold cleaning, such as tire molds, electronic molds, food molds. The oil contamination of precision parts can be removed after production and processing. All in all, this handheld 100W laser cleaning machine can quickly clean core components for repairs.
1. Paint stripping.
2. Rust Removal.
3. Coating Removal.
4. Welded surface cleaning.
5. Stains cleaning.
6. Rubber mold residue cleaning.
7. Stone surface cleaning.
8. Wood surface cleaning.
Portable Handheld 100W Laser Cleaning Machine Projects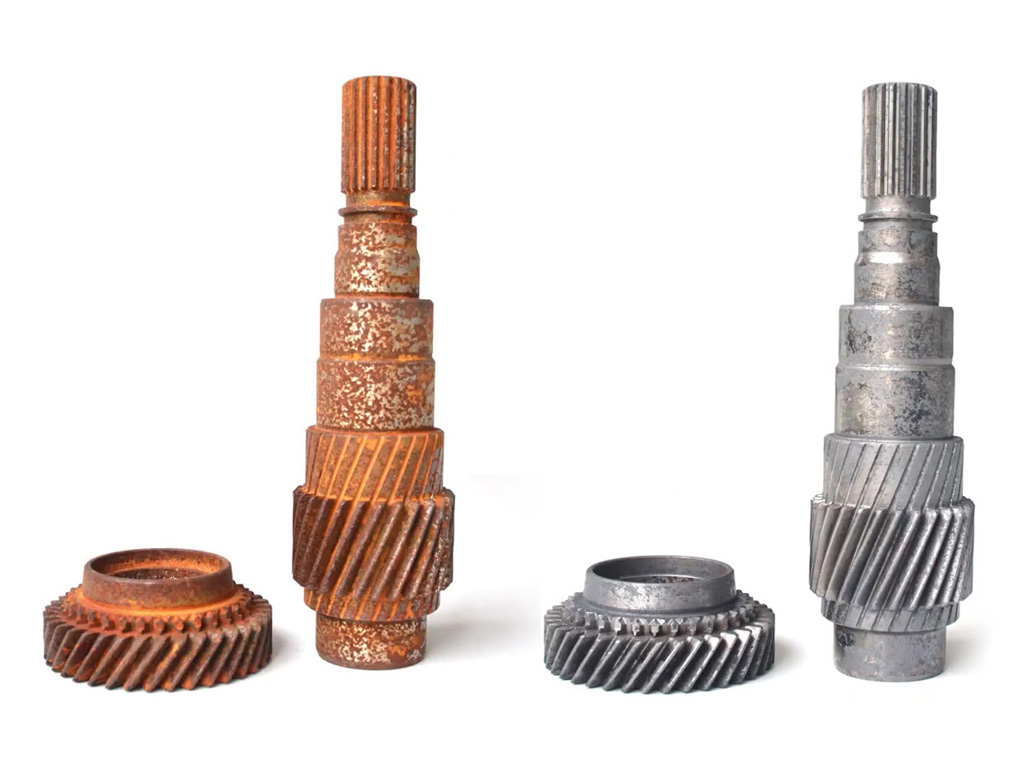 Laser Rust Removal Projects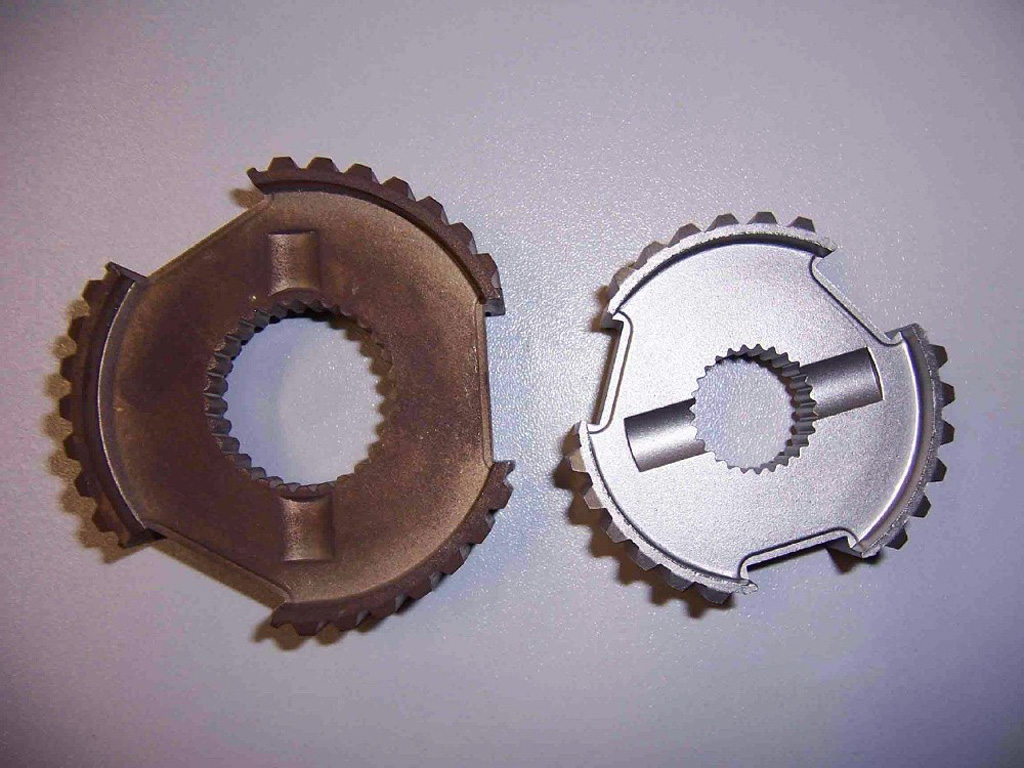 Laser Rust Cleaning Projects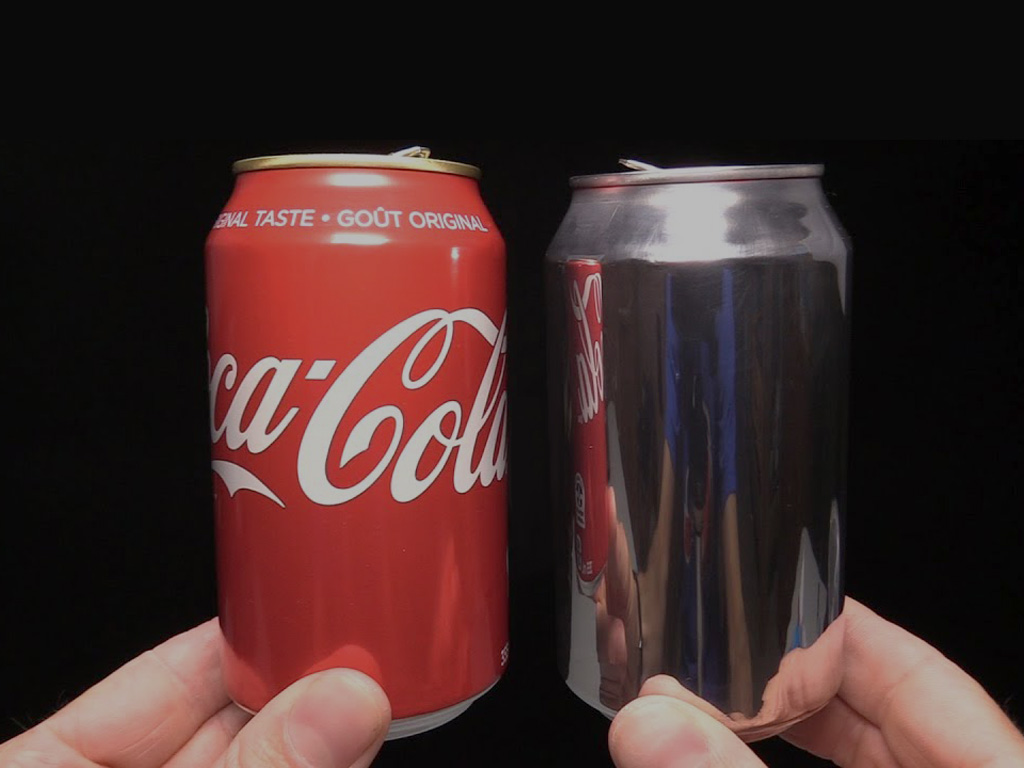 Laser Paint Stripping Projects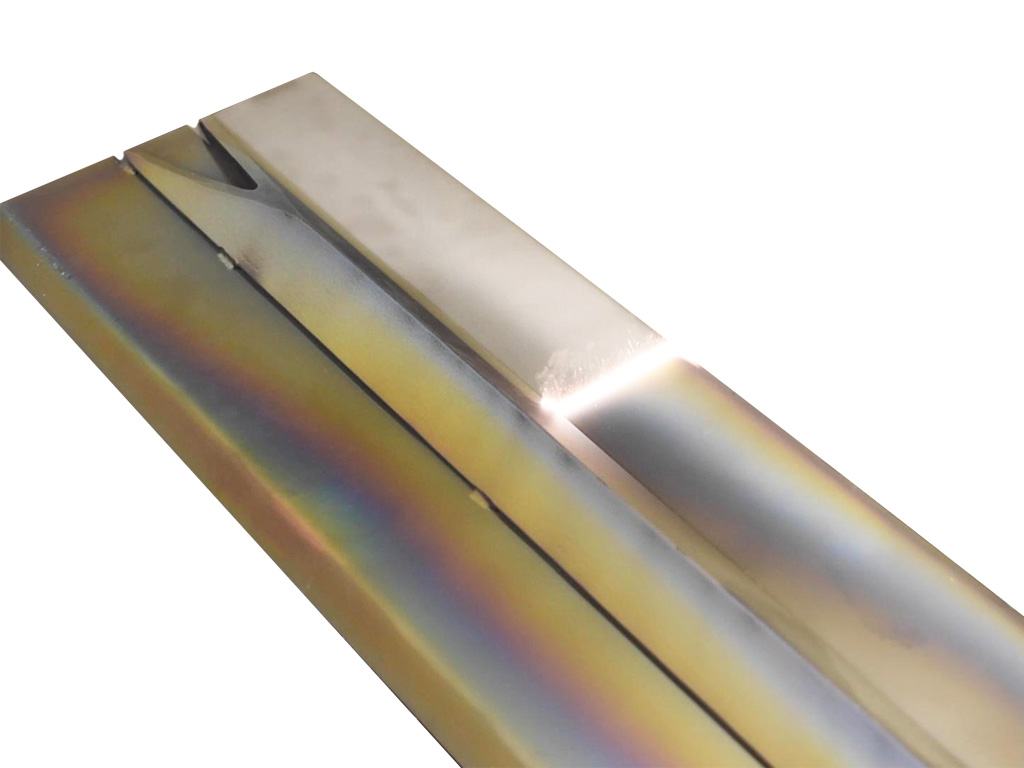 Laser Oxide Removal Projects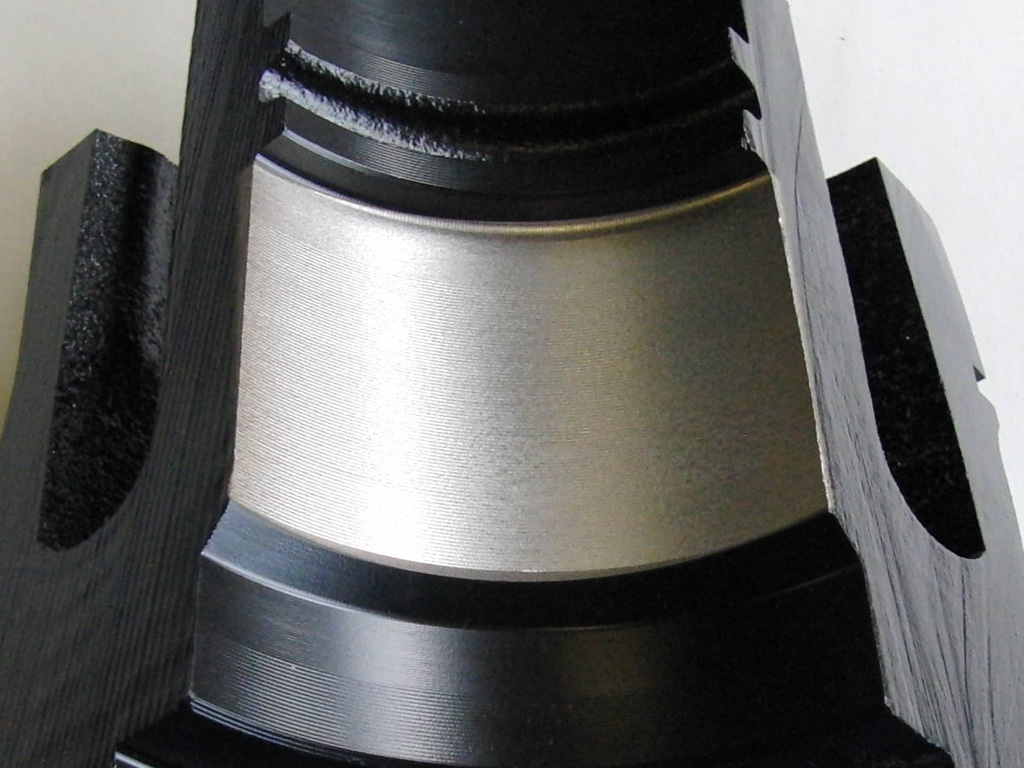 Laser Coating Removal Projects
Service & Support for Portable 100W Laser Rust Removal Machines
Warranty
We promise to keep laser rust cleaning machines that are manufactured and shipped according to a formal contract, and we guarantee that every repaired machine will perform well if used correctly. You have the right to repair or replace an item in the warranty period if you have a material or technical problem. We will charge maintenance in normal cases. It will be free if the machine has special problems.
We provide 1-3 year's guarantee and life-long maintenance for our laser rust removal machines. Free repairing or replacement (except for wearing parts) is available for our machines for their functional defects (except for artificial or force majeure factors) within warranty period. After warranty period, we only charge artifacts according to the actual situation.
After Sales Service
Free training in our plant.
We will provide the consumable parts at an agency price when replacement is required.
We can help you to solve problems online or by email in 24 hours, free technical support.
Quality Control
Skilled and strict quality inspection team is available during the material purchasing and production procedure.
All finished laser cleaning machines we delivered are 100% strictly tested by our QC department and engineering department.
We will provide detailed machine pictures and test videos to customers before shipping.
OEM Service
Customized and OEM orders are welcome due to our abundant experiences. All the OEM services are free, customer only need to provide us with your logo drawing, feature requirements, colors, and more items.
No MOQ required.
Privacy
None of your personally identifiable information (such as your name, address, email, bank info) will be disclosed or shared with any third parties.
Contact all of your inquiries, problems or helps will be answered within 24 hours, even in holiday. Also, please feel free to call us if you have any emergency questions.
Payment Terms
Alibaba Trade Assurance.
30% T/T paid in advance as deposit, the balance paid before shipment.
Documents Support
All Documents for clearance customs support: contract, packing list, commercial Invoice, export declaration, and so on.
International Shipping Around the World
All the CNC laser machines can be shipped worldwide by sea, by air or by international express logistics via DHL, FEDEX, UPS. You are welcome to get a free quotation by filling up the form with name, email, detailed address, product and requirements, we will shortly contact you with the full information including the most suitable delivery method (fast, secure, discreet) and freight.
Post A Review
Customer Reviews and Testimonials
Edward Stratton

from United StatesPosted on

Mar 29, 2022

Fantastic tool to use in removing rust. This laser rust remover did a great job in removing years of rust that had built up on my iron ship with no oil. It worked as advertised. Completely took the rust off without damaging the metal parts. Now it looks like new. Recommended.