2022 Top Rated CNC Lathe Machine for Natural Wood Crafts
From:
https://www.stylecnc.com
Date:
Aug 01, 2022
Author:
Claire
Views:
1541
Cheap Wood Lathe for Wooden Candlestick Turning Projects

Affordable Wood Lathe for Wooden Spindle Turning Projects

CNC Wood Lathe Machine Turned Treenware Projects

Small Lathe Machine Turned Wooden Jar Projects

Mini Lathe Machine Turned Wood Crafts

Benchtop Wood Lathe for Natural Wood Drinking Cups

Desktop Wood Lathe for Natural Round Wood Beads for Hobbyists

Small Wood Lathe for Natural Oval Wood Beads for Hobbyists

Mini Wood Lathe for Treenware
Cheap CNC Lathe Machine for Natural Wood Crafts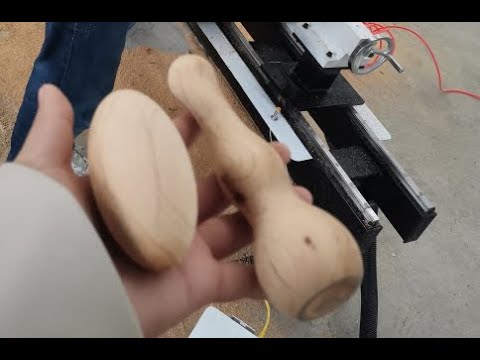 CNC wood lathe is a combination of precision machinery and automation technology. It is controlled by a computer and can set parameters freely. After setting the parameters, the CNC lathe will work according to the number of parameters, and the system can automatically adjust if the track deviates.
Compared with traditional lathes, the degree of automation of CNC wood lathe machine has been greatly improved. Numerical control woodworking lathes do not require workers to operate the equipment all the time, but only use a programming language to compile the content of the drawings into the computer of the numerical control lathe before turning. The computer will actively analyze and direct the operation of the equipment through the central processing unit. Such a CNC machine tool is a great relief for manpower and greatly improves the accuracy of delivery.
The traditional lathe intelligently processes one product at a time during turning, while the dual-axis and double-cutter CNC woodworking lathe can turn two identical products at the same time. Simple operation, convenient drawing, simple and easy to understand, one-key conversion of product styles, and no professional knowledge personnel can operate it with a little training. In addition, the fully automated CNC wood turning lathe machine can operate 2-3 units at the same time by one person, which greatly improves the processing efficiency, saves labor and money, and brings good economic benefits.
Compared with traditional woodworking lathes, CNC wood turning lathe machines have the advantages of simple operation and high precision. And now there are more and more CNC wood lathe manufacturers on the market, and more and more types of lathes. Choosing a cost-effective CNC lathe machine for woodturning is particularly important for enterprise manufacturing.
Post A Review
User Reviews