Automatic Digital Knife Cutting Multi-Layer Fabric
From: https://www.stylecnc.com |
Mar 16, 2023
| Author: Ada |
113
Views
Automatic Digital Knife Cutting Multi-Layer Fabric
Introduction
The multi-layer fabric cutting machine is an automatic digital cutting system used for simultaneous cutting of multi-layer fabrics for clothing, garment, fashion, dresses, suits, wedding dresses, and sportswear to achieve mass production.
The most critical difference between a single-layer fabric cutting machine and a multi-layer fabric cutting machine is the difference in the number of processing layers that can be supported. Single-layer fabric cutter is aimed at personalized tailoring and small-batch production orders. It features with customization, flexibility and high precision. Multi-layer fabric cutter is an upgrade version on the basis of ordinary single-layer cutting machine. The resulting fabric that can support multiple layers can be cut simultaneously after being vacuum-adsorbed. For mass production, a multi-layer cutting machine can be used. For some special fabric cuts, using a single-layer cutter can achieve better results, because of fewer fabric layers, more accurate and efficient cuts, such as high-end suit customization and wedding dresses.
Features
1. An integral aluminum platform.
It adopts the principle of honeycomb structure, which is strong, anti-corrosion, durable, sound-absorbing and heat-insulating.
2. Welded stable machine structure.
The body is formed by welding, which avoids the deviation caused by vibration during work and has high stability.
3. Rack and pinion and screw rod.
The Taiwan linear guide is used as the gear guide to ensure high-speed and stable working quality and high precision.
4. Safety device.
The four corners of the machine are equipped with infrared sensors and emergency stop devices to ensure safety.
5. Quick and convenient tool change.
A set of advanced and fast optional tools can meet different needs according to customers' materials.
6. Adopt high-end inverter.
Compared with other inverters, it can save 30% electricity.
7. Multi-layer feeding rack.
Equipped with motor and pneumatic grippers, it can send multiple layers of materials at a time with high precision.
Advantages
1. Accurate. Swing knife, CNC computer control, servo motor, especially the system independently developed by STYLECNC ensure good cutting quality.
2. Convenient. Both flatbed and automatic conveyor tables are optional. With the automatic feeding system, the convenience and efficiency are greatly improved.
3. Compatible. Files in DXF and PLT formats are supported. And the software that can export DXF or PLT files is compatible with this machine.
4. Save. Cooperating with STYLECNC automatic nesting system, the material utilization rate can be increased by 5%.
5. Knife cutting. Instead of laser cutting, so there is no burning of the material. No smell.
6. User friendly. The software is easy to operate.
7. Intelligent nesting, material utilization rate increased by 3%-5%.
8. Realize zero manual cutting, automatic cutting and intelligent cutting in the garment industry.
9. Intelligent maintenance and management of fabric data, intelligent identification of sample file data.
10. Realized the functions of grid strip cutting, printed fabric matching and neckline cutting.
11. ERP and MES systems can automatically and intelligently plan production, or read files directly.
12. The machine automatically receives layer data from the software. Two vibrating cutting tools for single or multi-ply fabric cutting.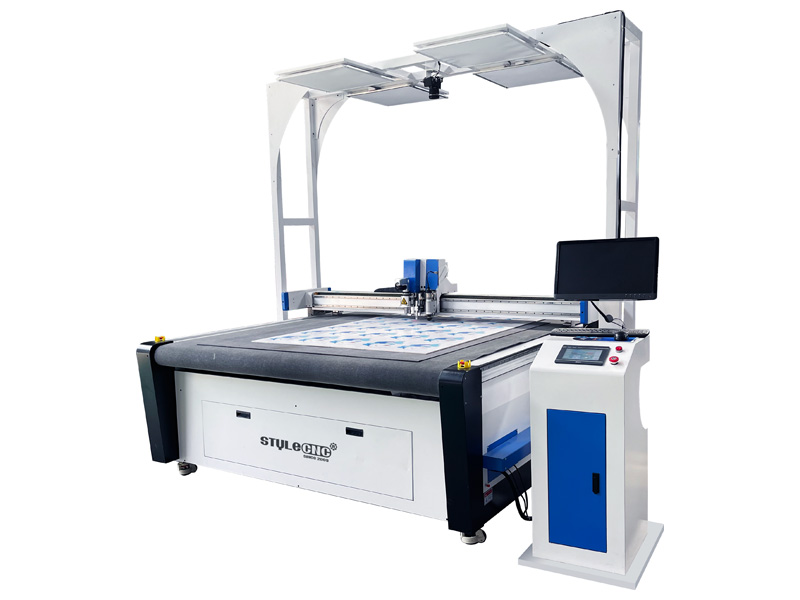 Industrial Automatic Digital Fabric Cutting Machine
Post A Review
User Reviews