Guarantee & Warranty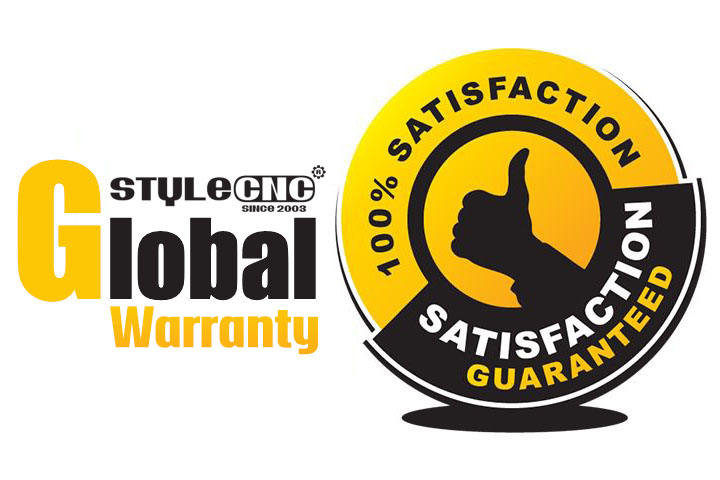 New CNC machines sold by STYLECNC carry a one-year warranty (fiber laser cutting machines carry a three-year warranty) effective from the date of shipping. CNC machines sold through dealers must be registered with STYLECNC within 30 days of purchase to be covered by this warranty. STYLECNC guarantees all new CNC machines sold to be free of manufacturers' defective workmanship, parts and materials. We will repair or replace, without charge, any parts determined by STYLECNC. to be a manufacturer's defect. We require that the defective item/part be returned to STYLECNC with the complaint. Any CNC machines returned to STYLECNC must be returned with packaging in the same manner in which it was received. If a part or blade is being returned it must have adequate packaging to ensure no damage is received during shipping. In the event the item/part is determined to be damaged due to lack of maintenance, cleaning or misuse/abuse, the customer will be responsible for the cost to replace the item/part, plus all related shipping charges. This limited warranty does not apply to natural disasters, acts of terrorism, normal wear and tear, product failure due to lack of maintenance or cleaning, damage caused by accident, neglect, lack of or inadequate dust collection, misuse/abuse or damage caused where repair or alterations have been made or attempted by others.
STYLECNC is not responsible for additional tools or modifications sold or performed on any CNC machine. Warranty maybe voided upon the addition of such described tools and/or modifications, determined on a case-by-case basis. Normal user alignment, adjustment, tuning and machine settings are not covered by this warranty. It is the responsibility of the user to understand basic woodworking machinery settings and procedures and to properly maintain the equipment in accordance with the standards provided by the manufacturer. Parts, under warranty, are shipped at STYLECNC's cost either by common carrier, FEDEX ground service or a similar method. Technical support to install replacement parts is primarily provided by phone, whatsapp, e-mail or STYLECNC customer support online. The labor required to install replacement parts is the responsibility of the user. STYLECNC is not responsible for damage or loss caused by a freight company or other circumstances not in our control. All claims for loss or damaged goods must be notified to STYLECNC within twenty-four hours of delivery. Please contact our customer service department for more information. Only new machines sold to the original owner are covered by this warranty.
For warranty repair information, call +86-531-83161518.