4'x8' CNC Router with 4th Rotary Axis for Wood Carving
From: https://www.stylecnc.com |
Sep 13, 2021
| Author: Claire |
1083
Views
4'x8' CNC Router with 4th Rotary Axis for Wood Carving
The 4' x 8' CNC router model is STM1325R1.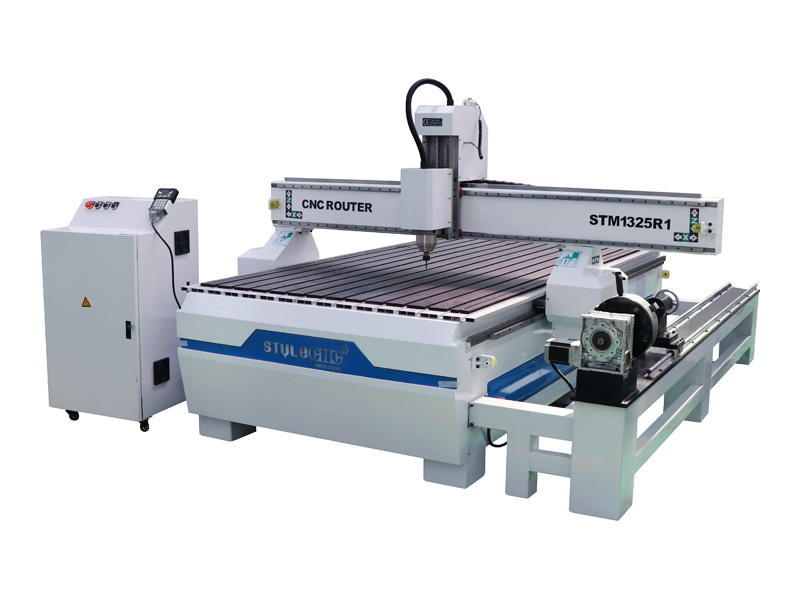 The 4' x 8' CNC router with 4th rotary axis is used for:
1. Advertisingin dustry: Signs, trade mark, name plates, badge, decorative gift, embossed medal, certificate, souvenir, photo frame, furniture decoration.
2. woodworking industry: Solid wood furniture, mahogany furniture, MDF paint door, solid wood door, composite door, cupboard door and window, bed side cabinet, folding screen, etc.
3. Art work industry: Wood crafts, mural art of wood, artwork, embossed, jewelery, cosmetics package, musical instrument.
4. Soft metal fabrication: Aluminum front panel, popcan, aluminum honey comb panel, train car and air craft interior decoration, bronze medal, copper mold.
5. Electronics industry: Electronic component, integrated circuit, electronic plastic case, electronic product model, circuit board, electronic light box, computer and mobile phone key board, carving avariety of electronic products.
Post A Review
User Reviews